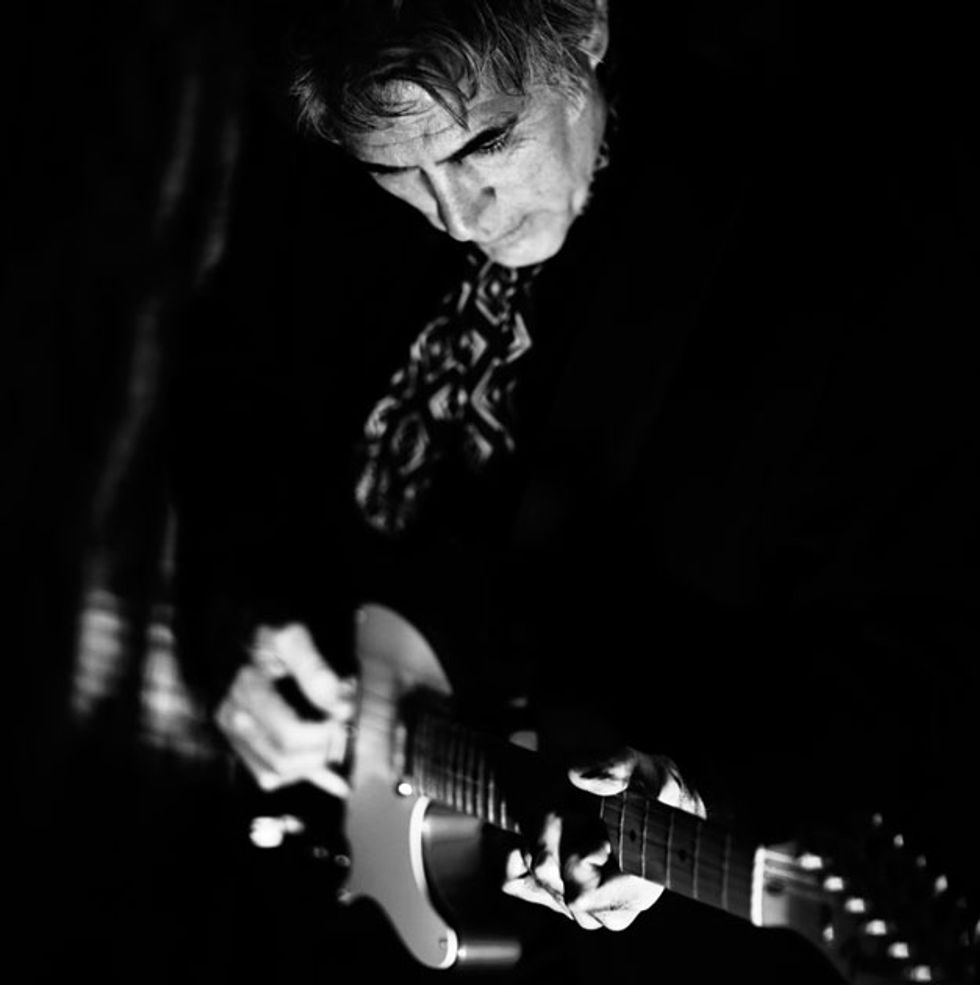 Photo by Josephine Bono.
How does that translate when you're improvising with the band?
Every musical statement is a question that has an answer or a rebuttal. To simplify it, if I hear [sings a line], then I'll go [sings a responding line]. Chris might play something and I'll be, like, "Whoa—I should do a raunchy cluster chord there!" I have to be open to playing the most real thing that could follow what I'm hearing. It's almost unconscious, and I think that's better.
Your playing is as much about tone and texture as it is about note choice and phrasing. How consciously do you think about tone when you're improvising?
Sometimes it all comes together. Sometimes it's a struggle. Sometimes I drink too much coffee before a gig, and if I really get coffee'd-out, I'm really not in touch with what I should be in touch with—whatever that is. I hope that is not too Buddhist! [Laughs.]
Your guitar plays off of Norah Jones' vocal almost like a duet on "Here I Am." Did her part inform the solo at all?
Oh yeah. On that one, I really thought about the lyric. Even though some of it is throwaway blues stuff like, "We'll have a ball," there are a few lines I really identify with. Norah sang it wonderfully, and I really like the starkness of it. There were a thousand ways we could have done it. Sometimes I wish we could've done it harder. But I like that it's not, you know, some jive-ass blues about me being some guy in a muscle t-shirt with a skull and crossbones and Keith Richards hair. Go back and listen to Son House or even John Lee Hooker, and one of the beautiful things about these guys is that they were trying to get laid [laughs]. I think that's part of the blues—it's seductive. On that tune, I'm not trying to seduce anyone—but it's a little understated. Some people might have expected some Eric Clapton kind of thing that's balls to the wall.
"One of the things I always check out when I pick up a Tele is the first string's C# or D. Those are the notes that can sound like somebody just slapped your ear. On my top-loader, those notes sound really lovely and wooden."

Going over the top might have taken away from the connection between you and Norah. It sounds so spontaneous.
She's one of the most fantastic musicians I've ever worked with. That was the first take, and it was the first time she really sang with the group. She just nails stuff. And she is real—she isn't uptight about being perfect. The more I've worked with Norah, the more in awe I am of her.

Let's talk about the original tunes: Did you write those specifically for this trio?
It's about half and half. I wrote "Cock and Bull Story" for Josh. I think he's one of the world's greatest drummers: He's like a combination of Keith Moon and Mick Fleetwood. "Dream Dictionary" I had written before, but I approached it completely differently with the trio. "Nang Nang" was written for them. "The Past Is Looking Brighter" is half and half. A weird thing happened with "Heaven Is Creepy": We became "us" playing that song, but it's from my [2006] record called Heaven Is Creepy. I repeated one of my own tunes, but we did an unabashed performance. We just went for it, and that recording was the best time we've ever done it. So in a way, I feel like that's our tune despite the fact it was the title track for a record I did with another band.

Jim Campilongo's Gear

Guitars
1959 Fender Telecaster with "late-1967" wiring (no .01uF capacitor between the first and second lug on the volume pot)
2010 Fender Custom Shop Jim Campilongo Telecaster
1958 Gibson ES-225
1958 Martin 0-15
1970 Martin D-35
1962 Fender Stratocaster
Amps
Two 1966 Fender Princeton Reverbs with either Celestion G10 or Jensen C10N speakers
Three 1970 Fender Princeton Reverbs
Three 1970s Fender Vibrolux Reverbs
'70s Fender Deluxe Reverb
'70s Fender Vibro-Champ
Effects
Crazy Tube Circuits Stardust Blackface
Boomerang Phrase Sampler
Sarno Music Steel Guitar Black Box
Jim Dunlop Cry Baby wah
Strings and Picks
D'Addario EXL120 strings
Everyone thinks of you as "the Telecaster guy," so the all-acoustic "Suppose" is a surprise. Was that your first solo-acoustic recording?
I guess it is. I enjoyed recording it. I didn't even play my own guitar. I'm certainly no bluegrass virtuoso, but I started playing on an acoustic, and I played one for the first couple of years when I was learning back in the early 1970s until I finally got a Gibson ES-330. Acoustic, to me, is like I'm returning home, despite the fact I'm an electric guitarist and a Tele guy. I recorded that track the day that I was checking out the studio. We jammed, and then after the guys left, I asked the engineer [Andy Tommasi, who also produced] if he had an acoustic guitar. I picked it up and recorded that take. It was almost like, before I could think about it, it was done. I was trying to write something like "Classical Gas," and I think I failed miserably [laughs]. But I really like it—it's a really positive-sounding song.
How about your acoustic duet with Steve Cardenas on "One Mean Eye"?
I have a great chemistry with Steve—he's just fantastic. That was a couple of takes, just as is. We're trading lines, and I like that you can't tell where one ends and the other begins. I just had fun playing acoustic—it seems like there's no hassle. It's not like I have 500 variables. You mike it and you play it.