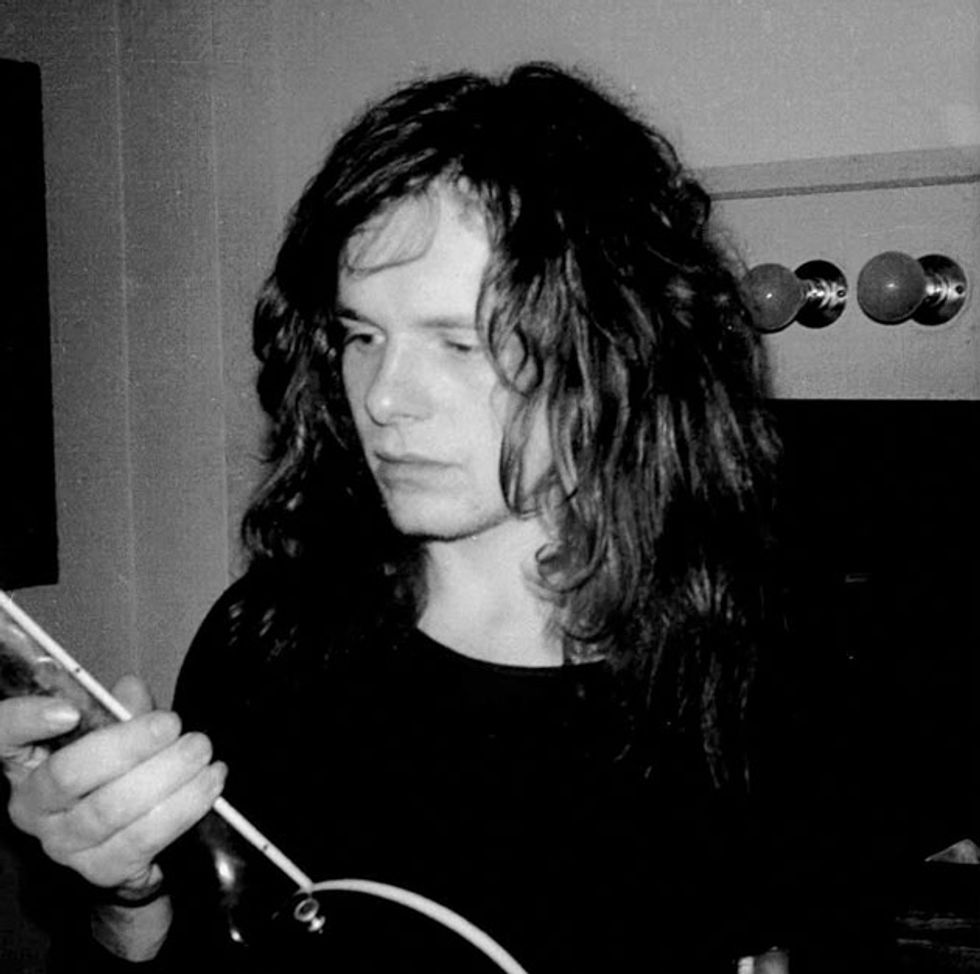 Photo courtesy of Lucy Piller.
Live Free, Play Hard
Vocalist Paul Rodgers and Kossoff ran in the same circles and had met many times, but hadn't yet played together. When they finally did in 1968, it was a transformative experience. "The first official time I met him I was playing in a blues club called the Fickle Pickle in Finsbury Park," Rodgers told Premier Guitar in a recent interview. "I had a blues band at the time called Brown Sugar. We used to do two 45-minute spots with a break in between. Koss came up for the second set and said, 'I'd like to come for a jam.' I said, 'Have you got a guitar with you?' and he said, 'Yeah, I've got my Les Paul in the car.'
So he brought his guitar in and we jammed—a really heart-stopping jam. We did 'Stormy Monday Blues,' B.B. King, and a couple of other things, and it was like time stood still. It was such an amazing thing that when we came off stage I said to him, 'Man, we have to form a band.' The seeds of Free were born right there."
The members of Free were remarkably young when they formed the group. Kossoff was 17, Rodgers and Kirke were 18, and bassist Andy Fraser was a mere 15. Despite this, each member already had a taste for the road after serving in other bands.
"We used to listen to Albert King and B.B. King—especially B.B. King's Live at the Regal and Albert King's Born Under a Bad Sign—and we'd say that the two of us made one of them." — Free vocalist Paul Rodgers

What bound Free more than anything else—especially Kossoff and Rodgers—was their unconditional love of the blues. "We used to listen to Albert King and B.B. King—especially B.B. King's Live at the Regal and Albert King's Born Under a Bad Sign—and we'd say that the two of us made one of them," Rodgers recalls with a laugh. "The way B.B. or Albert would play and then answer themselves, we kind of picked up on that and consciously tried to emulate that and incorporate it into the music we did."
Still without a band name, the quartet booked their first show at a modest club in London, where one of the kings of the nascent British Blues scene offered to help them out. "Alexis Korner had a band called Free at Last," Simon Kirke said in The Beat Goes On and On. "When he saw us at the Nag's Head in Battersea after our first rehearsal he suggested that, but we kind of whittled it down to Free."
With a little help from Korner, Free inked a deal with Island Records. Their first album, Ton of Sobs, was in the canwithin six months of the band's formation. For the sessions, Kossoff brought out a duo of Les Pauls, including a now-fabled late-era sunburst model, which was later stripped and painted black, as well as a black three-pickup custom. Along with the likes of Clapton, Page, and Keith Richards, Kossoff did much to popularize the defunct 'burst line of Les Pauls.


Gibson released the Paul Kossoff 1959 Les Paul Standard in early 2012 after gaining access to Kossoff's legendary Les Paul, which was in the possession of Paul's friend Arthur Ramm. Gibson created 100 hand-aged guitars and 250 models treated with their proprietary VOS process. Photo courtesy of Gibson
Tons of Sobs was recorded on a modest budget of £800 and was in some respects a recorded version of the band's live set. "In those days, and particularly for the first album, we didn't do what became the normal and block out a studio for a month at a time," Rodgers recalls. "When we went in, we'd drop in, do a couple of tracks, and we'd have some band from South Ealing or somewhere peeping in the door going, 'Are you guys finished yet?'"
After completing their first album, Free went on the road to try and make a name for themselves. Dwarfed by a column of Marshall stacks—Super Lead heads and 4x12 cabinets with bass speakers installed—Kossoff managed to make up for his diminutive height through sheer volume.
In addition to lead guitar duties, Kossoff was given another important task. "None of the rest of the band members had a driving license," explains Rodgers. "Paul had started young and he had one, so he got the gig of driving us. He would drive us two or three hundred miles, do a couple of shows, and drive back. I used to sit in the front with him just to keep him awake."