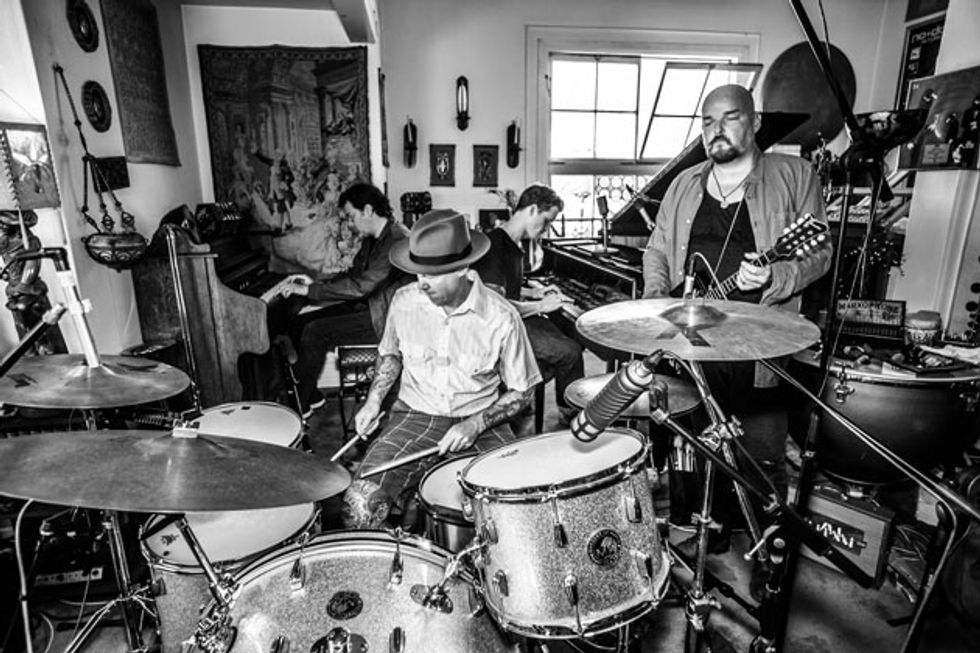 Arthur Channel in the studio working on their debut. Photo by Tamarind Free Jones.
It's the stuff of Hollywood. Well, almost. If rookie singer/guitarist Jon Greene's true-life story about forming Arthur Channel with a bunch of rock 'n' roll veterans were adapted to the silver screen, big-studio scriptwriters would have them racking up Top 40 hits, performing on all the late-night TV shows, and laughing all the way to the bank.
But it's unlikely that Arthur Channel's nine hauntingly atmospheric tunes full of velvety, warbling vocals, complex chord shapes, and trippy, neo-Holdsworthian guitar solos would get that kind of play in today's pop-oriented industry.
Greene's lucky-demo-tape tale is more like a down-to-earth indie film—but it's still pretty freakin' rad. It goes something like this: In 2009, Greene, a 31-year-old from Wales, Massachusetts, moved to Los Angeles with his band, Nude Black Glass, to give the whole rock-star dream thing a go.
Only the rest of his band never showed up. They all chickened out. Flaked.
"My initial impression was that Jon's voice contains a lot of originality, strength, emotion, and loftiness that you rarely find. Then I realized he could write these incredibly poetic lyrics that fit seamlessly along with his very unique style of guitar playing."
—ex-Wallflowers bassist Greg Richling

Greene had no band and no Cali connections—or so he thought until one day about a year later when he was catching up with a friend from back East. "We were talking about music, and I mentioned I'd just moved to L.A.," Greene recalls. "He said, 'Why don't you get in touch with my friend who lives there? This guy is a professional musician.' I was, like, 'Oh, cool. What's his name?'"
It turned out that this musician was ex-Pearl Jam drummer and founding Chili Pepper Jack Irons.
Back to the Woodshed
Armed with Irons' contact info, Greene knew he'd only have one shot at making anything of it. To keep the money coming in, he moved to Northern California to work as an arborist, and in his spare time he wrote a fresh batch of songs. "When I came back to L.A. about four months later, I finally got up the nerve to contact Jack," he says. At the drummer's request, Greene sent three demos. "He called me back that day or the next and said, 'Hey, let's get together.' I thought, 'Holy shit—all right!'"
Irons had just tracked drums for Jakob Dylan on the Wallflowers' 2012 album, Glad All Over, and during the sessions he'd hatched a plan with longtime Wallflowers bassist Greg Richling. "Greg and I had previously talked about working together, and maybe with an up-and-coming singer-songwriter," explains Irons. "So Jon and I put this out there to Greg and he dug it. About a month or so after first meeting with Jon, we all got together and started the process of the band and working on more tunes."
At that point, Greene had been playing guitar since seventh grade—but in bands he'd always focused exclusively on vocals and used the 6-string solely for songwriting. Style-wise, he's a big fan of quirky indie rock—the Mars Volta and Karate are major influences—but the tunes he'd worked up for Irons were much more straight ahead, just acoustic guitar and vocals. "They were so minimal," Greene explains. "I was really trying to write ... not pop songs, but things with nice melodies and vocal turnarounds."
The songs that ended up on Arthur Channel's eponymous debut—including those from the original demos—are a far cry from the mellow versions Greene penned whilst among the sequoias of NorCal. For starters, Greene—who says of his guitar skills, "I was just kind of amateurish"—had to put down the Martin acoustic he was most accustomed to and get used to the Rickenbacker 360 loaned to him by a friend of Richling.
One gets the feeling Greene is being modest about his guitar abilities, though. His rich, unusual chord constructions were integral to the unique songwriting style that opened doors for him. Though the band did recruit a second guitarist to fill out the sound, Greene's guitar work is the foundation of the songs and translates wonderfully to electric. "He has this amazing ability to pick out harmonically interesting chord choices that are not the obvious places to go," says Richling.
Greene attributes this to life-changing advice he got from a high school friend. "I was kind of in barre-chord mode," he says, "and then a friend of mine named Daniel Lafleur, who is a very, very talented singer-songwriter, was like, 'Just put your fingers all over the guitar. Make up chords—just land somewhere, make up a chord, and put a bunch of them together and see what comes out.' That just expanded my view of the guitar and what you could do."