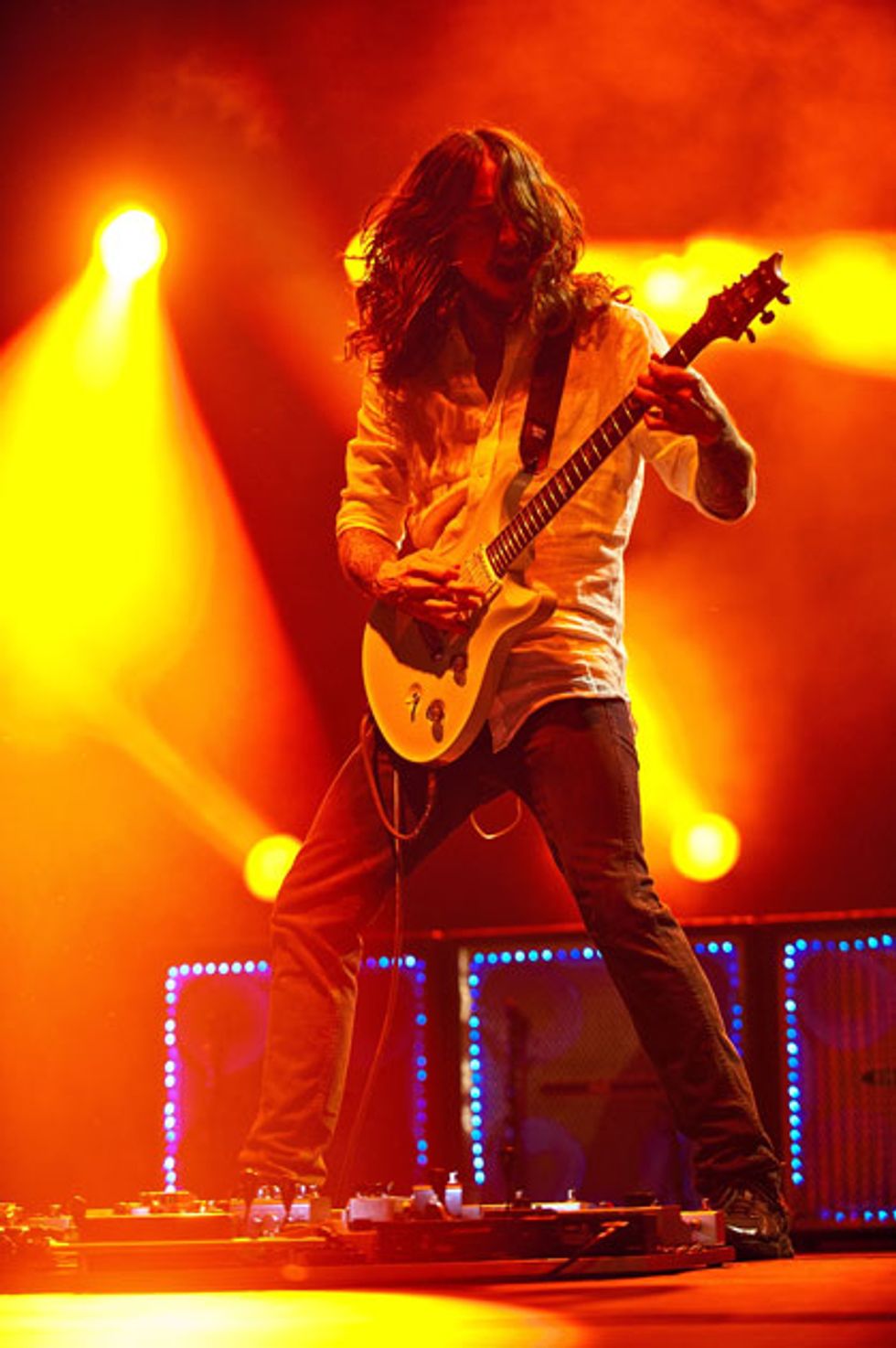 Guitarist Tim Mahoney still plays his longtime favorite guitar—a '93 PRS Standard 24 nicknamed "Old Blue"—but he's also been rocking a 2012 PRS Signature Limited model recently.
Tim Mahoney is a cheerful dude. You can't blame him—he's coming up on some enjoyable milestones. For starters, he just welcomed his first son, Tim Jr., in late 2013. And he's been playing guitar in the ska-funk-metal band 311 with the same homeboys from Omaha, Nebraska, for more than 20 years. For the group's 11th studio album, Stereolithic, 311 reunited with producer Scott Ralston for the first time since Transistor and Soundsystem in the late '90s.
"We're the happiest, most content we've been as a unit in a long time, and I think that, combined with reconnecting with Scott [Ralston] as our producer, made this last album cycle a really fruitful, fun time," says Mahoney. "We've always been a close band, but we have our own families, friends, and lives outside of the band and sometimes that takes precedent—as it should. But right now we're all in a good place and it's hopefully felt in our music and live shows."
The band released Stereolithic on March 11, or 3/11—a date that has become an annual holiday for the band, celebrated with special extended performances in a different city each year. Surprisingly, this is the first time 311 has released an album on March 11, and it also marks the first release on the band's new label, 311 Records. Mahoney recorded his parts at the home studio of SA Martinez (vocals, turntables).
"We all kind of recorded in our most comfortable environments this time. I love the Hive, our studio in L.A., but it was nice for me to record at SA's house because we live in the same area so traffic and the commute wasn't bumming me out when I was going in to record [laughs]," says Mahoney. "It's funny, back when we started we fought, clawed, and grinded to get a major label deal, and now two decades later we're liberated to go full circle where we're still making music we're proud of and releasing it ourselves to get to the fans a lot easier, quicker, and smoother."
As a guitarist in 311, Mahoney combines interpretations of reggae and metal—his two favorite kinds of music—sometimes in the same song. Take, for instance, 311's "Sweet," Transistor's "No Control," and Evolver's "Beyond The Gray Sky." The new music continues the tradition of mixing a Marley-esque Kaya vibe, sonically moving from tranquil beachside jam to '80s metal with harmonized solos and pick squeals.
"My favorite guitarists are probably Bob Marley or Jerry Garcia, and Dimebag Darrell of Pantera," says Mahoney. "So for me to be able to incorporate both my musical loves into our band has pretty much been a dream come true."
Lucky for him, his band of brothers enables his pedal addiction. Constantly.
"Pedals can be inspirational," Mahoney testifies. "The main riff of Stereolithic's "Revelation of the Year" came when I stumbled upon a combination of phaser, vibe, and chorus that breathed new life into an old riff I've been sitting on for years. I'm just lucky I'm in the band that not only understands my pedal love, but encourages it [laughs]."
Each head is routed through its own 4x12 and our producer Scott Ralston mics each cabinet with two mics—and all four mics are different—so when we're mixing we have an entire collection of choices that we can queue up, dial back, isolate, and mix to best suit the overall song.

In between dad duties and rehearsals, the perpetually upbeat Mahoney spoke about his mahogany-bodied guitar preference, the ins and outs of his complex pedalboard setup, and what acid and Jerry Garcia have to do with his favorite stompbox.
Last time we talked you were using a Diamond Spitfire II for your dirty tones. Is that still the case on Stereolithic?
All the high-gain sounds on this album are a '90s Bogner Uberschall and a Diamond Spitfire II. Recently I got my hands on a PRS Custom amp and I couldn't believe how great the overdrive sounded, so we used that quite a bit, too.
Are you still using a '63 AC30 for your clean tones?
Nope, this time I paired one of my Spitfire II heads with a Lexicon PCM-42 in its effects loop and an early '68 Fender Twin—it has the silverface front panel but the components and guts are of the AB763 circuit.
Why the switch from the AC30?
I've always had Fender amps in my personal stash, but I got hip to a great vintage AC30 when we worked with Bob Rock on Uplifter and Universal Pulse. I loved blending in tones with that combo. I tracked at S.A.'s house about 90 minutes north of our rehearsal space in L.A., which is where my Vox was. So I just used my Twin that I had out of necessity and it turned out to be some of the best tones I've recorded to date.