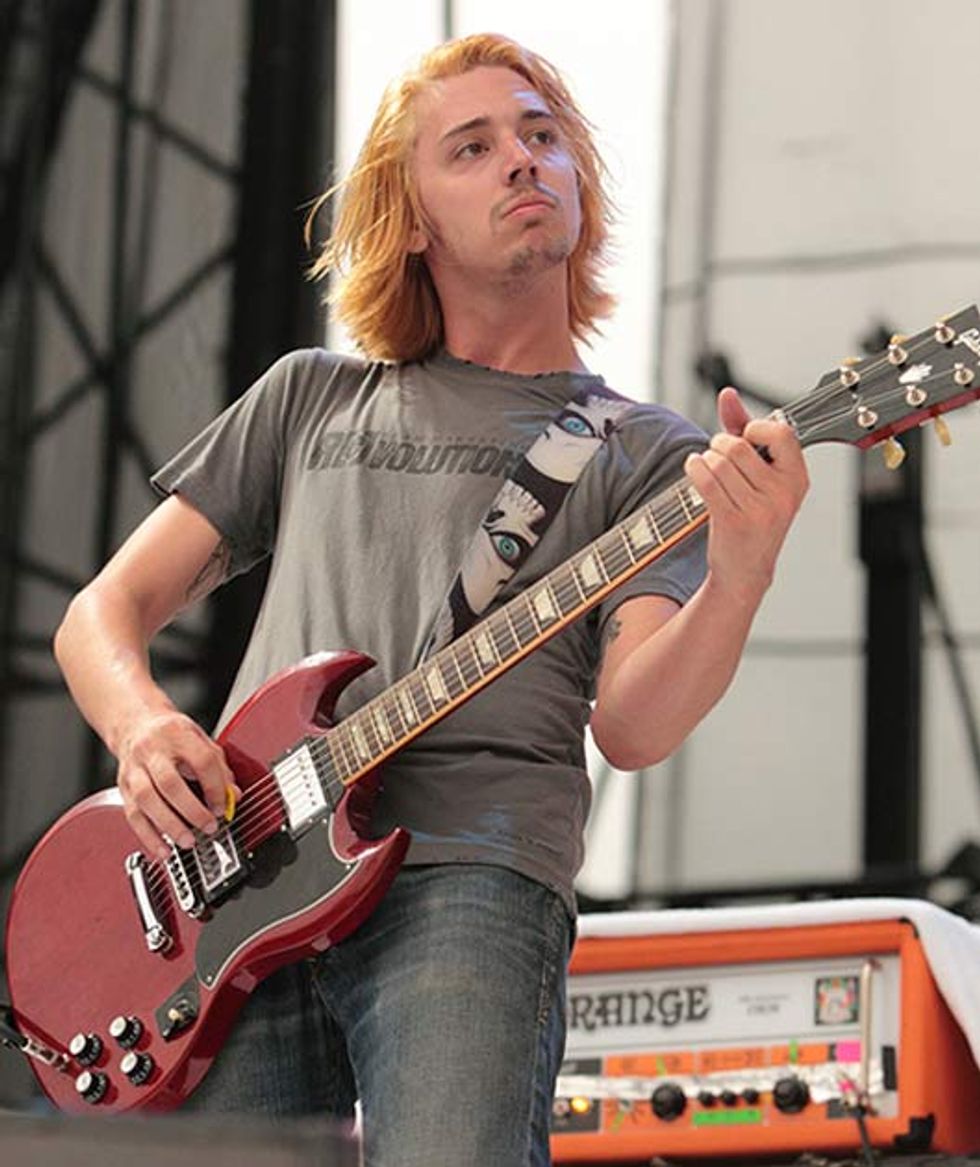 Photo by Owen Sweeney—Frank White Photo Agency.
The Best 16 Seconds
Manchester Orchestra's democratic spirit rests on the axis of Hull and McDowell's friendship. They met in school, as music-obsessed teenagers. Both were already playing guitar. McDowell was initially inspired by Christian rock and AC/DC, and Hull, several years older, was listening to everything from Morrissey's the Smiths to roots-rockers Wilco, visceral storytellers Built to Spill, and Delta bluesman Son House. They started recording songs in McDowell's primitive basement studio, and when Hull decided to start Manchester Orchestra he invited McDowell to join. "I was 14, and my mom said, 'No,'" McDowell recounts. "Two or three years later, I joined the band and we've been doing it since."
With their music and personal lives intertwined—Hull is also McDowell's brother-in-law—it's no surprise that the guitarists play together as if they share lungs. That cohesiveness and their work ethic have driven them to relentlessly tour and record four albums and eight EPs over the last decade—not to mention each band member's solo projects.
"Cope is what our music sounds like onstage. The amps are roaring up there, and this is the first time we've been able to capture that sound in the studio." —Andy Hull

"If Andy or I come up with the coolest part, that's what gets played. It doesn't matter whose stamp gets put there," McDowell relates. "The best thing to do is to always put your pride aside, and to put what's best for the song and the band first."
Nonetheless, Hull says his pal McDowell is the most likely to conjure a daring solo off the cuff, like the bright, bristling melody that brings the ominous "See It Again" to its crescendo. "He was playing a scratch track as we were demoing the song and got bored with the part he was playing, so he just ripped out this solo," Hull remembers. "It was through a cheap transistor amp, but it sounded so great that we kept it."
Robert McDowell's Gear
Guitars
Fender '72 Telecaster Deluxe
Gibson SG Standard with Burstbucker pickups
Amps
Vox AC30 driving a Marshall 4x12 cab
Orange OR50 driving a Marshall 4x12
Effects
Walrus Audio Iron Horse, Jupiter, and Janus
Two Electro-Harmonix Holy Grail Reverbs
Strings and Picks
Ernie Ball 2220 Power Slinky sets (.011–.048)
Jim Dunlop .73 mm and .60 mm Tortex picks
And then there's the title track, which brings the album to its final reckoning and serves as its emotional mission statement. "The word 'cope' means getting by, letting go, being able to find a way to deal with the bad things in life," Hull states. "We've been in this band since we were teenagers, so we've grown up playing this music. You can cope in a positive way or a negative way when bad things happen. And that inspired me a lot when I was writing lyrics." The song is a 10-layer cake of growling guitars that perfectly match the lyrics, bemoaning the sometimes-crushing weight of the human experience. But while cheerful melodies and catchy riffs counterbalance most of Manchester's pessimistic outings, here we're left to founder, to listen as the album closes with dying gasps of feedback.
Despite the bleakness of that title track, Hull and McDowell are both elated with the album and are proud to have made what they consider to be Manchester Orchestra's finest recording. "Every note, every lyric—even the intros … if it's a 16-second intro, it's absolutely the best 16-second intro possible," Hull asserts. " We kept pushing ourselves in every way to make a great rock record, and this album speaks for itself."