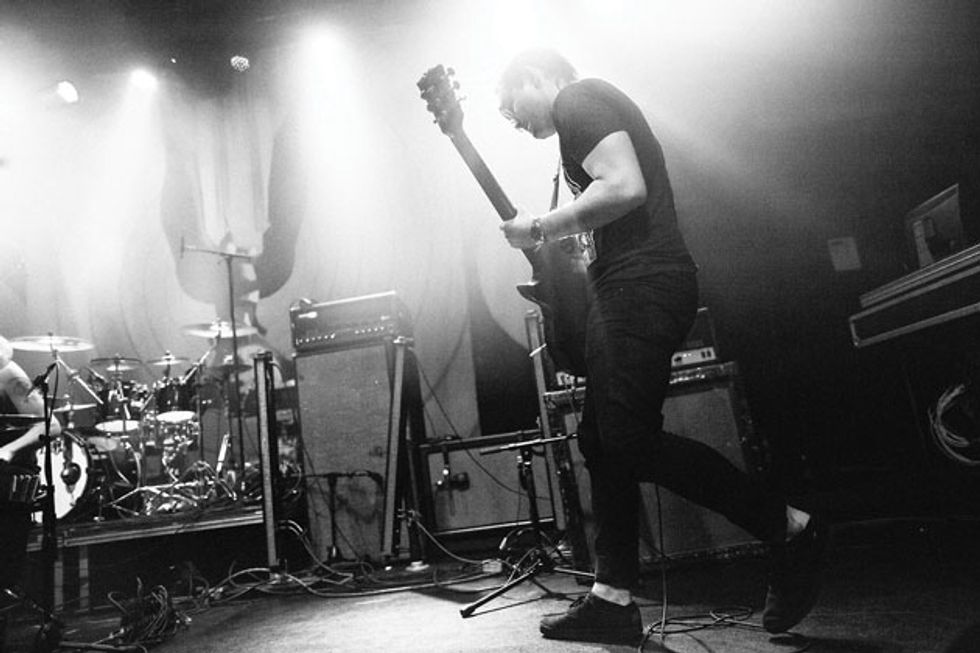 Deafheaven guitarist Kerry McCoy. Photo by Nick DiNatale.
Deafheaven's Kerry McCoy
San Francisco's Deafheaven formed when guitarist Kerry McCoy joined forces with vocalist George Clarke in 2010 and, just for the hell of it, recorded a four-song demo for $500. Though McCoy didn't own an electric guitar or amp and had to use borrowed gear, the EP eventually caught the attention of Jacob Bannon, frontman for veteran metalcore band Converge. McCoy and Clarke soon signed with Bannon's Deathwish Inc. label and released Roads to Judah in 2011. Their sophomore effort, 2013's Sunbather, is a magnum opus whose nuanced, more enlightened black-metal shrieks are so seamlessly melded with blastbeats and shoegaze and ambient post-rock elements that it received worldwide critical acclaim, including being voted the year's best metal album by Rolling Stone, Spin, Pitchfork, and Stereogum.
"We're lucky to be living in a time where so many people are willing to push the envelope." —Deafheaven's Kerry McCoy

Thoughts on the State of Metal/Hardcore in 2014: I think metal—or at least the subgenres of it that I listen to—is in a fascinating place right now. We're lucky to be living in a time where so many people are willing to push the envelope.
Best Album of the Last Year: This is a really tough one. I loved Rhye's Woman, My Bloody Valentine's MBV, Weekend's Jinx, Russian Circles' Memorial, Drake's Nothing Was the Same, Kanye West's Yeezus…. Last year was a great year for music!
Best Metal or Hardcore Album of All Time: How do you pick just one—and of all time?
Kerry McCoy's Gear
Guitars
Gibson Les Paul
Amps
Peavey 6505
4x12 cab
Effects
Effects Ernie Ball volume pedal
Boss TU-2 tuner
Electro-Harmonix Stereo Memory Man with Hazarai
Delta Labs SC1 chorus
Electro-Harmonix Holy Grail Reverb
DigiTech JamMan
Most Underrated Metal or Hardcore Guitarist: I've always thought that—even as celebrated as he is—Mike Sullivan of Russian Circles doesn't get nearly enough love for being the genius that he is.
Metal or Hardcore Cliché That Must Die: I don't know how cliché this is, but I was recently shown this band of teenagers doing a nu-metal/deathcore mashup. I'd say the sooner that stops, the better. It is hilarious for the first minute or so, though.
Metal or Hardcore Tradition That Must Not Die: This question is better suited for my diehard girlfriend. I'm gonna say drinking, tailgating, and heavy-metal-parking-lot-ing before going to a show.
People Who Don't "Get" Metal and Hardcore These Days Should …: Not listen to it. Some things aren't for everyone.