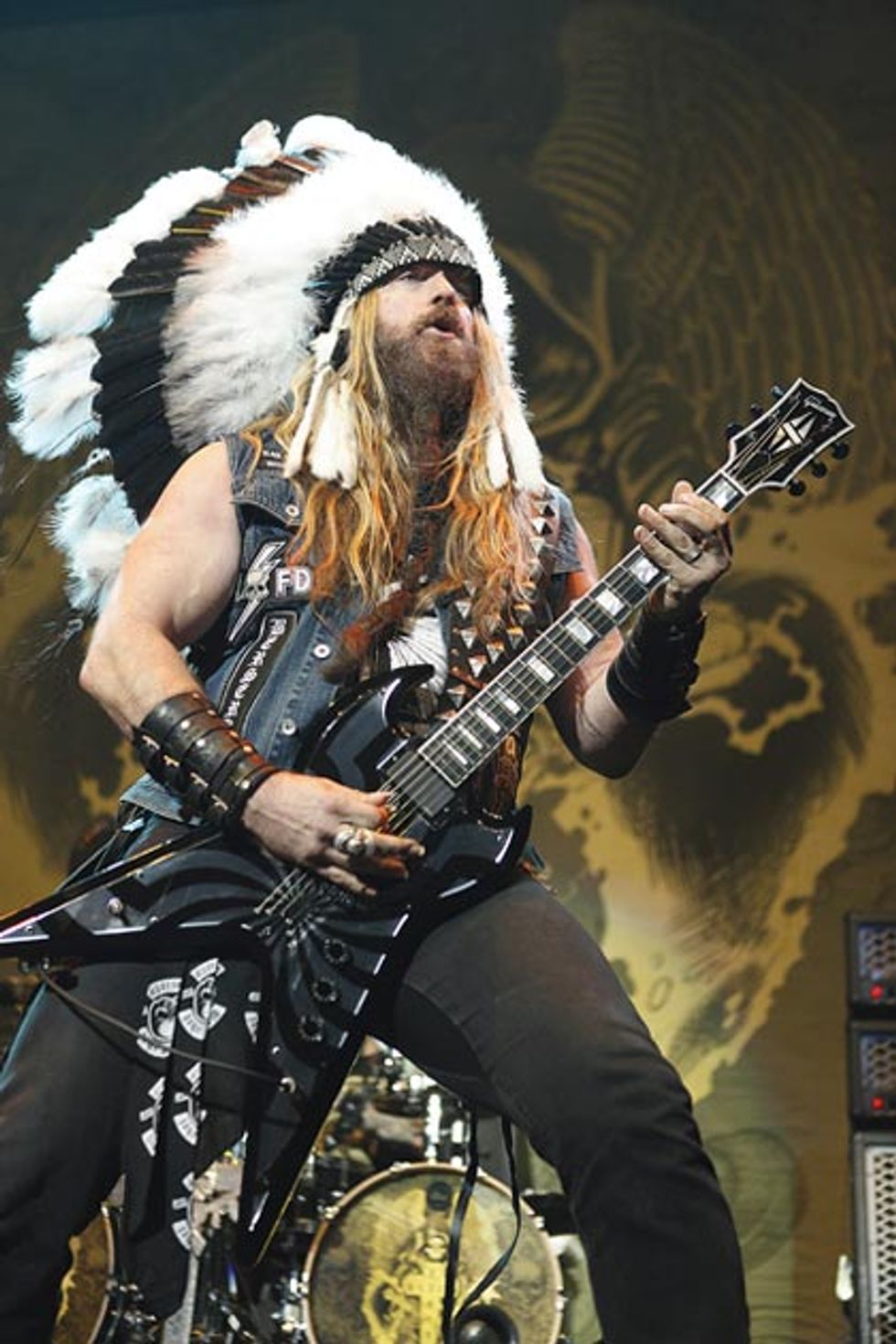 Zakk Wylde melts faces while donning a very large headdress during a Black Label Society show inside the Joe Louis Arena in Detroit on November 13, 2011. Photo by Ken Settle
The world was introduced to Zakk Wylde's 6-string wizardry on Ozzy Osbourne's 1988 No Rest for the Wicked album. Now, after a quarter century as an award-winning guitar hero who can lay claim to having had the longest stint of any of the Ozzman's guitarists, the Black Label Society founder still has few chances to rest.
Our first interview with Wylde to discuss Black Label Society's latest release, Catacombs of the Black Vatican,was scheduled for 8 a.m.—yes, 8 a.m.—the morning after his last show as a headlining guest on the Experience Hendrix 2014 tour (where he shared the stage with such icons as Eric Johnson, Buddy Guy, Dweezil Zappa, and Brad Whitford, and sadly, had a guitar and vest stolen from the tour bus). Just as we reached him, we were informed that the interview had to be rescheduled because Wylde's Europe flight got bumped up. It would be several weeks before he had another free moment. We finally caught up with Wylde at a four-star hotel in Istanbul, Turkey, of all places, shortly after he took part in one of the Metal All Stars concerts. "I just did two shows in this small club that had no barricade," said Wylde. "People were putting their hands on the stage and the whole nine yards. I haven't played a gig like that in a while. It was like Mad Max and Thunderdome."
"The way we make the Black Label Krispy Kremes, we've pretty much got it down to a system."

While that gig might have presented some unexpected twists, Catacombs of the Black Vatican offers no unwelcome surprises. Wylde often jokes that the only difference between his albums is their titles, and Catacombs is chock-full of classic BLS songwriting formulas and guitar theatrics, like Wylde's signature pinch harmonics and machine gun pentatonic riffing.
It's been almost four years since The Order of the Black. Why so long?
It was the same between Shot to Hell and Order of the Black, but it's not intentional or anything. We've been busy working. We toured for over three years on that album. It's not like we've been sitting home stockpiling riffs for four years.
Did you write any of the Catacombs songs on the road? The album was written after we got done doing the Gigantour. I was like, "How much longer till the fellas get out here?" It was 25 days, so I had 25 days to write a record. Every day I'd plug into my Marshall and just write riffs. It was like, "Cool—got another song. Got another one. Got another one." You just keep digging until you get something you like, you know?
Zakk Wylde's Gear
Guitars
1957 Gibson Les Paul Jr.
1981 Gibson Les Paul Custom ("The Grail")
2012 Gibson Les Paul Custom ("Maple Vertigo")
1989 Gibson Les Paul Custom ("The Rebel")
2009 Gibson ZW BFG
Gibson Zakk Wylde Moderne of Doom
Gibson J-200 acoustic
Epiphone Masterbuilt acoustic
Amps
Marshall JCM800 2203ZW head
Marshall 1960A ZW cab
Marshall 1960B ZW cab
Roland JC-120 Jazz Chorus
Effects
Dunlop MXR signature ZW38 Black Label Chorus
Dunlop MXR signature ZW44 Overdrive
Dunlop signature ZW90 Phase 90
Dunlop signature ZW357 Rotovibe
Dunlop signature ZW45 Cry Baby Wah
Strings and Picks
Dunlop signature strings .010–.052 or .010–.056 (depending on tuning)
Dunlop Ultex Sharp 1 mm picks
Monster cables
Is that your usual writing process? The way I write is, first I get a cool riff. Say it's "Miracle Man." [Sings "Miracle Man" riff]. After I have the riff, then it goes into [sings next "Miracle Man" riff], and there's the vocal. That's where the verse is going to be. Then the pre-choruses and this and that, then the guitar solo.
Did anyone else in the band take part in the songwriting? Nah, I just write it from the beginning to the end, man. I'm the Salvador Dali. I'll paint the picture and put the frame around it as well. Obviously, I'm producing the record, but with JD [bassist John DeServio] and [engineer] Adam [Klumpp] there mixing it, I'll come in and do the taste testing at the end of the night. I'll be like, "Can we bring the kick drum up a little bit?" But the guys pretty much nail it. The way we make the Black Label Krispy Kremes, we've pretty much got it down to a system. After we get the music recorded, I take a CD of it and sit out in the truck, crank it, and start singing melodies.
Do you ever rewrite a riff because it's hard to sing over? No. A lot of times I record the music, and when I like the song structure and the way a riff sounds, I approach it like a singer, just singing something over it without a guitar in my hands. Then I go back and relearn it. So it's not like I'm singing and playing at the same time while I write. Usually if you approach it that way, it dictates a certain way to sing.
Nick Catanese, who has played rhythm guitar with BLS since near the beginning, has recently been replaced by Dario Lorina. What prompted the change? Well, Nick's not out of Black Label. He'll always be a Black Label brother. He wants to write and do his own thing. He was like, "Zakk, I really want to get knee-deep in this project." I was like, "Knock it out, brother. We all love you and wish you the best." That's what I always tell the guys. You always have freedom to do anything you want within Black Label. With Ozzy, I'm not going to write lyrics or come up with melodies or album art. I'm not producing the record. I'm not involved in the mixes. So you need outside stimulation. The whole thing is about freedom, man. If JD wanted to make a funk record or something like that, he can stay within Black Label, but obviously some things aren't going to fit. So it's like, "Do the funk record, and then you've always got a home here."
How did Dario Lorina get the gig? I'm sure a lot of guitarists would have wanted to audition for the gig. I know. I've got lots of buddies who are phenomenal guitar players as well. But Dario just worked out great. My buddy Blasko [Rob Nicholson] turned me on to him. I watched a couple of videos of him playing Black Label tunes and solos—the whole nine yards—just shredding it. It's Dario's gig until he doesn't want to do it anymore. Until he's like, "I got my own band going." Then I'll be like, "Great, man. Knock it out."