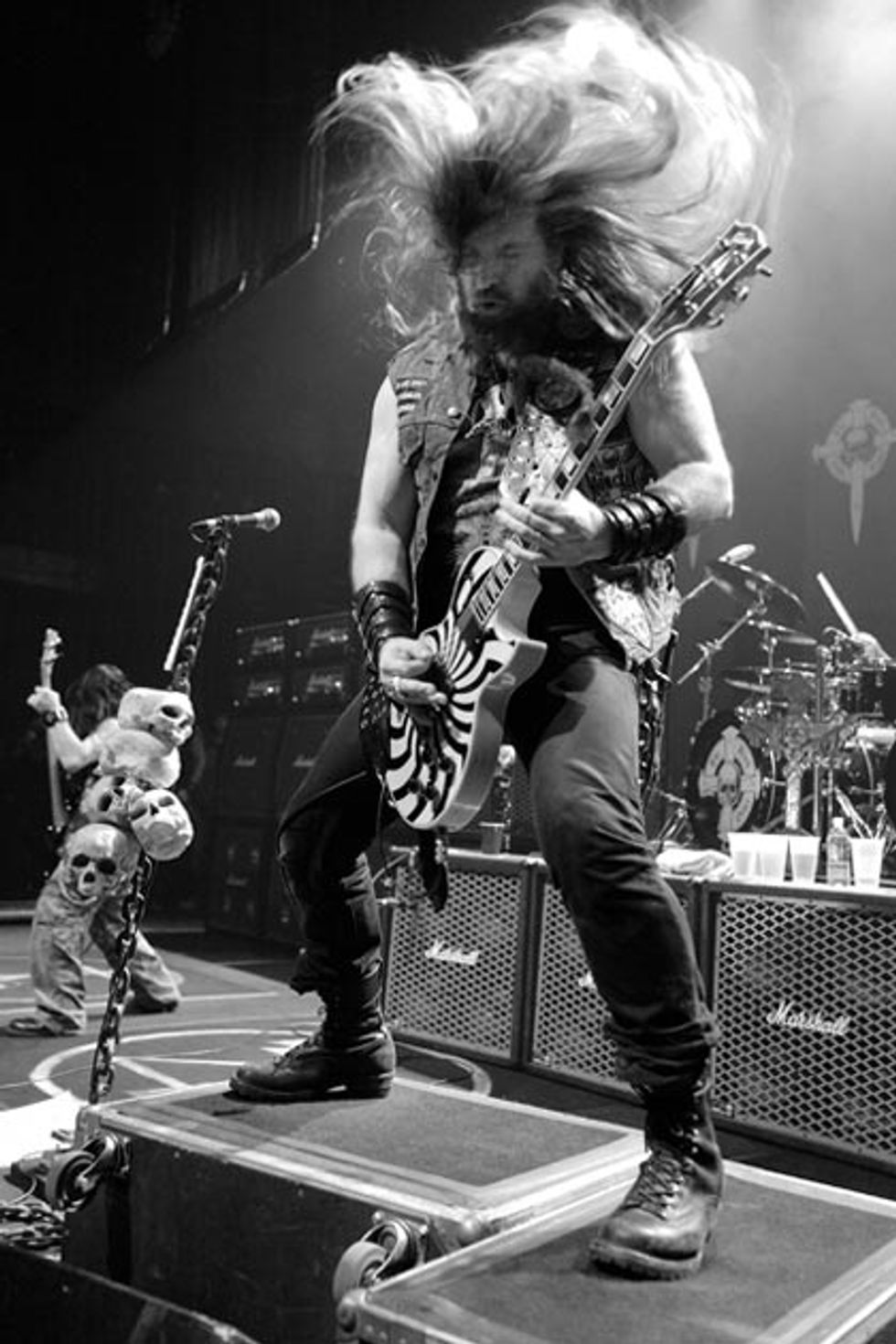 Zakk Wylde in full headbang-mode at The Fillmore Detroit in Detroit on November 7, 2010. Photo by Ken Settle.
On the ballad "Angel of Mercy," your solo is thematic, and it builds dramatically. Did you work out the structure before recording it? Thanks. That solo is written out. The intro is like a "Stairway"-type thing with a bend, A minor pentatonics, and then some Al Di Meola scales. All of them are written. I can play any one of them for you note-for-note, back-to-back.
What goes on in your mind as you craft your solos? I just sit down with the boom box and do my homework. I'll have Adam burn me a CD of the backing tracks. I like putting the solos on after the vocals so I get a feel for the songs. When the solos come up, it's like, "What do you want to hear here?" Whether it's a slow thing or a fast thing. It's just whatever fits the song.
On the other slow number, "Scars," your solo is mellower and less flashy. Yeah, totally. It's like a Dickey Betts-type thing. It just fit the vibe. I didn't even change the amp that I played all the heavy stuff on. I used "Blue Balls"—the guitar that got stolen in Chicago—on that and the "Angels of Mercy" solo. I just turned the guitar down, turned the distortion pedal off, and did the solo. I put it on the neck pickup, I think. I did a couple of passes until I got something I liked, and then I said, "Let's record the solo."
YouTube It
Zakk's take on the iconic "Purple Haze," during the Experience Hendrix tour in Milwaukee, Wisconsin, features a ridiculously blazing, extended solo with a dizzying display of nonstop alternate picking fury. Between 4:13 and 4:29 Wylde steps outside the tonality, briefly indulging in some tritone madness before wailing with the guitar up behind his neck at 5:54, and then with his teeth at 6:21. Jimi would've approved!
Wylde replaces the original piano part with some off-the-charts guitar pyrotechnics in the intro of this live version of "In This River," a tribute to his friend, the late Dimebag Darrell.
Armed with a Randy Rhoads-inspired Polka Dot Flying V, Wylde shreds for six minutes straight before segueing into the Black Label Society hit "Stillborn" during the band's 2005 European tour.
What other guitars did you use on Catacombs?
On this album, all the rhythm parts are pretty much done with my Gibson Les Paul Custom "Maple Vertigo." I also used Blue Balls on a bunch of solos, and I used my Gibson Firebird on one of the solos on "Damn the Flood." Then I used the Moderne [Gibson's Zakk Wylde Moderne of Doom] on "Empty Promises" because it has the whammy bar—I got the Floyd on that one. The clean parts on "Shades of Grey" were done with a '58 Junior double-cutaway that [producer] Michael Beinhorn got me when we did the Ozzmosis record. I have a '57 tobacco sunburst Les Paul Jr. that Ozzy got me for my 20th birthday when we were doing No Rest for the Wicked. When I do clean stuff, that's my go-to-guitar. It's got P-90s, and it sounds really round and warm.
What about amps? I use my Marshall JCM800 signature heads. We were working on a prototype, and that's on the majority of the record. For a lot of super-clean stuff, I use a Roland Jazz Chorus as well. They're just amazing amps, especially for clean stuff.
What special features are on the prototype? Transformers. You know, the design of a JCM800 is amazing. It's simple, and it's like a pair of Levi's. It really only has one function, and it's great at it. It doesn't do a million different things—it just does the dishes, and the dishes come out amazing. It doesn't have all these buttons and knobs. It's like, "Just turn it on, and it'll clean the dishes." That's why it's such a great amplifier. As far as experimenting with tubes, 6550s and KT88s are kind of in the same family. One is a little bit smoother and the other is a little boxier sounding. It depends on what you want. Do you want the handling of a Mercedes, or do you want the handling of a Cadillac? They're both great rides—it just depends on your preference.