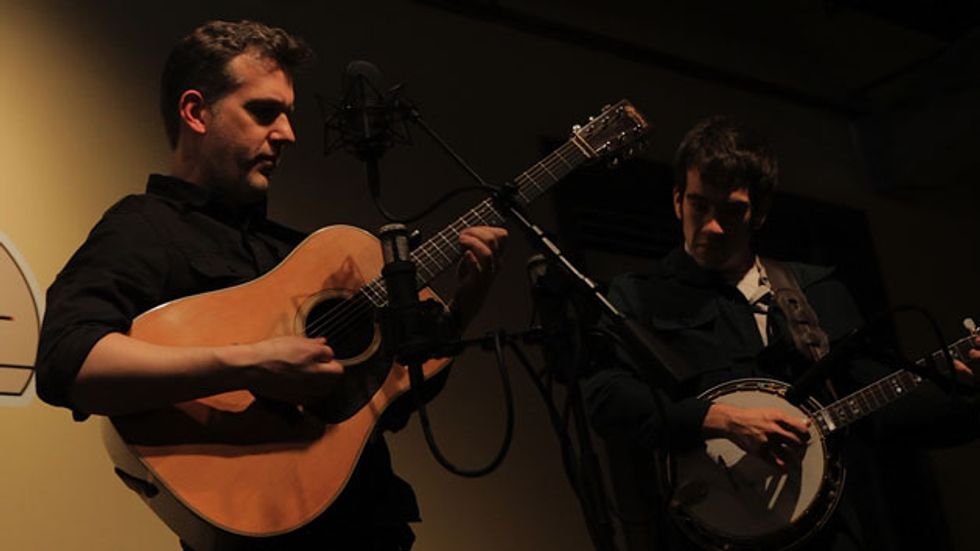 Bryan Sutton and banjoist Noam Pikelny perform at Carter Vintage during an album release party for Into My Own. Photo by Bill Filipiak
You have Sam Bush on several tracks on the new album. What did his music mean to you growing up?
He has always been a hero of mine and more recently, a friend. He is certainly one of the great bluegrass musicians of all time and he sort of defined what could be considered "Act II." You get this whole new wave in the mid '70s with Ricky Skaggs, Tony Rice, Sam, and Jerry Douglas. For me, growing up when I did, Sam's name was just as relevant to bluegrass as Bill Monroe. Just like Tony Rice was as relevant as Doc Watson.
The album opens with "Cricket on the Hearth," an old bluegrass standard. Do you remember when you first heard that tune?
I remember that my sister, who plays fiddle, used to play it. I'd never recorded it and I'm such a fan of a really good fiddle tune. It has melodic interest and it's a good vehicle for the flatpick.
With a fiddle tune like that, which may have been recording dozens of times, how to do approach the arrangement and keep it sounding fresh?
It depends on the spirit of the record, and it's usually a production call. We would see how it fits in with other things around it because they are essentially open-ended with variations on a theme. With "Cricket on the Hearth," it was really one of the only go-get-'em fiddle tunes on the album. If I had another song of that same ilk on the record, I would have done something different. I always try to maintain a production mindset of keeping things balanced, where you don't have too much of one thing or not enough of something else.
"Cumberland Reel" was inspired by guys like Béla and Sam and their playing from Strength in Numbers up through Tales From the Acoustic Planet. Those albums heavily influenced how I view my original bluegrass and acoustic material.
"That's Where I Belong" comes out of the British school of country music. What was your first exposure to that scene?
In high school I got that first Notting Hillbillies record, and it was always one of my favorites. I like their interpretation of things and I like the spirit of that whole record. I've always been drawn to Mark Knopfler and how he integrates traditional sounds with his modern, more rock thing. I looked into some other stuff by Brendon Croker, the guy who wrote that piece, and he's got a pile of great songs. I wouldn't consider myself a connoisseur of the British country music scene, but through the filter of Mark Knopfler, I've been exposed to some pretty good music and writers.
Sometimes when you hear country—and especially bluegrass—filtered through the players that come out of Australia, Canada, or Europe certainly, you get a really strong sense of the work they've done when it comes to studying. Mark Knopfler studied Chet Atkins and it's great to hear how that has informed what he does. These folks have really spent a lot of time on it, almost more than the folks in this country have spent on the craft of that style.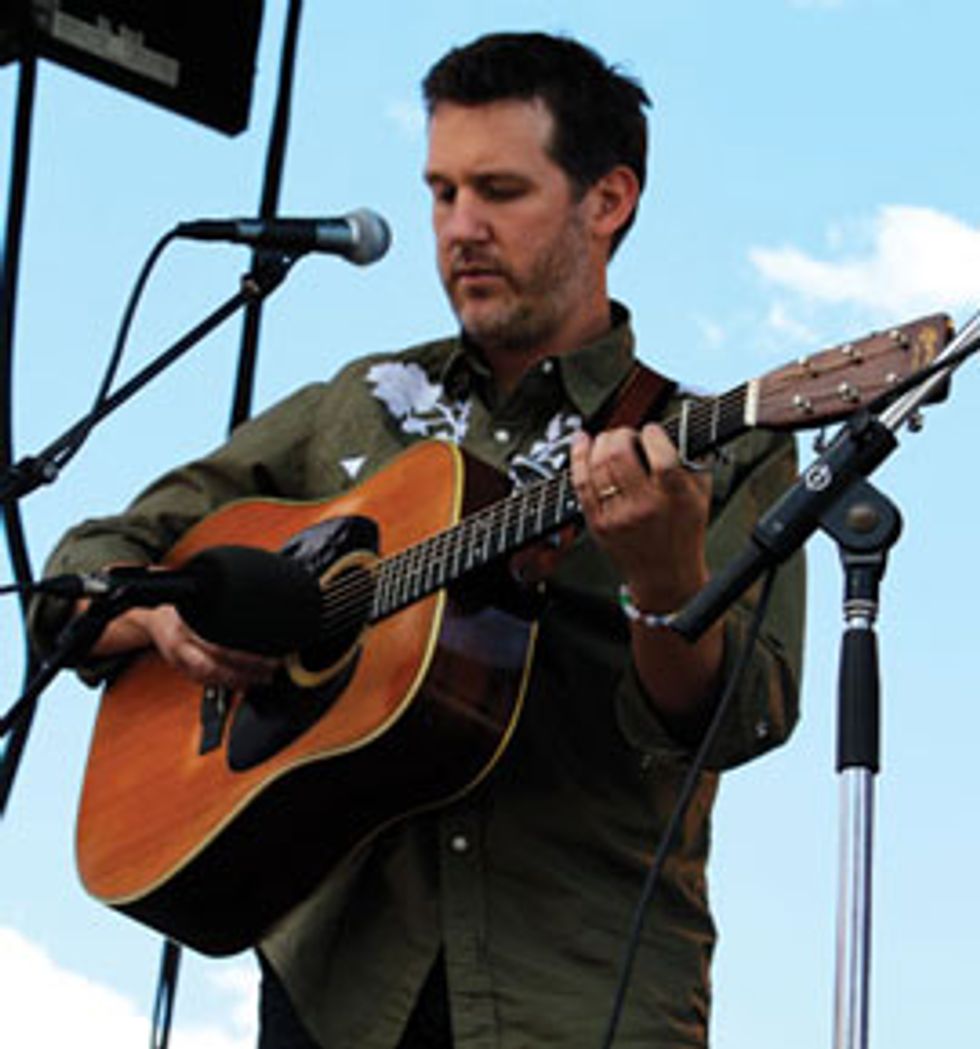 Tell us the story about the double-pickguard Martin on the cover of the new album.
It has been my main guitar for the last few years. It's a 1948 D-28. The second pickguard was put on sometime in the '70s. By the time I had bought it they had already converted it back to a right-handed guitar, but the lefty guard was still on there. The neck really feels correct to me. I've got other herringbones that probably sound better than this guitar, but there's something about it that just feels right to my hands. It feels real subconscious when I play, and I like that [laughs]. So that's the one I mainly used on the record.
For the tune with Frisell I played a 1934 Martin 0-18, and the last tune on the record, "Been All Around This World," was a 1942 Martin 0-17 my grandfather bought new in San Francisco when he was in the Navy.
It sounds like you keep your setup pretty simple.
I try to be as simple and have as few moving parts as possible when it comes to acoustic guitar. I'm a big believer in having the right guitar and the right mic. Obviously, in the studio, I'm sensitive to what the preamp is doing. My favorite setup in general is a pair of Neumann KM 54s through an API-style preamp. Sometimes I'll veer off for specific sounds with ribbon mics, but as a rule, that setup is the best starting block for me.
Bryan Sutton's Gear

Guitars
1948 Martin D-28 1934 Martin 0-18 1942 Martin 0-17 1943 Martin D-28
Strings, Picks, and Accessories
D'Addario EJ17 Phosphor Bronze strings (.013-.056), Blue Chip and Wegen Bluegrass picks, McKinney-Elliott Capos
Did you cut the tracks live in the studio?

Most everything on this album was cut as a band. The Frisell track with Dennis Crouch was cut altogether in a room with no headphones at Buddy Miller's studio, which is basically just a big room—the console is right there in the room. The other songs were cut as a band at Brent Truitt's studio in East Nashville.
Speaking of the Frisell track, how did that collaboration come together?
I first heard Bill play when I first moved to Nashville. He made a record here [Nashville] with Jerry Douglas, Adam Steffey, and Ron Block. It introduced me to him, and I was really intrigued not by his prowess on the guitar, but his general approach and how he interpreted music. There's some very wide-brush artistry going on with him, especially coming from my alternating, up-and-down, flatpicking fiddle tune background. To hear the space and these long notes, I've always been drawn to that as a contrast to a lot of the sounds that are in me naturally.
I wrote this tune upon hearing him for the first time. Just the way those flat thirds rub up against the major thirds was inspired by his sound. Low and behold, that song has just lived in my head for a majority of the last 15 years or so. About two years ago I did a series of shows in Denver at a jazz club called Dazzle. My friend Greg Garrison, who plays on the record, was hosting this series called Improvised Roots. He would bring in one of his pals from the bluegrass world and pair them up with a known jazz player. I did three nights with Bill and really got to know him better. During this run we got to play this tune. As it came along, I knew he was going to be in Nashville working on a record with Buddy Miller later that year, so I just kept it in the back of my mind. We found a day when he was off and he was already set up in the studio there, so it was a really casual, convenient type of thing. Plus, he already knew the tune, so it was really fun to document that experience and play it with him again. I am really pleased and honored to have him on there.
"Watson's Blues" is an obvious tribute. With the trio you have with David Holt and T. Michael Coleman, do you feel like you are pushing Doc's legacy forward?
I think part of the lineage of bluegrass players and this type of music is that nobody is really trying to replace anyone because we all have too much respect. But what you try to do is move things forward in a way that feels correct for you and also feels correct in the sense of making that tradition obvious in your music. I want to be original and I want to be my own sound, and I don't want to spend the rest of my life rehashing the rest of what Doc's done, or Tony. But I want someone to know who listens to me that yeah, Doc has influenced me and so has Tony, Dan Crary, and Norman Blake. I like to think that the sound of all these people I love and really respect shows up in my playing. The more I can pay attention to my original summation of all of those things, either through my own writing or by interpreting other people's compositions, the more different parts of those guys will come out. That's really all I can hope for.