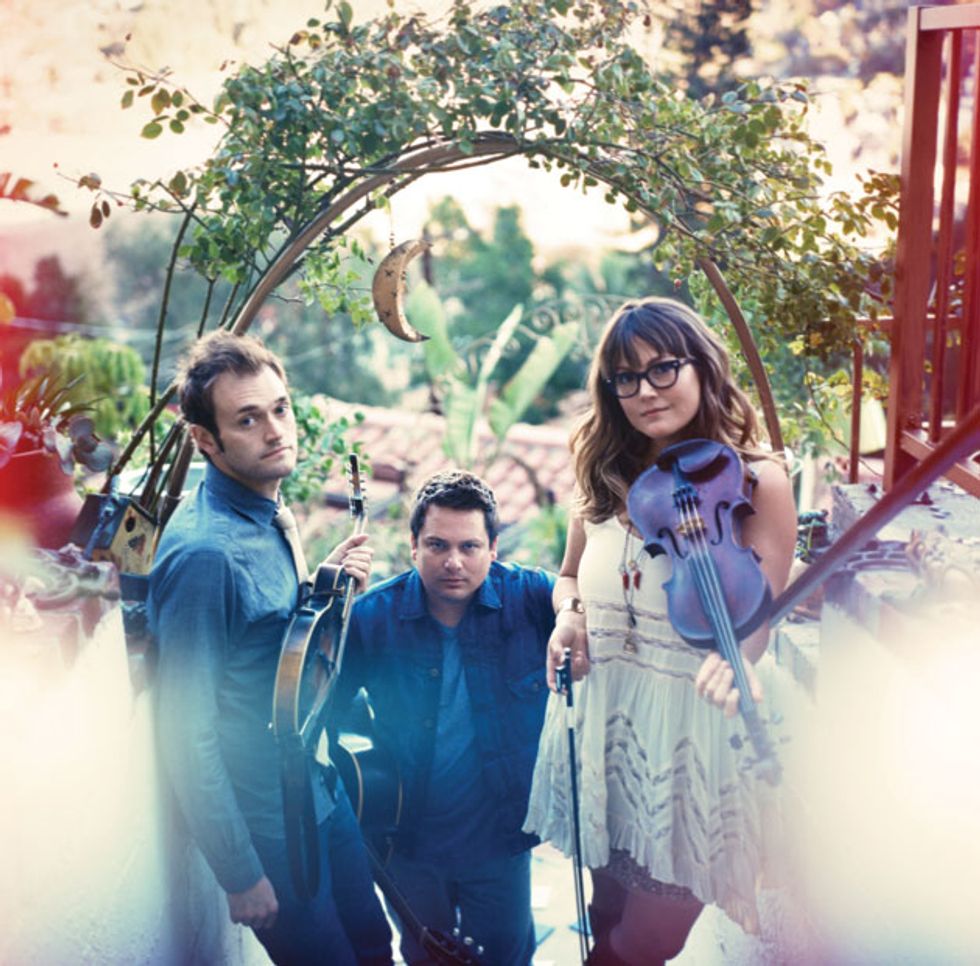 Mandolinist Chris Thile (left) and siblings Sean and Sara Watkins have been playing blugrass together for a quarter of a century. Their first gig was at a pizza parlor when Sean was 12 years old and Sara and Chris were 9.
Photo by Brantley Gutierrez.
Usually bands that have logged 25 years in the trenches look considerably older than Sara Watkins, Sean Watkins, and Chris Thile—the Grammy-winning members of acoustic trio Nickel Creek. At 37, Sean is the elder statesman, yet he still looks boyish for such an experienced and revered player. But that's because he played his first professional gig—yes, with Nickel Creek—when he was 12. It was at a pizza place near his family's home in Vista, California, and his fiddle-playing sister Sara was just 9—the same age as Thile, who was the band's guitarist back then.
However, Thile quickly became a game-changing force on mandolin, so Watkins—who'd studied piano before switching to mandolin—switched back to guitar and the die was cast. The three child prodigies are now widely credited with helping to revitalize American bluegrass music, giving the old-time sound a jolt of youthful energy by bringing in elements of folk, jazz, classical, and indie rock. They have numerous recordings under their belt—both as a group and individually—and together they won a Grammy in the Best Contemporary Folk Album category for their 2002 release This Side, which was produced by Alison Krauss. In 2007, they decided to take time off from touring and recording together to pursue their own musical directions. Until last spring, when it occurred to them that they were coming up on Nickel Creek's 25th anniversary.
"We've stayed very close since going on hiatus," Sean explains. "We'll always be that way because we're family, so it was easy to talk about. I can't remember how it started, but basically last spring we had the idea to do 25 shows to celebrate our 25th year as a band, and then to do a little EP—maybe just four or five songs. When we got together to write at Chris' apartment in New York, right off the bat it was clear that everything was easier.
"Other dreadnoughts can be sparkly up top and boomy in the bass, so they seem to compete with my voice, but somehow the J-45 is a really nice companion for singing." —Sean Watkins
Within a week, we had good starts on about seven or eight songs. I remember at one point we looked at each other, and there was a collective, 'Well shit, we should just make a record!' It became clear that this was not going to be a nostalgic thing—we actually had something to say as a band."
A Dotted Line was tracked in less than two weeks with producer Eric Valentine (Queens of the Stone Age, Slash, Taking Back Sunday), and it bristles with the natural exuberance that emerges when longtime friends and collaborators come together in a long-overdue reunion. From the driving, up-tempo "Destination," which features wistfully lovely vocals from Sara, to Sean's own "21st of May," with its jaunty bluegrass visions of the coming Rapture, the album displays all the influences that Nickel Creek has absorbed over the years—introspective California folk ("Rest of My Life"), catchy acoustic pop ("You Don't Know What's Going On"), even electro-prog (their cover of Mother Mother's oddball anthem "Hayloft")—and distills them into a forward-thinking, fresh, infectious whole.
Throughout, Sean sounds thoroughly at ease in his own skin, stepping to the fore on his trusty '54 Gibson J-45 with a confidence that has made him a musician's musician, acclaimed among his peers as one of the most inventive guitarists in modern bluegrass. An affable guy with a laid-back sense of humor, he seems unfazed by all the attention, and much more focused on having fun.
You had a pretty small window of time to record A Dotted Line. How did you start things off with Eric Valentine?
Initially when we got together with him, we did a practice swing. We did this with [2005's] Why Should the Fire Die? too, where we basically went in and recorded all the songs, messed around with some mics, and didn't get too precious with it—just making demos and experimenting. We did that in two or three days, and then went our separate ways and finished up lyrics and little parts.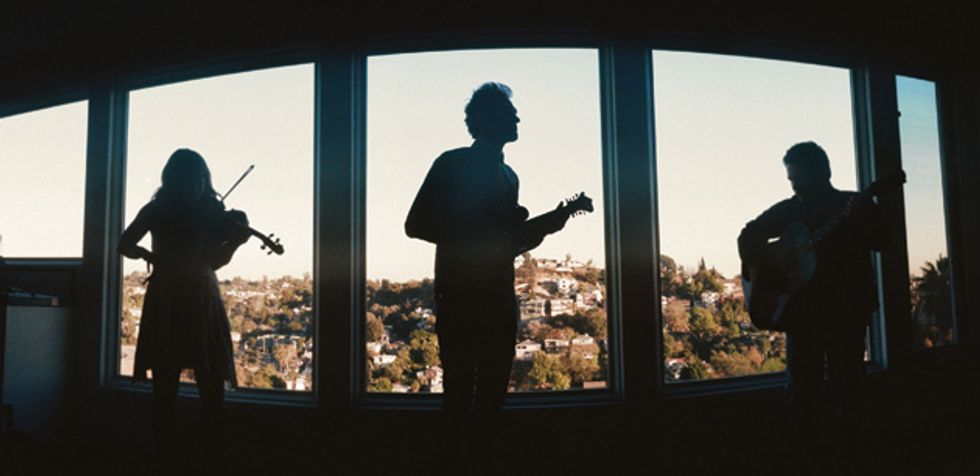 "Other dreadnoughts can be sparkly up top and boomy in the bass, so they seem to compete with my voice, but somehow the J-45 is a really nice companion for singing." —Sean Watkins Photo by Brantley Gutierrez.
Eric used that time to think about what he wanted to do with each song. Then we started recording with a basic setup, and he would deviate from there, using a different mic every now and then for guitar or mandolin or fiddle. During the mixing, we definitely made comments, but he has such a great ear that, right off the bat, the sound was incredible. A lot of times, even with the best engineers, mandolin and fiddle seem to be pretty tough to get really great sounds with. A lot of people aren't used to them, or they don't work with them very much, and they end up sounding really tinny—fiddle, especially, is really hard. But we had amazing tones that we all loved.
You tracked all your parts with your J-45. What do you like about that guitar in particular?
I got this one about six or seven years ago. I'd been looking for a J-45 for a long time, because when we made Why Should the Fire Die? I ended up borrowing a couple of them—one from Jackson Browne, and one from Jon Brion. Eric wanted a big, dry, midrange-y sound for a few songs, especially on "Somebody More Like You," and that guitar had it.
I picture it as like a warm, fuzzy ball of mids. Mine has great highs and lows, but the mids in it are really warm, and it's fun to sing around. With the timbre of my voice and how I hear things, it's clear. Other dreadnoughts can be sparkly up top and boomy in the bass, so they seem to compete with my voice, but somehow the J-45 is a really nice companion for singing. And I just like dry, woody-sounding guitars. For a long time I was playing smaller body LG and OM shapes and models, like Woody Guthrie, and I liked those because they weren't as big on the low end and they were fun to sing with. I still enjoy playing them, but I like the fact that this is a good bluegrass guitar, as well as a fingerpicking type of guitar. I can do pretty much everything I want to do with it.
Do you remember what your first acoustic guitar was?
Around the time I was 12, I started messing with it—I think it was an older Martin D-35 that my dad had … it was a Martin dreadnought for sure. And I just started practicing. For the first few years in Nickel Creek, I played mandolin and Chris played guitar, but I remember the day when it clicked: All of a sudden I could play rhythm, and it worked. So I started learning songs on guitar, and Chris is already amazing at mandolin, so it just made sense to switch. I had a few Martins at first, and then I added a Collings D2H for a while, and a Bourgeois—I still play those frequently.