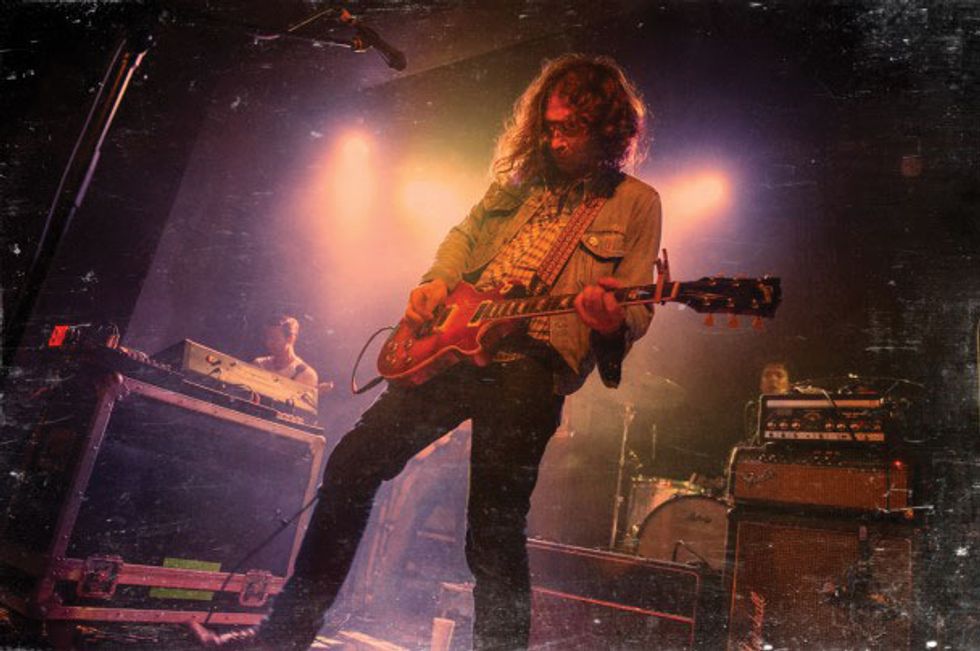 Adam Granduciel plays his 1976 Gibson Les Paul Deluxe at Portland's Wonder Ballroom earlier this year. He still has his first guitar—a 1963 Harmony Bobkat that he's had rewired. Photo by Colin McLaughlin
Back in 2012, Adam Granduciel—who writes songs under the name the War on Drugs—hunkered down in his Philadelphia home studio to begin work on a new album. Though Granduciel was still spinning from the touring merry-go-round on the heels of 2011's critically lauded Slave Ambient LP, the new songs—at least in skeletal form—came easily.
But the long break from the road also gave Granduciel time to second-guess his work, and the second-guessing begat anxiety over how to bring the new songs to life. After months in this intense, exhausting, and often emotionally fraught creative cycle, the singer-songwriter and multi-instrumentalist emerged with Lost in the Dream, a simultaneously dusty and atmospheric album that, ultimately, found Granduciel restoring many songs to their simplest architecture and fleshing them out with the help of his bandmates—Dave Hartley (bass and guitar), Robbie Bennett (keyboards), and Pat Berkery and Charlie Hall (drums).
"If we mix a song at 1 a.m., whatever magic is in the air at that hour is on the song. It wouldn't really work to go back a few days later and edit it."

Lost in the Dream book-ends a decade of road work, studio solitude, and sonic alchemy for the War on Drugs. The band started in 2003, when Granduciel and fellow Philadelphia songwriter/guitarist Kurt Vile started writing and playing together. Supported by a rotating cast of musicians, the band made a name playing in Philadelphia clubs and in nearby New York City. A full-length debut, Wagonwheel Blues, came in 2008—the same year Vile stepped out to work as a solo artist. But the band's breakthrough came with 2011's Slave Ambient, an LP where Granduciel's synthesis of heartland and space rock beautifully coalesced into a signature sound.
Adam Granduciel's equal love for songs and studio atmospherics leads critics to liken the band's work to Tom Petty shot through a shoegaze filter, but that doesn't adequately describe Granduciel's aesthetic. He has a deep respect for and a canonical understanding of American music, as well as an intense curiosity about song arrangement, effects pedals, analog recording gear, and the possibilities of studios large and small. He connects these dots in his own way, creating evocative soundscapes within deceptively simple structures that conjure vivid short films for the ear.
We recently spoke to Granduciel his guitar and recording gear, the process behind his music, and his special tour souvenirs.
Let's start off talking a bit about your formative musical experiences.
When I was in sixth or seventh grade, I had this friend named Jeff. His dad was a "blues lawyer" who played guitar on the weekends and made his son learn drums so he'd have someone to jam with. I went over to his house and got such a taste for the guitar. But it took months for me to convince my parents to buy me an electric. When they finally relented, they wanted to try to find something cheap. Luckily, I got the coolest guitar I'd ever seen—a 1963 Harmony Bobkat—for $89. This was in 1991, and I still have that guitar, although I've had it rewired.
In any case, soon Jeff and I had a band. We'd play every weekend. By the time I got to high school I was jamming with kids after school. We did a lot of pop-rock covers—we learned all of the songs off of R.E.M.'s Monster, which was sweet because that's when I first got to use a tremolo pedal. At the same time, I got into exploring the extended sounds that a guitar can produce, like how to make controlled feedback. I was mystified by the Sonic Youth records, with all their weird sounds. But as I experimented on the guitar, I figured out how to create my own nonstandard effects.
You're a big Bob Dylan fan. Is there a particular era of his career that inspired you most?
Over the years it's definitely changed. When I was in my early 20s, I was super into Dylan's mid-'60s stuff, like Highway 61 Revisited and Blonde on Blonde. I loved Mike Bloomfield's approach. Later, when I was going through my first lovesick-breakup thing, I got into Blood on the Tracks. The last couple of years, I've been listening a lot to Time Out of Mind and Oh Mercy, along with the whole Rolling Thunder [Revue] period. Rolling Thunder seemed like a different kind of thing, a huge band with a bunch of friends just jamming—and a weird combination of musicians at that, like Joan Baez and Mick Ronson.
Has Bloomfield's playing influenced yours?
I just admire his style. He always just went for it. He wasn't the fastest player and was by no means a virtuoso. He just played a few notes here and there, with a ton of emotion. And I love his sound. He was one of the first players to put a humbucker in a Tele to get this gritty but beautiful tone. There's something so raw about it, too. A lot of the recordings captured the first or maybe second time he had played a song. It's often so clear that he's kind of feeling his way through a tune, but he's doing his own thing and really laying in with such great timing and conviction.
You, Kurt Vile, and a few other Philadelphia musicians have worked together in modular ways—kind of mixing and matching with each other. How do you think that's affected each other's music?
When Kurt and I met, we were both heavily into working independently, with our little digital 8-tracks, obsessing over the music in solitude. It was great to meet a partner in crime, always pushing, complimenting, and critiquing me—and to have a person instead of a machine to play music with. Now it's fun to go on tour with Kurt in the Violators, to dig in while taking a backseat role. And we've really developed kind of a shared approach to the guitar.