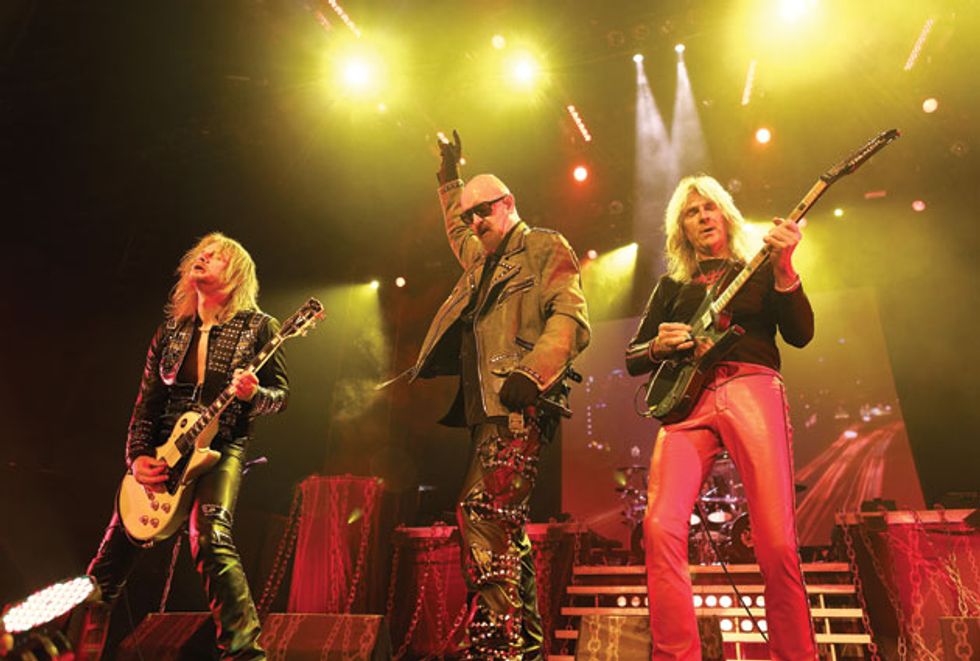 Richie Faulkner (far left) joined Judas Priest in 2011, bringing new energy to the long-running band. Photo by Ken Settle.
With a discography that includes iconic albums like British Steel and Screaming for Vengeance, and a penchant for S&M-influenced attire, Judas Priest pioneered the sound and look of heavy metal. After a four-decade reign as one of the greatest metal bands ever, Judas Priest discussed a final farewell tour in late 2010. As speculation grew about the band's possible retirement, guitarist and founding member K.K. Downing unexpectedly quit. But as is often the case in the music biz, the end was not the end. Richie Faulkner, guitarist for Lauren Harris (daughter of Iron Maiden's Steve Harris), was quickly recruited to fill Downing's shoes, sharing guitar duties with longtime band member Glenn Tipton.
Replacing a guitarist with a 40-year legacy is a Herculean task requiring both guitar prowess and balls of titanium. Faulkner made his Judas Priest debut on American Idol, and soon after Priest embarked on a yearlong world tour, which spawned the live Epitaph DVD.
"The worst songs are the ones you have to struggle to write. The best songs are always the ones that just click." —Glenn Tipton

Faulkner quickly proved himself on the road, but as the band prepared to record its next album—its first with Faulkner—questions emerged. How would Faulkner fit in as a collaborator? Would Tipton be able to adapt after decades working with Downing?
Tipton entered the sessions with an open-mind. "That's one of the big lessons," he says. "When somebody comes in and sees it in a different way, let them go with it for a minute. Live with it. You never know whether you're going to like it or not. If you don't, you can always go back to what it was."
Check out the band's new single "March of the Damned"

Tipton's faith proved well founded. Redeemer of Souls, Judas Priest's 17th release, is full of killer riffs, supersonic twin-guitar harmonies, classic metal moves, and epic anthems. Inspiration was in ample supply during the recording session—the deluxe version of the album features five bonus tracks.
Premier Guitar caught up with Tipton and Faulkner in Midtown Manhattan to discuss the writing of Redeemer of Souls, the duo's approach to crafting layered parts, and, of course, gear.
Were you concerned how the new band dynamic would impact the writing process?
Glenn Tipton: We hadn't worked with Richie before on a writing level, so the first couple of things he presented to us were quite crucial. It was amazing, because everything Richie came up with was just so Priest, and it evolved from that point on. For the first time ever, we actually wrote on the road. Richie would go down in the afternoon, set up his recording rig, and kick stuff out. When we had time off, we sat down and started piecing everything together. What we normally do is write our own ideas—including Rob's lyrics and vocals—pool them, and before you know it, it takes shape into songs.
Richie Faulkner's Gear
Guitars
Gibson Les Paul Custom with EMG pickups
Gibson Custom Shop Flying V with EMG pickups
Amps
ENGL Powerball II
ENGL cabs with Celestion Vintage 30 speakers
Effects
Boss CH-1 Super Chorus
MXR Carbon Copy
MXR Uni-Vibe
Boss overdrive
Dunlop Cry Baby
Dunlop Rotovibe
Strings and Picks
Ernie Ball Power Slinky strings (.011-.048)
Dunlop strings (.011-.050)
InTuneGP picks (2 mm)
custom straps (by Ray Brown, who makes the band's stage clothes)
Richie, did you have to adapt your own
writing style to fit the Priest mold?
Richie Faulkner: I never think you should limit yourself in what you do just because it might not sound like you want it to. Put it on the table and see if it floats. Sometimes it doesn't—maybe it's not quite right, or another idea is better. But we
all put forward everything we had. I'd sometimes think, "This doesn't sound like a Priest riff," but then the band would give
it the Judas Priest treatment. It's surprising
how much you can take something you don't necessarily think sounds like Priest, and have
it become that. Growing up, I'd look to bands like Priest when learning how to write a song—that's how these guys taught me back in the day. So when I came into the band, I'd already done a master class in writing Judas Priest songs. They're what I've wanted to write since
I first heard heavy metal.
Did you feel a sense of competition with older Priest material?
Tipton: No. There's a danger in that, because
if you try to write a song like a previous song,
it's already been done. We just wing it, really, and if it works and the room lights up, then we've got a song. If it doesn't, it's best to put it on the shelf, or maybe just use parts of it. The worst songs are the ones you have to struggle to write. The best songs are always the ones that just click.
Many of your songs like "Cold Blooded" and "Down in Flames" have layered intro parts. Do you write those collectively?
Tipton: Priest has always been known for light and shade. You start a song with a nice, simple melodic piece, and then when the heavy riff comes in it sounds more powerful. A lot of the songs start like that. Richie also came up with a lot of those parts. Like I said, it was unbelievable when he entered the band.
Songs like "March of the Damned," "Hell & Back," and "Crossfire" have strong bluesy elements.
Faulkner: I think Judas Priest, as a 40-year tapestry of music, has a lot to take from. There are blues elements, hard rock elements, and heavy metal elements. Priest had been based in the blues—it was a natural thing when we were all growing up—and evolved from there. The blues is where it all came from anyway.