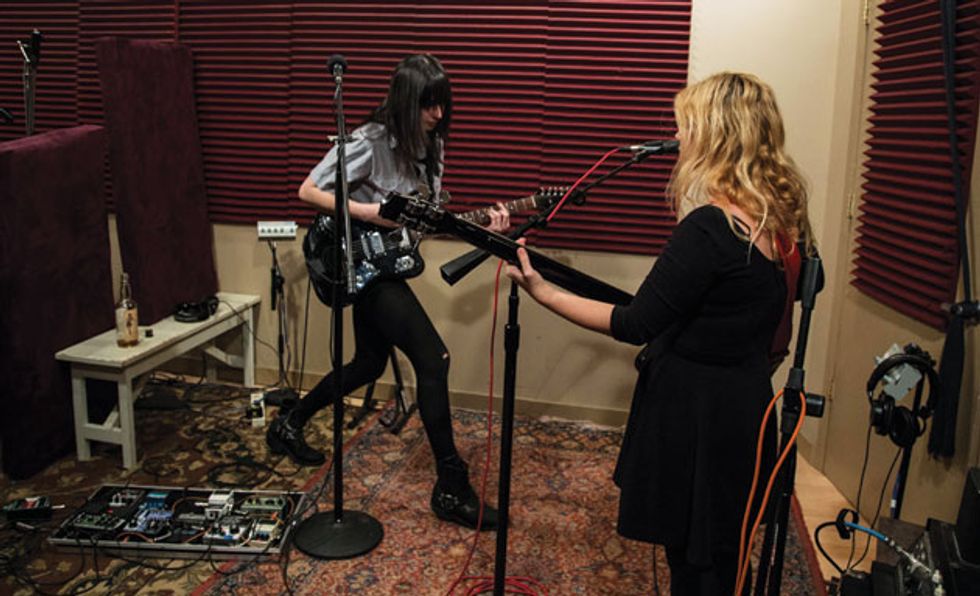 Sharkmuffin frontwoman Tarra Thiessen says she likes the punk feel of writing fun guitar parts over Natalie Kirch's stripped-down bass lines. Photo by Jaime Schultz.
Sharkmuffin's press posse describes the trio as "badass riot grrl." And there's no question that the sonic storm generated by Tarra Thiessen (guitar, lead vocals, theremin, keyboards), Natalie Kirch (bass, vocals), and Janet LaBelle (drums) slams through the speakers with enough punk intensity and sharpened hooks to draw favorable comparisons with the Yeah Yeah Yeahs, Hole, Bikini Kill, and the Breeders—trailblazing alt-rock bands with strong female leads.
But listen to the four songs on the band's latest EP, 1097, and it doesn't take long to hear that there's more than bad-assitude behind Sharkmuffin's crunching riffs, thundering drums, and punk-simple bass lines. The band's kick-to-the-stones ferocity amplifies solid songwriting, while Thiessen's noise-rock fretboard assaults are balanced by nuanced technique. Amidst the noise, there's plenty of cleverly applied tones and expressive dynamics.
A few weeks before a trip to Los Angeles to put the finishing touches on Sharkmuffin's full-length debut album, Thiessen checked in from Brooklyn and explained how noise rock can coexist with the study of music theory, an appreciation for Van Halen, and a love of Pink Floyd—and why neither "riot" nor "grrl" tell the whole story.
When I don't have a boyfriend, I always sleep next to my guitar,
so it's always there.

How would you describe Sharkmuffin's sound?
I guess like "psych-punk-surf?" I don't know! It's like you just start stringing so many words together that you need to think of new words for it. I really like Ty Segall and Thee Oh Sees—they're garage bands from San Francisco that have that "blown-out speaker" sound with catchy riffs and catchy melodies. But you can't really hear the words they're saying all that well because they're so distorted. I wanted the sound to be less distorted so you can hear what I'm saying, while still being noisy.
Was that always your musical goal?
That's a more recent thing, I think, from the last couple years of what Sharkmuffin turned into. I listen to my stuff from a couple years ago and it's more classic rock "jammy" college stuff. I met Natalie the summer after I graduated college and she didn't really know how to play yet. But that was fine because I wanted to be in a punk band. I like her style because she hasn't been playing that long, so it's more basic, which is easier to follow and write stuff on top of. And it's more fun too.
Our sound and approach have changed as we've developed as a band. Our original drummer left and Janet LaBelle joined us in October. She's out with an arm injury but we're hoping she can finish the album with us when we go to L.A. in July. Patty Schemel from Hole stepped in and recorded with us in February.
Do you and Natalie write together?
For our first EP, She-Gods of Champagne Valley, the songs were written in my previous two bands and Natalie just learned those. On the new EP and album, we've done more jamming and writing together. "Soft Landing" came out of a bass line that Natalie wrote. We jammed a lot of the songs on the new album at her family's beach house in New Jersey, which was destroyed by Hurricane Sandy. We named the EP 1097 after it [based on the beach house's address].
YouTube It
This extended video features all four tracks from Sharkmuffin's current EP, 1097. Check out the expressive surf-guitar solo outro starting at 1:21 and lasting until the end of the first track, "Foul Play."
When did you start playing guitar?
My stepdad was a bass collector. He had about 30 different basses that I sort of jammed on when I was younger. I think it was Jack White who made me really want to start playing the guitar, after I heard "Fell in Love with a Girl." I was in high school, so I just learned a bunch of Led Zeppelin, Pink Floyd—I like David Gilmour—and stuff like that.
Classic rock? That might surprise some of your listeners….
I'm more into noisy stuff now. I have lots of pedals and I like everything to be really loud. I really like surf rock. In high school, this one Ventures CD was stuck in my car stereo, so I listened only to them for a whole summer: The Ventures and Dick Dale. I love the Velvet Underground sound, too. I listened to Side B of Velvet Underground & Nico every day for a couple of months in college. I also really like [German experimental rock band] Can. I like their guitar parts. Then there's this band called the Mallard—they were kind of more post-punk, noisy, with this girl guitar player that I thought was pretty sweet, Greer McGettrick.