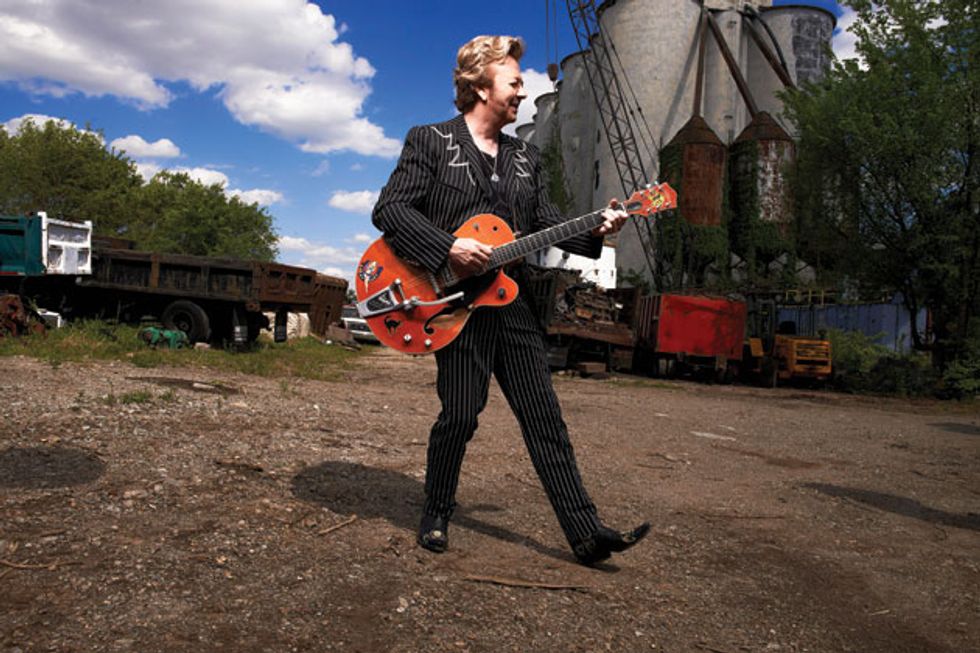 You never know quite what you're going to get when Brian Setzer comes out with a new album. Sure, you can bank on stellar guitar playing and the unmistakable tones of his iconic '59 Gretsch 6120, 6G6-B Fender Bassman, and Roland Space Echo. But otherwise it's a bit of a toss-up: Other than big, '50s-style hair and an orange hollowbody, Setzer's main trademark is his restless musical ambition and a penchant for styles that sometimes seem at odds. Remember—although he's the guy who spearheaded the early-'80s rockabilly revival with Stray Cats hits like "Rock This Town" and "Stray Cat Strut"—he's also the guy who sprinkled it all with punk, blues, New Wave, swing-jazz, Southern rock, country, and bluegrass seasonings. And that was well before he embarked on an even more ambitious solo career.
You could easily argue that Setzer's voracious appetite for musical adventure and growth is what keeps him relevant—it's the reason his repertoire feels like it's in constant bloom. But it's also been a bit of a thorn in his side. For starters, it had to be hellacious for the Massapequa, New York, native to figure out what to do after the rockabilly revival lost its mainstream steam in the mid to late '80s—the only guitarists who seemed to get attention were those who resorted to hair metal or, during the first half of the '90s, grunge. Consequently, Setzer's genre jumping in post-Cats years gave the impression he was frantically searching for a new, bankable identity. Solo efforts at Byrds-y 12-string Rickenbacker jangle mixed with drum machines were executed well enough, but the die was already cast: People knew him as "the Gretsch guy." Yet that sonic signature was too nostalgically narrow—and his skills and expertise too wide—for him to have kept selling millions of records.
Add to that the fact that Setzer has never resorted to flavor-of-the-moment gear tricks: He eschews pedals, and though he picks up a baritone or banjo here and there (or maybe tries an esoteric vintage amp for a song or three), it's pretty much just vintage Gretsch, Fender, and Roland. That means his guitar sound can seem stuck in time—albeit gloriously so to us fans.
I've got a '59 Les Paul—and I'm keeping it to trade in so that my girls can go to college—but I can't get any music out of that. I understand that other people can. But I can make the Gretsch sound like that Les Paul. Not the other way around.

But by the end of the Clinton administration, Setzer caught lightning in a bottle again. He not only made his teenage dream of fronting a 17-piece big band a reality, he also rejuvenated his career as the de facto ambassador of the late-'90s swing revival—with a rockabilly rave-up edge. Never one to sit and stew, Setzer has since put out albums of authentic early rockabilly, modern-ish rock 'n' roll with a Texas-boogie feel, traditional jazz instrumentals, classical-inspired big band, and film noir stuff, with the occasional nod to gospel and doo-wop thrown in for good measure.
But with Rockabilly Riot! All Original, his first album since 2011's Setzer Goes Instru-Mental, the Twin Cities Pomp is back to what put him on the map in the first place. All Original is chock-full of the twangin' slapback and thumping slap bass that Setzer fans tend to love most. As always there are twists, including rabblerousing piano work courtesy of Kevin McKendree on many tracks, but the difference between the diversity of Setzer's Stray Cats and early solo efforts—or even something as recent as his 2006 solo album, 13—is that of late he seems to have truly mastered the art of seamlessly incorporating all these stylistic nods into the classic Setzer sound. Rather than feel like boredom-induced hopscotching, the cheeky Western vibe of "Calamity Jane"—which features funky clavinet, bouncy saloon-style piano, and a whimsical circus organ—comes across as classic Setzer having a hoot of a time in a cowboy hat. And the high-lonesome pedal-steel sighs on "The Girl with the Blues in Her Eyes" (played by session ace Paul Franklin) combine with a breathily intimate vocal performance and a gorgeously simple progression to produce one of Setzer's most beautiful and memorable songs since "Stray Cat Strut."
We recently spoke to Setzer about the making of All Original—including how his daughter's love of classic rock helped summon his "songbird" muse—and why he's never tempted away from his go-to gear.
YouTube It
Setzer's first single off Rockabilly Riot! Volume One, "Let's Shake."

It's been nine years since you released Rockabilly Riot! Volume One, the old-school covers album. Tell us how things unfolded this time around.
Well, first you have to start with a spark—I always say that the songbird has to come visit me, y'know? My daughter, who lives in Nashville, was listening to her iPod and she had the "peas" in her ears. I said, "Let me hear those." I pulled them out of her ears and thought it sounded like crap. She goes, "You just don't like the band!" I said no, that's not it. Then I asked her what she liked. She said, "I like Zeppelin." I pulled out an old Zeppelin vinyl record and put on "Immigrant Song." I have an old 1963 McIntosh tube stereo with studio monitors, and I blasted it. She went, "Oh my god!" So for Christmas, her mom bought her a stereo. She and her friends hunt down vinyl. That's the deal. She's got the first Clash album on vinyl. If I find something, I'll send it to her … the first Ramones record—she likes that kind of '80s punk and classic stuff, as well as new stuff. I thought, "How cool! Wow, I did something that my daughter thought was cool!" That's what got me going with the line, "She plays vinyl records..." then that riff came up. I go, "That's really catchy and simple!" That's the hardest thing to come up with—catchy and simple. That's what gets the ball rolling. Okay, I've got the riff, I've got the idea for the song—now let's go.
So "Vinyl Records" was the first song?
That was the first song I wrote for the record, yeah. After I'd written two or three songs, I thought, "This is a rockabilly record, no doubt about it!"
"Calamity Jane" has a familiar sound, but it's a bit of a new vibe for you, too. There's that funky clavinet part and sort of a whimsical circus-organ-type thing mixed in with the upright piano.
You actually listened to the record. Thank you!That's production—that's Peter Collins' ear there. My idea for that song was—of course, it starts out rockabilly—but then there's that lyric. I thought, "'Calamity Jane'—no one's written a song called 'Calamity Jane.' There's no band that calls themselves Calamity Jane." At least no one that I knew of. I thought it was a really great title. I pictured an old Western, an old saloon where they're playing poker and the piano player's playing. Peter Collins thought about putting in a clavinet to make it bounce. I thought when I wrote the song that the vocal line would pull it into something else, like almost a bluegrass thing. It's kind of a mix of genres, I guess.The circus organ was Peter's idea. He said that he heard, like, a calliope. He had this crazy thing in there, and it sounds like the man on the flying trapeze.