On July 7, 2014, Premier Guitar met with Jesse Lacey and his tech Joe Cannetti, and lead guitarist Vincent Accardi of the Long Island alt-rockers Brand New before their show in Louisville, Kentucky. Lacey spilled the dirt on his love of Fender guitars and fuzz pedals.
Jesse Lacey's Gear
Guitars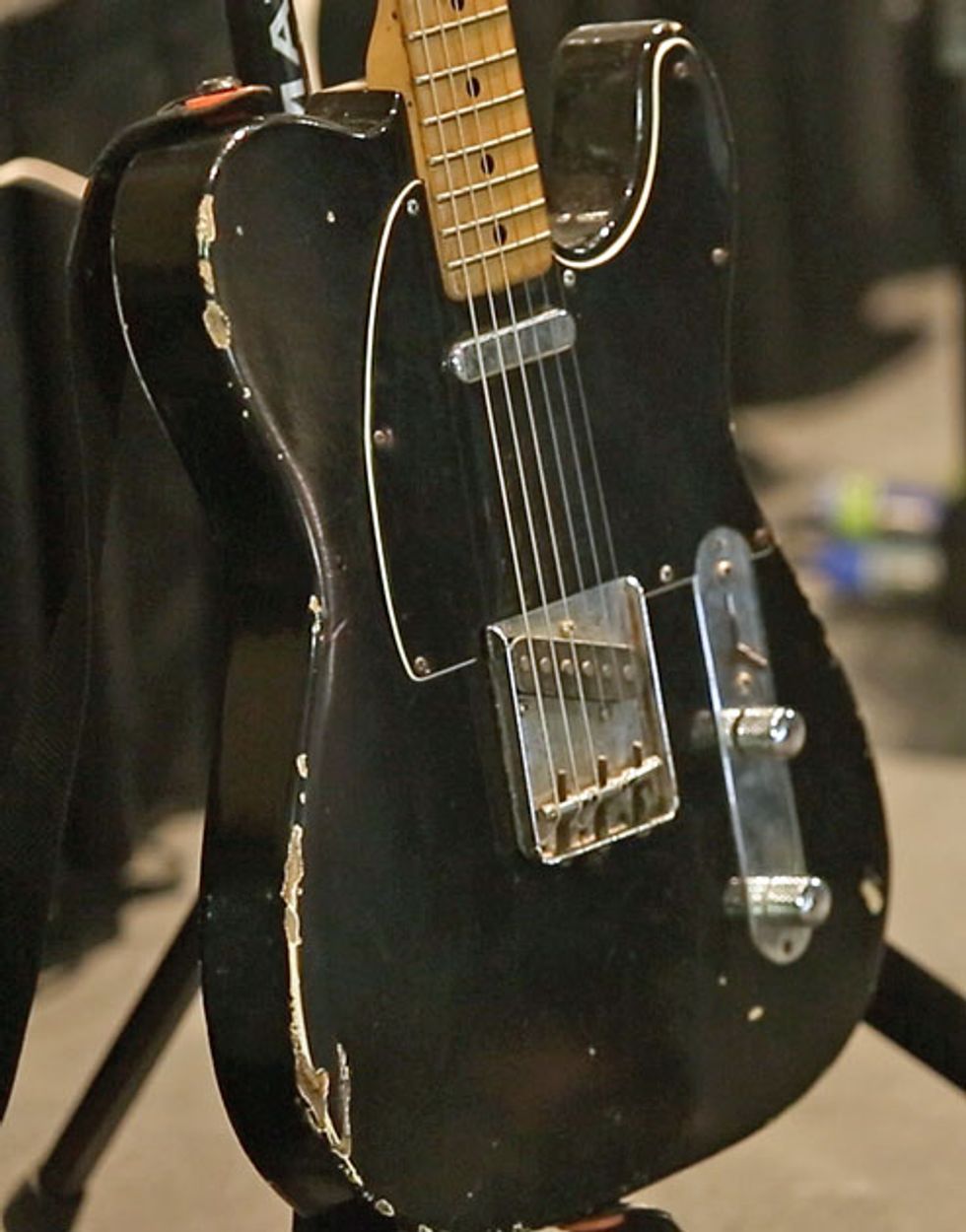 Lacey keeps it all single-coil. His No. 1 is a battered '70s Fender Tele with a Curtis Novak Tel-V bridge pickup.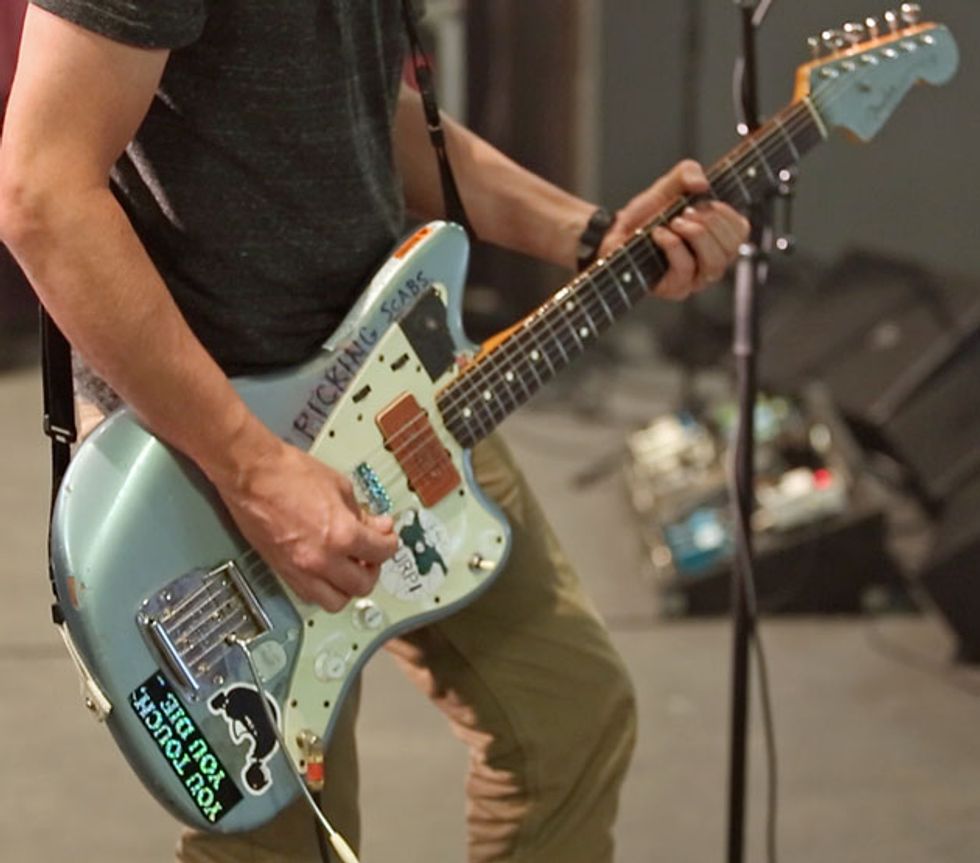 Next is a 2006 Fender Custom Shop Jazzmaster with a matching headstock.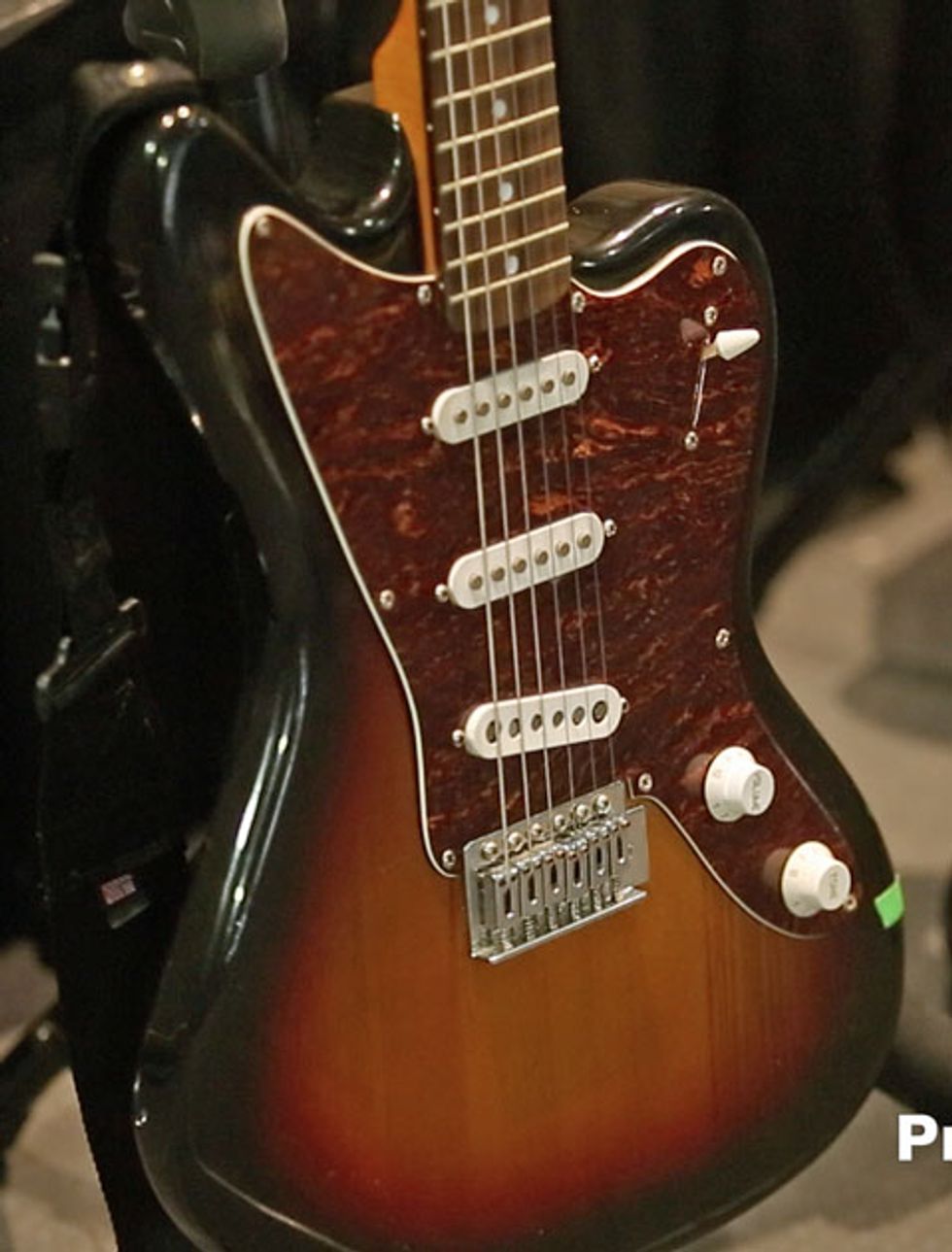 Last, but not least, is a 2009 Stagg Jazzmaster-style guitar with single-coils in the neck and middle positions, and a Fender Jaguar single-coil in the bridge position.
Amps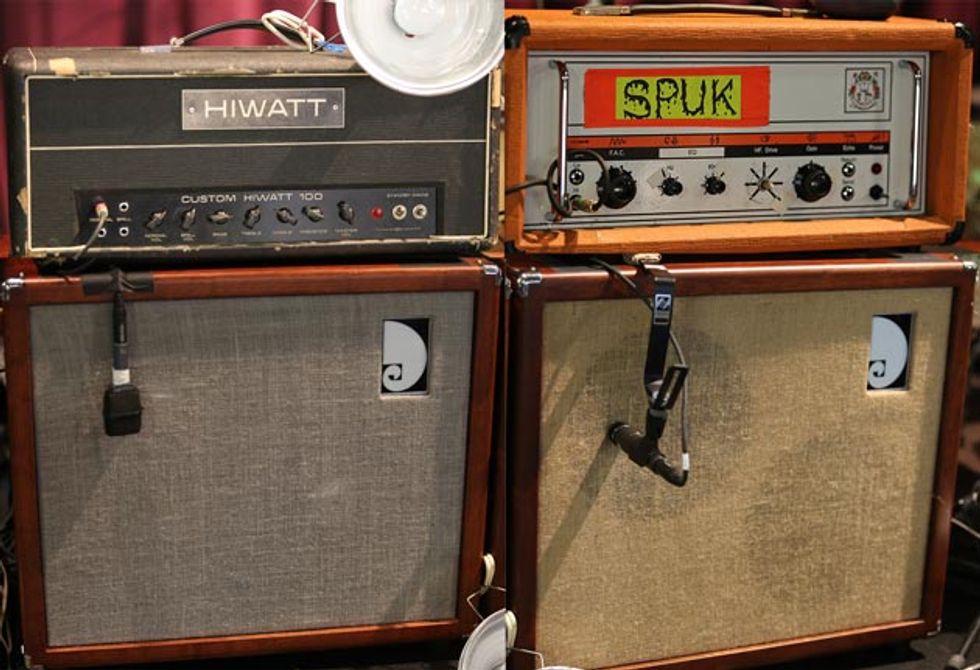 Lacey goes big and loud with a DR103 Hiwatt Custom 100 head plugged into a Janice 2x12 cab loaded with one Eminence Delta and one Swamp Thang speaker. Running in conjunction with the Hiwatt is a Gibson 1990s-era Orange Overdrive 80 that has been modded for 120-watt output. The Orange drives a Janice 2x12 with two Weber FC12s.
Effects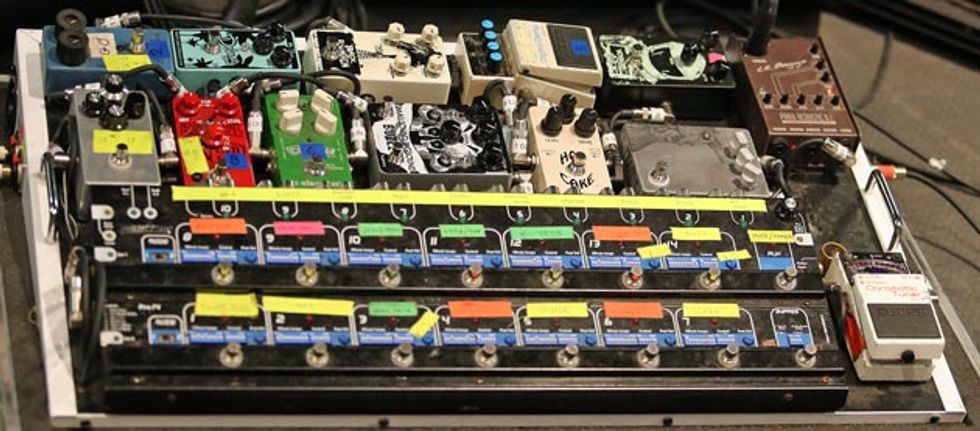 A true gear geek, Lacey did all the wiring and soldering on his pedalboard. When his signal first hits the board, an L.R. Baggs Para Acoustic DI sends a signal to the front of house. Another line runs into a GigRig Pro-14 switching system, which routes the signal to a Crowther Audio Hotcake overdrive, a modded MXR Blue Box, a Fuzzrocious Zuul, a BYOC Large Beaver, a Walrus Audio Voyager, an Old Blood Noise Endeavors Black Fountain, a TC Electronic Corona, a Mr. Black DeluxePlus, a Dr. Scientist Radical Red Reverberator, a Smallsound/Bigsound Buzzz, a Boss DD-6 Digital Delay, and a Boss TU-2 tuner.
Vincent Accardi's Gear
Guitars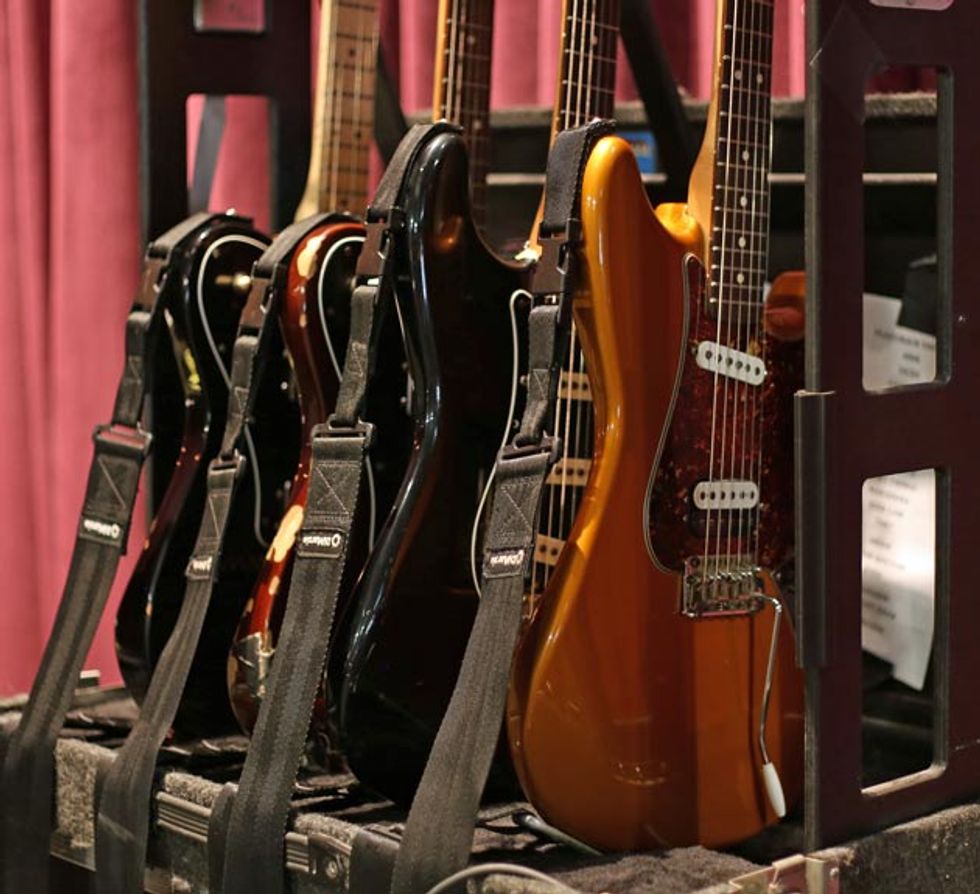 Accardi keeps it Fender-y with his stock 60th Anniversary Fender Cyclone.
Another go-to axe is a 60th Anniversary Fender '72 Telecaster Deluxe with a Cyclone neck.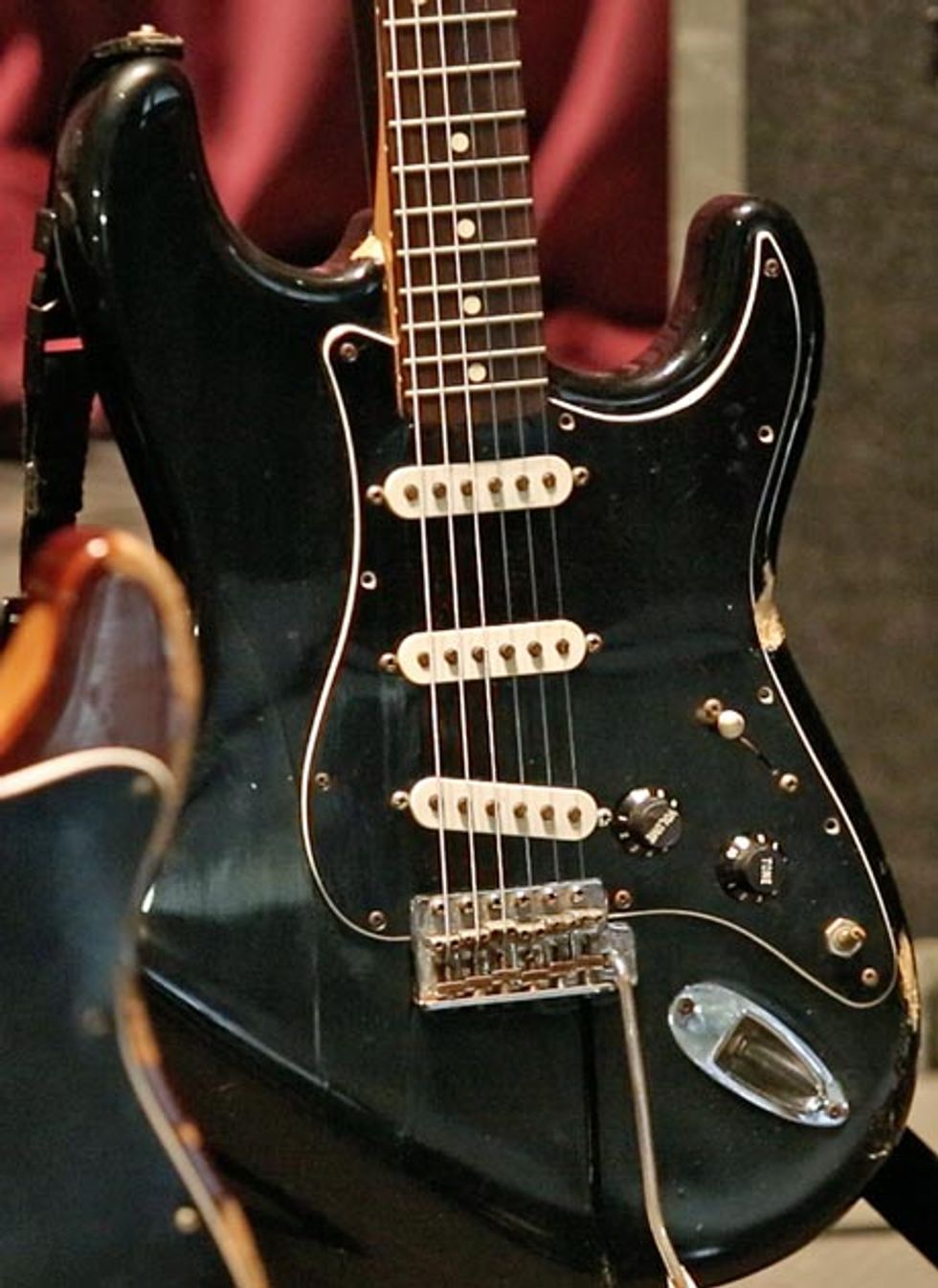 Accardi also plays a 1992 MIM Fender Strat he has owned since he was a kid.
Amps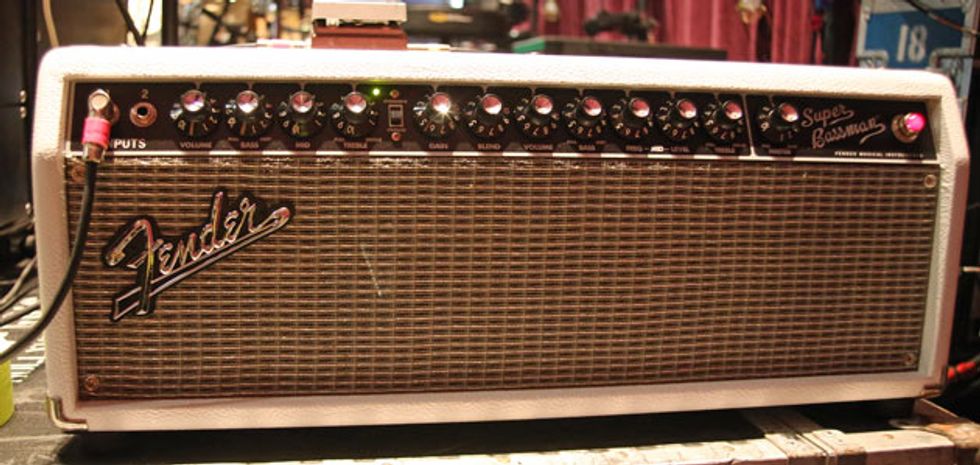 Accardi uses a 300-watt Fender Super Bassman Pro tube head plugged into two cabs: a Janice 2x12 loaded with two Eminence EM12s, and a Janice 2x15 with two Eminence Legend 1518s.
Effects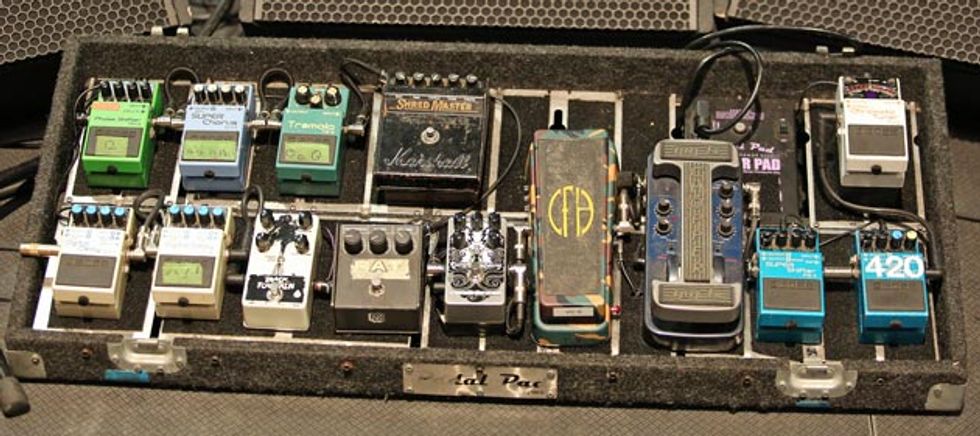 Accardi's MKS Pedal Pad uses both built-in MKS and Walrus Audio Aetos power supplies to juice a Boss TU-2 tuner, two Boss PS-5 Super Shifters, a Gig-Fx Chopper, a Dunlop Cry Baby from Hell wah, a Catalinbread Dirty Little Secret, a Pro Co RAT, a Marshall ShredMaster, a Boss TR-2 Tremolo, a Boss CH-1 Super Chorus, a Boss PH-3 Phase Shifter, and three delays—an Old Blood Noise Endeavors Black Fountain, a Boss DD-6, and a Boss DD-7.
Although it was not used at this show, Accardi typically runs a '63 Fender Tube Reverb unit between his last pedal and his amp.