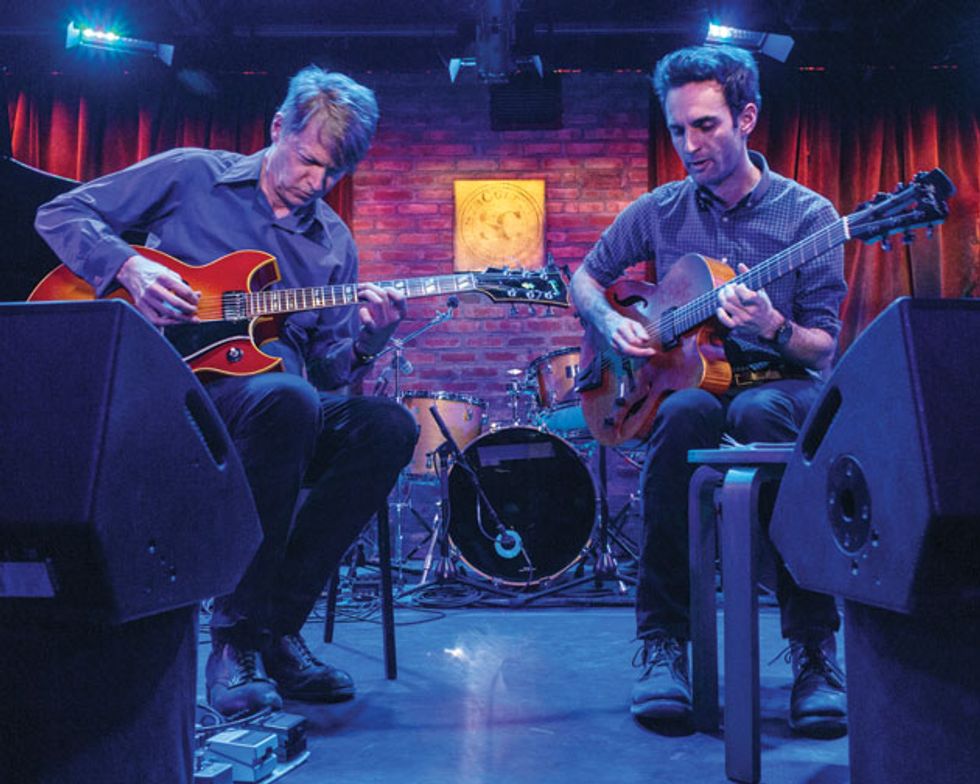 Photo by Scott Friedlander.
Nels Cline and Julian Lage might seem like an unlikely pair. Cline is best known for his work with rock band Wilco, though the 58-year-old sonic tinkerer has recorded since the late 1970s in a range of improvisational and avant-garde settings, both as a sideman and leader. Lage, with his pure guitar tone, appears more straight-ahead, at least on the surface. At 26, the former child prodigy has played with jazz heavyweights like Gary Burton and Jim Hall, in addition to leading his own ensembles. He's also delved into bluegrass and other rootsy idioms, as heard in his work with the Punch Brothers' Chris Eldridge.
But Cline and Lage have many shared reference points, from the compositional approach to guitar improvisation of their late friend Hall to the chamber jazz that reed player/composer Jimmy Giuffre (another Hall associate) pioneered in the 1950s. After several years working as a duo, Cline and Lage have developed an uncommon chemistry, witnessed to exciting effect on ROOM, an album full of delightful surprises that levels the stylistic playing field: Cline abandons his customary pedalboard, while Lage, freed from his usual structures, plays with uncharacteristic freeness.
We chatted with Cline and Lage about their relationship, their processes, how they recorded ROOM, and their mutual enthusiasm for old, battle-scarred guitars.
How did your duo come about?
Nels Cline: It all started a few years ago with an article I wrote for Jazz Times about 10 of my favorite Jim Hall tracks. Jim's friend and manager, Brian Camelio—also a guitarist—liked the article and brought it to Jim. It turned out I lived a block away from Jim—he was on 12th Street for many years, and I was on 11th—and Brian and Jim started inviting me to what we called "crony lunches," with a rotating cast of musicians at a restaurant at the end of my block. Then one day, this delightful young gentleman, Julian, showed up.
Julian Lage: I was first invited to one of the lunches on a day I had a rehearsal that I had some trepidation about, thinking I wasn't the right player for the band. I remember realizing if I ended up not being on the record, I could hurry up and make the lunch on time. At the last minute a more obvious player materialized for the project, so I dashed off and made the lunch.
Cline: I have a lot of guitars in New York and, sensing a guitar-geek factor, I had Julian over to show him some of them. I remember being in my kitchen and handing Julian this little koa Oahu acoustic from the 1930s. He was kneeling down, and he played only two or three notes, the simplest things in the world, but they sounded so great, with tremendous sensitivity oozing out.
"I love how the guitar is such a malleable instrument, with so much potential for exploration—an almost infinite amount of variation and manipulation." —Nels Cline

Lage: I immediately responded to Nels' warmth and curiosity. I knew right away he was a fellow seeker, on a deep musical mission. It would have been great just to hang out with him and talk shop, but to work together and make a record was really the cherry on top.
Cline: I had a gig lined up at [Manhattan record store and performance venue] Downtown Music Gallery and was planning on doing a drum-less chamber-jazz group in the mold of Jimmy Giuffre. But at the last minute the cellist couldn't make it. I considered asking Julian to do the gig, but was reluctant because I'd done so many guitar duos. But I did ask him, and we never looked back.
Can you talk a little bit about how you create springboards for improvisation.
Cline: I started out with what I call "squibs"—tiny written areas of music to be connected with free improv. "The Scent of Light," for example, is one of the first pieces I presented to Julian. "Amenette" and "Racy" are just lines—we didn't even write anything down. I would play an idea, Julian would harmonize on the spot, and we'd take it from there before going completely free.
Other tunes were, in a sense, more traditional. "Whispers from Eve," for instance, was inspired by my late friend Eric Von Essen, with whom I played from the late '70s to the early '90s. The piece contains the types of chords he liked to use in quartets and duos—I learned a lot from him, harmonically. Julian wrote "Calder," another harmonic workout. And "Blues, Too" is a tune I wrote in the '90s and have played with the Nels Cline Singers as well as with Jim Hall.
We arranged everything together. Quite often I'd come up with something I felt was complete, but Julian would learn it and transform it into something else before I could notate it. Overall, we went for a sort of chamber-jazz aesthetic. Not about jazz blowing, but about chamber music, playing for the love of 20th-century composers like Morton Feldman and of spontaneous composition, for the occurrence of anomalous chord clusters and strange polyphonies—things that other people might not be as excited by as we are. In playing our repertoire, we follow each other and come up with sometimes uncanny unisons and amazing pauses, harmonic events that are both accidental and rewarding.
Lage: The squibs are distinctive in nature. Even if only four or eight bars long, they're very directive and can sustain long improvisations. Nels writes in such a way that leaves so much room for spontaneous composition. It's so cool that, in this setting, nothing is off-limits—a strong backbeat groove is given equal consideration to something more fluid. It's really a shared concept, as Nels says—a tip of the hat to Jimmy Giuffre and that whole scene.