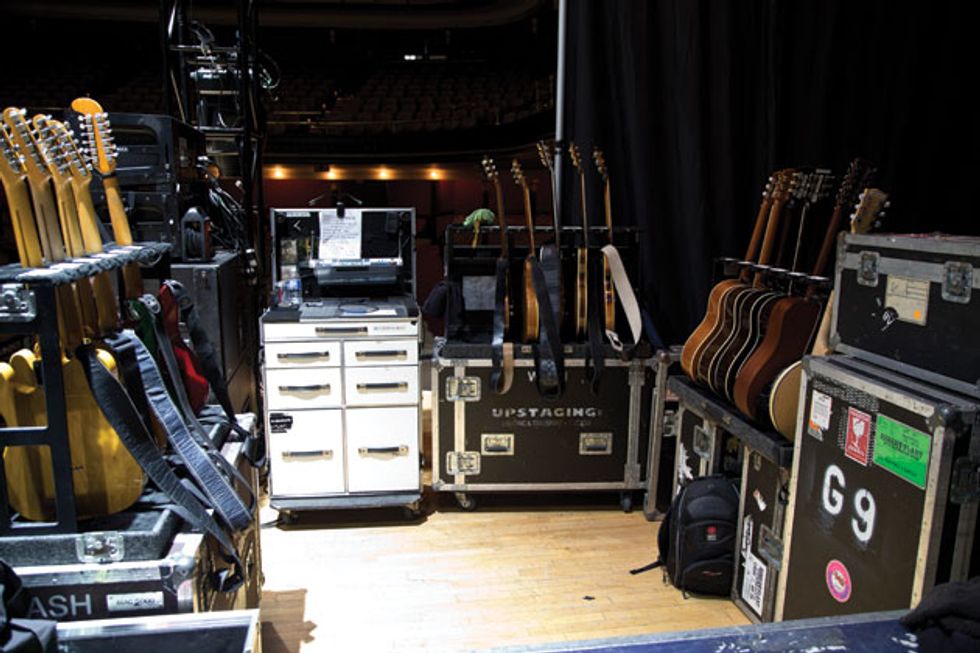 The rigs of Skin Tyson and Justin Adams, backstage at the Brooklyn Bowl.
"We've just got a really good understanding of sonic space and different styles," Tyson says, a steady gleam in his eye and his Liverpudlian roots instantly recognizable in his voice. "It's not a straight-ahead record, this one—it's more of an experience. One minute it's real down and Crazy Horse, and then the next minute, it's another country away from that, you know? That's where the journey comes into it. And playing it live now, it's changing already. It's growing into something else. That's inevitable, because the songs were only made in January, so now they're starting to turn into their own beings. Let them be free!"
Tyson laughs, and as if on cue, Plant walks back into the room. He's gearing up to see a solo show by rockabilly revivalist Imelda May, who's playing just down the street at the Rough Trade record shop. "Have you heard Darrel Higham play?" he asks, knowing we've been talking guitars. Plant admits to playing on his own quite a bit, especially in the open D and G tunings that Jimmy Page picked up from Bert Jansch in the Zeppelin days. "I'll bring some of my guitar ideas into the studio," he says, "but I let somebody who's a bit more fluent do the proper job, you know. Skin and Justin are two radically different guitarists, but they augment each other, and they never get in each other's way. It's ultimately about that great groove, and we're talking about deep grooves here."
We chat for a bit about Morocco and the coastal city of Essaouira, one of his favorite places, and then just as suddenly, a quick handshake and he's off, stepping out into the sun-drenched streets of Brooklyn, on the move once again.
Liam "Skin" Tyson's Gear
Guitars
'70s Fender Stratocaster
'70 Fender Telecaster
Fender Electric XII
Gibson J-35
Gibson J-45
Gibson Songwriter
Gibson ES-345 TB
Late '60s Gibson ES-355
Gibson Les Paul goldtop with P-90s
Amps
Two '80s Hiwatts heads with 1x15 cabs (live)
Hiwatt 50-watt SA112 (studio)
Modded early '90s anniversary Vox AC30 (studio)
Effects
EBow
TC Electronic G-System
Justin Adams' Gear
Guitars
1952 Les Paul goldtop
Vintage Harmony H77
Effects
Vox AC30 (studio)
Selmer Truvoice Twin (studio)
Harding Deluxe (live)
Harding Rocket 88 (live)
Effects
EBow
Electro-Harmonix Micro POG
You guys toured together for about a year before you started work on the new album. When did you first get the call from Robert?
Justin Adams: He had a gig in Clarksdale, Mississippi, and Band of Joy, his American band, couldn't do it, so he asked my band Juju to do it. We did a rehearsal and decided to call John Baggott and Skin, so it became a sort of hybrid band of Juju and Strange Sensation. And then the next thing you know, we did three or four gigs. There was no future in it at that point—it was just, let's do these gigs, and we had a real blast. We were all really pleased to see each other as friends, and the freshness of having Dave and Juldeh in the band gave it a whole new balance.
From there, we did a South American tour, and in my mind, that's when the album really started to come together. It was like, hey, we're coming up with things that are really interesting, and we have a sound that's coalescing. Robert was already thinking about a new record, and with this sound that we'd created, we were doing cover versions of Howlin' Wolf's "Spoonful" and Bukka White's "Fixin' to Die," and we turned "Whole Lotta Love" all inside out. From that, a palette started to present itself.
There's a real expansiveness to how the guitars sound on the album, but you can also hear the detail of what you guys are playing.
Skin Tyson: There's a range of sounds on it. Some of it was a bit ramshackle—the most horrible banjo you've ever seen, like on "Poor Howard," recorded instantly [laughs]. And then to the opposite end, you'd have a Gibson Robot guitar, with the piezo pickup in stereo giving you this incredible sound. And it's not a rock album, is it—let's face it. It's an album that was made almost off the cuff. "Embrace Another Fall" was like that—the tape's rolling, and you do your bit. But a few tunes were developed over a long time, and then when we got back together, we had the chance to re-record them—like [the single] "Rainbow." Justin had a drum loop and I dropped a guitar part over it, and it was on my studio computer for years.
Adams: That was completely different from a tune like "Little Maggie," or the final tune "Arbaden," which were both done very live in Real World Studios in Bath. I think it was eight years ago when we put the EBow part on "Rainbow," and Billy did his bass, and Robert did his falsetto vocal. And then he wrote the lyrics just recently—I mean, almost just the other day, you know? But when the lyrics came on, the whole album came into focus, and Robert's production choices all suddenly made sense.