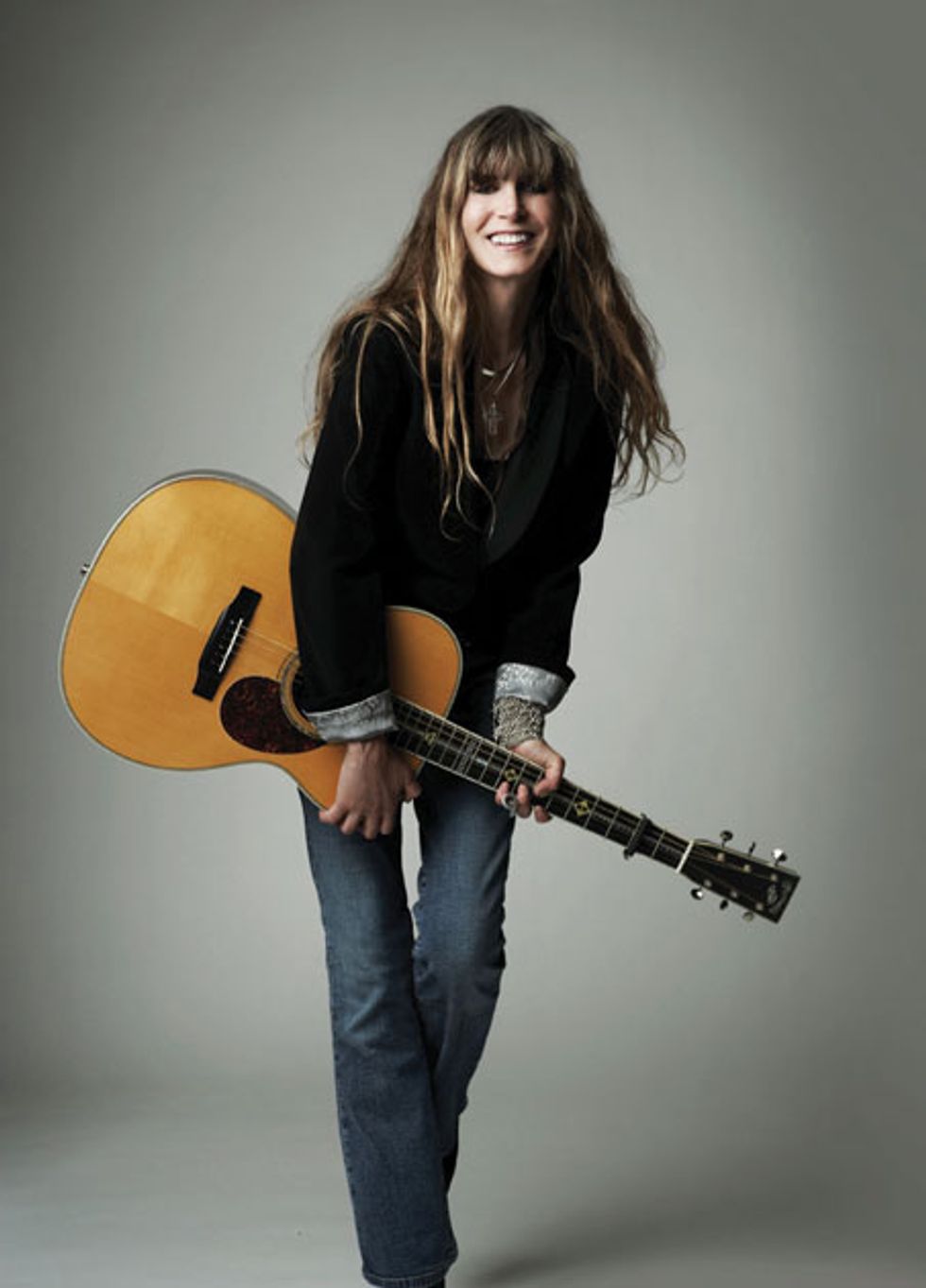 Guitarist Rory Block grew up in the 1960s folk scene in Greenwich Village, where her father Allan ran a sandal shop. When she was 14, Block met guitarist Stefan Grossman, who introduced her to Mississippi Delta blues.
Photo by Sergio Kurhajec.
Rory Block plays acoustic guitar with the same intensity John Henry applied to driving railroad steel, and that has consequences. "Once, when I was on A Prairie Home Companion, the end of my finger was literally missing from playing 'Crossroad Blues' at the previous gig," she recounts. "It was a humid night, and that can really peel your skin when you're repeatedly pulling off the notes in a chord. I ended up folding a piece of tape over the end of my finger and smoothing it around the tip, so there were as few edges as possible. It wasn't perfect in terms of the tone it produced, and it was slippery, but at least there was something between the open wound and the string."
Block's reputation for keeping nothing between herself and her music has made her one of the foremost interpreters of acoustic country blues for the past 30-plus years. Her recordings ring with commitment, starting with High Heeled Blues, Block's 1981 solo acoustic debut for Rounder Records that met with raves from Rolling Stone, through her latest album, Hard Luck Child: A Tribute to Skip James.
"I felt I should include Skip James … I remember being in the hospital with him when he was declining, and that was very moving."

It helps that no matter how much her signature Martin guitar takes a beating onstage as she pops, frails, plucks, and strikes its steel strings, every note and whinnying slide lick Block plays has the kind of bright, immaculate definition typically associated with champion flatpickers. That raw virtuosity and her soaring, wide-ranged voice has made her truly formidable. And those qualities are fortified by her songwriting skills.
Although country blues and primal gospel were Block's first passions, she sought to establish herself as an original voice in R&B on her 1970s recordings for the now-defunct Chrysalis label. She met resistance, even from Chrysalis, and left the music business for a while under a cloud of dissatisfaction. When the skies cleared, Block began playing country blues again and signed with Rounder. But her foundation in fundamental American music has not made her predictable. Block's full-band arrangements for 1986's pop-inclined I've Got a Rock in My Sock, for example, defined the Americana-blues fusion sound a decade before Keb' Mo' parlayed it into a Grammy-winning career.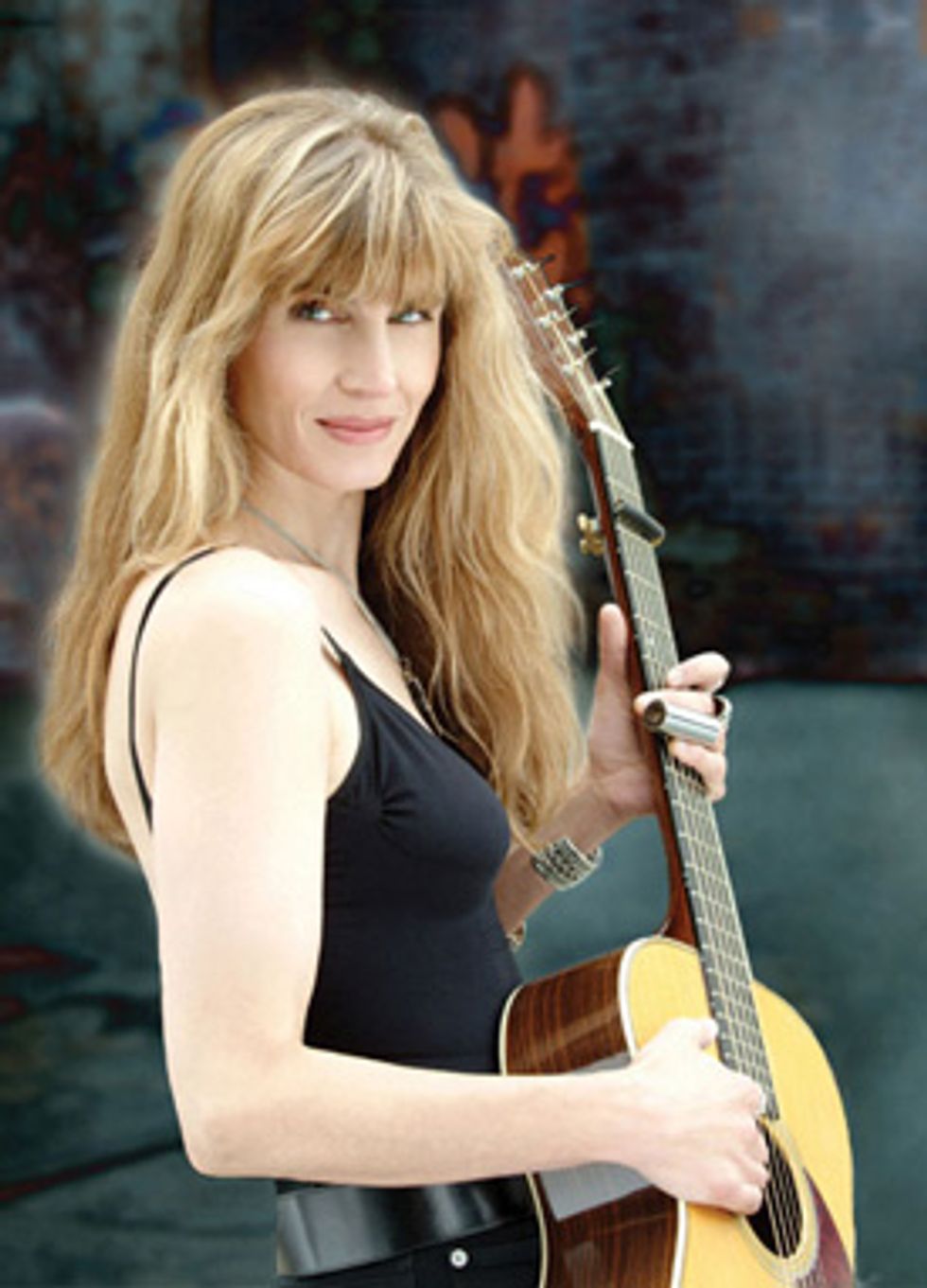 Block's Martin OM-40 signature also has burly frets. "When you play slide and you use the second or fourth fret often for the capo, it really does a number on the frets—if you pound it like I do," she says. Photo by Shonna Valeska.
For the past eight years, Block has once again been zeroing in on her roots with a run of tribute recordings to early blues masters. She began her self-described "Mentor Series" with 2008's Blues Walkin' Like a Man: A Tribute to Son House. Then came 2011's Shake 'Em on Down: A Tribute to Mississippi Fred McDowell, 2012's I Belong to the Band: A Tribute to Rev. Gary Davis, and 2013's Avalon: A Tribute to Mississippi John Hurt.
Although the repertoire for these albums is plucked from the historic catalogs of the artists they enshrine, Block has kicked the three latest sets off with an original song about its subject. Hard Luck Child: A Tribute to Skip James begins with her impressionistic biography "Nehemiah James," invoking God, the perils of sharecropping and levy construction, and the other trials of the ghost-whispering, singer-guitarist-piano player who was born in Bentonia, Mississippi, and enjoyed a career renaissance during the '60s blues boom.
That's when Block, who turned 65 on November 6, was growing up in New York City's then-bohemian enclave Greenwich Village. Her parents were steeped in the Village's nascent folk scene, and when Block fell in with the circle of musicians who performed on Sunday afternoons in Washington Square Park—which included roots notables John Sebastian, Stefan Grossman, David Grisman, and Maria Muldaur—her path opened. Block has pursued it with heart and determination ever since, leading right up to Hard Luck Child.