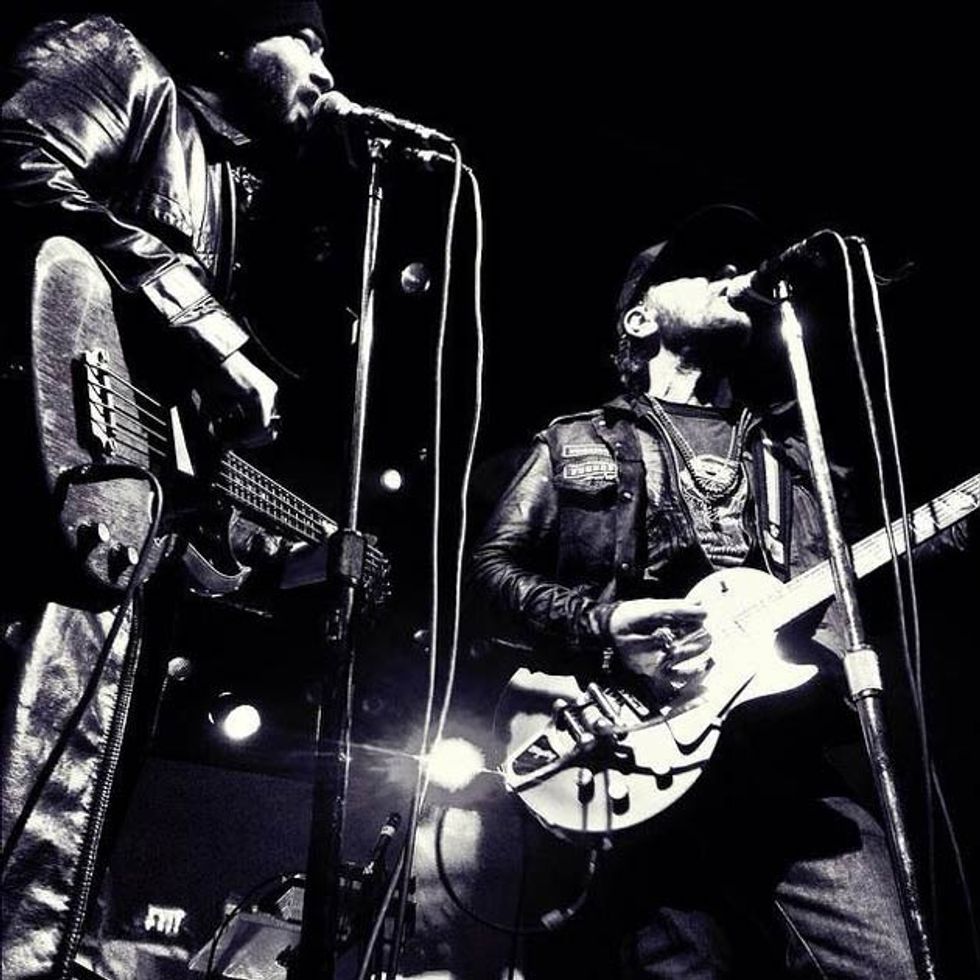 The power trio is Lanois' favorite onstage ensemble to play in. "Together we experience the power of the triangle in which each of three walls is essential: One wall falls and the other two collapse," he says. "As long as each wall is fully delivering, the triangle becomes exceptionally powerful."
Few producers have made a sonic imprint as deep as Daniel Lanois, whose signature approach—complete with mysterious colors—is at the core of great records by U2, Bob Dylan, Peter Gabriel, and Emmylou Harris, among many others. As a player, Lanois has a singular, understated approach to both the 6-string and pedal steel. And as evidenced by his latest solo album, Flesh and Machine, he has the uncanny ability to extract new sounds from his goldtop Les Paul, Sho-Bud steel, and Fender tweed amps.
Now 63, Lanois has been a purveyor of sound since the late 1970s, when he jointly acquired a 4-track with his brother, Robert. They set up shop in their mother's basement in Ontario, Canada, charging $60 per day for their services, and their early clients included local talent like the future funk star Rick James and the children's singer Raffi.
In the early 1980s, Lanois experienced a pivotal moment when he lent a hand to one of Brian Eno's pioneering ambient works, Ambient 4: On Land (1982), along with Apollo: Atmospheres and Soundtracks (1983), which Eno recorded for a documentary on space exploration. The two also worked together in producing U2's The Unforgettable Fire (1984), and this led to Lanois producing Peter Gabriel's So (1986) and U2's The Joshua Tree (1987), both major commercial breakthroughs for the Canadian musician.
"I think that's part of the future, to maintain what we love about symphonics, but to take them to all new dimensions."

By the end of that decade Lanois found himself working in New Orleans, where he recorded the Neville Brothers' Yellow Moon (1989), perhaps the group's finest album to date, and where he also worked on what was arguably Bob Dylan's best record in years, Oh Mercy. That same year Lanois released a solo debut, Acadie, which merged New Orleans rhythms with the more ethereal sounds he'd developed since working alongside Brian Eno.
On subsequent solo outings, including For the Beauty of Wynona (1993), the soundtrack for Sling Blade (1996) and, more recently, Here Is What Is (2007, linked to a documentary of the same name), Lanois further revealed his ability to reconcile seemingly disparate worlds, such as rootsy country and celestial sounds. And he continued to wear a producer's hat on the albums he made with Emmylou Harris (Wrecking Ball, 1995), Dylan (Time Out of Mind, 1997), and Neil Young (Le Noise, 2010).
We asked Lanois to share what he's learned in his far-flung musical travels and how he's applied it to guitar, why he has an affinity for vintage gear, and about the idiosyncratic creative processes behind Flesh and Machine.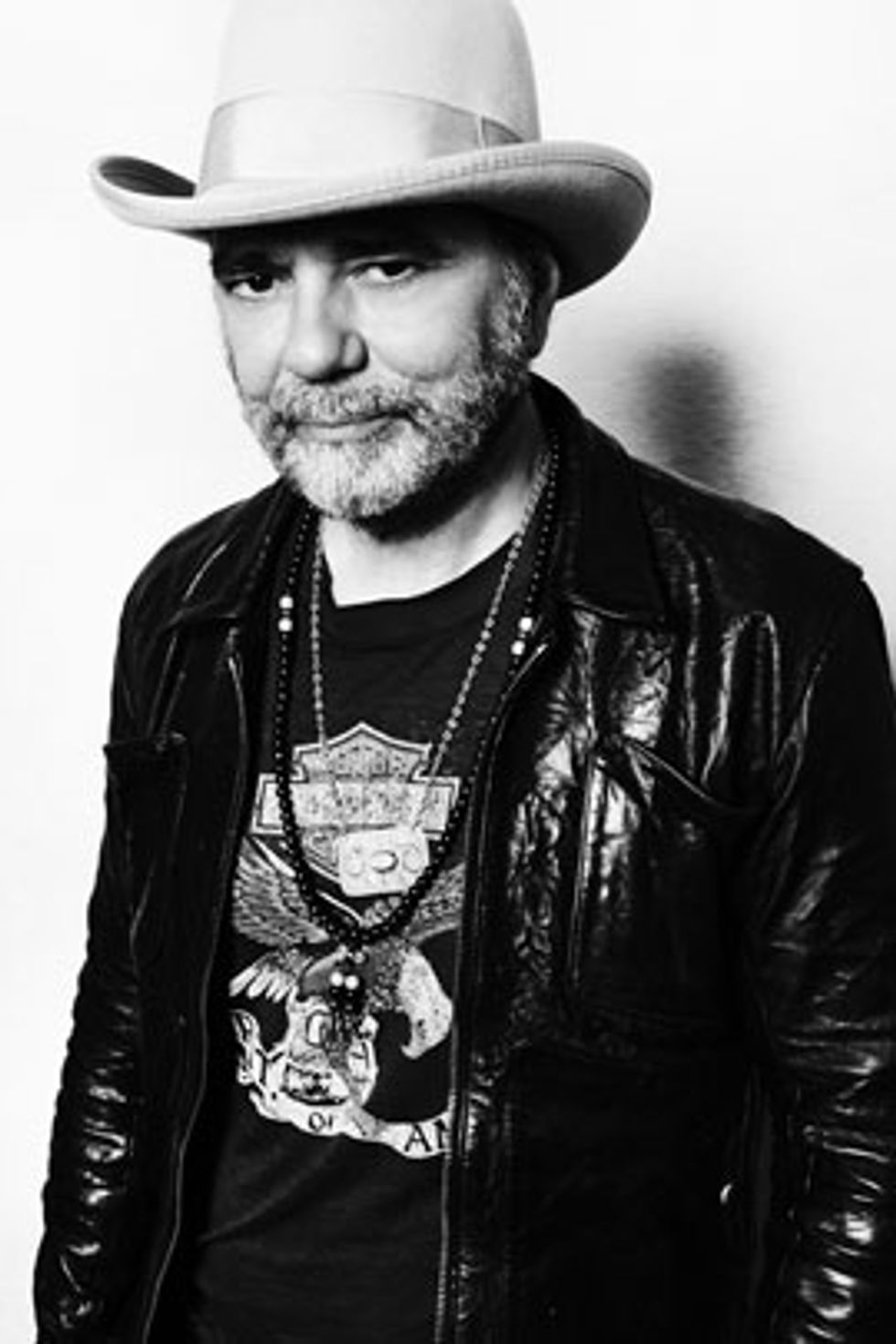 Daniel Lanois' fingerpicking approach is to play the guitar as if his three right-hand fingers are like the limbs of a drummer.
The new album sounds at once familiar and strange. What were you thinking about when you made it?
I was thinking about where music is headed. It's very splintered—it means something different to a lot of different people. To me, as a devoted sonic specialist, I see it as presenting unusual and unique sounds—sounds whose sources people can't quite pinpoint.
How so?
Take "Sioux Lookout" on the record—that's something tribal, samples of chanting people, samples of recognizable instruments I played, warped in such a way that they take on another personality or face. I appreciate that we as human beings respond to symphonics. The classical repertoire itself is only so interesting to me, but I like the capacity it has to cause the listener to feel deep emotions. So I tried to create symphonics, but with new sounds. I think that's part of the future, to maintain what we love about symphonics, but to take them to all new dimensions.
Describe your formative musical experiences.
They have occurred at various times, sharp bends in the road that provided me with new directions. When I first started working with Brian Eno in the '80s, I was very skilled and qualified, a good and studied musician and engineer. But I wasn't quite so focused, and I was impressed how devoted Eno was to something esoteric, working in an ambient manner, and how he put all of his skills to work in this direction. It definitely set a nice standard for me. I'd come from poverty and my work as an engineer had been all over the place, somewhat of necessity, as I had to do what I could to pay the bills and buy equipment to get my shop in order. But then I became more focused, and started working with ambient sounds. That was definitely a serious bend in the road.
My travels later took me to New Orleans to do a record, and that was also life-changing. I was exposed to some of the great bass lines of the South and to the birthplace of a lot of funk and jazz, all adding up to a Ph.D. I actually did get an honorary Ph.D, but I thank not the university that bestowed the honor on me, but the mates I met along the way for my body of knowledge.