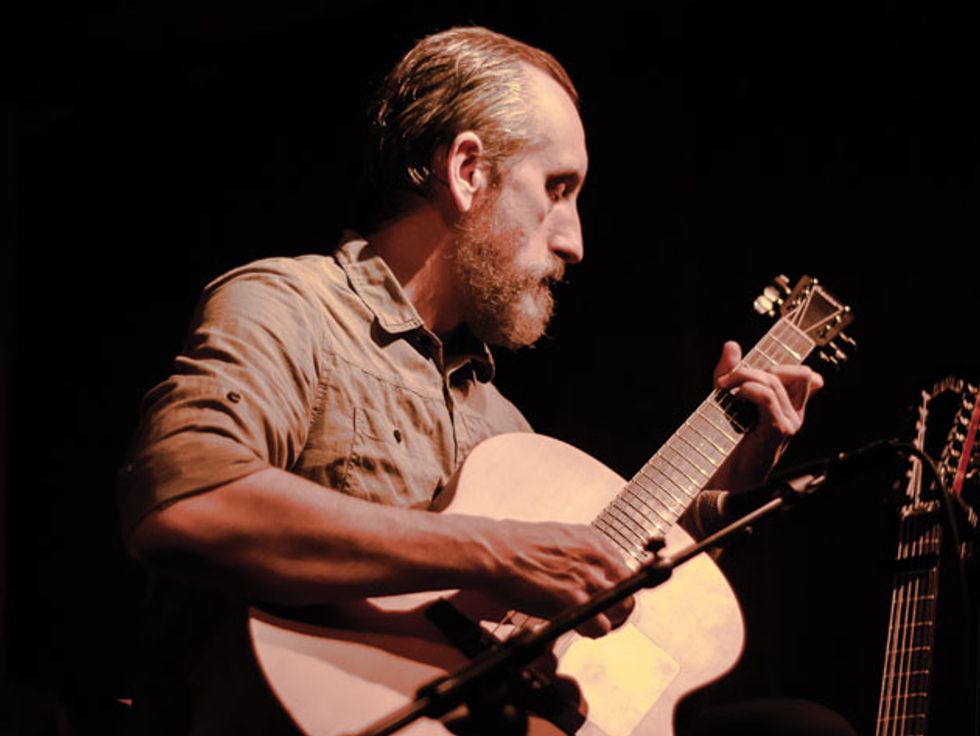 Photo by Omid Zoufonoun.
Chuck Johnson
As an acoustic guitarist, Chuck Johnson might fall under the American Primitive umbrella, but his musical life has been much more expansive than that label suggests. Throughout the 1990s in Chapel Hill, North Carolina, Johnson played electric and acoustic guitar in various bands whose music resisted categorization. He also dabbled in free improvisation under the name Ivanovich.
At the beginning of the next decade, Johnson set aside his 6-strings to focus on electronic music, not just composing but also building his own circuitry and instruments. This pursuit took him in 2007 to the West Coast, where he earned an MFA at Mills College while studying under the maverick composer and accordionist Pauline Oliveros.
In recent years, Johnson, 46, has rekindled his relationship with the guitar. He's developed an idiosyncratic fingerstyle approach equally indebted to folk guitarist Elizabeth Cotten and minimalist composer Terry Riley—an approach he's explored on solo outings A Struggle Not a Thought (2011), Crows in the Basilica (2013), and the forthcoming Blood Moon Boulder. Johnson's guitar can also be heard on the HBO documentary Private Violence and the PBS show A Chef's Life.
"Alternate tunings are definitely part of my compositional process. I think of each tuning as a different system to work within."
—Chuck Johnson

How did you discover fingerstyle guitar?
In the mid 1990s, I came to play fingerstyle in an atypical way. My mother had given me a banjo and I was trying to learn to play it Scruggs style, with three fingers and in open tunings. But then I discovered Elizabeth Cotten and transferred her approach to the guitar. I started picking up guitars, retuning them, and using some of the same picking patterns I'd learned on the banjo.
Who are some of your benchmarks in that arena?
I'm definitely influenced by Elizabeth Cotten and other Piedmont blues players like Etta Baker, Reverend Gary Davis, and Mississippi John Hurt—all of whom have a sort of laid-back swing that comes from a ragtime influence.
Within the American Primitive canon, for depth of repertoire, and inventiveness with regard to syncopation and pathos, there's John Fahey. For cosmic individuality and weirdness, there's Robbie Basho, who didn't sound like anything that came before him. Then there's Peter Lang, who brings such a lyrical quality to the melody. He's maybe not as known as the bigger names, but I've related more to him over the years than to someone like Leo Kottke, whom I admire but whose work I'm not as excited about.
Chuck Johnson's Gear
Guitars
1966 Guild F212 12-string
Larrivée L-01
Lazy River Weissenborn-style baritone lap slide
1931 Supertone Bradley Kincaid parlor (restored by luthier Trevor Healy of Healy Guitars)
Tacoma PM28 parlor
Strings and Picks
D'Addario EJ16 Phosphor Bronze (.012–.053)
Martin M120 Silverplated Classical (.028–.043)
How have you reconciled the worlds of electronic music and fingerstyle acoustic guitar?
With electronic music, I'm generally more interested in vertical qualities of sound—timbre, overtones, and feedback. It wasn't until after I finished my studies at Mills that I realized that wasn't so different from what I like about acoustic guitar: open tunings bring out overtones, making for a rich and resonant sound. The trick with my solo acoustic work has been instead of doing something abstract, as with my electronic music, to strike a balance between a vertical approach and an interesting melody or linear, narrative form.
Which tunings do you prefer?
At this point I have a small handful that I use, as I don't like spending a lot of time tuning in shows. The ones I prefer are well-known in folk music: open D, D minor, G, and occasionally DADGAD. I also use open C or C minor, sometimes tuning the first string down to D, for a more ambiguous quality.
Do the tunings inform your compositions or the other way around?
Alternate tunings are definitely part of my compositional process. I think of each tuning as a different system to work within. I think it's like putting together a puzzle, really just sitting down with a tuning and finding a melodic line that I can use to connect chords. From there, I add other ideas and shift around bits and pieces, adding what makes sense and taking away what doesn't.
How does the acoustic guitar factor into your work as a film composer?
Being a fingerstyle guitarist has definitely worked out in my favor for film work, as it seems to be a popular choice for soundtracks these days. Generally people who ask me to do this are already familiar with my work as a solo guitarist. It's relatively easy for me to write in such a compact form, little compositions that range in duration from 30 seconds to a minute at the most. The open tunings tend to give me immediate access to fresh ideas.