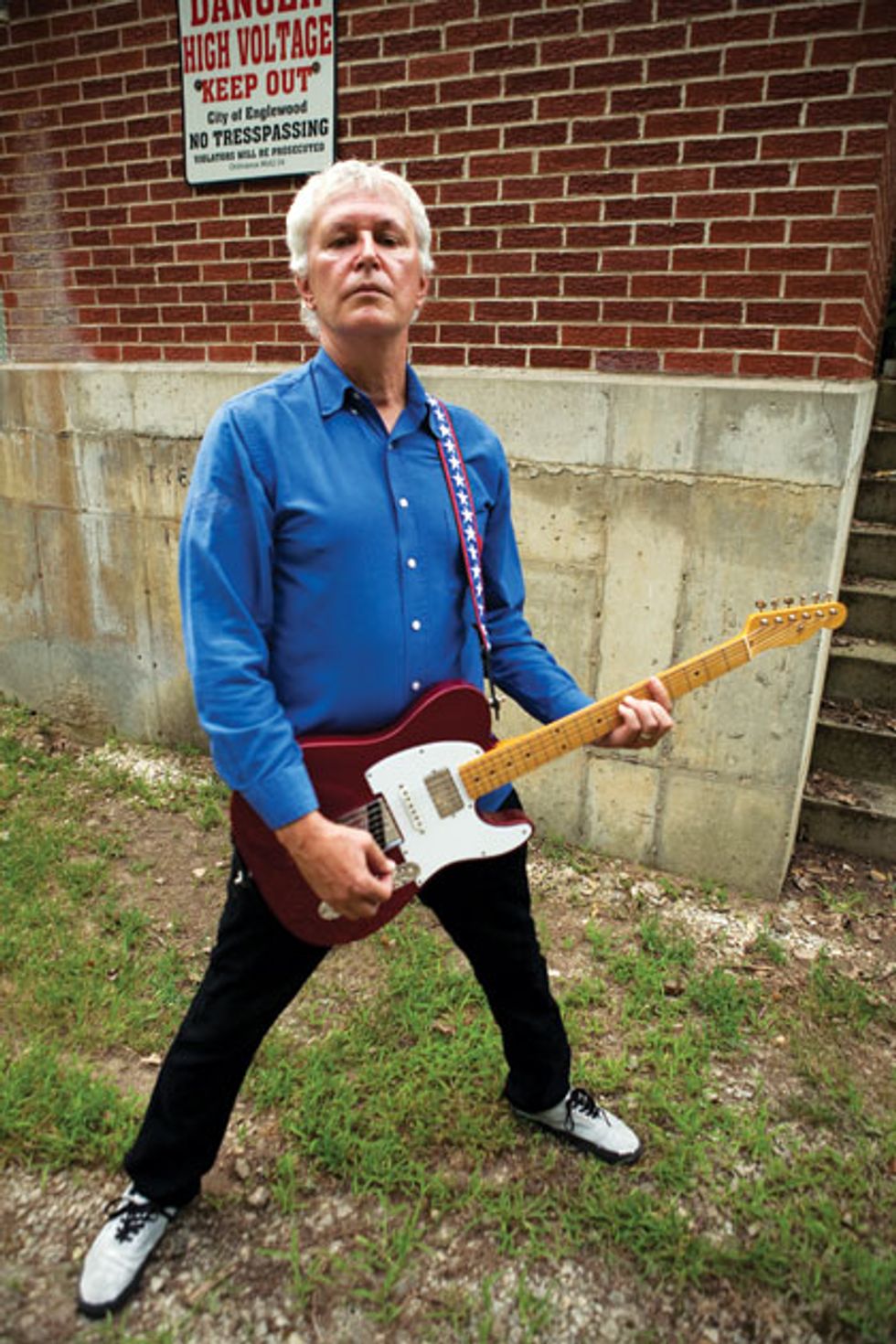 Robert Pollard's parts Tele has a Fender Nashville Telecaster body, an Allparts neck, and Seymour Duncan pickups (Seth Lover neck, SSL-2 middle, and Broadcaster bridge). Photo by Terri Nelles.
With more than 32 years of recording and zero Grammys, platinum records, or People's Choice Awards on the mantle of his mansion—which also doesn't exist—Robert Pollard fits the definition of a cult artist. In the world of indie and alternative rock, Pollard is a legend, akin in his diversity, unpredictability, influence, and profuse output to Bob Dylan in his '60s folk-rock heyday.
Pollard, who is on the verge of launching a new solo project under the moniker Ricked Wicky, is best known as the main brain in Guided By Voices, the beloved ensemble he founded in his hometown of Dayton, Ohio, in 1983. Over the decades Guided By Voices has come and gone (currently the band is disbanded) with various lineups recording 22 albums and nearly as many EPs along the way. Among them are a handful of low-key classics, like 1992's knowingly ragged Propeller, which was mostly cut on a 4-track cassette recorder, helping launch the '90s "lo-fi" movement.
Bee Thousand was another home-brewed gem that raised Pollard's songwriting benchmark and the band's profile with songs like the gently earnest and self-examining "I Am a Scientist," which deftly balances openhearted melody with 6-string growl. The year after Bee Thousand's 1994 release, Guided By Voices ended up on the big deal post-punk indie label Matador, taking their place alongside such creative peers as the Pixies and R.E.M.
"I do just about all of my work, musical and visual, in the morning at my dining room table with a notebook, acoustic guitar, magazines, scissors, paint, and a beaten-up old boom box."

If inspiration were lightning, nobody in their right mind would stand next to Pollard. Though he says he only writes songs when inspiration strikes, he seems to write constantly. "I've never had writer's block," he allows. And it's been reported that he has more than 1,700 tunes registered with BMI.
Pollard's never had stage fright either. He's earned a reputation for delirious, high-energy performances centered on his singing, peripatetic hoofing, and beer swilling. And he's released a slew of recordings via side and solo projects, too. His cornucopia of cuts by Guided By Voices, the Boston Spaceships, Acid Ranch, Airport Five, Circus Devils, the Takeovers, Lifeguards, Moping Swans, Lexo and the Leapers, and other outfits carry Pollard's signature touches: gnashing and chiming guitars, melodies with a classic rock and pop framework, nods to musical heroes from the '60s through the '90s, and lyrics that run from pensive to incisive to reflective to anthemic to schizophrenic.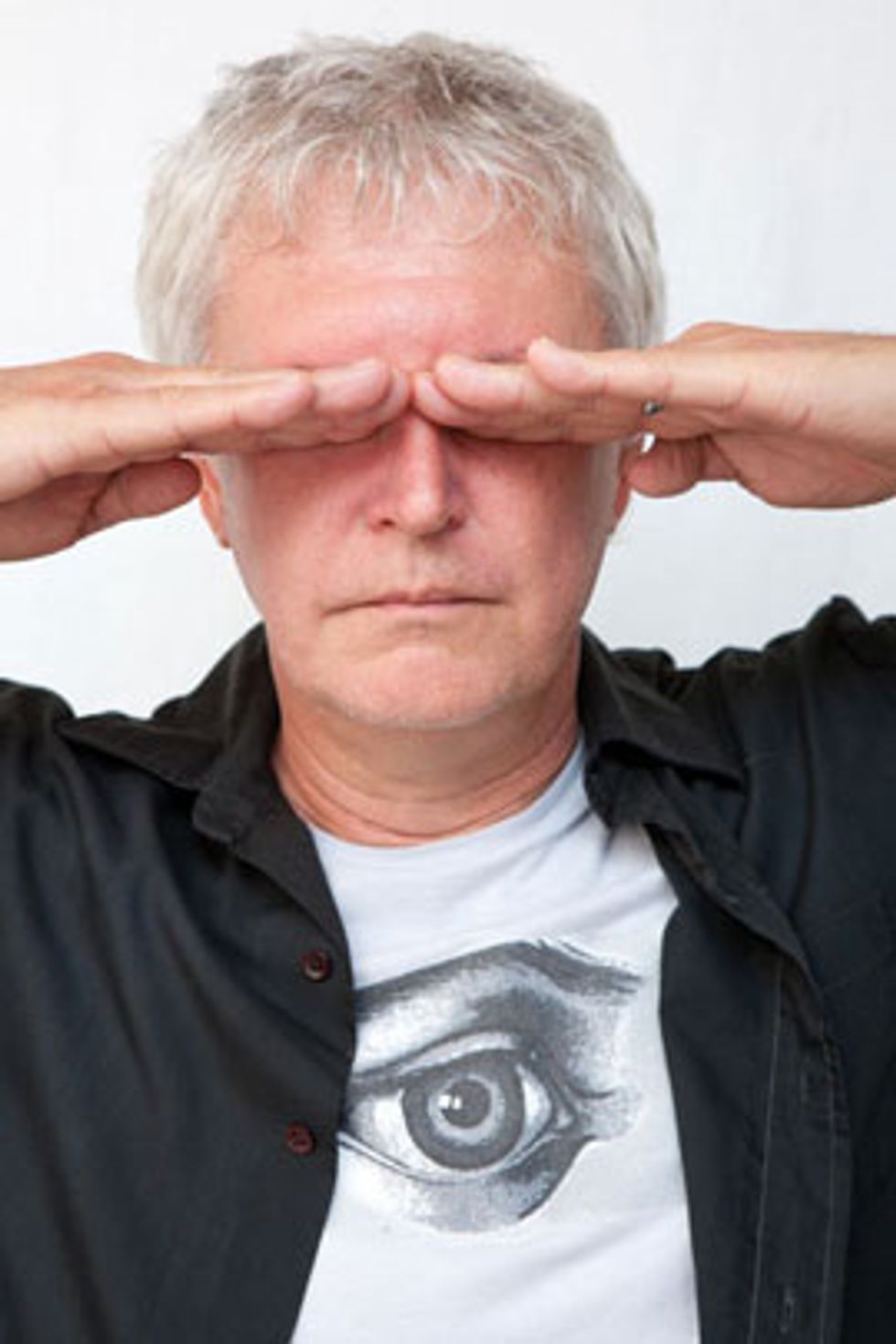 "I've pretty much emulated his style as a guitarist and a songwriter," says Robert Pollard of his hero, Pete Townshend. Photo by Beowulf Sheehan.
Pollard's love of making music that he loves and his monster work ethic hold all of these disparate elements and entities together. And they've won him plenty of accolades, from favorable reviews in Rolling Stone to Paste magazine naming him the 78th greatest living songwriter to a nomination for the Shortlist Music Prize. He's also won a host of celebrity fans, from R.E.M.'s Michael Stipe to comic actor Rob Corddry, who's appeared in two Guided By Voices music videos. Heck, Dogfish Head brewing even released a special run of "BEER Thousand" imperial lager last year to mark the 20th anniversary of Bee Thousand's release. (Pollard: "I can't believe it's been 20 years, but I'll drink to that.")
Even as Ricked Wicky's debut I Sell the Circus gets ready to roll out on February 3, a second Ricked Wicky album, King Heavy Metal, is in the wings, due on June 23. And between those releases, Faulty Superheroes is slated under his own name for April 28. He cut them all at the ironically named Cyberteknics in Dayton, which Pollard favors for its plethora of un-cyber analog gear. He also hints at a new project in development for a bigger label than his own Guided By Voices Inc.
As usual, Pollard is balancing brash and bash with literate smash as Ricked Wicky. I Sell the Circus' "Well Suited" and "A Real Stab" echo his inveterate appreciation of Pete Townshend and the Who, with kar-rooming power chords, chiming downstroked rhythms and an arrangement that breathes as it seethes. "Cow Headed Moon" takes a prog-folk turn, with offbeat, gothic lyrics fit for the dark doppelgänger of The Cheerful Insanity of Giles, Giles and Fripp or Genesis' Trespass, and enough Mellotron to help conflate the period vibe. And then there's "Piss Face," a rugged blast from the land of the Pixies where Pollard and his guitar buddy Nick Mitchell come on like a four-armed Joey Santiago.
Oh, yes, that's the other thing—and the reason Pollard's in Premier Guitar. Although he never appears onstage with a guitar slung over his shoulders, Pollard's raw and textural guitar rhythm forms a sturdy spine for nearly all his music. So that's where we started our Q&A session.
What's your relationship with the guitar like? Is it a tool or a source of inspiration?
I've always considered it primarily, if not solely, a vehicle for writing songs. That was the reason I needed to learn how to play to begin with. A friend and I started at the same time—around 1975 after I graduated from high school. After about a year or so I had gotten to the point where I was proficient enough to write. I got together with my friend to check out our progress. I had 50 or so songs and he knew the entire lead from "Aqualung" note for note. My point being that the guitar serves a different purpose for different people.
How important is Pete Townshend to you as a player? I hear a lot of Pete in your style, as well as an interesting overall arc that extends from the '60s to the Pixies.
I've pretty much emulated his style as a guitarist and a songwriter. I think I have a longer line of influences because I've been a fan and not an active participant for a longer time than he has. In other words, I continued to study indie and underground music in the '80s and '90s, when he more than likely didn't, and there would be an understandable, natural tendency in that. When you're older and more established with his kind of reputation, the general output of contemporary rock music starts to become tedious and uninspiring.