Pixies' Charles Thompson and Joey Santiago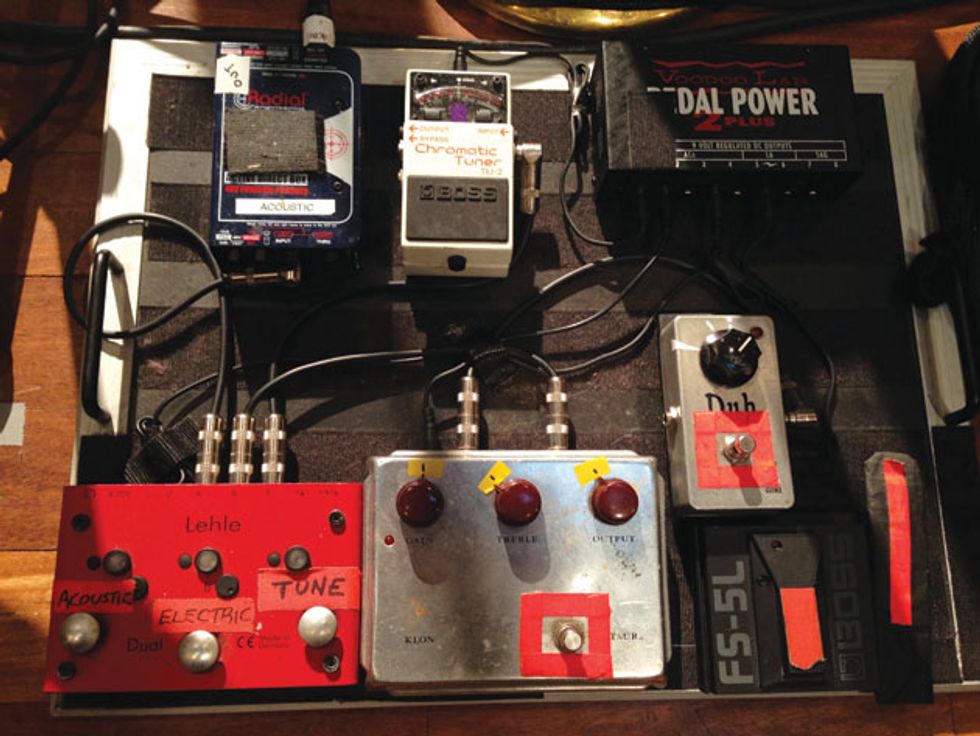 Pixies frontman Charles Thompson (aka Frank Black, aka Black Francis) keeps his pedalboard fairly spare. He stays in tune with a Boss TU-2, uses a Klon Centaur for overdrive, and gets some silicon-fuzz action with a 1-knob Duh pedal built by none other than Premier Guitar senior editor Joe Gore. A Boss FS-5L activates the tremolo circuit from Thompson's Vox AC30. A Voodoo Lab Pedal Power 2 Plus powers his board, and a Lehle Dual SGoS switches between his tuner and his electric and acoustic signal paths—the latter of which uses a Radial J48 active direct box.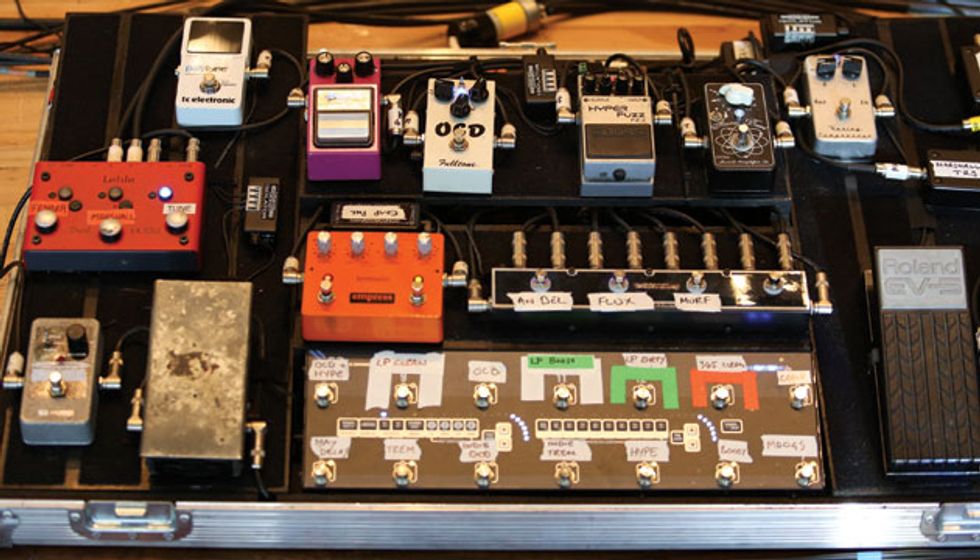 Joey Santiago controls his pedals primarily through his GigRig G2 switcher, which enables him to engage various combinations of pedals while keeping those that aren't being used out of the signal path. His stompboxes include a Boss LS-2 Line Selector, Keeley Compressor (2-knob), Swart Atomic Boost OC44, Boss FZ-2 Hyper Fuzz, Fulltone OCD, Maxon AD9Pro analog delay, Empress Tremolo, a trusty and crusty old DOD FX-17 wah-volume, an Electro-Harmonix Holy Grail Nano, a TC Electronic PolyTune, and a Lehle Dual SGoS for amp switching. Hidden under the top portion of Santiago's pedalboard are three Moog Moogerfooger pedals—an MF-104M analog delay, an MF-108M Cluster Flux, and an MF-105 MIDI MuRF—all of which are switched by a GigRig QuarterMaster. A Roland EV-5 expression pedal controls different Moog parameters, depending on which is engaged. A Boss FS-6 footswitch controls the Vibrolux's tremolo. All pedals are powered by a GigRig Modular Power Supply setup.