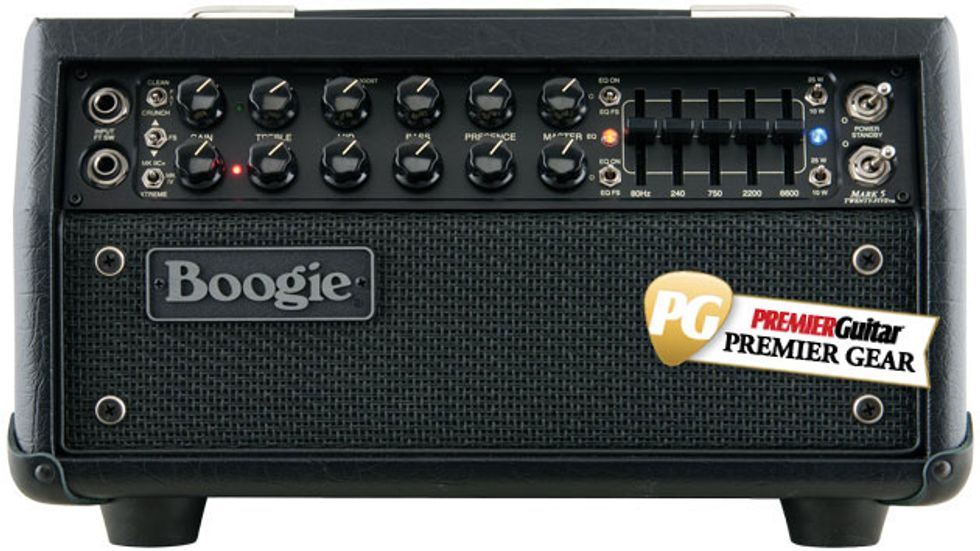 Mesa/Boogie Mark Five: 25
Key Features
Tubes: Two EL84 power tubes, six 12AX7 preamp tubes.
Output: Class AB Dyna-Watt power section with switchable wattage per channel to either 25 or 10 watts at 8 or 4 ohms.
Channels: Clean and overdrive.
Controls: Gain, treble, midrange, bass, and volume for each channel. Clean channel midrange boost or cut. Channel-assignable graphic EQ. Separate reverb level and wattage selection for each channel.
Additional Features: Spring reverb, footswitch jack (footswitch not included), CabClone XLR D.I. output, tube-driven serial FX loop.
The diminutive Mark Five: 25 packs much of the tone and features of Mesa's flagship amplifier into a compact 16-pound package. The preamp's six 12AX7 preamp tubes feed a two-EL84 power section for 25 watts of maximum power. The power amp is designed with Mesa's Dyna-Watt technology, which allows each of the two channels to be set separately for either 25- or 10-watts of output. Mesa recommends pairing the head with their Mini Rectifier 1x12 cabinets, which are loaded with a Celestion Vintage 30 speaker.
For such a tiny amplifier, the Mark Five: 25 has a lot of tone-shaping features. Both channels sport dedicated 3-band EQ sections and controls for gain, presence, and volume (the only difference being that the clean channel uses a cut/boost mid control). There's six voicing modes—Clean, Fat, and Crunch for the clean channel, and Mk. IIC+, Mk. IV, and Extreme for the gain channel—along with the company's famous channel-assignable 5-band graphic EQ. There's also a small spring reverb onboard, a stripped-down version of Mesa's CabClone cabinet simulator, a serial effects loop, and a 1/4" headphone jack for late-night jamming.
Ratings
Pros:
Feature-laden and easy to set-and-forget. Gorgeous cleans and ripping overdrive.
Cons:
Extreme mode is easily congested with hotter pickups.
Tones:


Ease of Use:


Build/Design:


Value:



Street:
$1,399 (head) and $449 (cabinet)
Mesa/Boogie Mark Five: 25
mesaboogie.com
The Clean mode on the amp's clean channel is one of the best sounding in the mini amplifier realm. With a Les Paul Custom, the tone is tight and precise with plenty of clarity and Fender-like sparkle, and the EQ controls are sensitive enough that even minor adjustments can have dramatic effects on the tone. Its short-tank spring reverb sounds surprisingly deep for its size, and its cavernous wail is sure to surprise a lot of players who are used to the cold-sounding emulated reverbs found on many other mini amps.
Flipping to the channel's Fat mode infuses the tone with tubbier lows and round highs and raises the channel's overall volume somewhat. It also gives the midrange a stronger presence in the mix. The boost and cut abilities of the channel's mid knob have a much more pronounced effect on the amp's punchiness in this mode. The Crunch mode is effectively a full-blown overdrive channel, and with the gain set above 2 o'clock, there's more than enough gain for both classic and early hard rock. It also cleans up nicely by rolling down the volumes on both a Stratocaster and Les Paul.
Channel 2's first mode delivers the searing overdrive first heard from one of Mesa's most famous amps, the Mark IIC+. Switching on the graphic EQ with a scooped mid setting and placing the gain knob at 1 o'clock instantly recalls the tight, vicious snarl and lock-step cut of classic '80s thrash metal like Metallica's Ride the Lightning and Master of Puppets.
The Mk. IV mode adds a bit more gain and thickens the lows and mids, resulting in a sweeter tone with more sustain that makes playing fast runs feel effortless. Its smooth voicing and hyper-sensitive EQ also make it the most balanced and versatile gain mode of the three. With the gain at 2 o'clock, bass and treble at noon, and judicious use of the mid and presence controls, carving out brutally heavy and thick-bodied rhythms is relatively easy.
For real gain addicts, the Extreme mode piles on more overdrive than should be legal. When using a hot set of humbuckers, however, the trick is to use a conservative amount because dialing the control past 11 o'clock can muddy up the tone.