Ola Englund's merry band of guitar builders serve up an affordable shred gem.
A killer, ultra-playable guitar with top components at a nice price.
The EverTune bridge and Fluence Modern pickups are very niche-specific components that could turn some players off.
5
4.5
4.5
4.5
Ola Englund, YouTube sensation and guitarist for the Haunted and Feared, started Solar Guitars, his own line of high-quality instruments, in 2017. The company is based in Sant Gregori, Spain, and their guitars are made in Indonesia. But as the marvelously decked-out GC1.6AFAB reviewed here reveals, this collaborative formula is yielding killer results at relatively affordable prices.
Down to the Details
At a glance, the GC1.6AFAB evokes great all-around instruments like the PRS SE or even the Tom Anderson Atom. It looks sharp, and even a bit traditional, with its flame maple top on a mahogany body and gold hardware down to the pickups, bridge, and tuners. Only the pointy reverse headstock, lack of inlays (other than the Solar logo around the 12th fret), and glow-in-the-dark side dots betray a possible metal-oriented lineage.
The guitar is meticulously crafted and there are no visible construction flaws. The low-action factory setup is perfect. The GC1.6AFAB's design is very ergonomic, too. A belly cut adds a nice contour to the backside of the guitar, and the neck-through-body construction with sculpted neck joint allowed easy access all the way up to the 24th fret.
With jumbo stainless steel frets on a graphite-reinforced neck, a dual action truss rod, a 13.78" radius fretboard, graphite nut, and locking tuners, the GC1.6AFAB is thoroughly modern. The EverTune bridge is another contemporary distinction. It uses a system of floating saddles and springs to keep each string in tune no matter how aggressively you play. It can also be configured in a multitude of ways. On our test guitar, the EverTune was set up to permit bends on the top three strings, while the lower strings were set to resist pitch bends entirely. It was a weird experience to bend away at those strings, or add vibrato, only to hear pitch that never wavered. And I was certainly thrown off when I instinctively tried to make low-string notes growl by adding a little bend. Set up this way, the EverTune will take some getting used to. However, it's a killer feature if you pick hard or inadvertently pull some of the notes sharp while chording. If you're recording and need to nail a pitch-perfect take, it can be invaluable. And you can always reconfigure the bridge for a more conventional but still exceptionally stable setup.
It Chugs, It Slugs, It Sings
The GC1.6AFAB's pickups, a pair of excellent Fishman Fluence Modern active units, also display Solar's forward-thinking approach. They have independent volume controls with a shared tone knob that has a push/pull function for the Fishman Fluence's voices: "active" (voice 1) and "passive" (voice 2). (Here, the phrases active and passive refer to voicings rather than the strict definition of active and passive pickups.)
With the bridge pickup and active voice engaged, pick response is crisp and fast on the low strings. With help from with the EverTune's unwavering tuning stability, individual notes and picking nuances are super articulate. Digging in harder rarely revealed any flubby ambiguities. And fast alternate-picked sequences felt super precise. Be forewarned though: If you're having a sloppy day, the Fluence pickups' immediacy can be unforgiving.
In clean settings, the GC1.6AFAB's bridge pickup sounds very hi-fi, and very loud in both voices. Multi-finger tapping phrases are punchy and pop out loud and consistent along the fretboard. Cascading arpeggio runs have a harp-like clarity and individual notes sound consistent and even across the guitar's whole range. And while the pickup isn't overly bright, there is a ton of presence. Until the tone knob is all the way down to about 2, you hear little in the way of "darkness." The neck pickup in the active voice has more bass focus than the bridge. When I held an open-G chord, the 6th-string resonated with a bottom end that you could call boomy. Comparatively, with the passive voice, the neck pickup seemed a bit more balanced.
The Verdict
If I imagined a shredder creating a custom guitar, it might look and feel a lot like GC1.6AFAB. There's a lot about the style that feels relatively traditional, save for the many cutting-edge components that Solar included here. At $295, putting an EverTune bridge on an existing guitar (a process that would involve routing and probably devaluing your instrument) is an expensive proposition. Add a set of gold Fishman Fluence Modern pickups at around $260 and you're looking at well north of a $500 investment even before you pay to have your upgrades installed on an existing instrument. Given how seamlessly Solar brings these elements together in such an impeccable-playing guitar, the $1,349 you'll pay for a GC1.6AFAB is a pretty amazing deal.
Solar Guitars GC1.6AFAB Demo | First Look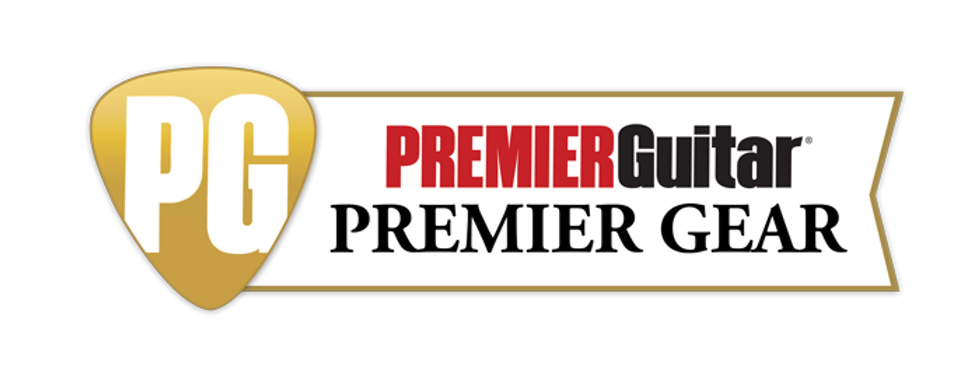 The dual-channel TH100 is a lesson in brutal simplicity that hearkens back to Orange's golden era of no-nonsense designs with immense power.
Specs
Tubes: Four EL84 power tubes, four ECC83 preamp tubes
Output: Class AB switchable between 100, 70, 50, and 35 watts at 8 or 16 Ω
Channels: Dirty and clean
Controls: Volume, shape, and gain for dirty channel; treble, bass, and volume for clean channel; full/half output power switch, 4/2 output tube switch
Additional Features: Tube FX loop, footswitch jack (footswitch not included)
Ratings
Pros: Easy to dial in great tones. switches for halving power and number of active power tubes increase versatility. overdrive channel combines classic orange fuzziness and modern punch.
Cons: Shape control on the overdrive channel can add raspiness.
Tones:


Ease of Use:


Build/Design:


Value:


Street: $1,499
orangeamps.com

The dual-channel TH100 is a lesson in brutal simplicity that hearkens back to Orange's golden era of no-nonsense designs with immense power. Four EL34s generate 100 watts, but the front-panel half-power switch and a rear-panel switch that pares the tube array down to just two let you reduce it to 70, 50, or 35 watts.
The preamp has four 12AX7 tubes, and the clean channel has bass, treble, and volume knobs, while the dirty channel is governed by gain, volume, and shape (EQ) knobs. A series effects loop and channel footswitching round out the amp's features.
The TH100's huge-sounding clean channel won't disappoint those who relish the bottom-heavy cleans and velvety highs of the classic OR120 amp from the early '70s. With the amp set at full power and with all four power tubes in play, the enormous headroom makes it challenging to generate any real distortion—even with high-output humbuckers. And it's ideal if you like loud clean passages or use pedals to lend color. Setting the amp to use just two output tubes softens the low end significantly, and setting it to half power and cranking the volume up halfway yields a smooth, rich overdrive with a humbucker-loaded Les Paul out front.
The amp's overdrive channel dispenses mammoth-sized distortion that can be tailored to a wide range of rock and metal tones. The slight tinge of upper-mid fuzziness that's a hallmark of Orange amps is there, but even in extreme gain settings, it never gets too overbearing. Small adjustments of the shape control can have a big effect on the presence, mids, and highs, and the knob is particularly useful for dialing back the intensity of all three for refined modern metal tones.
Setting the shape above 2 o'clock when using brighter-toned humbuckers can make the highs piercing, so it's best to start at about noon and use it conservatively from there. That said, the TH100's spartan control layout makes it really hard to get a bad sound out of the amp, and its copious headroom and blistering gain channel make it a no-brainer for players who crave house-leveling Orange grit and power, yet like a classic clean tone in the mix too.
Watch Ola Englund demo the amp:

See more Monsters of High Gain 2013 reviews and videos:
The Diezel D-Moll is a 100-watt powerhouse that delivers crystal clean tones and smoldering overdrive from six ECC83 preamp tubes and a quartet of KT77 power tubes.
Specs
Tubes: Four KT77 power tubes, six 12AX7 preamp tubes
Output: 100 watts at 4, 8, or 16 Ω
Channels: Clean, OD1, OD2
Controls: Master presence, deep, mid-cut intensity and level, and two master volumes; independent gain and volume on each channel, shared 3-band EQ for channels 2 and 3, independent 3-band EQ for channel 1
Additional Features: Switchable series and parallel FX loop with parallel Return Level control, compensated recording out, MIDI switching, 7-button footswitch
Ratings
Pros: Incredible note separation. clean tones with humbuckers sound surprisingly clear. Drive channels have a perfect balance of girth, punch, detail, and cut.
Cons: Channels 2 and 3 share an EQ section. Expensive.
Tones:


Ease of Use:


Build/Design:


Value:



Street: $2,999
diezel.typo3.inpublica.de
The Diezel D-Moll is a 100-watt powerhouse that delivers crystal clean tones and smoldering overdrive from six ECC83 preamp tubes and a quartet of KT77 power tubes. Each of the three channels—clean, crunch, and lead—has dedicated gain and channel volumes. The clean channel uses a dedicated 3-band EQ, while the crunch and lead channels share a 3-band EQ.
Diezel also threw in their highly regarded variable mid-cut circuit, along with two master controls, a series/parallel effects loop, and a pair of presence and deep knobs for tweaking the highs and lows. The amp's channel-switching, midcut, effects loop, and muting functions can be activated from the front panel, a standalone MIDI controller, or Diezel's own Columbus footswitch.
Diezel amps have always been known for refined tone and smooth response, and the D-Moll does not disappoint on either count. The clean channel does a bang-up job at delivering massive body and warmth from the dark-toned humbuckers in a Les Paul, but also adds a beautiful piano-like chime in the upper mids and highs. Few high-gain amps have clean tones on par with a great Fender or Vox, but the D-Moll's exquisite clarity could easily bump it onto that exclusive list.
Channel 2 delivers the smooth and highly detailed overdrive that the third channel from Diezel's VH4 made famous, but with spongier lows and a more rounded top end. Both single notes and riffs have monstrous body, and the midcut circuit yanks back the low mids for supremely vicious metal tones.
The third channel has considerably more gain than the second, but except for a stronger upper-mid focus, their voices aren't that different, and channel 3's fluid lead tones are a perfect compliment to channel 2's ripping onslaught.
The ferocious nature of the D-Moll's overdrive makes it pretty intimidating, But it's the remarkable note separation, midrange detail (which is present across the entire gain range), and refinement at even high-gain settings that make the amp truly special in its class.
Watch Ola Englund demo the amp:

See more Monsters of High Gain 2013 reviews and videos: