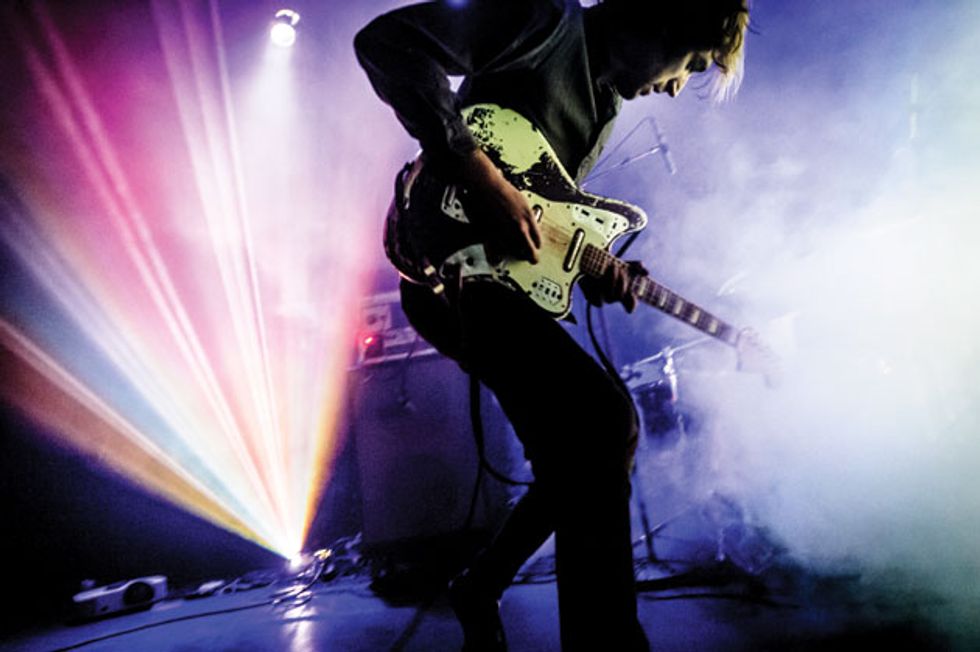 Oliver Ackermann started his pedal company, Death by Audio, by taking custom orders for anything, and then forcing himself to figure out how to build it. Photo by Igor Vidyashev / Atlas Icons.
Brooklyn-based band A Place to Bury Strangers creates gnarly, outlandish, ear-crushing mayhem. Their guitarist, Oliver Ackermann, keeps his volume just north of 11 while engaging in such stage antics as guitar smashing, mid-air instrument collisions, and unnatural string removal. He chains pedals together and generates multiple layers of self-oscillating chaos.
But there's a method to the madness. Ackermann is chasing a specific aesthetic, one he started cultivating in high school. That sensibility also informs his pedal-building business, Death By Audio. It could be described as controlled anarchy.
Ackermann's backstory reads like an aspiring guitar nerd's dream. He grew up in Fredericksburg, Virginia, listening to his parents' Beatles and Donovan records. His older brother turned him on to the Dead Kennedys, Minor Threat, the Ramones, and the Circle Jerks. He then discovered shoegaze and alternative bands like Sonic Youth, Ministry, My Bloody Valentine, and the Jesus and Mary Chain.
"It's not about repeating certain patterns. It's about being able to adapt to a situation and do something interesting in that moment."

In high school he appropriated his brother's Gibson SG, learned to play it, and started experimenting with effects. While earning a degree in industrial design from the Rhode Island School of Design, he spent much time in the library learning about waveforms and sound production. Through a process of trial and error, Ackermann taught himself the basics of effect building. "It took me years to teach myself how to solder," he says. "I wish someone had explained basic things like, 'You need a decent iron,' or 'Don't use plumbing solder.'"
Death By Audio opened for business in 2001. He started with one pedal—Total Sonic Annihilation—took custom orders, and soon offered a line of pedals that featured outlandish sonic options not available elsewhere. The business took off, and now Death By Audio clients include maverick gearheads like Trent Reznor, The Edge, and others.
Ackermann moved to Brooklyn in 2003 and soon after joined A Place to Bury Strangers as guitarist and singer. The band's eponymous 2007 release received an "8.4 Best New Music" rating from Pitchfork, and the group snagged opening gigs with Nine Inch Nails, the Jesus and Mary Chain, Black Rebel Motorcycle Club, and the Brian Jonestown Massacre. Eight years later, their new release, Transfixiation, continues to push the envelope.
Ackermann is thrilled. "To feel justified in what you do and create as an artist is just the greatest feeling in the world."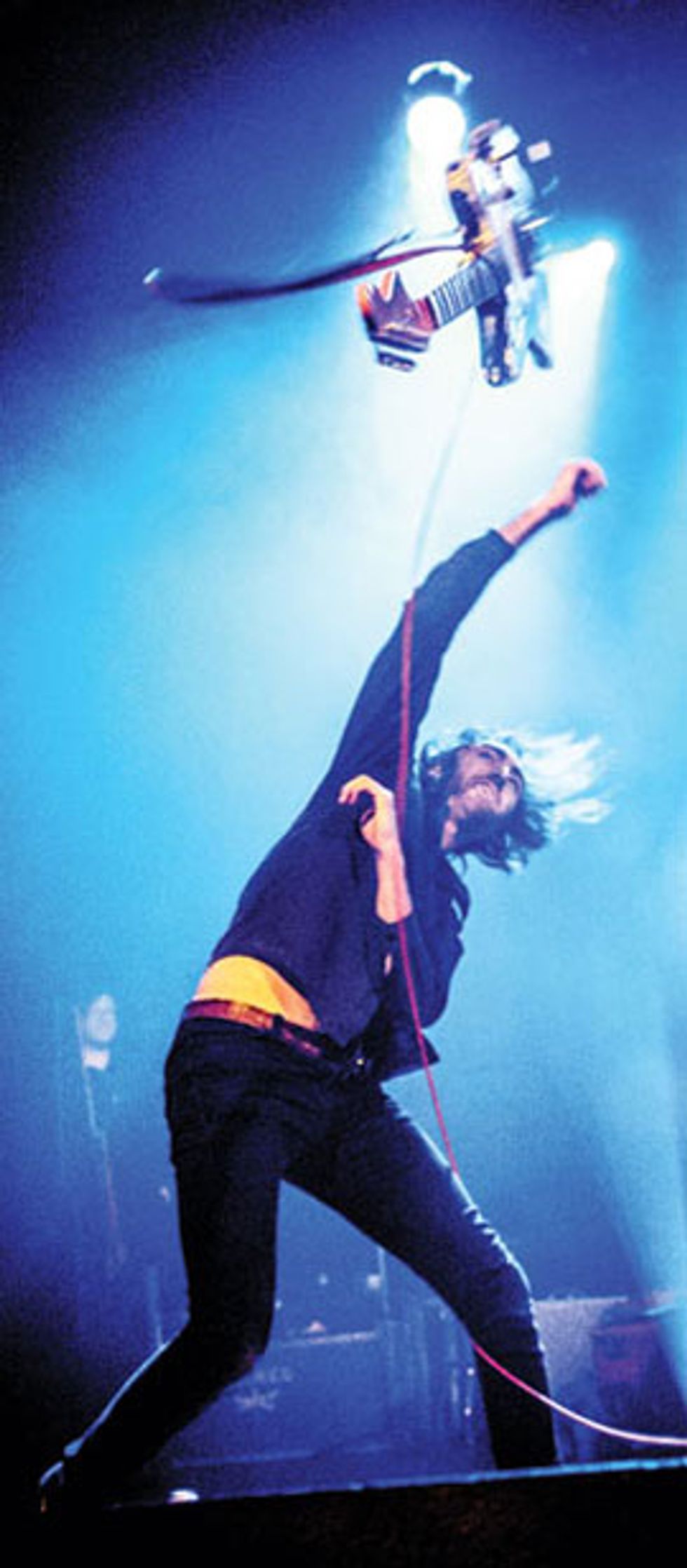 "Sometimes it's just about the thrill of wanting to destroy your guitar." Photo by Igor Vidyashev / Atlas Icons.
Premier Guitar spoke with Ackermann about his organic approach to recording and songwriting, developing new pedals, tinkering with circuits, and why the moniker "Loudest Band in New York" isn't necessarily a compliment.
When did you start messing around with pedals?
Right when I started getting into guitar. A few friends and I were getting into this certain kind of music, and a lot of it was effect-driven. That's what drew me to playing guitar. I didn't really know what to do, but you could plug a guitar into an amp, crank it up, and it sounded crazy. We had a couple of distortion pedals we'd run our guitars through, and then we bought a 6-track tape machine with reverb. All of those things just led to that interest: how mysterious sound can be, and how easy it is to make crazy sounds. At least it seemed easy at the time.
Did you practice pedals the way you might practice scales and chords?
I don't really practice per se. I always feel like I'm searching for new things. It's not about repeating certain patterns. It's about being able to adapt to a situation and do something interesting in that moment. I don't know if I know a single scale on the guitar. I don't really know how to play cover songs or anything like that. I just try to play with my ear and figure out what sounds interesting at that moment. That mystery about how some of these things come about is still exciting. I want to keep some of those things a mystery to keep that thrill of being a young guitarist alive.
What were you trying to achieve sonically when you started modifying and building effects?
I was a real pedal junky. I would find tons of effects pedals, and a lot of the stuff wasn't even that expensive. It was back when eBay was new, and you sometimes found things for a dollar. I think I got that first Boss Chorus pedal for a dollar. Another time I won five MXR Flangers for about $10. Eventually I started to understand the science of these things: why different waveforms manipulated in different ways create different sounds. You realize that the way you control effects is what makes them really cool. I wanted to figure out that stuff, and then create something new that I'd never heard before.
Did you start with modifying pedals first?
I was trying to. I was also trying to build my own guitars. I was trying to push the envelope with what you could do with the electronics, using passive filters, inductors, and capacitors, and also trying to modify pedals—and just kind of failing. The first pedal I modified successfully was an Electro-Harmonix Electric Mistress. I changed the range of the speed and how it interacted with the positive and negative forms of the slope, and also created forced feedback within itself to oscillate and create noises. What really gave me a lot of knowledge was starting the effects pedal company. I used to take custom orders for anything, and that forced me to figure out how to build some projects that I'd agreed to do.
People gave you orders, and you just agreed, whether you knew how to do it or not?
Totally. I'd say, "Sure, I can do that. It's going to take me a month." Then it would take three months, and they would be pissed off. They gave me like $200 for three months of labor. But I got to learn something in the meantime.
What was the first pedal you built from scratch?
It was a multi-booster. I figured out how to use a transistor as an amplifier and switch between different capacitors.