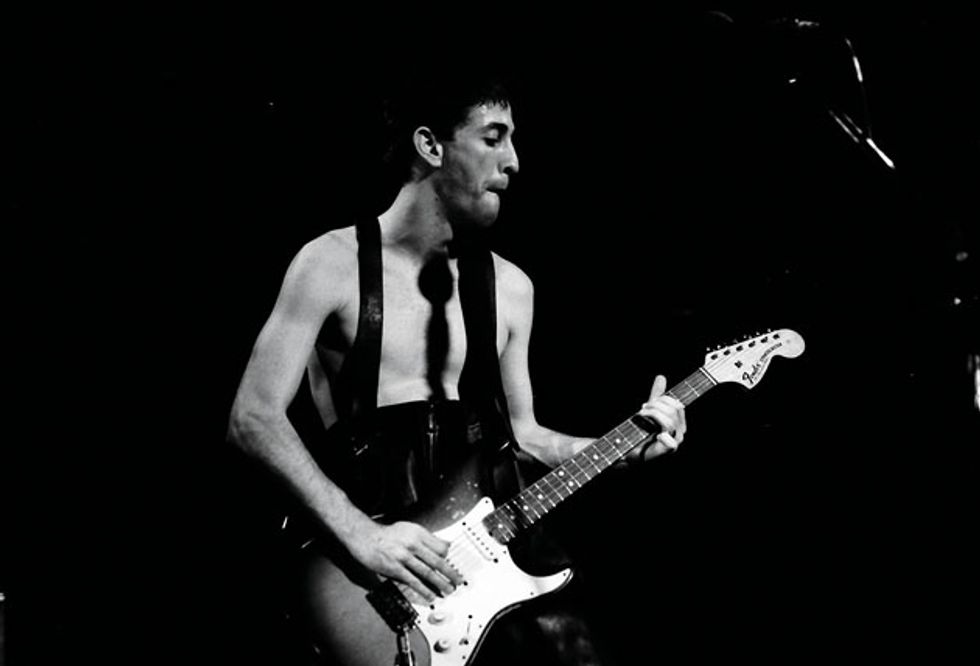 Red Hot Chili Peppers guitarist Hillel Slovak (1962-1988) performing in Philadelphia in 1983. Photo by John Coffey
The 1980s were a time of bad hair, oppressive synth patches, preprogrammed hand claps, and the dawn of pop metal. But it wasn't all bad—great music was made then, too. And the Red Hot Chili Peppers, a young band that spent most of the decade underground—playing clubs, on college radio, and out of the limelight—were one of the era's most influential.
The early RHCP ate testosterone for breakfast. They were wild, aggressive, outlandish, bursting with energy, and often naked. Their live shows were legendary. Their music was an organic mixture of funk and punk and every young band wanted to be them—that "Chili-Peppers-punk-funk-thing" was ubiquitous and in demand. The local musicians classifieds were filled with bands looking for thumb-thumping, slap-happy bass players, rap-friendly frontmen, and guitarists well-versed in funk, but possessing punk attitude.
The epicenter of that original lineup was founding guitarist, Hillel Slovak. Slovak was an exceptional talent, steeped in the traditions of Jimi Hendrix and the funk stylings of Parliament-Funkadelic and Sly and the Family Stone. His playing paired the seemingly incongruous sounds of funk and punk and made it seem obvious and natural. His sense of groove was metronome-tight, his note choices were well placed and tasteful, his tone was fully developed, and his phrasing was mature beyond his years.
Slovak didn't live to see his band's breakthrough and mainstream acceptance, but his influence was dominant. It was essential to the development of his extraordinary successor, John Frusciante. It defined the sound of his band and the music they made. And it inspired a generation of rockers to dig deep into funk, purchase a wah wah, and get into the groove.
Beginnings
Hillel Slovak was born in Haifa, Israel, on April 13, 1962. His parents were Holocaust survivors who settled in Israel after World War II. They moved to New York when Slovak was 4 and then to Fairfax, a neighborhood just south of the Hollywood Hills in Los Angeles, two years later.
Slovak's parents divorced when he was in high school. His mother kept the house in Fairfax and he continued to share a room with James, his younger brother. By that point, he was already serious about music.
Slovak started playing the guitar at 13. He listened to bands like Kiss, Led Zeppelin, Aerosmith, War, Sweet, Earth, Wind & Fire, and others that were popular at the time. According to Jack Irons, Slovak's childhood friend and future bandmate (and drummer for the Red Hot Chili Peppers, Eleven, Pearl Jam, and many others), "We talked about playing music when we were in 7th grade and started [playing instruments] later that year."
"If I would have to pick, Hendrix and Andy Gill are my two biggest influences." —Hillel Slovak

Alain Johannes (Eleven, Queens of the Stone Age, Them Crooked Vultures) met Slovak and Irons in 8th grade. "Jack and Hillel attended a local music school on Fairfax Avenue," Johannes says. "I went there for a few guitar lessons too and studied with Robert Wolin, the same guy [as Hillel]." (Wolin was a popular teacher at that time—he also taught Slash.)
Slovak's first guitar was a cheap, cream-colored Telecaster knockoff. He ran that through a Silvertone amp. "He liked to smack the top of the Silvertone to get the reverb vibrating loudly," Irons says. At some point Slovak acquired an MXR Distortion+ as well.
Slovak, Irons, and Johannes jammed and wrote music together. They added a bass player in high school. Their band went through a number of names before settling on Anthym (changed from Anthem when they discovered another band from the Valley was using the same name). Slovak also was given a better guitar. "I had a Musicraft Messenger, which was kind of rare," Johannes says. "Mark Farner [from Grand Funk Railroad] used to play one. It had an aluminum neck going all the way through the body. It was red, with a Bigsby on it, and I gave it to Hillel. That's what he played in those early years, until he got his Strat."
In the 11th grade, their bass player decided to focus on schoolwork and quit the band. They recruited another friend, Michael Balzary (better known as Flea), to play bass. At that time, Flea didn't play bass—he played trumpet—but he knew music and played in the school band. It didn't take much to get him up to speed. Slovak taught him the basics and got him started. Anthony Kiedis, another high school friend, MC-ed their shows and they were off.
"We graduated high school in 1980," Johannes says. "In late 1980 or early '81 we changed the name to What Is This. Our first batch of originals was very much in the classic rock style of the time. Hillel and I were doing dual lead solos and a lot of feedback and heavy playing. Then we started listening to some of the music that was coming up—post punk, new wave. We started to write a little bit more in that vein. We cut our hair and started wearing suits."
Some of those early influences included the Talking Heads, Gang of Four, and David Bowie. Slovak also gained a deepening appreciation for Jimi Hendrix. "If I would have to pick, Hendrix and [Gang of Four guitarist] Andy Gill are my two biggest influences," Slovak said about his formative years in a short video interview on Miami Beach in 1987.
Another important influence was '80s-era King Crimson. "They played the Roxy for three nights," Johannes says. "We got tickets for all three nights, both shows. We sat right up front and just soaked it in. Hillel definitely got a lot of the Strat manhandling—strumming behind the nut and all that kind of stuff—from watching Adrian [Belew] at that time. Our music became a little bit more unusual. A punk element started to show up, a bit of a psychedelic bluesy thing, more angular, a little more dissonant."
The L.A. hardcore punk scene was peaking at that time as well, with bands like the Circle Jerks, Black Flag, and Fear in their prime. In 1982, Flea left What Is This to join Fear and Chris Hutchinson replaced him. According to Johannes, Slovak was disappointed that Flea left the band and didn't speak to him for a while. But it didn't last.
Slovak lived in a loft space near the intersection of Heliotrope Drive and Melrose Avenue, a commercial/non-residential part of L.A. It was a perfect rehearsal studio—far from private homes and uptight neighbors—and rehearsals were often extended jam sessions that lasted hours. "We were always pushing ourselves, playing things that we couldn't quite get," Johannes recalls. "But I think the big secret was the insane amount of hours we spent jamming. We would often turn off the lights and just jam in the dark. We became really good at sensing each other."
In 1983, while What Is This were still working the local music scene opening for bands like the Minutemen and X, and trying to land a record deal, a local performance artist named Gary Allen invited Kiedis and Flea to perform at the Rhythm Lounge. Slovak and Irons joined them and the Red Hot Chili Peppers were born. Although intended as a one-off performance, the Red Hot Chili Peppers evolved into something much more. "They were pretty amazing straight away and they got a good reaction," Johannes says. "We would schedule our shows so that we would play the same dates or share the same bill. Both bands were sharing Jack and Hillel."
Within eight months, both bands landed deals with major labels. What Is This signed with MCA. The Red Hot Chili Peppers signed with EMI. Slovak and Irons opted to stay with What Is This. "We had been playing with Alain since 1976 and we were dedicated to What Is This," Irons remembers. "The Chili's were new at the time." The Red Hot Chili Peppers replaced Slovak and Irons—with Jack Sherman on guitar and Cliff Martinez on drums—and released their first album, The Red Hot Chili Peppers, in 1984.