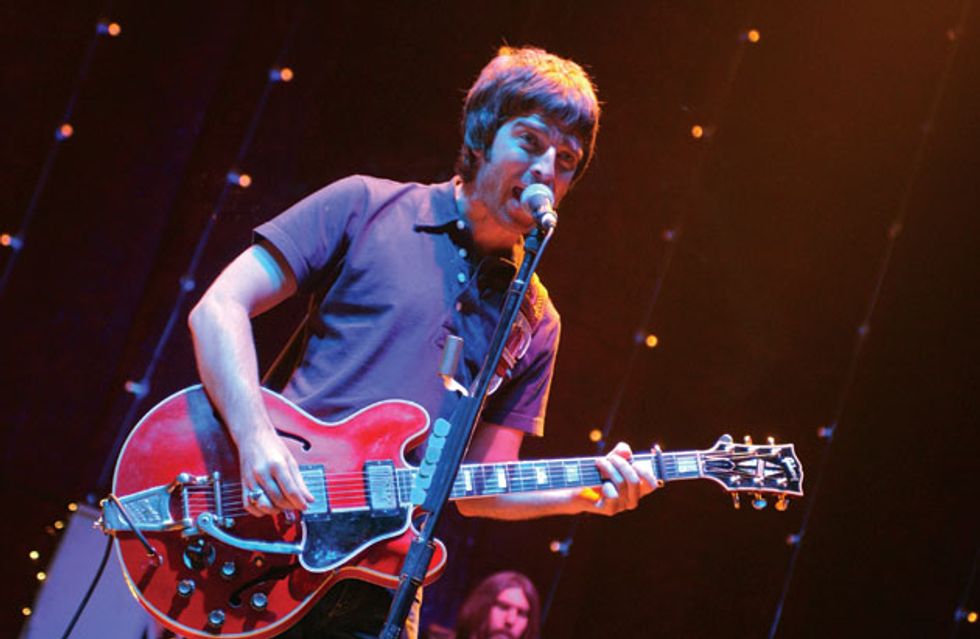 Noel Gallagher gigs with Oasis in 2005. The band is gone, but the ES-355 remains. Photo by Eddie Malluck
It's hard to overstate Noel Gallagher's importance in British rock and pop. As the lead guitarist and primary songwriter for Oasis—the 80-million-album-selling Britpop group fronted by his younger brother, Liam—Gallagher penned such epic hits as "Wonderwall," "Don't Look Back in Anger," and "Champagne Supernova."
But since the group's 1990s inception, Gallagher's musicianship has often been overshadowed by his outsized persona. Tabloids chronicled the Gallagher brothers' debaucheries, their rivalry with fellow Britpop band Blur, and the countless brawls that culminated in Oasis's 2009 breakup.
Noel Gallagher, now 47, endured a rough childhood in a Manchester suburb. As a teen he developed a tendency for hooliganism and a love of rock 'n' roll. In the late '80s he auditioned as the vocalist for the local band Inspiral Carpets, whose singer had quit. He didn't make the cut but signed on as their roadie. Then, after returning from a 1991 tour, he joined his brother's new band, which would be called Oasis, with the agreement that he would write all the songs.
The band's debut, Definitely Maybe, went straight to No. 1 on the U.K. charts, the fastest-selling debut album in British history. Just as quickly the Gallagher brothers developed their reputation as enfants terribles, fighting throughout the tour in support of the album. Their sophomore release, (What's the Story) Morning Glory?, fared even better, easily achieving multi-platinum status around the world as the spats continued.
After Oasis broke up, Liam Gallagher regrouped with members of the band to form Beady Eye, since disbanded, while Noel spent a couple years out of the limelight. The elder brother reemerged as a solo artist in 2011, releasing a self-titled album with his High Flying Birds, which topped the U.K. charts. The High Flying Birds' second album, Chasing Yesterday—Gallagher's first effort as a producer—finds the musician in top form, both in terms of song craft and guitar playing. From the moody Dorian vibe of "Riverman" to the unexpected tonal shifts of "Ballad of the Mighty I," it's an instantly pleasurable listen.
Speaking via telephone from his London home, Gallagher recently held forth on the state of modern music, his methodology, and his sexy 1960 ES-355.
You've expressed misgivings about being a solo artist. How's it been so far?
I expressed that? Well, it might have been a few years ago, and I'm over it. If you've got good songs, and if you've made good records, then nothing else matters. A wise man said, "As long as your shit is good, you don't matter." I don't think people are coming to see me—there's not much to see here. They're coming to hear my songs.
What makes your shit good?
I don't know—I find it very difficult to describe. But there must be something there 'cause there's lots of girls who love my songs.
You're known to reference other artists' songs in your work, for example the Stevie Wonder song "Uptight" on the Oasis song "Step Out." Is this intentional?
I'm a product of my record collection. I don't get sued, so I don't really steal melodies—it's not intentional. I don't know, and I don't care how it happens. There are only so many chords—what are you going to do, copyright them? It's impossible not to step on someone's toes. In the case of "Step Out," it was obvious that the chorus sounded like "Uptight," so we were advised to include Stevie Wonder on the credits to avoid causing problems—unlike "Blurred Lines" [the song for which Robin Thicke and Pharrell Williams were successfully sued by the Marvin Gaye estate].
My 1960 ES-355 is the greatest guitar I've ever played. Johnny Marr no less picked it up in the studio, then looked like a startled wizard because of how great the guitar is.

What do you think about that verdict?
I listened to both songs and don't see what all the fuss is about, but I guess you can't argue with a judge.
What are the records in your collection that have meant the most to you as a songwriter and guitarist?
The ones I keep returning to are The Wall and Wish You Were Here by Pink Floyd. Revolver and Sgt. Pepper's by the Beatles—you may have heard of them. Never Mind the Bollocks by the Sex Pistols. Let It Bleed by the Rolling Stones. The Kinks Are the Village Green Preservation Society. The Best of the Who. Great music by great bands that have withstood the test of time.
Is all modern music rubbish?
I tend not to like modern music—we've already lived through the golden era. And I think "modern rock" is a fucking awful, horrible term. I'm not even sure what it means, but if I knew what kind of music it was, I'm sure it would be horrible too. I don't think any great new bands have emerged in the last 10 years—none that have staying power and who are bands you can believe in.
So you don't like anything new?
I do in fact like dance music, and I think that some great songs have been written in the last 10 years, and probably in the last 10 months, or even the last 10 days.
Like what?
Like Alt-J's "Left Hand Free," "Zombie" by Jamie T. Great stuff.
Do you have any reflections on Definitely Maybe and Morning Glory having turned 20? Any nostalgia for the '90s?
I have nostalgia for my waistline. When I play the old songs live, I don't play them for me, but for my fans. I haven't really listened to the [anniversary] reissues because I was busy working on this record, but given that Morning Glory took only 12 days in the studio, given the chance I would probably re-record most everything.
How has your musicianship evolved since then?
Well it certainly has evolved, but I couldn't tell you how. You can surely see it in a track like "Riverman." I couldn't have pulled that off back then. [Phone rings in the background.] Excuse me for a moment. [Returns.] That was Russell Brand, would you believe?
Do you tend to write differently, or steer away from certain song types, now that you're not writing for a belter like your brother Liam?
No. A good song is a good song is a good song, and it works for me as long as I can play it on the guitar. I might not be a belter, but if I go into the studio having written 12 great stadium-rock songs, I'll record them all. Stylistically it doesn't matter.
What's it like for you to write a song?
It varies, but it all tends to start with me and my guitar when the inspiration strikes. I might write 15 great ideas in three weeks, knowing that only two or three of them will end up on a record. I really put quality above quantity, and after all these years, I still love writing songs.