Neil Young's 1953 Gibson Les Paul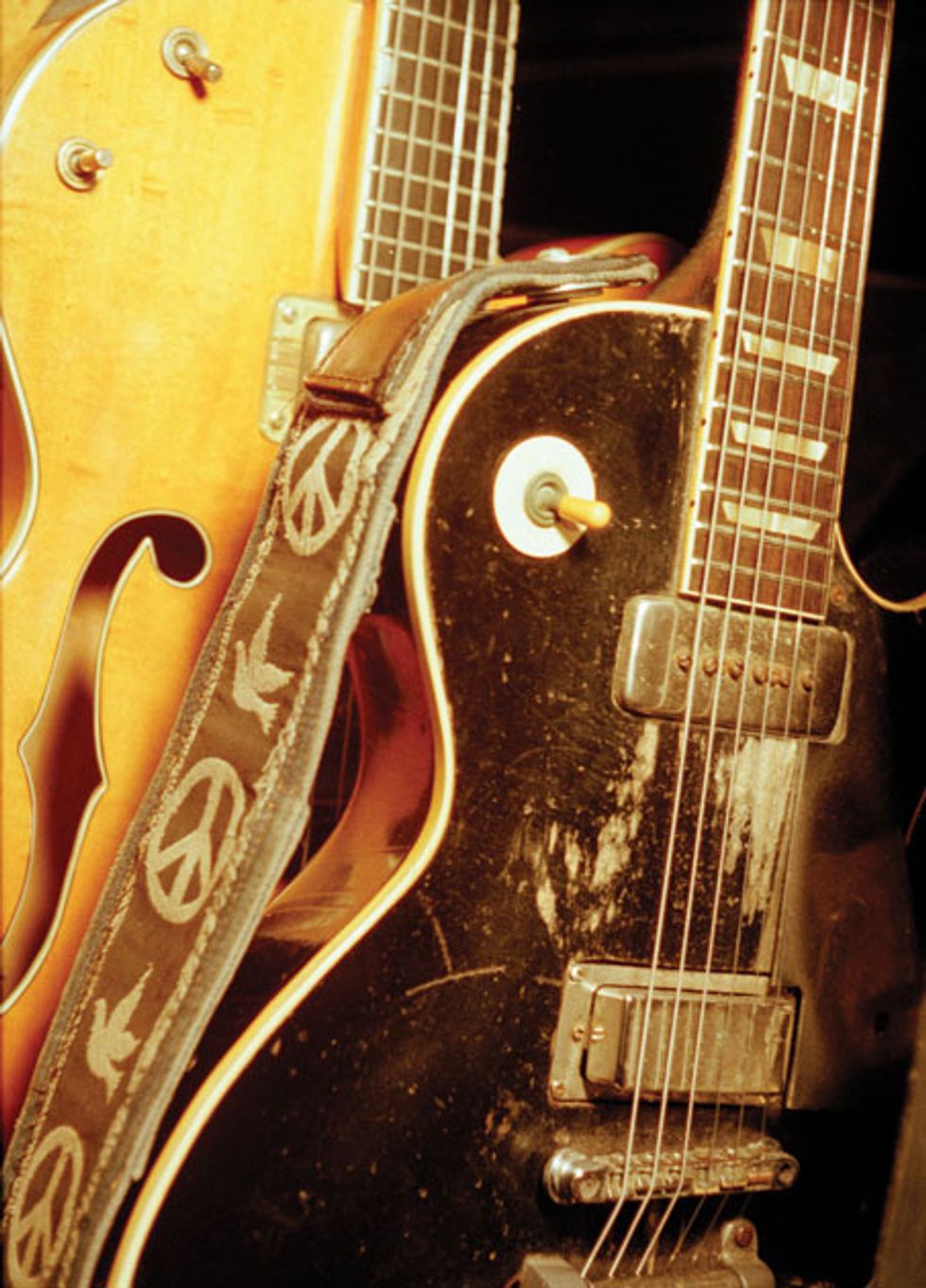 This is Neil's main electric guitar. It's a 1953 Les Paul goldtop that's been painted black—in 1953 they only made gold Les Pauls. It's got a mahogany neck and a mahogany back with a maple cap on the top.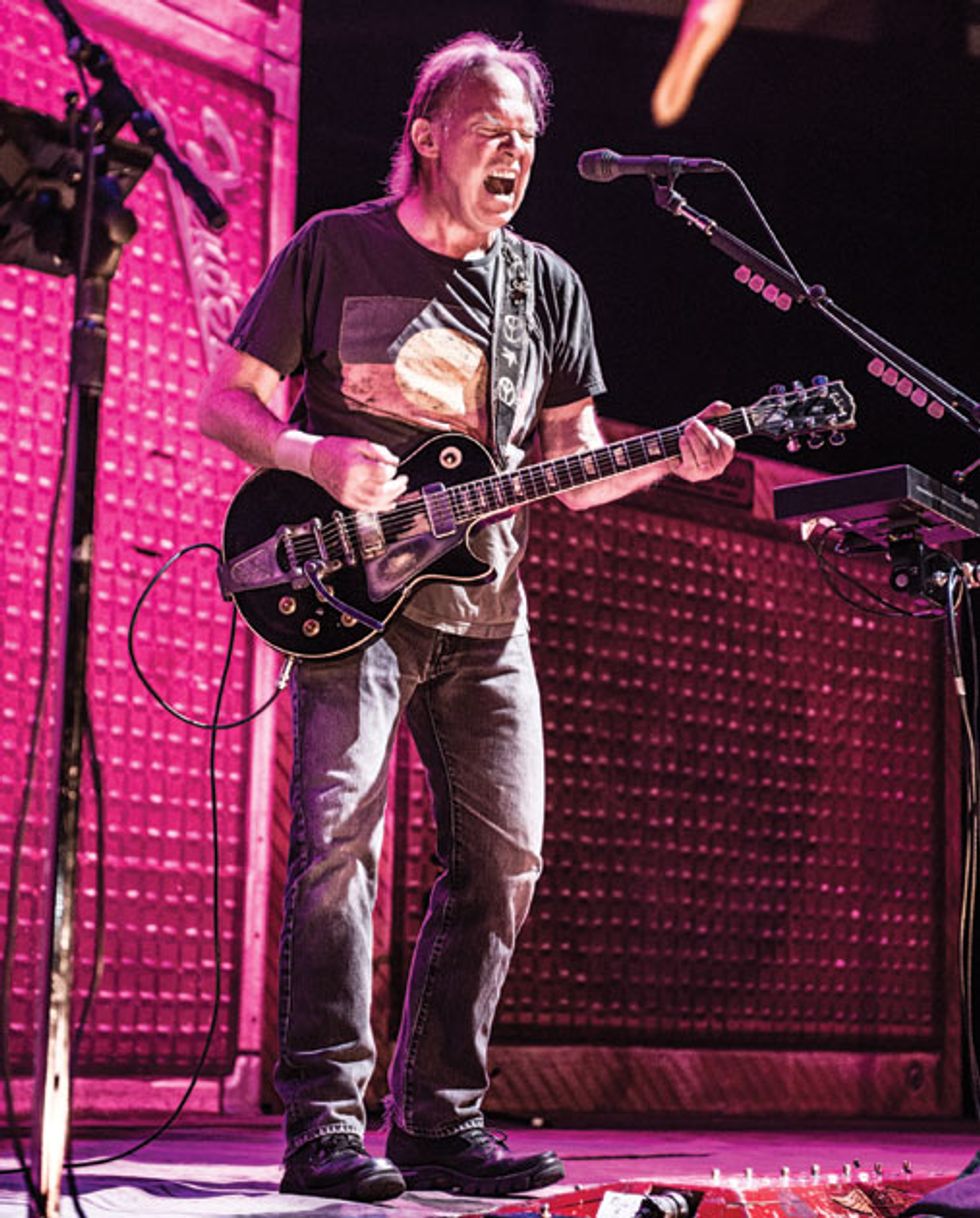 Neil Young & Crazy Horse, Key Arena, Seattle, WA, November 10, 2012
Originally, the '53 Les Pauls came with what's called a "trapeze bridge." The strings came from underneath the bridge because the neck wasn't tipped back far enough in '52 and '53, which made the guitar pretty much unusable. In '54, they got rid of that bridge because they tipped the neck back to its present position, but the thing with having less of a neck angle is that you can have a lower bridge, which works much better for a Bigsby, which Neil has used extensively. So this has a Gibson Tune-o-matic bridge on it, and it has a Bigsby B7 vibrato on it.
Originally, this guitar was made with two P-90 single-coil pickups. In the early '70s, Neil took it to a luthier to have some modifications done. When he came back to pick up the guitar, they'd gone out of business. Neil tracked down the guitar, but the bridge pickup was gone. So they put in a late '50s Gretsch pickup, a DeArmond pickup with adjustable magnets for the poles. It's a special Gretsch pickup, and it's only in the bridge position. The neck pickup was still the P-90, but they put a silver cover on it. I started working for Neil in '73, so this was the condition I found the guitar in, with the DeArmond pickup and the Bigsby and the Tune-o-matic.
"Neil has even talked into it, screamed into it, and you can hear it coming out of his amplifier."

After a year I put a Gibson Firebird pickup—a small, two-coil humbucking pickup—in the bridge position. The Firebird is a very unusual pickup noted for its particularly bright tone. This particular pickup is remarkably microphonic. If you tap on the guitar, you can hear it. Neil has even talked into it, screamed into it, and you can hear it coming out of his amplifier. It's that microphonic, which contributes to the unique sound he gets.
I found the remnants of a switch in the middle of the four knobs. No switch was there, and what it did I don't know. So, what I ended up doing was put a miniswitch in that hole and routed the bridge pickup directly to the jack, bypassing both the volume and the tone control on that pickup. After I did that, Neil said, "It's like it goes to 11 now." You'd be surprised how much energy and tone gets absorbed by the volume and tone control. It's a remarkable guitar. It has extremely low action and plays really great. —Excerpted from interview with guitar tech Larry Cragg
Mike Gordon's 2014 Visionary Instruments Custom Moiré Bass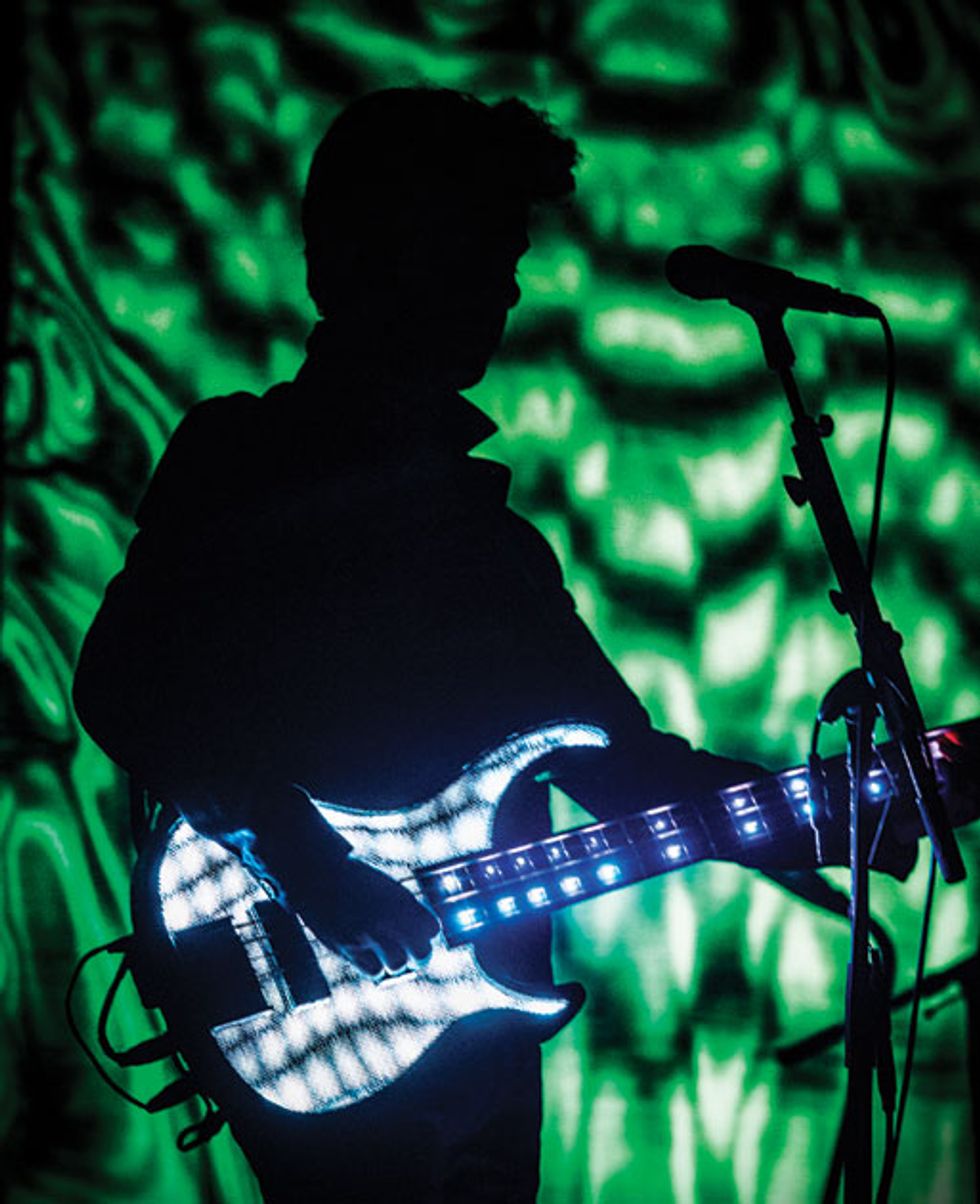 This instrument is one of a kind. It was finished for me just in time for my March 2014 tour, and Ben Lewry of Visionary Instruments flew out to some of our locations to make some final tweaks. The 3-D light patterns were my idea, and they make for some great photographs—especially Jay Blakesberg's! There's also a 3-D effect you can only see in person.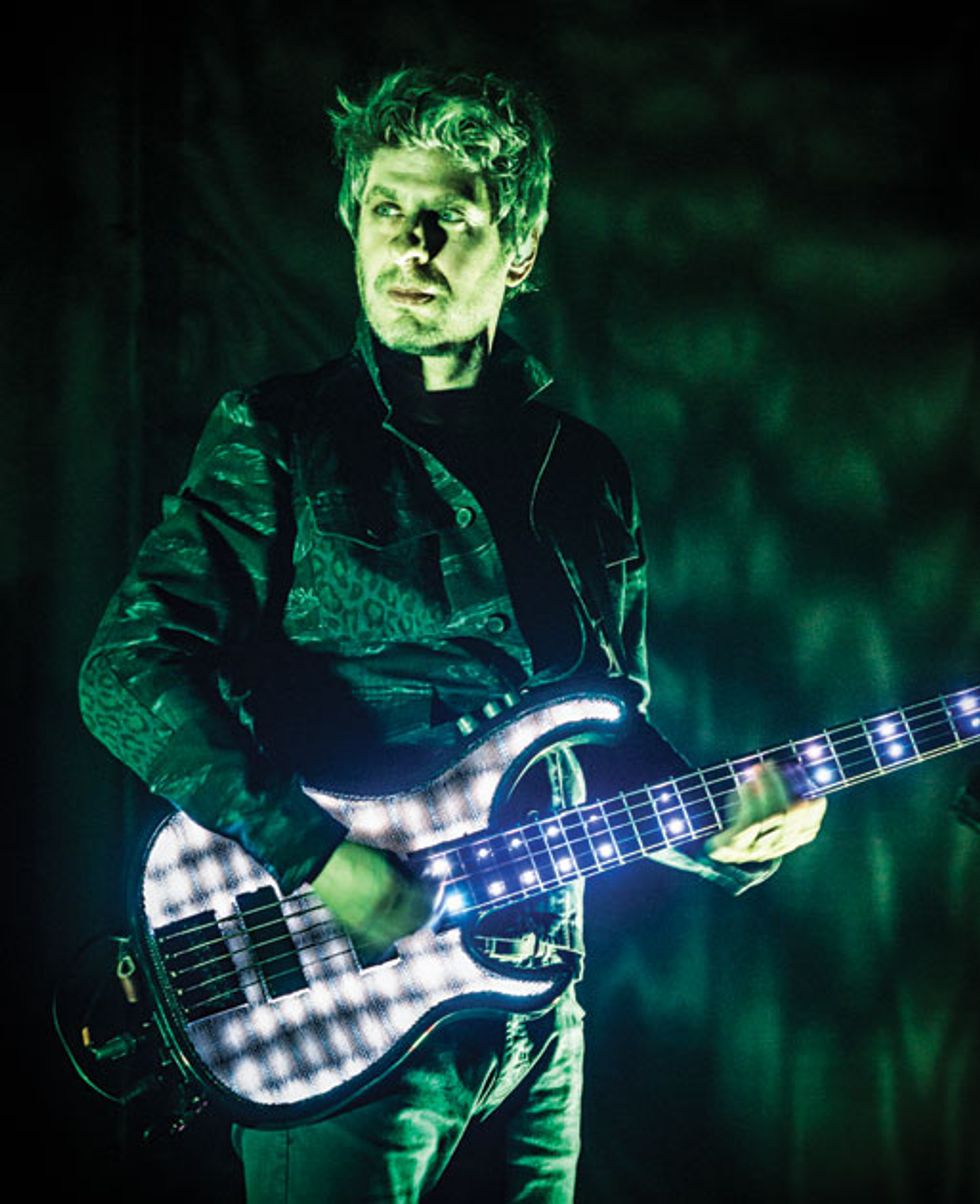 The Fillmore, San Francisco, CA, March 18, 2014
When I picked up this instrument, I wanted to transcend the typical jam-band stage set by finding new themes that could encompass the entire concert experience from visual to auditory to interactive. I started noticing moiré patterns everywhere, and an exhibit by artist Annica Cuppetelli inspired the idea of an interactive use of these patterns. Ben Lewry had created some instruments for notable people—guitars with LCD screens or robot control knobs, so he was the perfect person to carry out my idea for the invention of a new kind of bass. He appreciated that, in an age steeped in digital projections, this concept is entirely organic—like two screen doors on steroids. It was Ben's genius that allowed an instrument to wirelessly take lighting cues and to react internally to the notes being played, without any compromise to the tone. Every time you use LED lights there is a pulsation that can put hum into guitar pickups, not to mention the various wireless circuits, and despite that the instrument has a better sound than any bass I've ever played!
What's most significant for me about this instrument is that when I was 5 I wanted to be an inventor. This bass allowed that dream to come to true. I've never seen anything like it, other than the guitar version, which was simultaneously made for Scott Murawski.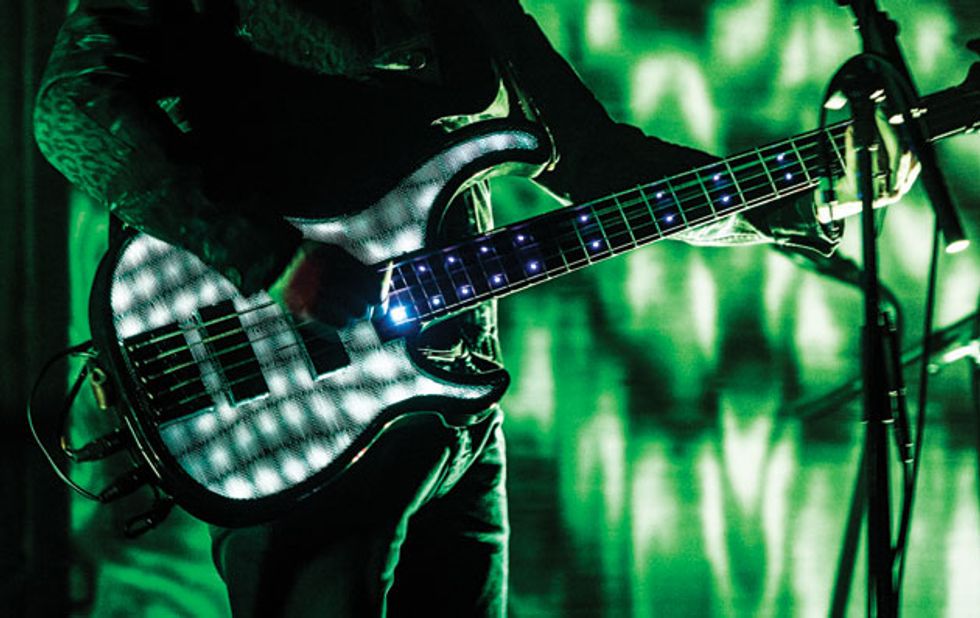 I've had several great moments with this instrument already, but one that stands out occurred when my band was playing "Peel" in Vancouver, and it became a long exploration. I even picked up a bouzouki at one point and then put the moiré bass back on, and then the music took us to some Portuguese hamlet. We had left the bass and guitar lights off, when all of a sudden the lighting designer, Liggy, blasted bright beige (a color only available when beamed from the outside) into the bass, the guitar, and the set pieces, and the jam seemed to scream out to the stratosphere, leaving a trail of beige fire.
I remember lying on the family couch with my first guitar when I was about 12. Every day I had a few minutes of slowly plucking notes and getting into the Zen of the tone decaying, the instrument balanced on my chest. My favorite thing is to pluck (or pick) a note on the moiré bass and feel a little bit of the metal screen after striking the note—it's a metaphor for the way I've taken my career into my own hands; I've pushed myself in a new direction unique to me. And really I've only scratched the surface! I wasn't intending a pun, but I can't really back out of that one.