15. Ex Cops' Brian Harding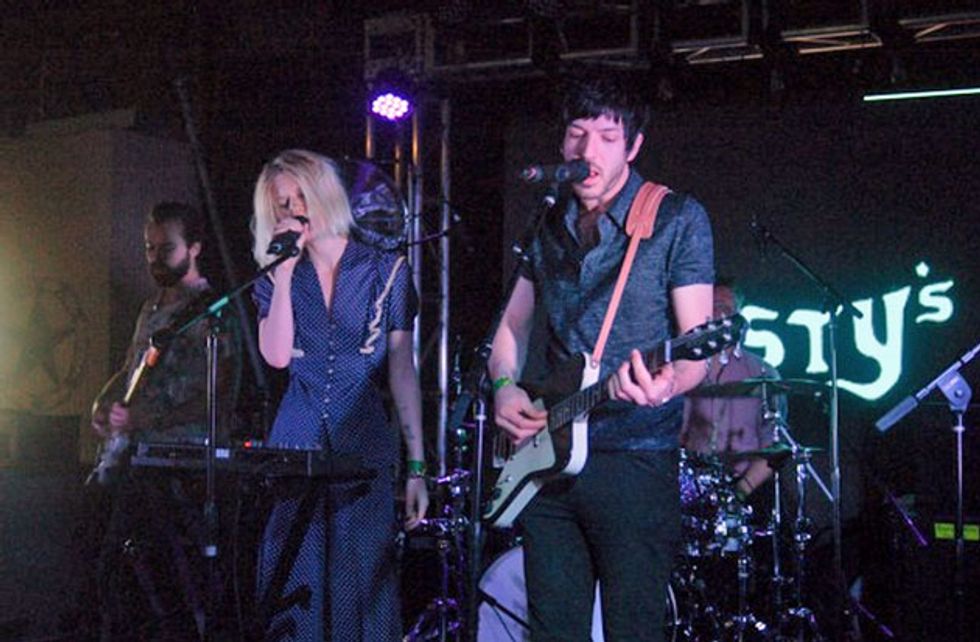 If for nothing else, you might know this band for its run-in with McDonald's at SXSW. Yes, Ex Cops is the band that put Ronnie Mac and the golden arches on blast for not compensating their showcase artists. Woof. Starting out of former Hymns guitarist Brian Harding's head in 2010, the band has since developed into a quintet that's embellished their original spacey pop-rock sound into a more danceable, 2015 version of Blondie. Their sophomore album,
Daggers
, incorporated even more sonic twists like walls of fuzzed-out guitar, buoyant melodies, and dark electronica-tinged passages made for late-night raving.
Gear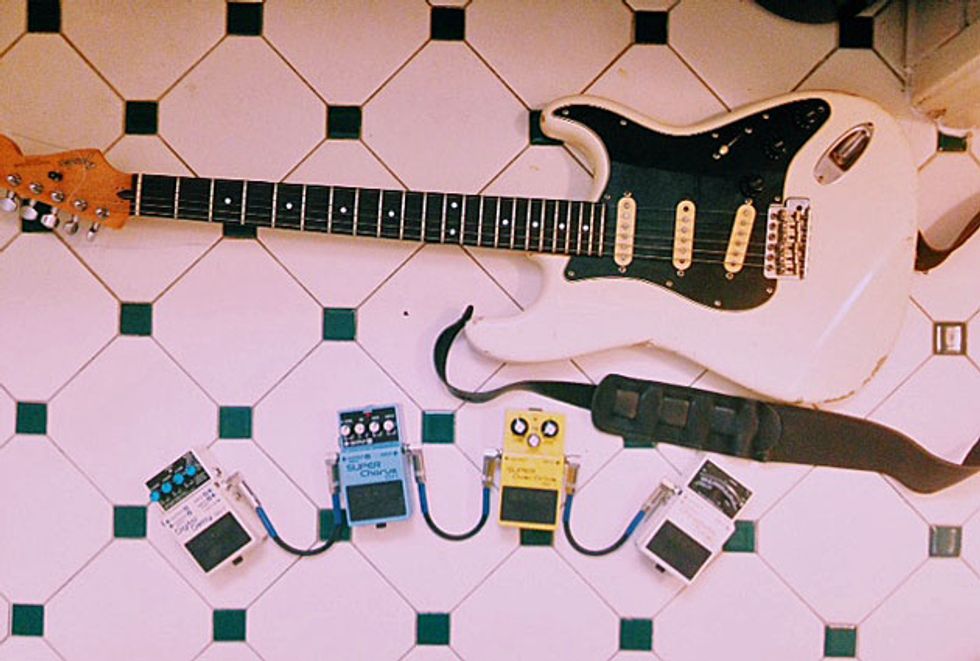 "I just got this '80s Japanese Fender Strat off of Craigslist a month ago. It was a complete gamble and I didn't even try it out before I bought it. I just had a good feeling about it and I was totally right. Thankfully! Interestingly enough, it sounds fuller than most of the American Standard models I've played. Pedals are something I'm pretty new to, but I've really enjoyed tinkering with my basic Boss stompboxes at the moment. I've come to appreciate that they're built solidly and are absolutely user-friendly. The one I'm having the most fun with is the DD-5 Digital Delay because there are so many different styles and manners you can manipulate your tone with and warp the delayed signal. I think I'm becoming a pedal junkie."
---
16. Cody Brooks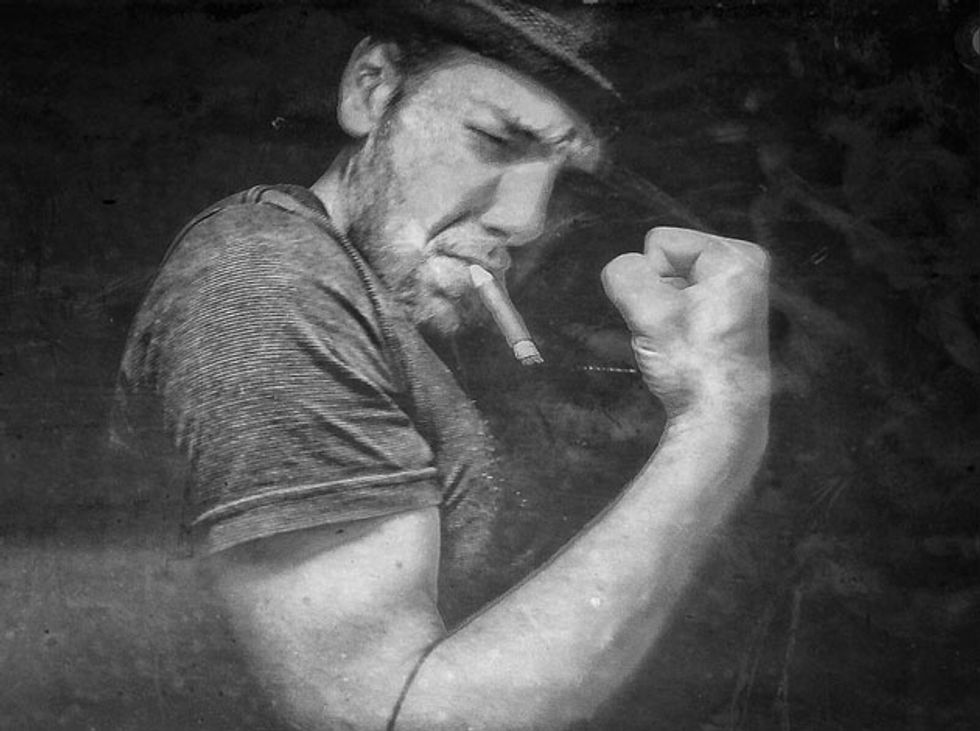 Singer-songwriters like Ed Sheeran, Ben Howard, and Jake Bugg have flooded the airwaves with their sultry pop-fused ballads of love and romance. Enter Cody Brooks who is a singer-songwriter that performs mainly acoustic. This is where the parallels end. Brooks graduated from the Tom Waits and Scott H. Biram school of haggard storytelling. Brooks laments deep wounds of betrayal, harsh realities of loss, and he tells all his dark tales with a ragged voice that sounds like someone who eats steel and spits nails.
Gear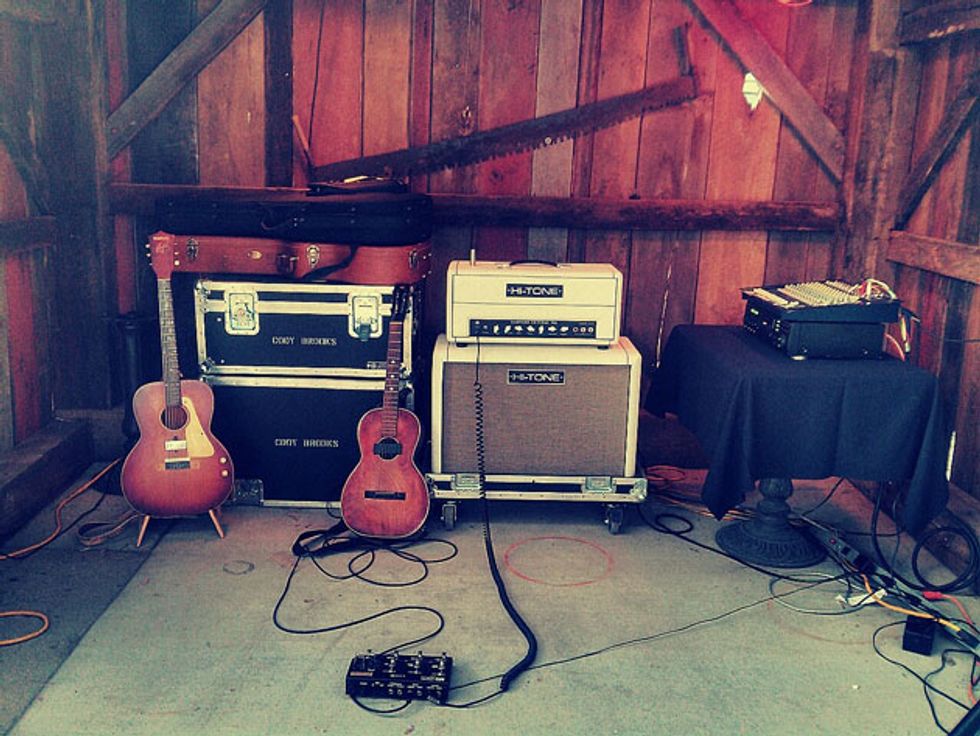 "My main guitar for performing and recording is a 1929 Victoria B&J New York parlor guitar. It's been outfitted with a custom Dean Markley ProMag soundhole pickup. I play any brand of strings, but they have to be .013's and the action is abrasively high because I like to fight the B&J and for playing slide. For a slide, I reach for a Craftsman 11/16" deep-well, spark-plug socket. My only two effects are Line 6's M9 Stompbox Modeler and a Jim Dunlop Fuzz Face Mini that I outfitted with Russian germaniums. My amp is a Hi-Tone Custom JP50."