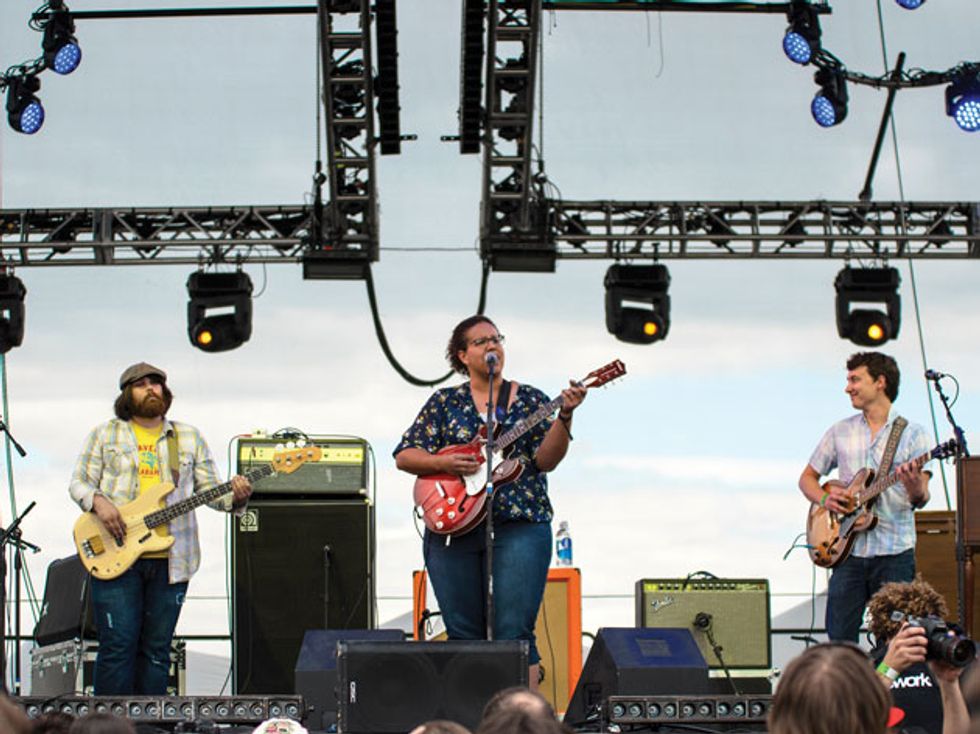 Shakes onstage: Brittany Howard flanked by bassist Zac Cockrell and co-guitarist Heath Fogg (with his 2013 Gibson ES-335). Photo by Christopher Altenburg.
At times that required pursuing tunes like Ahab chased the whale. "We definitely had a desire to be a more dynamic version of ourselves, both sonically and with songwriting," Fogg continues. "The guitar sounds in the song 'Gemini,' for instance, where it gets kind of far out with the fuzz, is a good example. That's Brittany playing all the guitar parts in the big crescendo. She had crafted the song on MIDI instruments at home using her computer. Although we're using keyboards more on this album, we thought it would be fun to translate that demo to our instrumentation. So all of those sounds are just her with her little Gibson amp cranked all the way up, laying parts on top of each other until they have the same effect her original synth part did. She recreates the basic synth tone with a fuzz pedal, and then there's reverb and tremolo. The layers weave in and out so it sounds like the individual guitar parts are sustaining longer than they really are."
Howard constructed the demo in her kitchen using Apple's Logic software. "I had this melody, which is where my songs usually start, in my head," she explains. "I started layering it and spreading other musical ideas I got from that melody across the song. Then I had a short story I'd written, and I made that the lyrics. And it all worked."
Brittany Howard's Gear
Guitars
1971 Gibson SG Custom
Harmony Rocket
Amps
Orange Tiny Terror
1960 Silvertone cabinet
Effects
Boss FRV-1 Fender Reverb
Electro-Harmonix Big Muff Pi
Boss TU-3 Tuner
Strings and Picks
D'Addario EXL115 Nickel Wound/Medium Blues-Jazz Rock Strings (.011-.049)
Dunlop Tortex picks (.73 mm)
Heath Fogg's Gear
Guitars
Epiphone Sheraton-II
2013 Gibson ES-335
Amps
Ampeg Gemini I
Effects
Fulltone Supa-Trem
Twosome Dual Fuzz
Boss TU-3 Tuner
Strings and Picks
D'Addario EXL115 Nickel Wound/Medium Blues-Jazz Rock Strings (.011-.049)
Dunlop Tortex picks (.73 mm)
The more nuanced new numbers like "Gemini" and "Dunes" seem a challenge to translate to the stage, but the Alabama Shakes are now taking three backing singers and two keyboardists on tour. A mix of fuzz pedals and the good ol' loud/soft/loud/soft ethos does the rest. "In 'Gemini' the performance is already powerful enough that I don't need three screaming guitars like on the record," Howard says. "By the time we reach that point everybody is feeling it, and we compensate for that with dynamics. That way it becomes a live composition. We use drama, like they do for movie soundtracks."
And if it's not clear on their albums, the Shakes' live shows display a fluid division of labor between Howard and Fogg.
"There definitely aren't assigned roles," Fogg relates. "If she's got a demo that she started with a guitar riff and no second guitar part, I have the freedom to come up with whatever I want. But sometimes Brittany has demos with multiple guitar parts already crafted, so it's my job to record one of those parts to the best of my ability. And there are songs on the album that she would rather just sing and not play her guitar parts live, so I play some of those parts onstage. Or when we're recording we'll both come up with parts on the fly and try to craft something together. It's different every time we set out to write or work on a song."
Howard was drawn to music making at age 11, when she saw her music teacher play guitar in class. "Until then, I didn't know girls could play guitar," she says. "I first started writing songs because I didn't know how to tune a guitar. I made stuff up just to play, and then later I started figuring out you're supposed to keep it tuned a certain way. Then I had to reteach myself the proper way to play guitar. At that point I was 12, so I learned super-easy songs like Blink 182's. I don't know notes. I don't say, 'Oh yeah, this is an A chord this is a C chord.'I'm not really a studied player. I don't really know all the chords."
But that didn't dissuade her from starting the Alabama Shakes with bassist Cockrell in 2009, when both were students at Limestone High School, near Athens. After adding drummer Johnson, they cut a demo that caught Fogg's ear, and the lineup was set.
Fogg's father played guitar in local bands. "There were always guitars, an acoustic and electric, around the house, and my dad would play them a bit and show me things I wanted to learn," Fogg remembers. He was playing with friends and in ersatz weekend bands when he joined the Alabama Shakes.
YouTube It
Watch the Alabama Shakes light up the Coachella music fest with "Future People" from their new album Sound & Color.
"I feel like I'm getting closer to the voice I want to have as a guitar player," Fogg says. "But I would definitely say that around the time I started playing with the Shakes I was feeling confident, starting to feel like the guitar player I wanted to be. Every year I feel closer than I did the year before."
Fogg has a crisp take on his creative partnership with Howard: "A lot of people miss the point about what's great about Brittany. She's an expressive, extremely musical person, and one of her best qualities is her guitar playing. She's fearless and very melodic, and the things she plays are easy to counter, which makes it easy for me. I feel lucky to be able to play with someone like that. And like me, she's not extremely studied, and she's learning every day. We're pretty simple guitar players, not trying to be too technical or fancy, but trying to create something interesting together."
"I'm really proud of the steps we all took with this second album," Fogg adds. "They might be considered bad ideas in the music industry, because Sound & Color isn't a repeat of Boys & Girls, but they're good ideas artistically. As people and musicians, we always put that mentality first, and that's important."