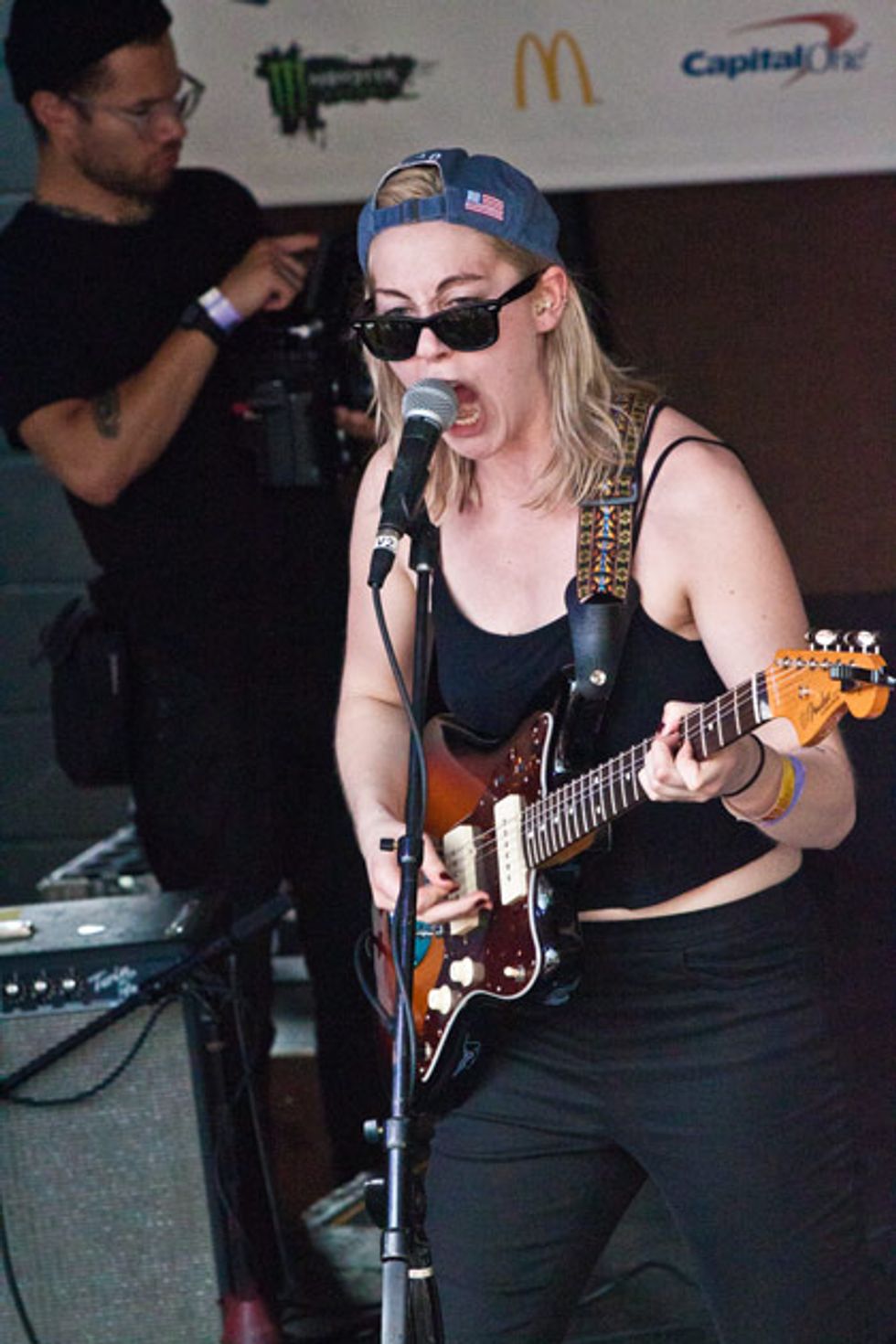 Mackenzie "Torres" Scott bringing the fury and rage during her mid-afternoon set at this year's SXSW festival at Austin's Mohawk Outdoor stage. Photo by Chris Kies.
Macon native and Brooklyn transplant Mackenzie Scott—aka Torres—commands much attention these days. Rolling Stone called her "a force to be reckoned with" and NPR thinks that Sprinter, her new release, "is an album we're going to be talking about throughout the year." But they're just stating the obvious: Scott is a powerhouse. Her songs are emotional juggernauts that fuse intense lyrics with an onslaught of fantastically creative guitar work.
Scott's tone palette is immense. She conjures sonic colors ranging from edgy and abrasive to delicate and subtle. Her right-hand approach is unorthodox: classical-style fingerpicking on an electric, usually a beautiful black Gibson ES-335 or an abused Fender Jazzmaster. She enhances it via her collection of mostly boutique pedals and a cranked Fender Blues Junior. Her innovative capo use pushes the creative envelope even further.
Though raised in Macon, Georgia, home to the Allman Brothers, Otis Redding, and Little Richard, Scott was unconnected to her hometown's rich musical past. "I grew up mostly oblivious to the fact that all these greats had come from my hometown," she says. "It's pretty funny, actually." She listened to '90s pop and sang Broadway show tunes, but eventually gravitated to the disparate sound worlds of Johnny Cash and Nirvana. "I discovered everything that I really love later, when I was in college."
At first, guitar gave me something to hold while I was singing—something to hide behind. But now the guitar has been completely transformed for me.

With its dark moods and understated intensity, Sprinter—Scott's second release—is a testament to her growth as a songwriter and her inventiveness as a guitarist. It was recorded at an alternative space in Dorset, England, with Robert Ellis (PJ Harvey). "It was a room that had formerly been used as a children's nursery," says Scott. "The owners converted it into a space conducive to bands and artists." Some recording was also done at the studio of Adrian Utley (Portishead), and Ellis, Utley, and others play on the album. "Rob got musician friends of his to play on the record," she says. "They were all very generous—with their time and otherwise."
We spoke with Scott about her influences, unorthodox playing style, and gear, and how she creates such wide-ranging tones. Despite the dark themes and rock 'n' roll swagger of her music, Scott proved easygoing, humble, and fun to talk to.
When did you start playing guitar?
I was about 15 or 16. I was in a youth group with this girl who played guitar. I thought it was so cool. I'd had a guitar for years, but I'd never really touched it. I finally picked it up and started teaching myself.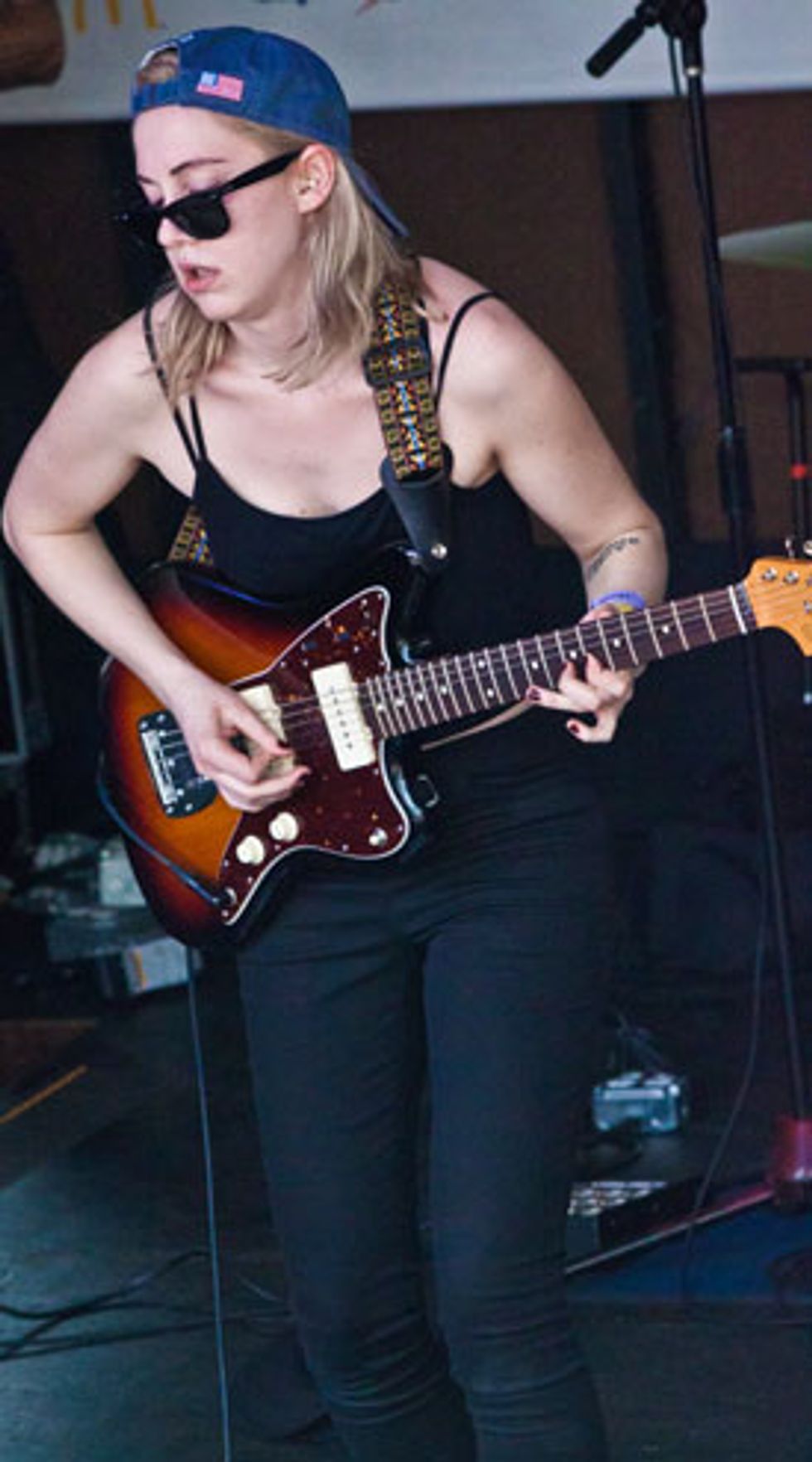 Torres working her new-ish, stock Fender Jazzmaster during a solo in her song "Sprinter" at the Mohawk Outdoor stage during SXSW in Austin, Texas.
Photo by Chris Kies.
Did you want to become a guitarist, or did you see it more as a vehicle for singing and songwriting?
It was more about the singing and songwriting at first. I suppose it still is—that's always the priority for me. At the time it was definitely a vehicle for the poetry I was writing. I was just starting to sing and let some family members and friends hear me, which was hard for me to do. At first, guitar gave me something to hold while I was singing—something to hide behind. But now the guitar has been completely transformed for me.
How so?
I don't really play acoustic anymore. I play it at home, but I really just like the electric. I'm just learning, figuring out what I like to play and trying to get better at it. I especially love fingerpicking on the electric guitar. I've loved doing that since I picked up the electric guitar.
I noticed that you don't use a pick.
I don't.
Are you looking for a specific timbre, or is that more just how you play?
That's just how I play. When I initially started teaching myself, it was only fingerpicking. For some reason my inclination was to play "classically" rather than strum power chords. Eventually I had some classical lessons, which reinforced that preexisting inclination. When I started playing electric guitar I realized I could plug in and use some really sweet pedals for some sonic variation while playing in that style. That's something that I continued to do. I still don't use a pick.
Do you use your nails or the flesh of your fingers?
I use both. Actually, the index finger on my right hand is permanently disfigured on the front. It's always skinned, and my nail is always halfway off.
Do you hold your index finger and use it like a pick?
Yeah, I do. I switch back and forth between fingerpicking and strumming with my nail.