Mackenzie Scott shows us how a couple of Teles and seven deliriously destructive stompboxes keep her sets inspired ... and a little unpredictable.
Mackenzie Scott (aka Torres) likes a good juxtaposition. Her music is a tightrope act between vulnerability and violence. Scott's lyrics often reflect introspection over a backdrop of angular, explosive guitar sounds, and those lyrics and her imagery combat the standard gender tropes by deconstructing their longstanding definitions and re-empowering them for all people. (Look no further than the cover of Torres' latest album, Thirstier, to see her take on the "classic" guitar pose.)
---
Even her playing style is at odds with itself. "I prefer fingerpicking. I like playing really crunchy, loud, aggressive stuff in the styling of a classical player. And when it comes time to play big power chords, honestly, I just make my fingers bleed," she says. Those divergent personalities and approaches result in singular musical snapshots rather than a predictable path through each performance, song, and album.
Sprinter, from 2015, was angsty, urgent, and erratic. And 2017's Three Futures stripped back the guitar barrage for an electronic bent, centered around stark beats and cold synths. Last year's self-produced Silver Tongue twisted the previous albums' makeup into an unusual two-step that often made the guitars pretty and the synths wicked. (Don't worry, guitar loyalists. There's still some 6-string fire.) And now Thirstier is a concise blast of catchy, power pop numbers that are heavier and shinier.
Out in support of her new album, Torres' October 14 Nashville show had her headlining the Exit/In. Before soundcheck Scott introduced PG to her Tele companions, explained why she'd rather play with bloody fingers than use a pick, and showed how seven stomps cover all the shades of traditional rock guitar and much more.
[Brought to you by D'Addario XPND Pedalboard: https://www.daddario.com/XPNDRR]
Thrashy Tele
When Torres first hit PG's radar back in 2015, she was predominately raging onstage with a new-ish stock Fender Jazzmaster. She's still in the Fender family, but she remembers 2016 as the year she first flirted with the Telecaster, and she hasn't since looked back. Her current main squeeze is this Fender American Vintage '72 Telecaster Thinline.
"I'm in every way obsessed with this guitar," gushes Scott in a recent Big 5 video with PG. Some of the reasons she hasn't strayed too far from this particular T is its comfy neck profile, lightweight body, and rounder, more aggressive pickups than her aforementioned Jazzmaster or the ES-335 that was a collective Christmas gift from her family.
She typically plays on Ernie Ball Power Slinkys (.011 –.048), but this run she opted for Regular Slinky .010s. However, that experiment appears to be fleeting as she mentions in the Rundown that she's been breaking a lot more strings with the lighter gauge. And most of the set is in standard tuning, but there is a rare moment or two she'll go down to drop d.
Custom Backup
This T has a Fender Tele Custom makeup, but it's actually a parts guitar. (The dead giveaway being its naked headstock.) If all goes well with the Thinline, this yellow bird stays caged on the sidelines.
Pedal Platform Minus the Tinnitus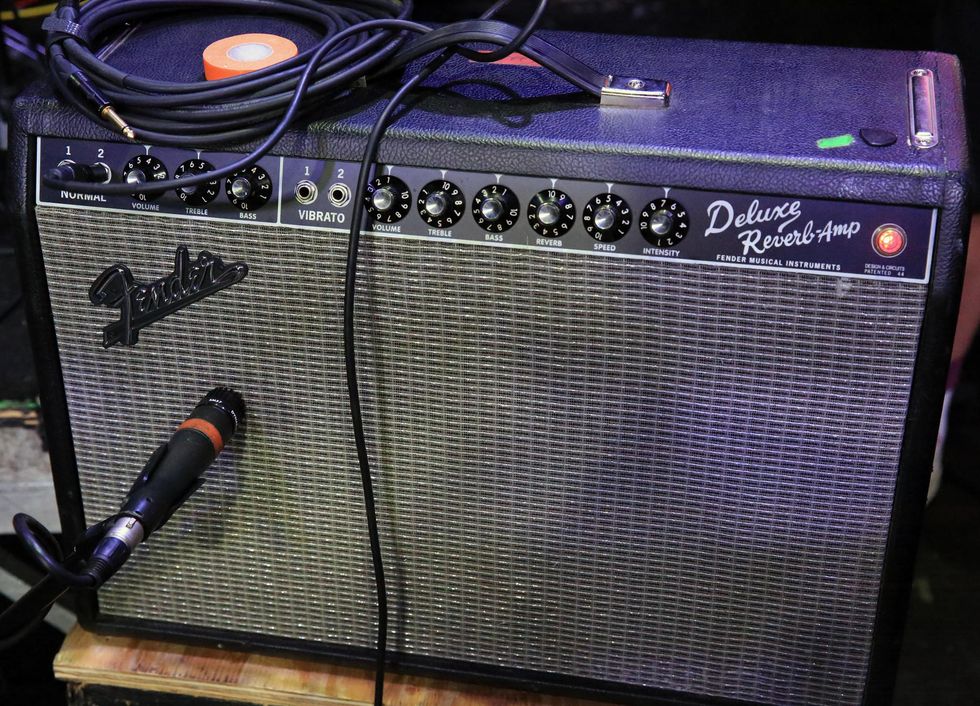 Scott has plugged into Blues Juniors and Twin Reverbs, but she feels the sweet spot for her live sound and volume considerations is the Fender Deluxe Reverb. The reissue is completely stock, including its Jensen C-12K speaker with a ceramic magnet.
Dirty Rotten Scoundrels
"Transparent" is a guitardom buzzword. It's often used in marketing speak for the next-best pedal offering organic, free-range, USDA-approved tone. (Okay, that's a bit of a stretch, but you get the point.) Nothing Scott has selected for her stomp station can be described as subtle or translucent. Even her delays and reverbs accentuate weird, supernatural flavor crystals.
The filth and fury comes in the potent pairing of a Joyo Vintage Overdrive and EarthQuaker Devices Palisades. Next is the Death By Audio Echo Dream 2 that brings in modulation, delay, and boost/fuzz. She claims this is her "most-utilized" pedal. She really likes how the echo and fuzz circuits interact with the Joyo. The EQD Afterneath brings in ambient, deep, spelunking reverbs. Beefing up the Afterneath and filling it out with faux synth vibes is the Electro-Harmonix POG2. Another favorite application for the POG2 is pulling its attack all the way down and dramatically gliding into the notes. The Empress Vintage Modified Superdelay is a complex, time-bending tool that sprinkles in modulation, reverse delay, and compression, plus the grit and saturation heard in the old tape echoes. The last pedal is a Meris Enzo that is equal parts inspiring and frustrating. The multi-voice synthesizer reacts differently to each note played by Torres. "I have a hard time getting it under control and taming the beast, but that's what I love about it."
The cozy, clean, all-in-one command center was custom built by Onkel Amplification.