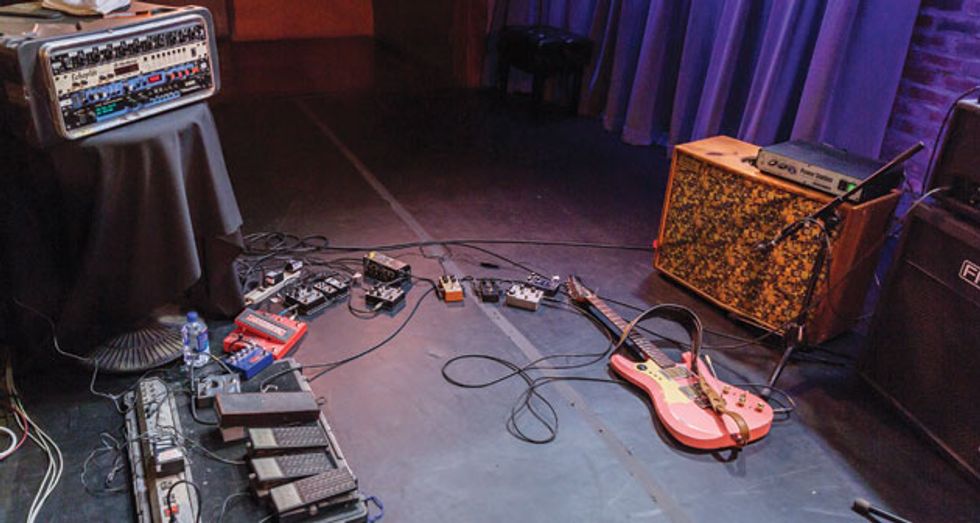 Torn swaps out fuzz pedals often enough that he doesn't mount them to a board, but the heart of his live arsenal is his loop-creation rack. This iteration of the loop rig contains Lexicon PCM 80 and PCM 42 units, an Oberheim Echoplex Digital Pro, a modified Rane SM82S mixer, and voltage-control pedals for varying loop levels. Photo by Scott Friedlander.
What's the studio-only looper?
The looper I never bring on the road—because it requires a keyboard to control it—is the Electrix Repeater. I didn't use it on Only Sky because I knew I wouldn't be using it on tour. Each loop can be composed of four separately addressable tracks. And the multi-track loop can change pitch, time, or both simultaneously, in real time. Also, there's full-tilt loop storage and recall.
Except for the Hexe, all those loopers are quite old.
I've been on this rant for a year on why looping devices suck. Why are looping devices from 25 years ago way better than they are now? The modern ones are so technologically behind the beat, it's unbelievable.
What are your main beefs with modern loopers?
I have well-known beefs not with modern loopers, but with the folks who design and bring them to market. The major manufacturers of looping devices have created some really great things, but have ignored most of the more musically creative possibilities—which were established 20 to 30 years ago! And those possibilities have not even remotely been exhausted. I could go on and on, but in a nutshell my beefs are that new loopers are glorified, ridiculously un-ergonomic playback devices with little or no ability to alter feedback, oscillation, pitch, or time—and there's no sequencing or randomization, either. And even the best new loopers have very limited undo, real-time editing, storage, recall, and mixing capabilities. While I absolutely appreciate that these things are being made at all, most of the current hardware loopers are incapable of competing with older technologies with regard to musical potential—which is a damned shame! That said, there are definitely a few intriguing builders and designers now afoot with the promise of positive developments.
What's so unusual about the reVOLVER DT?
It's simply a rebuilt reVOLVER II with two little sidecar pedals that offer instant changes to each of the pedal's eight modes, with controls over both range and rate of change. It also lets me change between modes with simple foot taps.
The word "experimental" almost feels a little derogatory.

How do loopers affect your amplification needs?
I always play in a minimum of stereo. Most of the time I only use two amps. One is dry and the other has the big reverbs and most of the looping. I have been using Fryette amps since around 2004. I have a lot of them and I love them all. I've also got a mixer with pre-fader sends, which is critical. Everything on the effected track is capable of feeding everything else, and I can change sends and returns in real time. Everything—every loop, every reverb, every send, and every return—has to be manipulatable in real time with as small a footprint as possible. I end up with quite a few voltage-control pedals on the floor.
What non-looping pedals are you using?
The pedalboard is usually pretty simple [see gear sidebar for details] except for the fuzz boxes, which always change. One fuzz that's a constant is the PTD Tornita, a feedback fuzz that Paul Trombetta made for me. My fuzz thing went crazy this year—I just went nuts. I decided I actually needed to learn about it, so I started figuring out why they are all so different. I've got an insane collection of fuzz boxes. For this upcoming tour, I think I'm taking the Tornita, a Catalinbread Antichthon, and at least one Basic Audio fuzz, probably the Fuzz Mutant.
What is it that makes the Tornita so indispensable?
It sounds and feels burry and amazing. When the feedback is tuned and engaged, its feedback loop is quite controllable, melodically speaking, via the big knob and the guitar's volume control.
What are some of the craziest or rarest fuzzes in your collection?
Oh! There are a few prototype pedals made by Paul Trombetta. I have a very rare Black Daddy pedal made for me by Sean Michaels of Lovepedal. There's a lightly modified Marquis Enso made by Tim Cooper of Faceless FX, and—somewhere—an 8-Ball pedal made by Matt Wells. Some older, rare Skreddy fuzzes are great. I have a custom FuzzTool from GuitarSystems, and two amazing pedals made by Animal Factory Amplification out of Mumbai, India.
YouTube It
Armed with a Ronin Mirari, a Godin MultiOud, and a bevy of sonic toys, David Torn improvises a gloriously expansive soundscape, then recounts the tale of his horrifying 1992 brain-tumor ordeal to a rapt TEDx crowd at the California Institute of Technology.
Let's talk guitars. Lately you've been playing a Ronin Mirari.
I've had a fantastic time ever since I got that guitar, and it's partially responsible for my interest in fuzz because the pickups are just so great. It's hard to imagine that you can be as old as I am and finally go, "Oh my god, I fucking love these pickups!" It was the first time in my life I could actually look at a pair of pickups, play them, and not focus on some weird tweaky thing that's wrong. There are parts of this guitar that I don't even like, but I can't stop playing it because it sounds so good and feels great. The humbuckers are splittable, and the fundamental idea for the pickup came from the '67 DeArmond "gold foils." When I was working on David Bowie's [2013] record, The Next Day, which was quite a few years ago—way earlier than you'd think [based on the release date]—I met the guys at Ronin. They were making these Hagstrom-type guitars out of old-growth redwood, and they had original gold foils in them. The DeArmond gold foils changed it all for me—especially when I played them in a guitar that was made well.
What's so remarkable about the gold foils?
I'm in the studio more than on stage, and I have a lot of digital equipment. When I'm working on films, monitors surround me and the induction in the room is horrific. So Ronin came up with a design that essentially turns them into humbuckers. I hate humbuckers, but I love these pickups—I actually like them better as humbuckers than I do as single-coils. They are so woody and stringy, without being overtly bright. They have all kinds of grit when it comes to breaking up an amp. They do great with fuzz and amp distortion. Mine are completely unpotted and directly mounted into the body like the old gold foils were. I find it so odd: I've been swapping pickups my whole life, but with these it's been three years of "Wow, I love these!" I don't care about the squealing—I can deal with it.
It's part of the charm.
It is part of the challenge anyway, right? It's like feedback, except more horrible.