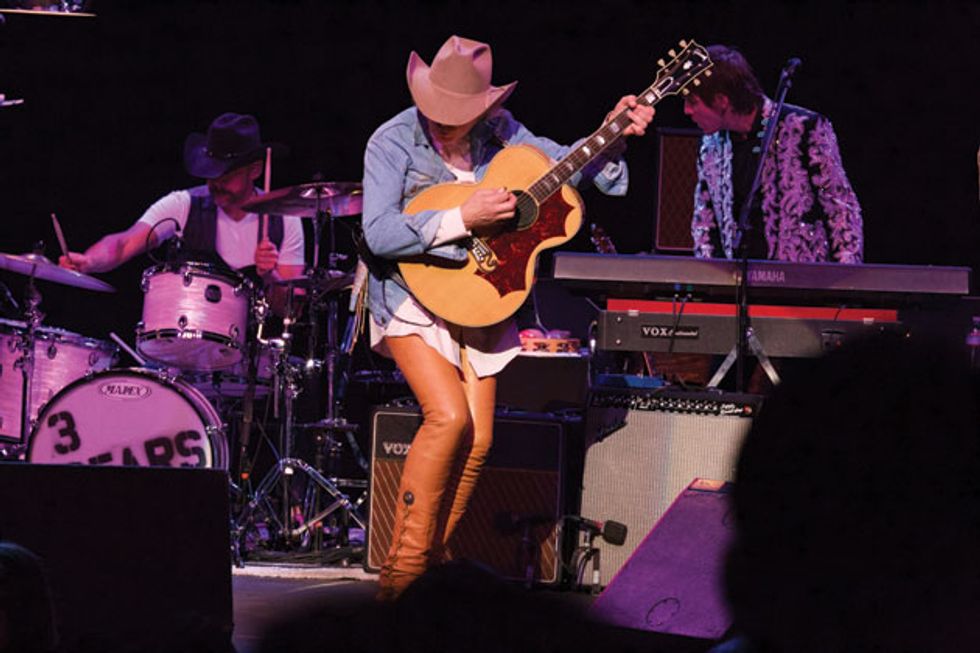 Self-proclaimed hillbilly-bluegrass flatpicker Yoakam favors the acoustic guitar, and his weapon of choice is a Gibson J-200.
"This all comes full circle." Dwight Yoakam was on a storyteller's roll too good to interrupt, and he knew it. But he also hadn't forgotten that he was answering a question about the high-energy sound of his new album. For 10 minutes, he riffed on Buck Owens, the evolution of country rock, and why he chose to self-produce after years of collaborating with legendary guitarist/producer Pete Anderson. Yet in the end, Yoakam brought it home, closing the circle by explaining what all of this had to do with his current touring and recording band, and how they brought sonic power to his new album, Second Hand Heart.
Actually, "full circle" is a good way to describe Yoakam, circa 2015. Long before the term "Americana" was in the musical lexicon, he was blending rootsy sounds that resonated with the traditionalists in cowboy boots while it won over a healthy chunk of rockers (or maybe it was the other way around). Nearly 30 years ago, the honky-tonk energy of his debut album Guitars, Cadillacs, Etc., Etc. brought lean muscle to a country music scene that was pudgy around the middle.
Now, after more than a decade on indie labels and major-label subsidiaries, he's back on Reprise. Yet in some ways, Yoakam falls as far outside the Nashville mainstream as he did back in the 1980s. In contrast to the Auto-Tuned, arena-rock sound that's been ruling the country charts, Second Hand Heart sounds pure, direct, and unvarnished. The songs, written mostly by Yoakam, are built on a classic country-rock foundation of twangy guitars, first-position chord progressions, and, of course, Yoakam's hillbilly-tinged vocals. But they're also full of enough little surprises to keep you guessing—and enough rocking riffs to make you want to grab an axe and play along.
"Believe me, I know my limitations. You're not going to see me out there sliding across the stage on my knees, flailing away
at lead runs."

On the phone from Los Angeles, Yoakam had the easygoing enthusiasm of the guy sitting on the next barstool, sometimes making his points by singing them. It's obvious that even after nine platinum albums, two Grammys, and countless other career milestones, the man from Pikeville, Kentucky, remains an ardent student of American roots music.
If I didn't know better before hearing Second Hand Heart, I would have thought, that's a good band album. How did you get that sound?
You're hearing a sense of abandon. Starting with [2005's] Blame the Vain, I've used my live band for recording. And I kind of "cast"—for lack of a better term—the musicians that suit what I'm trying to do. I worked for many, many years, successfully and with great pride, with Pete Anderson. Then I decided to make a change. I'd left Warner Bros., I was kind of doing an indie thing. Pete and I did one indie album [2003's Population Me] and a few years went by before I began to do the next one [Blame the Vain] for New West. I was performing at that point with [lead guitarist] Keith Gattis. We did a little acoustic duo run together, back in early 2003. And that bled into the following year and then I said, "You know, I've got to go out and do dates that were booked this summer, and I need a band."
It's not common for solo country artists to use the same players on tour and in the studio.
That's the thing that was distinctive about Buck Owens' music when he exploded onto the scene. He took his live honky-tonk band into the studio. His touring band was his recording band. So that's why those records sound like that. And that's what I did on the first two albums.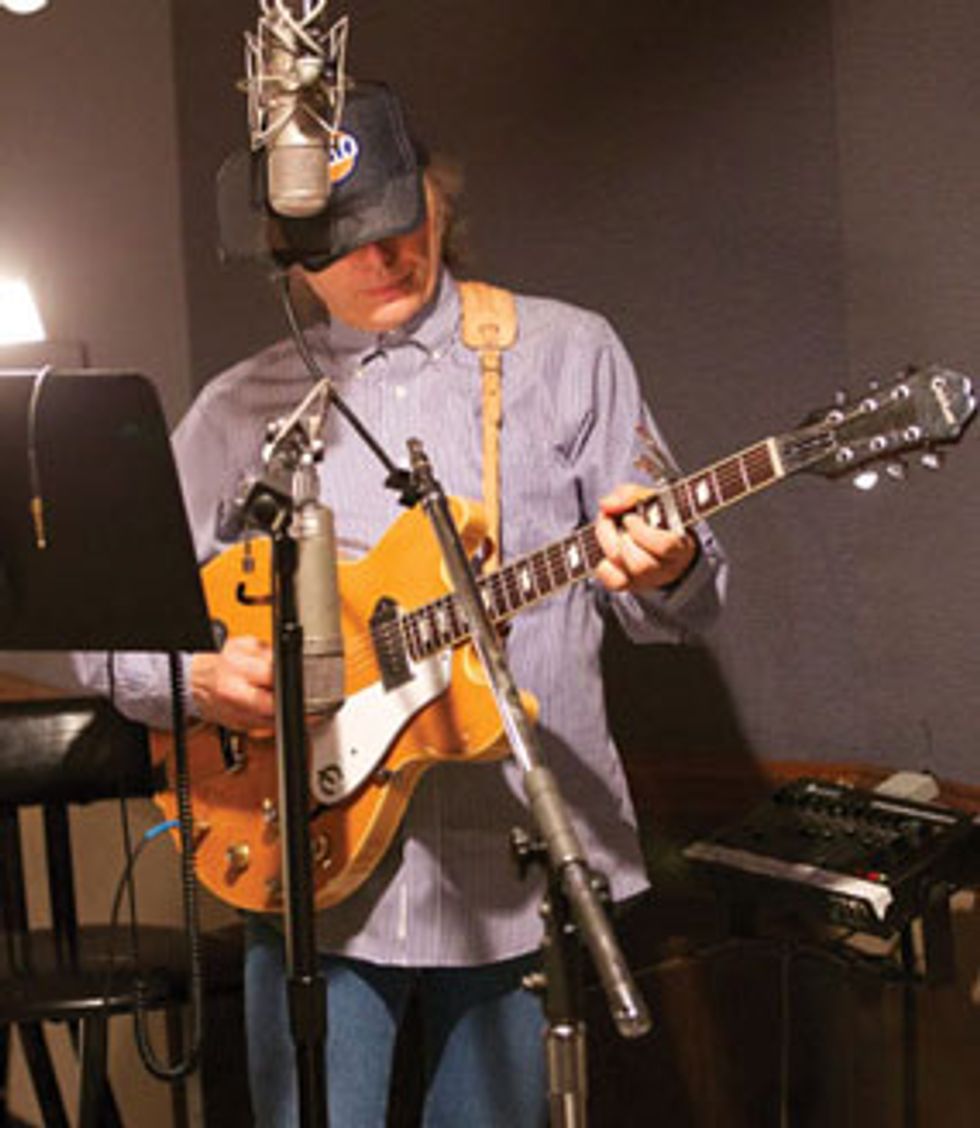 Dwight Yoakam credits Beck with inspiring him to play more electric guitar in the studio.
Your guitar playing is an important part of that sound.
Believe me, I know my limitations. You're not going to see me out there sliding across the stage on my knees, flailing away at lead runs. I'm not a soloist, but I'm okay at my rhythm and riff thing.
What inspired you to play more electric?
Beck [Hansen] and I collaborated on "A Heart Like Mine," the first track I recorded for 3 Pears [2012]. We were kicking around a couple of ideas in his home studio. I said, "I've got this thing, let's put it down." I played an electric rhythm track that I thought was a scratch—a guide for somebody like Keith Gattis. But Beck said, "We're going to do another track of that guitar. Look, you and I could each call five guys to come in and play this note-for-note, but Dwight, it wouldn't be that."
I knew what he meant: It was the intent. We ended up building the track out of my parts, and there's just a certain recklessness to it, because I'm an acoustic guitar player—basically a bluegrass player.
Pete Anderson used to call from the studio and say, "You've got to come in and play the acoustic." I'd say, "Well, maybe." On my records there'd sometimes be these fingerpicked parts that I wanted very beautifully articulated. Great studio guys would play this stuff. But for the most part, anything that was hillbilly or bluegrass, I had to play. Pete would just look at me and say, "You're going to do it."
Because your playing may have something the studio guys can't capture.
I don't fingerpick, I flatpick. When I play bluegrass, I use crosspicking, and I approach my songs the same way. It creates a different attack. I don't have that kind of beautiful, elegant virtuoso rolling like Pete does with his fingerpicking, but Beck made me believe that maybe what I did was halfway worthwhile.