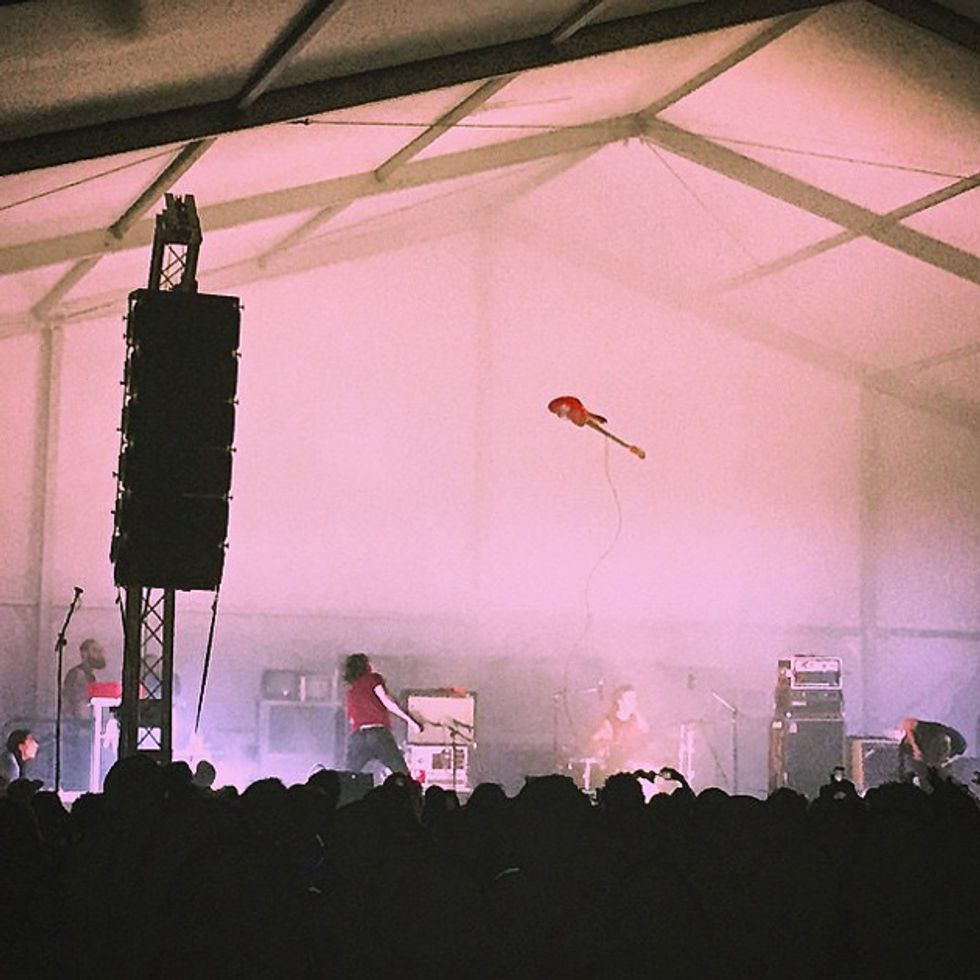 The guitar in this photo has seconds to live! A Place to Bury Strangers guitarist/frontman Oliver Ackermann abuses his Jaguar at Levitation 2015 in Austin, Texas. Photo by Susie Denegree.
Since blossoming from its experimentalist roots in the mid 1960s, psychedelic culture has produced some of the most exciting sounds of each generation it has touched. These days the term "psych" operates more as a conceptual umbrella than a distinct genre, which means it gets applied to music that includes almost any artist who seeks more adventurous routes to sonic expression. But that said, psych as a genre is currently in the throes of a renaissance.
Levitation—known as Austin Psych Fest for the past seven years—is the convergence of all that is good in the vast realm of psychedelia, and an event that serves as a signifier of psych's new awakening. Taking place each spring over the course of three reverb-drenched days in the hallowed birthing grounds and perpetual hotbed of the psychedelic movement that is Austin, Texas, the festival has developed from a humble showcase for a few bands to a highly curated celebration of mind-bending sounds.
"When it comes to festivals with a focus on guitar-driven and guitar-infused music, Levitation is without peer."

Artists and fans from around the world gather at a small ranch tucked into a corner of the city's outskirts for a weekend of glorious sonic expansion and psychedelic immersion. This is the place to catch performances by psych's brightest lights, emerging upstarts, and fabled heroes, and the 2015 lineup was one for the ages—especially for guitar fans.
When it comes to festivals with a focus on guitar-driven and guitar-infused music, Levitation is without peer. Among the artists wielding the instrument with passion and creativity this year were revivalist garage-rockers, British-invasion inspired acid-janglers, crushing shoegaze bands, and sludge-metal droners. The weekend also offered rare reunion performances by legends of the psychedelic institution, including the first appearance in more than 50 years by one of the genre's undisputed originators, the 13th Floor Elevators.
There was something for guitar fans around every corner at Levitation 2015, and PG was on hand to take in all the action. Here's the lowdown on some of the most vibrant bands in the current psych movement.