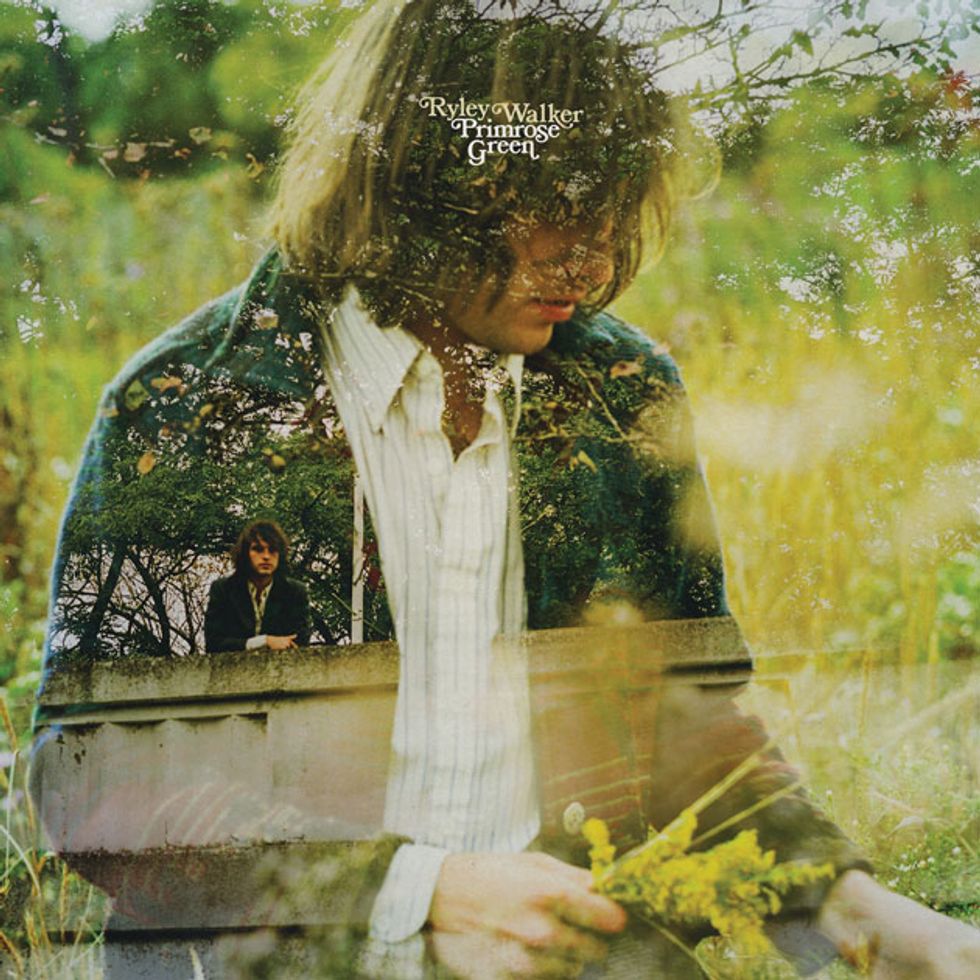 At first glance, Primrose Green, the new release from Chicago-area fingerstylist Ryley Walker, conjures up some serious '70s mojo. Just dig the cover art—an overdose of green; long, flowing hair; a fistful of wild flowers; and a photograph that oozes Van Morrison. But don't miss the point: Walker is anything but a throwback. He boasts prodigious skill, an ear for diverse styles, and a knack for attracting Chicago's top talent as sidemen. He is a creative, cutting-edge player with deep roots and a willingness to give a nod to the past.
Walker grew up in Rockford, Illinois, about an hour northwest of Chicago. His interest in music started with Led Zeppelin. "That's the genesis of some kid from Rockford, Illinois," he says. "Getting into music is to get into Led Zeppelin."
Eager to expand his sonic horizons, Walker used Zeppelin as a gateway to older music. "'Black Mountain Side' is a rip-off of a Bert Jansch song," he says, "so that's how I heard about Bert Jansch. They had a song called 'Hats Off to Roy Harper.' I thought, 'Who the hell is Roy Harper?'"
"Tunings are like buried treasure, man. You look and look, and then you find one and you're just, 'Whoa. Sick.'"

But as a millennial, Walker was also interested in contemporary music. He listened to Dinosaur Jr. and Sonic Youth, played in punk bands, and threw his guitars around. "I played in a lot of noise bands. It was like every part of your body was your guitar pick. Slam it on the ground or just destroy it—it was like anti-guitar music with a guitar."
After high school, Walker moved to Chicago. He flirted with college, but it wasn't to be. "I figured going to shows at night instead of going to school was better for me." He was a student of Chicago's eclectic music scene and made it his business to attend performances of local legends like Jeff Parker (Tortoise, Chicago Underground). But the acoustic guitar was calling. "Along with a lot of roots music, I got huge into John Fahey, Sandy Bull, and stuff like that—super far-out acoustic guitarists."
Walker soaked in the sounds and practiced, and his discipline paid off: At age 26, he has superior chops, mature tone, impressive musicality, and advanced mastery of the instrument. He recorded Primrose Green—his second full-length album—in Chicago. It features a cast of local jazz heavies, including Ben Boye on keys, bassist Anton Hatwich, drummer Frank Rosaly, Whitney Johnson on viola, and cellist Fred Lonberg-Holm. Open, loose, and improvisatory, the album serves as a showcase for Walker's songwriting and playing.
It's also evidence of the current state of acoustic guitar, which, according to Walker, is in great shape. "It's pretty easy to meet a good guitarist these days," he says. "There is so much good guitar happening right now."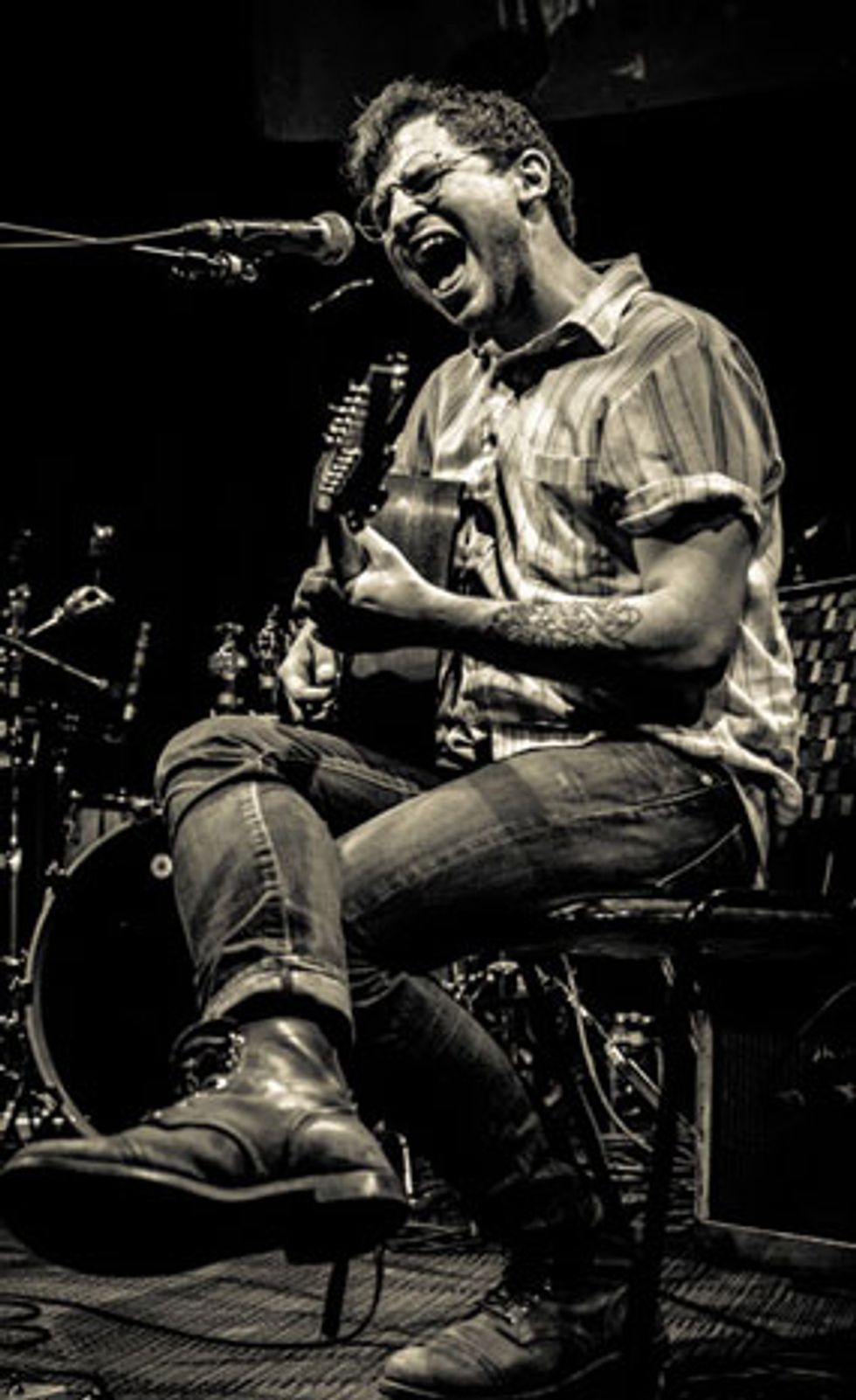 Walker digs into his Martin D12-28 at this year's NON-COMMvention at World Café Live in Philadelphia.
Photo by Jesse Barnett.
Although it isn't a jazz album, Primrose Green has a lot of jazz overtones. It reminds me of those Joni Mitchell albums with Jaco Pastorius.
Those albums are great. Mine has jazz dudes on it—no doubt that influence is in there—but I don't think of it as a jazz record. It's a folk record.
Yet it's very open. How much leeway do you give your sidemen to jam or create parts?
Man, there's total freedom. They are some of the best musicians in the world, really great improvisers. They travel all over the planet doing what they do, and I'm not about to stop them from doing that. It's huge for me to have those guys playing with me.
Describe your composing process.
A lot of new songs come from messing around with tunings. I just sit around at home and try to find a new weird tuning, and then I improvise off that until it eventually becomes a song.
Do you have certain go-to tunings?
Not go-to tunings, but there are ones that are a little more prominent on the record. Tunings are like buried treasure, man. You look and look, and then you find one and you're just, "Whoa. Sick." I call tunings the "baseball cards of fingerstyle guitar" because you trade your tunings. You're like, "Oh man, you gotta check out this tuning." And you meet a guy who says, "Check out this tuning I have." And you think, "What the fuck? Where did you get that tuning?" There are a few I use more frequently than others, I suppose.
Like what?
From the low end, "Primrose Green" is C–G–D–G–C–D. I love that tuning and use it on quite a few tunes. Its range is so sick and you can find a nice melody all over it. It's a really forgiving tuning.
What are some others?
I have a few tunes in D–A–D–D–A–D. John Martyn used that one a lot. I really like that—you just tune the G string all the way down to D. And there is this new tuning that Steve Gunn told me about where you tune the low E up to a G and everything else is like standard: G­–A–D–G–B–E. That is really cool.