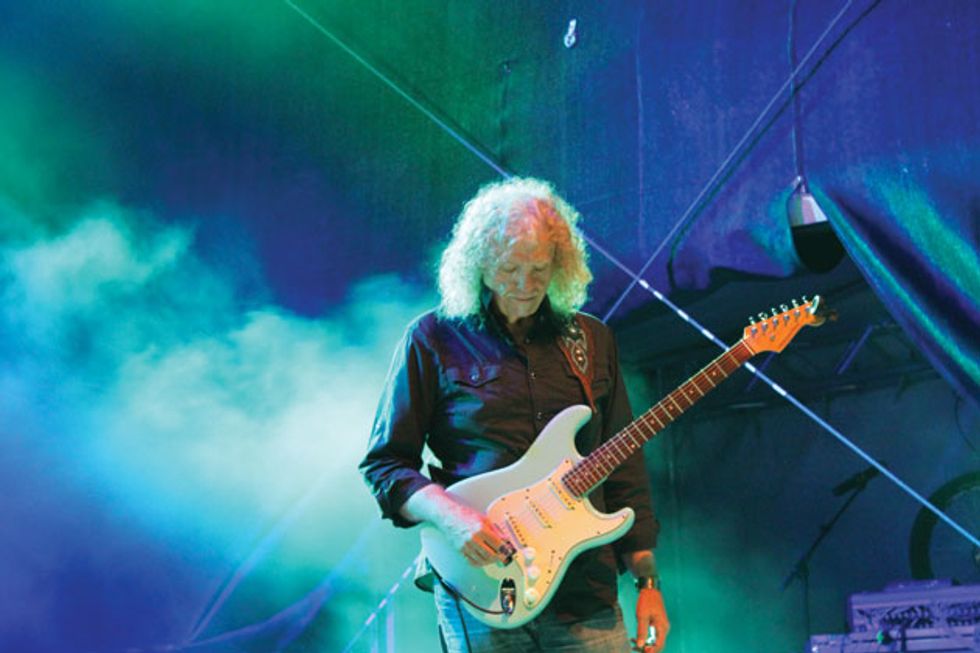 A smoke-shrouded Walley wields a Strat at a recent performance.
Denny Walley isn't a household name—but he should be. His exquisite slide work and powerful vocals are integral to classic Frank Zappa albums like Bongo Fury, Joe's Garage, You Are What You Is, and others. He had a similar role in Captain Beefheart's Magic Band. (His Beefheart alias was "Feelers Rebo.") He toured extensively with Beefheart, and his guitar appears on the often-bootlegged 1978 classic Bat Chain Puller. But Walley's work isn't limited to the esoteric or avant-garde. He spent years as a sideman immersed in soul, funk, R&B, and blues, and nearly hit the big time with the hard-rocking Geronimo Black.
But Walley's most important accomplishment may be his ability to straddle those dissimilar worlds. Regardless of context—be it far-out, contemporary, traditional, or mutant hybrid—Walley speaks in a unique voice. And that voice, whether quoting one of his heroes or interpreting the visions of a mad musical genius, helped redefine what the guitar can do.
The septuagenarian still does what he does best: straddle disparate styles, pay homage to his mentors, and forge ahead with his creative blend of traditional and not-so-traditional music. Premier Guitar spoke with Walley via Skype. Our conversation (plus archived interviews and many hours of classic performances) paints an illuminating picture of an important and underappreciated guitarist.
Beginnings
Denny Walley was born in Pennsylvania in 1944. His family moved to Brooklyn when he was a toddler and then to Lancaster, California, in the mid-1950s, when his father, an aircraft mechanic, was sent to work at Edwards Air Force Base. The move was a good one. "I was 12 going on 13, and we moved into the same housing development that Frank Zappa lived in," Walley says. "I became best friends with Frank's brother Bobby. We had a common interest in blues records—the early blues 45s—and Frank was a big collector. I would go over there and Frank would play those records."
"After hearing the guitar on blues, and hearing men sing with passion—men who weren't afraid to be passionate and sensitive—I said, 'Damn. I didn't know men could do that.'"
Walley's first instrument was the accordion. He started lessons at age 7, but he says that ended when he discovered the blues: "After hearing the guitar on blues, and hearing men sing with passion—men who weren't afraid to be passionate and sensitive—I said, 'Damn. I didn't know men could do that.' The accordion went under the bed, never to be seen again." (Well, almost never: Walley played accordion on "Harry Irene" on Captain Beefheart's Bat Chain Puller.
Walley finished two years of high school in Lancaster before his father was transferred again. Back in New York—smitten with the blues and desperate for friends—he set up his speakers facing the street, cranked old blues records, and prayed for a kindred spirit. He was in luck. Another blues fan lived across the street. Walley fell in with the local blues hounds, and he and his new friends played along with records, trying to decode the music. Walley got his first guitar: a Silvertone Stratotone. "It was a single-cutaway sunburst with binding," he recalls. "I polished that thing every day. I slept with it. I played it until my fingers blew up like plums—there was no such thing as light-gauge strings back then."
Walley played his first gigs while still in high school, alongside bassist Tom Leavey (his future brother-in-law). They continued after graduation, spending most of the 1960s performing at clubs in and around New York and touring nationally as the Detours. "I'd lost connection with the Zappas," says Walley. "The next time I saw Frank was when I was playing with the Detours in Greenwich Village. It was the same time that Frank was playing at the Garrick Theater. I went over and saw Bobby Zappa in the lobby. I told him I'd love to see Frank."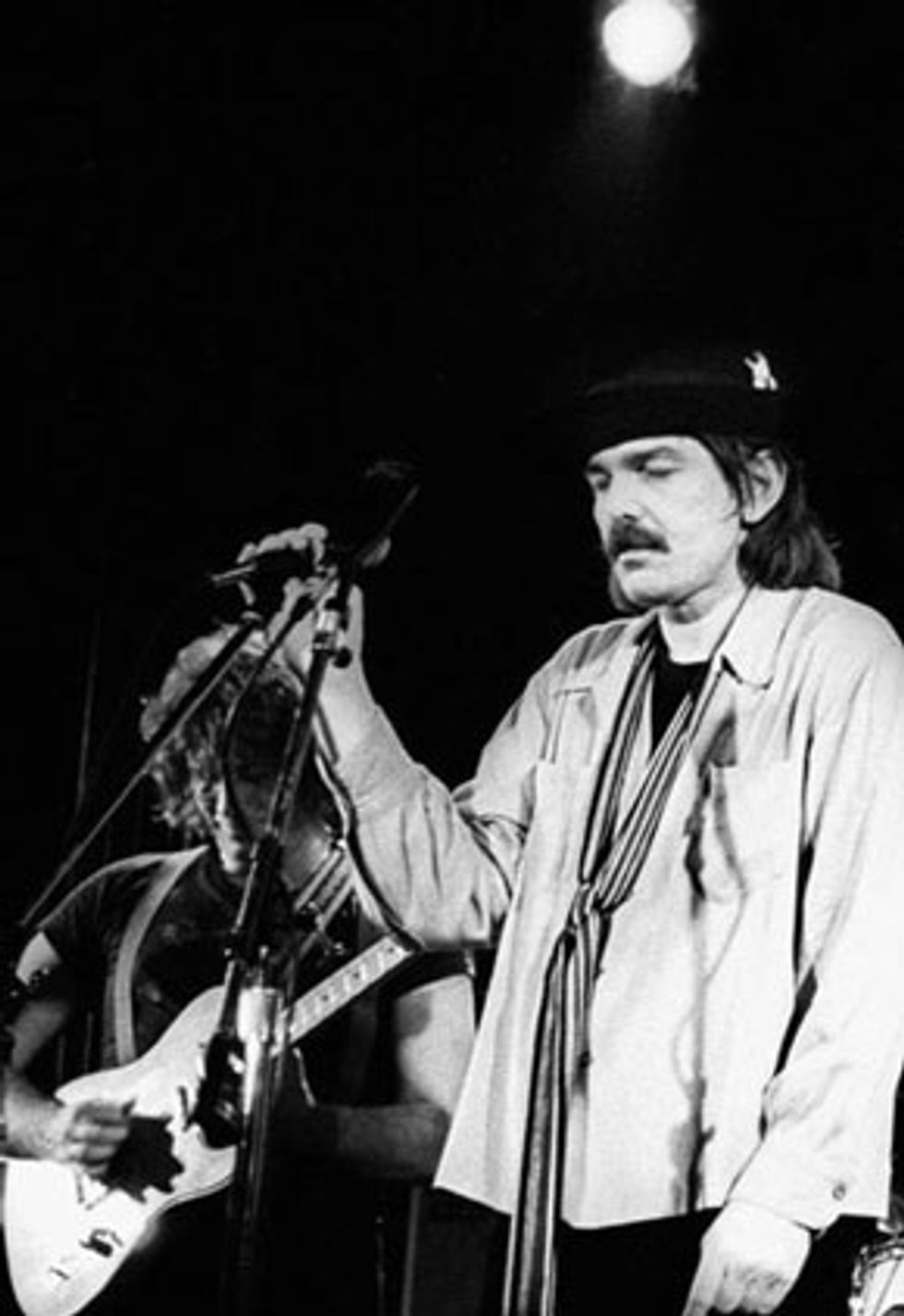 Walley and Captain Beefheart onstage in 1976.
The Village at that time was an epicenter of late-'60s counterculture. The vibe was heavy, and Zappa was an established figure. Walley went to visit him still dressed for work with the Detours—tuxedo, cufflinks, pinky ring—in other words, clean-cut and square. He didn't look cool—and Zappa didn't even know he was a musician. "I went upstairs and saw Frank," Walley remembers. "He was with Allen Ginsberg, Tuli Kupferberg from the Fugs—all these deep thinkers. I walked in and said, 'Hey Frank, remember me?' Oh God, was that awkward."
In late 1969, Walley moved to Los Angeles and quickly found work. He replaced Al McKay—the future guitarist for Earth, Wind & Fire—as the guitarist in the Real Thing. That band played soul and R&B, working six nights a week as the house band at the Haunted House, a popular Hollywood nightclub. That led to studio work, gigs backing the Valentinos (the Womack Brothers) and gospel singer Andraé Crouch, and tours supporting such entertainers as Rosie Grier and Bill Cosby (as a member of Cosby's Badfoot Brown & the Bunions Bradford Funeral & Marching Band).
Geronimo Black
Meanwhile, Tom Leavey had moved to Los Angeles and joined Geronimo Black, the band drummer/vocalist Jimmy Carl Black assembled after Zappa disbanded the original Mothers of Invention. Geronimo Black needed a guitarist, and Leavey recommended Walley. "I met them and we clicked right away," Walley says. Geronimo Black was hard-rocking and hard-living. They signed with Universal Records, and their first album was produced by Keith Olsen, who would go on to produce Fleetwood Mac, the Grateful Dead, and many other artists. Walley played his ass off. Of note is his raunchy, wah-infected, blues riffage on "Low Ridin' Man," the opening track from the group's 1972 self-titled album debut—and a testament to the band's power, heavy rumble, and swagger.
But Geronimo Black was doomed from inception. "Russ Regan signed us," Walley recalls. "We had high hopes and the label did as well. We were wild, but Russ knew how to handle us. After about a month, Russ left Universal to head up another label. No one knew what to do with us—they were afraid of us. We had a few incidents: We might have been a bit drunk and sort of crashed a party for Elton John and proceeded to drink all the beer and eat a mountain of jumbo shrimp before being asked to leave. Shortly after that we were recording at a studio on the UNI lot. It seems a 'certain band' purloined a golf cart belonging to one of their major stars, and a drunken joyride resulted in the cart getting trashed. After that they wouldn't even let us on the property anymore. So we didn't last long."
After the group disbanded, Walley went back to work in L.A. He continued with blues, R&B, and soul acts, working with King Cotton, the Kingpins, and others. Near the end of 1974, Jim "Motorhead" Sherwood—another old friend from Lancaster and a longtime Zappa associate—came to visit. "Motorhead said Frank was looking for a slide guitar player," Walley remembers. "He told Frank about me. Frank had no idea I played because when he knew me in high school, I wasn't playing yet. So Frank says, 'Tell him to come on by tomorrow.'"