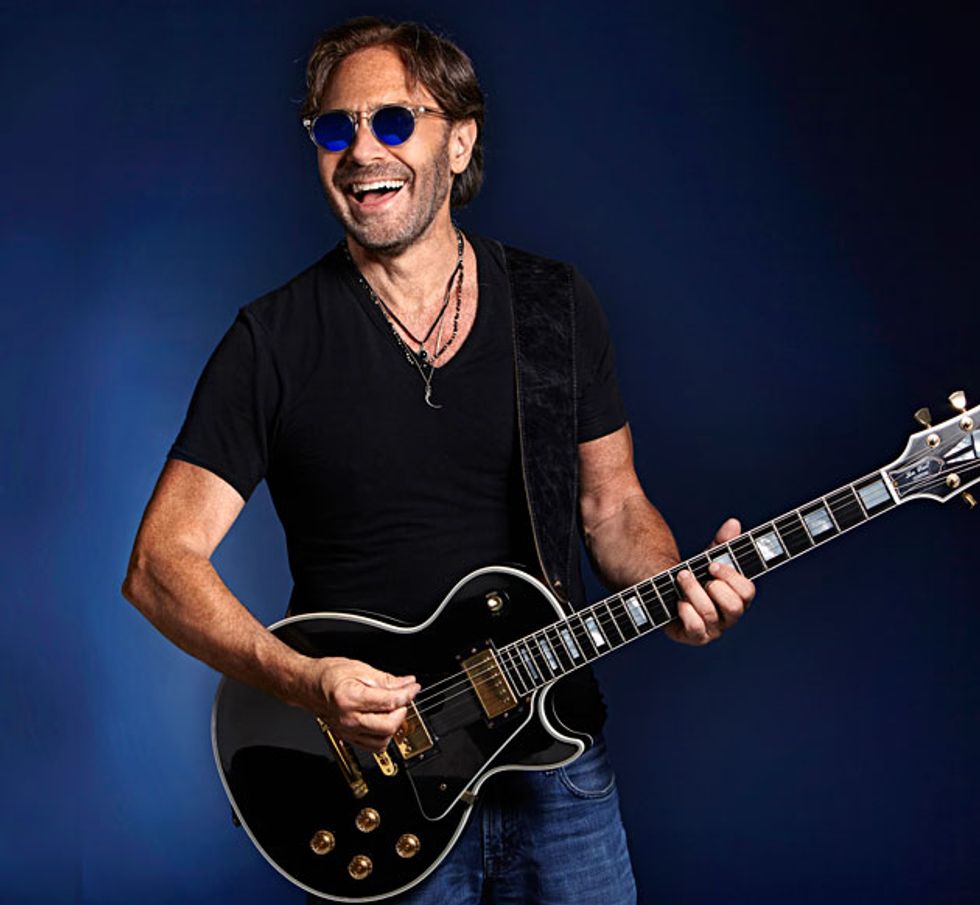 Al Di Meola communes with one of his vintage Les Pauls Customs.
Al Di Meola recalls an epiphany he had in 1974, when he was just 20 years old and performing in Europe with Chick Corea's groundbreaking jazz-fusion group, Return to Forever. The band would break up their regular set with a brief acoustic interlude, and that's when the thought hit him: "Hey, the audience loves this. This is something I can do all my life."
In the years that followed, Di Meola did just that, maintaining an unplugged element in his electric shows. And in 1981 he released an all-acoustic album that sold millions: Friday Night in San Francisco, featuring his Guitar Trio mates, John McLaughlin and Paco de Lucía.
"That record solidified everything in my mind," Di Meola says. "I envisioned an older musician, even older than I am now, playing till the end on an acoustic. I didn't want to be that Jeff Beck guy at 72—he's got the wall of giant amps, and he's trying to look like he's 25. Fuck that. If I can be known as an acoustic player now, I won't have to make an abrupt switch later. And it paid off."
"Writing and playing in my studio became a form of therapy. I had to write so I wouldn't lose my mind."

Di Meola's recent albums focus exclusively on acoustic playing, but this year, fans got the best of both worlds from the 61-year-old 6-string legend. Since the spring, he's been firing up a Les Paul on his Elegant Gypsy & More Electric Tour, and on his luminous new album, Elysium, he blends 6- and 12-string acoustics with his famed '71 Les Paul Custom.
"I wanted to do something adventurous," Di Meola says. "More than that, I wanted to do something for guitar players. My last album [All Your Life (A Tribute to the Beatles)] had a wider appeal because of the popularity of the music. This time I didn't care about reaching everybody. I wanted to do something advanced in terms of my composing and playing, and something I knew my fans would appreciate."
We sat down with Di Meola during a break in his current tour to discuss his return to the electric guitar, how a painful divorce and a new pedalboard helped shape his new music, his touring and recording guitars, and whether he thinks he can get any better on his instrument.
You're a Jersey guy. How has the Garden State shaped you musically? There's a certain thing about musicians from New Jersey.
There is. I feel tied in with those guys—from Jersey, the Tri-State Area—in that I grew up in the '60s and had so much great music around me. Had I grown up in Kansas or Oklahoma, I wouldn't be who I am musically. Seven nights a week, there was amazing music happening. As a teenager I went to New York City, to the Fillmore East and jazz clubs, Latin clubs. And there were record stores, too—remember them? I grew up during the greatest music revolution ever heard, and I was in the right place for it.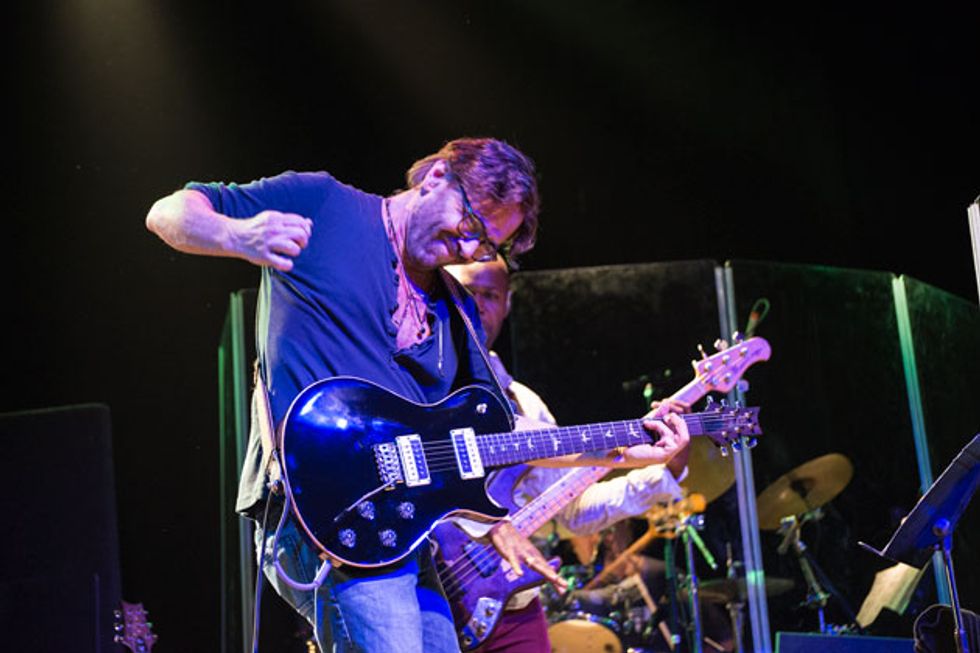 You know the next note is going to be huge! Paul Reed Smith built this custom instrument for Di Meola, inspired by the guitarist's beloved Les Pauls. Photo by Alessio Belloni
You've said you wrote Elysium during a difficult divorce. How did that shape your composing?
It was a horrible experience and, for the most part, extremely unfair. I was so miserable. Music saved me. It was the one thing that brought me any relief or solace—its meditative quality. Writing and playing in my studio became a form of therapy, and it was greater than the enjoyment I usually get from those activities. I had to write so I wouldn't lose my mind.
It's funny that the record didn't wind up bitter and angry, because I was in the dark part of the tunnel before things went to the other side. I got into a new relationship, which is a night-and-day difference. The title of the record, Elysium, means "a place of perfect happiness," and that's where I got to. It was an interesting process going from dark to light.
You've been spending a lot of time playing acoustics, but recently you did an electric tour. Was it cool to get rocking again?
Yeah, it's been fun. I have one of the worst cases of tinnitus, and I thought my days of electric playing were over. Just looking at an amp made me cringe—I would make a cross sign whenever I saw one. But there's a level of expression to the electric that's different from an acoustic, and I've been enjoying it. I wear a custom-made set of molds [earplugs] that cuts the dBs way, way down. You have to be sharp with your hearing, though, because they do change the sound a bit. It takes some adjustment.