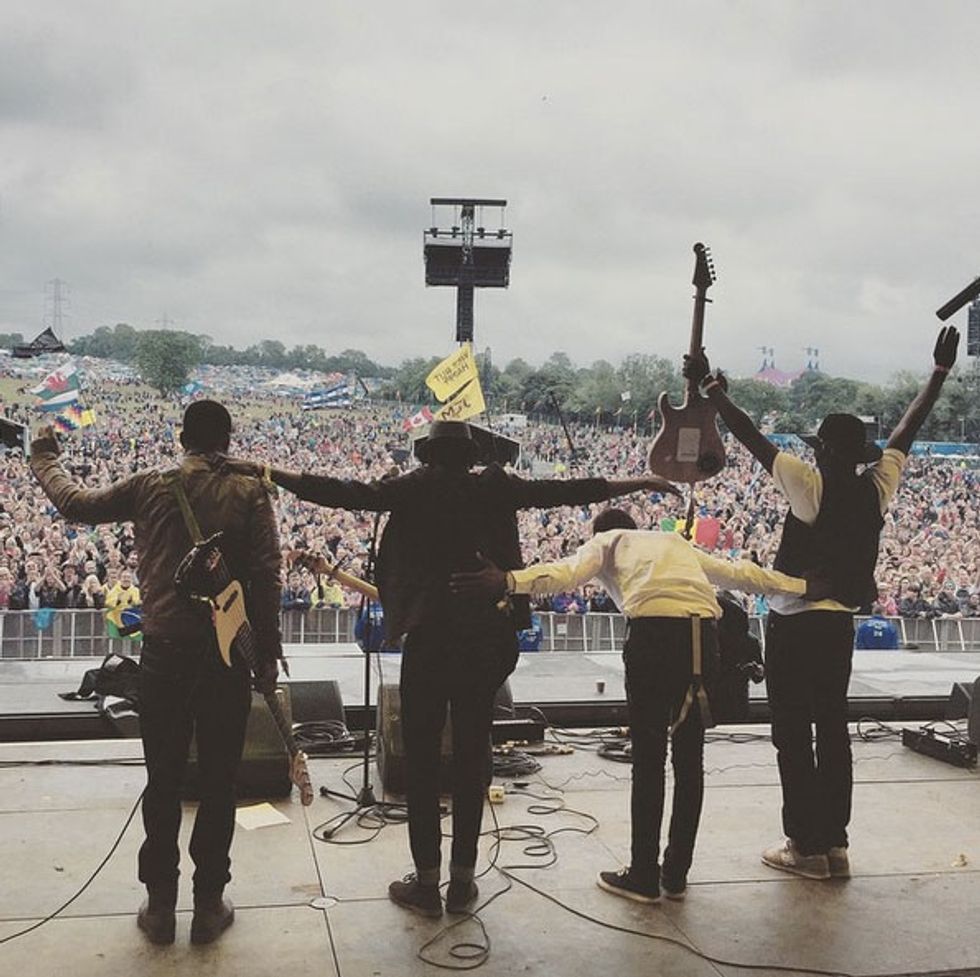 For Songhoy Blues, performance is the most effective form of protest.
In late 2013 Songhoy Blues caught the attention of Marc-Antoine Moreau, who was in Bamako scouting artists for Africa Express—a project Damon Albarn (Blur) created that pairs Western and African musicians. Moreau matched Songhoy Blues with Yeah Yeah Yeahs guitarist Nick Zinner. "I saw them play at a bar in Bamako while we were recording," Zinner says. "They would play these weekly four-hour sets with no breaks. If the crowd wasn't engaged by a song within the first 30 seconds, everyone would leave the dance floor. There was this slight built-in pressure of getting people to dance, which is where I think a lot of their groove and intensity comes from as a live band."
Zinner was also impressed with Garba's guitar playing. "I was taken by how fluid and fast he could play, all while smiling and looking you directly in the eye," he says. "It was effortless, but it never seemed like he was showing off, which is my experience with most guitarists who can play fast. It was appropriate to whatever song he was playing, and there was so much joy emanating from him and his playing."
That initial introduction led to a recording session that produced the song "Soubour," featured on Maison Des Jeunes, the Africa Express collection of collaborations with Malian artists. "They really liked working with him," says Moreau (who now manages Songhoy Blues) about the band's relationship with Zinner. "They brought ideas, arrangements, ideas of sound, and from that they decided to work together again."
"Sometimes we didn't know what we were listening to, but it felt good, so we listened." —Oumar Touré

Songhoy Blues toured Europe with Africa Express, recorded their first album, Music in Exile, with Zinner producing, and their music was featured in the film, They Will Have to Kill Us First, which premiered in spring 2015 at SXSW.
Music in Exile has a raw and immediate vibe. It's reminiscent of the best recordings of blues masters like John Lee Hooker and Muddy Waters, but modernized and infused with African mojo. The band tracked live and overdubbed extra guitars and vocals, though many of the tones were dialed in later. "We were in a nice studio, and we tried to make sure everybody was separate but playing together," Oumar says. "We didn't use many amps—in fact, we sometimes took the guitar and bass direct. Afterwards, when we had more time, we reamped the take with the proper amp, in the proper room, and with the proper mic."
"We recorded all the basic tracks live," Zinner adds. "That was something that was incredibly important to me, as I didn't want to change the essence of them at all. Most of the vocals on the record are from those takes as well. On some tracks, I had them strip the songs down to guitars and calabash [a traditional percussion instrument made from a gourd], recorded that performance, and then we built the songs up from there.
Garba Touré's Gear
Guitars
Yamaha Pacifica
Peerless Tonemaster Custom
Cort acoustics
Amps
Vox AC30
Fender Hot Rod Deluxe
Effects
Boss DS-1 Distortion
Crybaby wah
Oumar Touré's Gear
Guitars
Fender Squier Jazz Bass
Yamaha basses
Amps
Various Ampeg heads and cabs
Effects
None
At the studio we recorded at in Bamako, it was not possible to record with amps—mostly because it would blow the power—so all the guitars and bass were recorded direct, which I learned is fairly common in Mali. Marc-Antoine and I spent a week in Paris a few months later reamping all the guitars and bass, as well as some guitar tracks I'd recorded in my home studio in L.A."
Garba pulled off a stellar studio performance. "He is as comfortable playing simple rhythmic parts as he is playing complex runs," Zinner says. "There were a few times when we would be tracking and I couldn't understand the pattern he was playing at first. Then he would record the double and play exactly the counterpart to the first pattern, resulting in an interlocked gem that fit perfectly with the song. I found that pretty inspiring."
Live, the band keeps their gear to a minimum. Partly that's due to the rigors of touring on a budget, but it's also what they're used to—not much is available back home. "In Mali you don't care much about the mark or the brand or the type," Garba says. "As long as it works, you use it."
Garba's main squeeze is a Yamaha Pacifica, a Strat-style guitar with a humbucker in the bridge position. He also uses a Peerless Tonemaster Custom—a semi-hollowbody with a double-cutaway, two humbuckers, and a Bigsby vibrato. For amps, he favors a Vox AC30 or a Fender Hot Rod Deluxe. His pedalboard—if you can call it that—is simple. His mainstays include a Boss DS-1 for distortion and a Crybaby wah.
Until recently Oumar played a Fender Squier Jazz Bass, though he says he's switched over to a Yamaha. He prefers Ampeg amps.