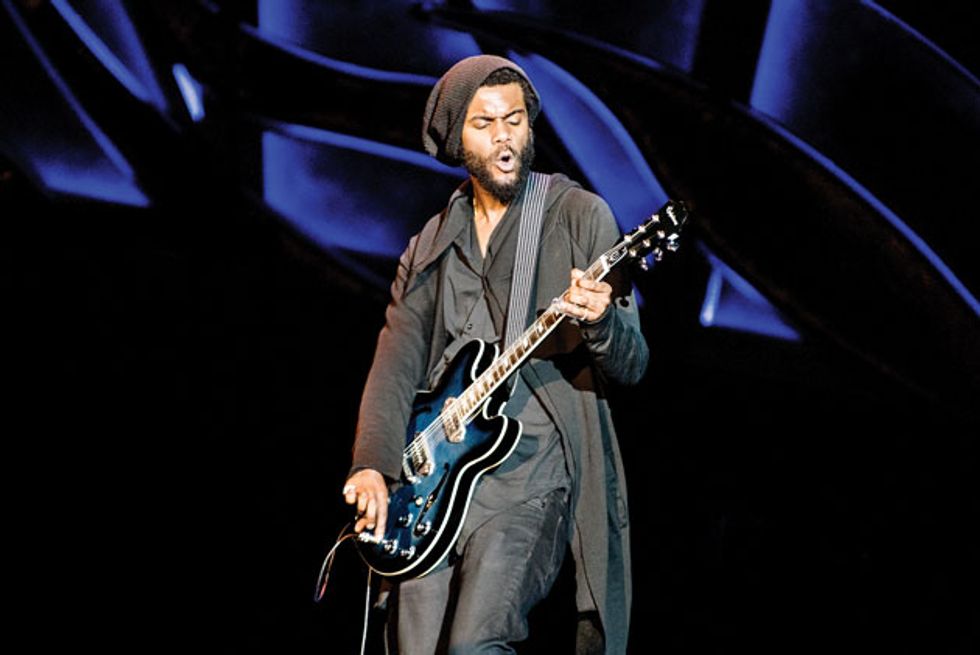 Known for playing Epiphone Casinos onstage, Gary Clark Jr. now has his own signature model, dubbed the
Blak & Blu Casino. Photo by Lindsey Best
Just in case this whole hotshot axe-man thing didn't pan out, Gary Clark Jr. had a backup plan—more than a few of them, in fact. "My mother used to say to me, 'What if you can't be a guitarist? What then?' So I told her, 'If the guitar doesn't work out, then I'll play drums. If that doesn't work, I'll play bass. If that doesn't work, I'll play keys. And if that doesn't work, I'll play trumpet.' Or whatever. The backup plan was always music. There was never any two ways about it."
The funny thing is, Clark made good on most of his promises. While he doesn't play trumpet on his musically diverse and compelling new album, The Story of Sonny Boy Slim, the 31-year-old singer-guitar star gives pretty much everything else a go, functioning as a veritable (and astonishingly versatile) one-man band, tackling drums, keyboards, bass, finger snaps … oh, and, of course, the guitar. The album brims with the kind of fiery, emotive, and imaginative 6-string work that has prompted some writers to compare Clark to Jimi Hendrix and Stevie Ray Vaughan. But the Austin native is anything but a strict traditionalist, and on the new set he weaves psychedelic and Delta blues, chillaxed retro-soul, acoustic gospel, and gonzo garage rock into a personal sonic tapestry that's as daringly au courant as it is classic.
"I love playing guitar, but I get a lot of satisfaction from playing other instruments, too," Clark says. "My sister started playing drums when I played guitar. She kind of lost interest, so there was this nice shiny drum kit waiting for me. I just sat down and figured it out. We had keyboards in the house, so I started playing them, too. I wanted to record my own demos, and little by little, just by doing gigs, I acquired enough gear to get things going. Nobody showed me how to record—I figured it out by myself."
"All I would think about at school was, "Man, I can't wait to get home and figure out that second verse."

Clark put his self-taught production chops to the test on The Story of Sonny Boy Slim. Whereas his 2012 major-label debut, Blak and Blu, was a Los Angeles-based, three-way co-production between himself, Rob Cavallo, and Mike Elizondo, for the follow-up the guitarist set up shop at Austin's Arlyn Studios with a trio of engineers, Bharath "Cheex" Ramanath, Jacob Sciba, and Joseph Holguin.
"It's a whole different vibe making a record on your own than working with producers," Clark notes. "The guys in the studio would sometimes say, 'No, dude, that wasn't good enough' or 'That was cool. That's the take.' We did have those conversations. But I do think working on my own changes the way I play a bit. I feel more free—I feel open, like I'm at home. If I can feel completely comfortable, like I can take my shoes off, that's when I work the best."
Clark will soon open a string of arena dates for the Foo Fighters, and then he'll be supporting The Story of Sonny Boy Slim with a headline run that currently stretches into April 2016. Before hitting the road, he sat down with Premier Guitar to dissect his playing on the new album and trace the evolution of his early years woodshedding with his friend Eve Monsees. He also discussed his beloved Epiphone Casinos and Fender Vibro-Kings, along with other guitars and gear, while positing the notion that he "wasn't born in the right decade."
It's widely thought that blues players don't spend a lot of time practicing technique or studying theory—it's all feel. What are your practice habits?
Well, yeah, I could study up on that more. I don't practice as much as I could, to be honest. When I'm up onstage playing and I hit a bum note—you know, it happens—I'll think to myself, "You see? You've got to practice a bit more before you get up in front of all these people." It's a struggle sometimes. No matter how much practice you get in, you could always do more.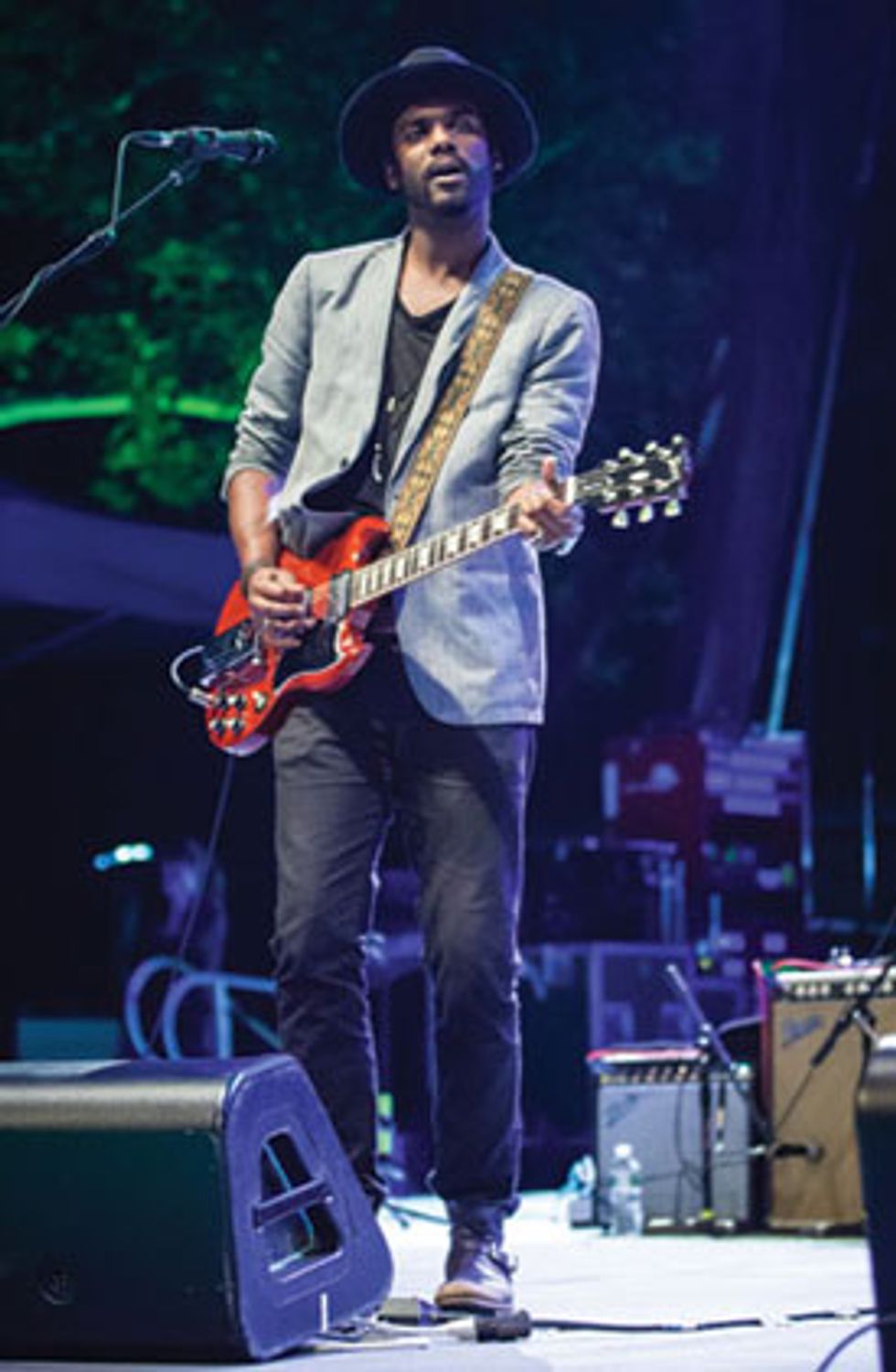 Gary Clark Jr. says he's a man of symmetry when it comes to guitars. No single-cutaways for this slinger, but an SG makes the grade. Photo by Joe Russo
Is it true that your first guitar was an Ibanez RX20 you got after seeing Michael Jackson?
That's right. That was great.
Did you want to be a shredder like Jennifer Batten, who was playing with him at the time?
I did, I did. But as soon as I got my guitar and I couldn't play the solo to "Beat It," I thought, "That's it. I might just need to move on to something else." [Laughs.] Sure, I wanted to be a shredder after I saw that concert, but I also loved clean, soul guitar tones. I remember when I asked my parents for a guitar, I said, "You know, so I can get that muted kind of sound." I wanted a "mute guitar"—I didn't know what things were called. I didn't understand what a hollowbody was or a semi-hollow or a 335 or anything like that. I just wanted to do cool, soulful hammer-ons, things like that.
When you were a kid, you formed an incredible friendship with a girl named Eve Monsees. You two would spend hours in her garage playing the guitar. What kind of things did you jam on?
We would jam on 12-bar blues, basically. We would go back and forth between major and minor keys. We thought we were really advanced for our age. [Laughs.] We were into Jimmy Reed and guys like that. And there'd be rock 'n' roll stuff—the Ramones. But most of the time, it was just us hanging around and playing pentatonic stuff, learning how to play solos over 12-bar blues.
I remember Eve was into listening to these two stations on the radio—91.7 and 90.5. One deejay, Larry Monroe, hosted a blues hour. That's how we discovered guys like T-Bone Walker and Albert Collins, Jimmy Reed, and Muddy Waters. Larry really educated us. If I missed a show, Eve would record it off the radio and give me a tape. "You didn't hear this. Check it out." I was so into it.
Then I started going to blues jams. I met these older guys who would sort of school me about where the music came from. My first blues album was Stevie Ray Vaughan's Texas Flood—my neighbor Fred Wheeler gave it to me. After hearing Stevie Ray, I was like, "Oh, shit. What is this?" It was eye-opening. From there, I started learning about Albert King, and I just kind of went backwards.