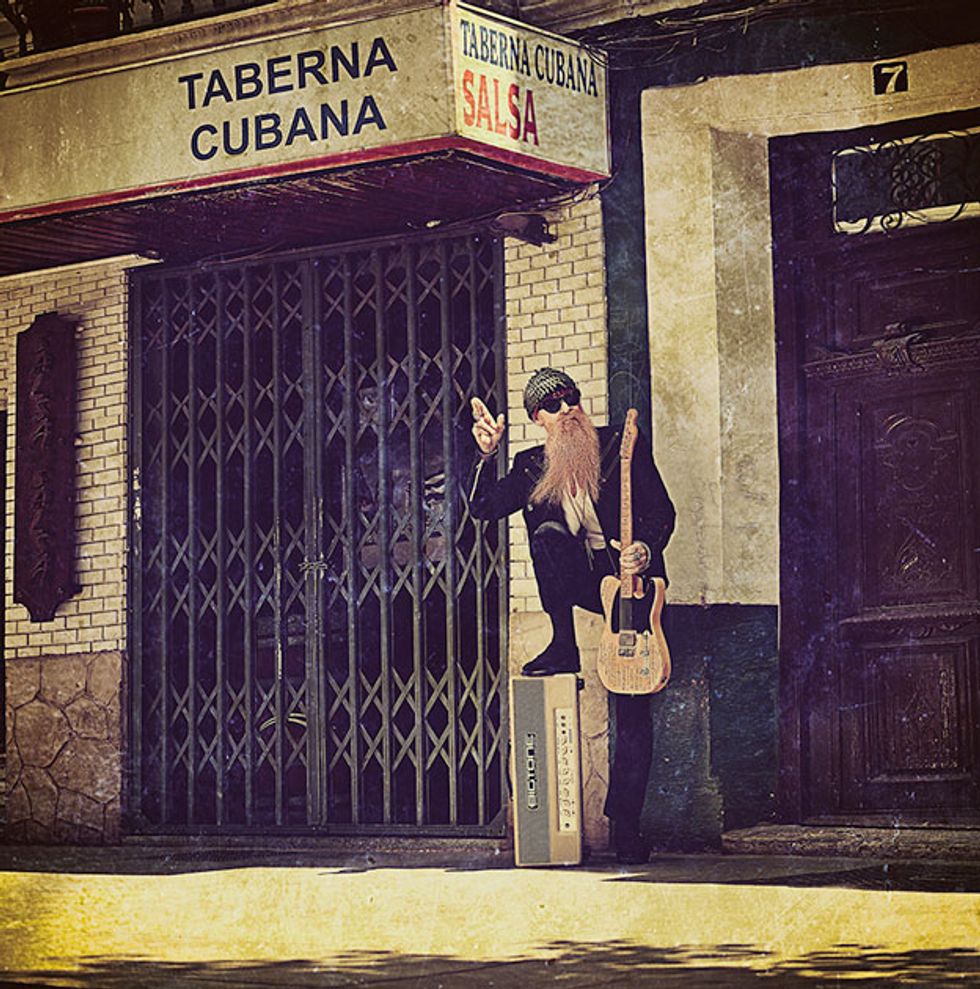 Billy Gibbons is known to favor T-style guitars. On his new track "Hombre Sin Nombre," he used a 1956 Fender Tele for a break that features pinch harmonics and gobs of reverb. Photo by Gerardo Ortiz
The Gandalf of Texas blues-rock guitar, Billy F. Gibbons, has traded "how, how, how, how" for "cómo, cómo, cómo, cómo" on his first solo album, the surprising and yet entirely Gibbons-esque Perfectamundo. The surprise lies in the lyrics and rhythmic lilt, which are both distinctly Latin and suggest the kind of Afro-Cuban grooves found on Ry Cooder's Buena Vista Social Club or a classic record by mambo king Tito Puente. The "Gibbons" factor lurks in the low-end grit and cosmic grease he smears all over the album's 11 tracks. It's these sounds that make Perfectamundo, like many of ZZ Top's hippest recordings, a trippy journey through the terrain of BFG's dust, gasoline, and cerveza-infused musical psyche.
Perfectamundo raises questions, the biggest being: Why a solo album after 46 years as the 6-string brujo and primary diviner of one of rock's coolest and most successful bands?
"The opportunity or raison d'etre presented itself with a probable underlying pre-determined idea," Gibbons explains. Roughly translated, that means the notion of cutting a solo album was simmering for a while when something happened that brought it to a boil: an invitation for ZZ Top to play the December 2014 Havana International Jazz Festival.
"We thought it appropriate to work up a set to make contextual sense in the midst of Havana," he continues. "Which catalyzed thinking about Afro-Cuban beats and breaks, and how that relates to what we could do: a little bit blues, a little bit hard rock, and a lot of Straits of Florida feeling. One beat led to another and Perfectamundo started shaping up."
"I learned that keeping the rhythm up front moved backsides better than anything you can think of. Percussion is paramount!"

The album's musical roots actually extend back to Gibbons' childhood in the Houston suburbs. "I admit the 'stewing' came from exposure to Latin rhythm through Tito Puente, thanks to my dad, which made jumping into the sessions like riding a bicycle," he relates.
The guitar giant's father was Freddie Royal, a bandleader and pianist who fronted regional outfits and did some work for Hollywood, with MGM Studios. "After too much racket hitting a metal garbage can, my dad finally said, 'If you're going to continue doing that, you're going to have to learn to do it right.'" So Royal shipped his 13-year-old son to Manhattan to study with his pal Puente, an absolute master of the timbales—small, shallow, single-headed metal drums that ring with the percussive snap of a rifle.
"I was a know-it-all youngster, but Tito reckoned with my dad and took me under his wing," Gibbons recalls. "Tito told me to describe what I wanted to do and, well, who doesn't like to bang on stuff? He then went on to show me all six sides of a box with the directive to learn how to play 'em. That was the great groundbreaker in all things in Latin percussion, and it has stayed on long with me. I learned that keeping the rhythm up front moved backsides better than anything you can think of. Percussion is paramount!"
Billy Gibbons' Gear
Guitars
1959 Les Paul Standard "Pearly Gates"
1950s National Reso-Phonic
1956 Fender Telecaster
Amps
Magnatone Super-Fifty Nine
Bigtone Studio Plex mkII
1951 Fender Tweed Deluxe
Effects
Paul Cochrane Timmy Overdrive
Whitfill DUI Overdrive
Strings and Picks
Dunlop Rev. Willy's Mexican Lottery nickel strings (.007–.038)
Dunlop Standard Gel picks
Dunlop Rev. Willy's Mexican Lottery Mo-Jo glass slides
"Perfectamundo" translates roughly as "perfect world" or, less literally, as "everything's cool." And everything is way cool on Perfectamundo, starting with the insanely low, grinding chords from Gibbons' longtime 6-string steady Miss Pearly Gates that kick off the album via a stunning renovation of the Slim Harpo rock precursor "Got Love If You Want It." Gibbons growls out the lyrics, using over-cranked auto-tune—a flourish borrowed from hip-hop—to add a metallic ring to the already amp-like sound of his voice. And his lead Les Paul tones dial up the same vintage Magnatone-bust-up-plus-overdrive-pedal raunch that made songs like "I Gotsta Get Paid" on ZZ Top's 2012 release La Futura (their first Top 10 album in nearly two decades) the opening salvo of an ongoing musical renaissance for the trio.
There's also a major artery of clave rhythm and charango-influenced piano pulsing through "Got Love If You Want It." Ditto the album's two other chestnuts, Texas rockabilly legend Roy Head's "Treat Her Right" and 9-string Delta bluesman Big Joe Williams' "Baby Please Don't Go." The latter's smeared in filth, from Gibbons' tweaked voice to low-octave guitar grunting to his own Hammond B-3 organ, which he uses to punch out a down-low solo that's phrased like one of his hot mid-tempo single-note guitar leads.
"It's not a far throw from Houston's Third Ward to Havana's scenic seawall once the course is set," Gibbons says, reflecting on his choice of covers. (Bluesmen Lightnin' Hopkins, Albert Collins, Johnny Copeland, and Clarence "Gatemouth" Brown all emerged from Houston's historic Third Ward district.) "'Got Love If You Want It' drew heavily on the built-in cha-cha thing of the original, and Alex Garza's beating on the bongo and conga stepped it up handily. Then came 'Treat Her Right' and 'Baby Please Don't Go'—both drastically rearranged to allow the blues and Latin beat to breathe, which rendered the unfamiliar into submission."
The rest of the album was even more unfamiliar, with Gibbons writing lyrics for the pile-driving title cut, which features vocals from Garza and Gibbons, plus five other tunes in rough-hewn Spanish.
"Writing pop style in a language known only in a passing way presents some compositional challenges," he concedes. "However, we worked through it and came out with something that's it's own unique thing. Rhyming in Español was a revelation. We determined most Latin songs don't really demand or depend on rhyming so much. The importance lies in telling the story without any 'spoon and moon.'"