The prominent session guitarist lived the dream at the top of the charts, and he can tell you all about it on his YouTube channel.
---
Zach goes it alone on this episode to interview session guitarist, 6-string storyteller, and prominent YouTuber and online guitar instructor Tim Pierce. As a player, Pierce's guitar has spent decades at the top of the charts by way of songs by Bon Jovi, Goo Goo Dolls, Phil Collins, Madonna, Dave Matthews Band, Bob Dylan—whose recent Shadow Kingdom features the guitarist holding down the rhythm—and so many others.
Pierce discusses his biggest influences and favorite guitar sounds, seeing ZZ Top in their early stages "at their finest"—"I was floored"—and tells how he learned how to play rhythm guitar "on the job." He also shares advice for crafting excellent guitar parts.
These days, Pierce says his session work is mostly for friends and family. Instead, he focuses on his popular YouTube channel, where he posts interviews, tips, and more. It's a passion for the guitarist, and he and Zach get deep into the nuts and bolts of his YouTube life—from how many thumbnails can he makes for each episode (a whole lot) to how he comes up with his ideas for videos.
"I did one thing for decades," Pierce says of his life as a guitarist for hire. "That I knew I could do … I just wanted to be a recording guitar player." About 15 years ago, he says he reevaluated his goals and says he "discovered some people who were doing business online" who inspired him to give YouTube a go. "It just seemed like something, with all my limitations, that I could pull off." After a decade doing full-time sessions and building his online presence, Pierce eventually switched to becoming a full-time YouTuber.

Thanks to Sweetwater for sponsoring this episode! Head to sweetwater.com for your musical gear needs.
A behind-the-scenes look at eight of the most remarkable pedal collections we've seen in quite some time.
Best Coast
Bobb Bruno and Bethany Cosentino
Perhaps even more so than his former roommate, Nels Cline, Best Coast's Bobb Bruno has a definite affinity for stompboxes. His board takes advantage of offerings from a slew of boutique outfits—including a couple of custom pedals whose aesthetics are as interesting as their tones—and his taste in pedals has also guided what front woman Bethany Cosentino stomps on.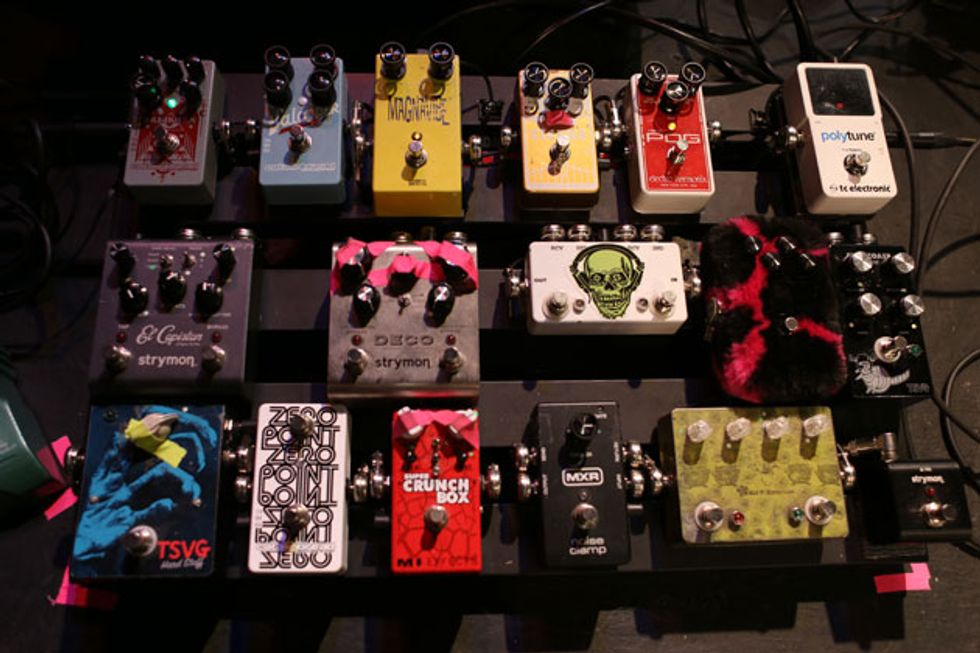 Upon first hitting his board, Bruno's signal goes into a TC Electronic PolyTune, heads to a TSVG Best Coast Signature Fluzzy (based on the old Ibanez Standard Fuzz), then goes to a custom American Loopers switcher (the white pedal with the green skull) that has an Electro-Harmonix Nano POG and a Mr. Black Eterna Gold in loop 1, and a Bigfoot FX Magnavibe and a Catalinbread Valcoder in loop 2. Bruno's "gnarly" Forever Fuzz—the pedal covered in purple-and-black faux fur—was given to him by Nels Cline and features a built-in filter circuit. A Strymon Tap Favorite switch triggers the tape-chorus simulation in Bruno's Strymon Deco, but he also uses the tape-delay simulation for slapback echo, and the tape-saturation section for solos and rhythm sounds. The Mid-Fi Electronics pedal next to the Tap Favorite houses two effects—a Psych Byke fuzz and Fuzz Wall—and the MXR Noise Clamp next door helps keep them manageable. An MI Audio Super Crunch Box, Bruno's main distortion, is used for roughly 75 percent of a given set. The board is rounded out by a Catalinbread Zero Point flanger, a TSVG Hard Stuff, a Strymon El Capistan, a Catalinbread Talisman plate-reverb simulator, and a Line 6 DL4 (not pictured).
Cosentino's board is outfitted with a TC Electronic PolyTune 2, an Xotic EP Booster—which is on all the time—a Mojo Hand Fx Bluebonnet, a Wampler Euphoria, a HardWire/DigiTech Supernatural, a Malekko Ekko 616, and an Electro-Harmonix Holy Grail Nano that is also on all the time.
Between the Buried and Me
Paul Waggoner, Dustie Waring, and Dan Briggs
Given their penchant for epic, complex arrangements, it should come as no surprise that the axe men of prog-metal outfit Between the Buried and Me warmly embrace stomp stations that can quickly morph tones in tons of ways.
Both of BTBM's 6-stringers, Paul Waggoner and Dustie Waring, get the lion's share of their sounds from Fractal Audio Axe-Fx II XL rack units. Waggoner manipulates his presets using a Rocktron All Access foot controller and two Mission Engineering EP-1 expression pedals that control volume and delay times. A Strymon TimeLine is used for clean delay sounds, while a Wampler Faux Tape Echo provides longer, shimmering delays, a Port City Salem Boost helps solos cut through, a Wampler Leviathan brings the fuzz, and a TC Electronic PolyTune keeps his guitars in tune.
Waring navigates his Axe-Fx II XL presets with a Fractal Audio MFC-101 Mark III foot controller. Like Waggoner, he uses two Mission Engineering EP-1 expression pedals to tweak effect parameters, but the only two standard stompboxes in his live rig are a TC Electronic PolyTune Mini and a Port City Salem Boost, the latter of which he says makes things sound "huge, fat, and tube-y."
>BTBM bassist Dan Briggs's pedalboard includes a Boss TU-2 tuner, a Wampler Faux Tape Echo (used for a constant warbling tone), an Electro-Harmonix Bass Micro Synth (for washes like those on Rush's "Tom Sawyer"), three Boss stomps—a DD-3 digital delay, a TR-2 Tremolo, and a PS-3 pitch shifter—and a Darkglass Electronics Duality Fuzz.
Eagles of Death Metal
Dave Catching and Matt McJunkins
Although Eagles of Death Metal singer/guitarist Jesse Hughes eschews pedals in favor of the simpler, rawer approach of going straight into his amps, touring guitarist Dave Catching (co-founder of famed Rancho De La Luna recording studio) and bassist Matt McJunkins more than make up for the dearth of stompable things onstage.
Catching's signal first hits a TC Electronic PolyTune 2 Noir, then goes to a Jim Dunlop Cry Baby Wah—he loves leaving the pedal cocked open a bit for nasally solos and cutting riffs—then proceeds to a Jim Dunlop Rotovibe, an EarthQuaker Devices Palisades (for solo boosts), a Fulltone Ultimate Octave, a TC Electronic T2 reverb, an EarthQuaker Devices Dispatch Master, a TC Electronic Flashback Triple Delay, a Mantic Flex, and a Malekko Scrutator bit-crusher.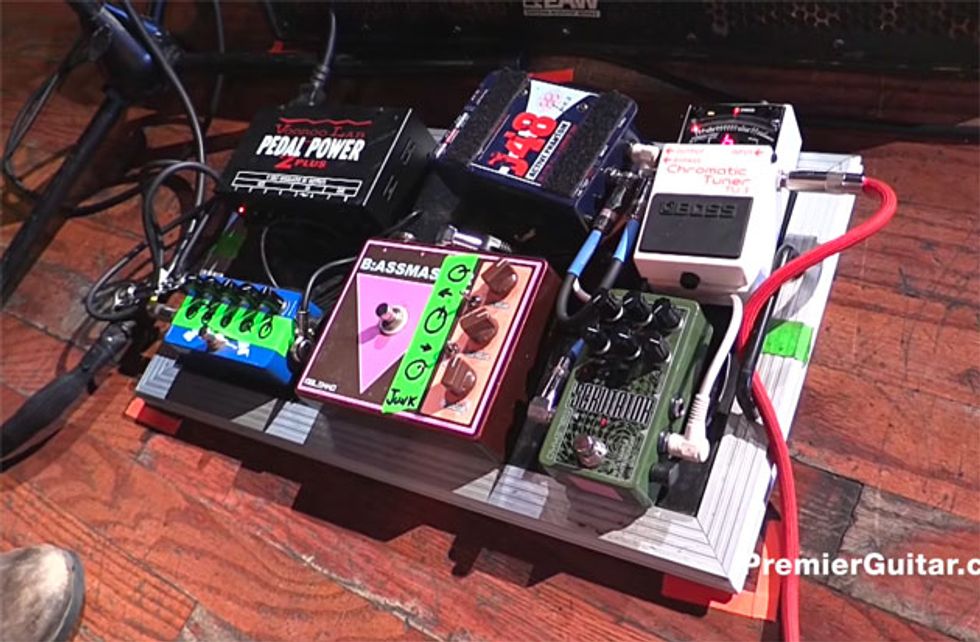 Because McJunkins runs his amps hot, he looks to get extremely overdriven and wonky sounds out of his three pedals—a germanium Malekko B:Assmaster that "smoothly adds some bass, girth, and fatness" to his core sound, a ZVEX Mastotron for synth-like tones, and a Malekko Scrutator. Other utility units on his board include a Boss TU-3 tuner, a Voodoo Lab Pedal Power 2 Plus, and an active Radial J48 direct box that sends a clean signal to the front-of-house soundboard.
John Fogerty
To conjure the gritty, throbbing tones of American roots-rock mainstays like "Fortunate Son," "Proud Mary," and "Born on the Bayou," former Creedence Clearwater Revival frontman John Fogerty stomps on a wide array of vintage-toned boxes—including several off-the-beaten-path boutique selections that prove the classic-rock god is as into guitar gear as ever. His pedals reside in two offstage rack drawers, where they are controlled by Fogerty's guitar tech, Dave Whiston.
Fogerty's first rack drawer features a Moog Minifooger MF Delay, a Strymon El Capistan, a SolidGoldFX Surf Rider, an ancient Zeta Systems vibrato/tremolo, and an Electro-Harmonix Small Clone, all powered by a Voodoo Lab Pedal Power 2 Plus.
The second rack drawer includes a Wren and Cuff Box of War, three Xotic RC Boosters (labeled Curly, Larry, and Moe), a Boss RV-5 digital reverb, a Voodoo Lab Tremolo, and a Strymon BigSky. The pedals on this board get their juice from a Custom Audio Electronics power brick.
Heart's Nancy Wilson
To dial in tones while playing live versions of canonical classic-rock hits such as "Barracuda," "Magic Man," and "Crazy on You," Nancy Wilson relies on a handful of stomps controlled in the wings from stage right by longtime tech Jeff Ousley. Her electric signal hits her board by way of a Whirlwind A/B selector, then travels to an Ibanez TS9 Tube Screamer, a Way Huge Swollen Pickle, an ancient Ibanez flanger, and a Budda ZenMan OD/Boost. A Voodoo Lab Pedal Power supplies the juice, and channel switcher pedals for each of Wilson's amp heads (a Peavey-era Budda Superdrive 30 II and a backup Fender Tone-Master) round out the board.
My Morning Jacket
Carl Broemel
Kentucky-based quintet My Morning Jacket steeps its rich sound in everything from roots and psych rock to plaintive country, with a unique, flavorful final brew that's tied together by the soaring vocals of frontman Jim James. But while the flamboyant James (who also plays guitar) tends to get the lion's share of MMJ attention, lead guitarist Carl Broemel's chameleonic qualities—including his ability to switch from standard 6-string to the more complicated world of pedal steel—are just as crucial in defining the veteran band's sound. Here we look at the gear Broemel uses to replicate tunes from seven studio albums on the road.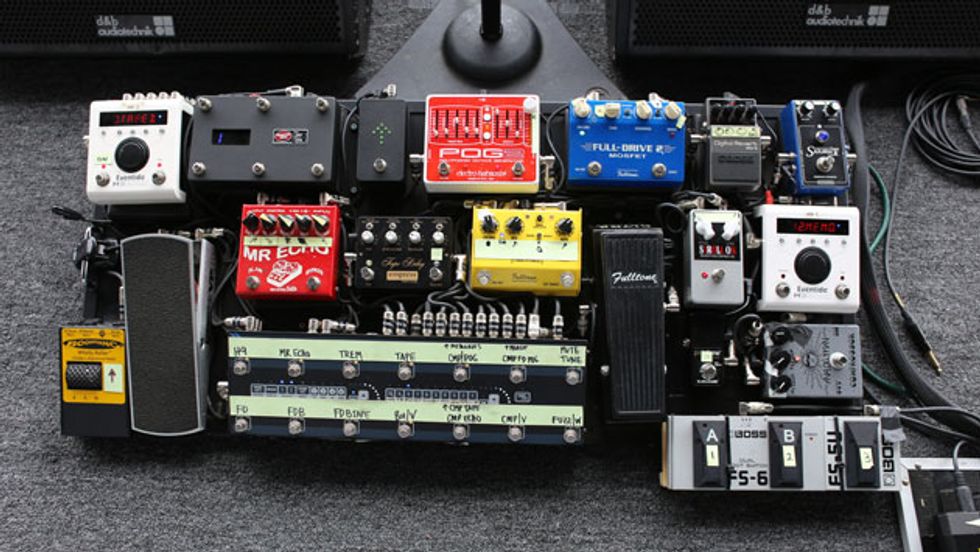 The control center for Broemel's board is a GigRig G2 switching system that lets him quickly access a wide range of pedal settings and combinations. Stomps controlled by the G2 include a TC Electronic PolyTune Mini, an Analog Man CompROSSor, Hudson Electronics Stroll On fuzz, Spaceman Saturn V Harmonic Booster, Fulltone Full-Drive 2, Boss RV-5 Digital Reverb, Empress Tape Delay, SIB Mr. Echo, Electro-Harmonix POG2, Fulltone Supa-Trem, an Ernie Ball volume pedal, and a pair of Eventide H9s. (One H9 routes to a separate MIDI controller and the Boomerang Wholly Roller.)
For his pedal steel musings, Broemel's board includes a Hilton Electronics volume pedal, Sarno Music Solutions Steel Guitar Black Box, MiniMoog MF Delay, an Eventide ModFactor, EarthQuaker Devices Dispatch Master, and a Durham Electronics Sex Drive. He controls all the effects via a Voodoo Lab Pedal Switcher.
Slipknot
Mick Thomson and Jim Root
Considering not only how tight and precise their down-tuned, interlocking riffs must be, but also the dense, nine-person mix they must fit into, it makes perfect sense that Jim Root and Mick Thomson from blockbuster Des Moines metal outfit Slipknot keep their pedalboards pretty trim and straightforward. In fact, arguably the biggest lesson to be learned from their stomp stations is how subtly and sparingly their effects are used.
Thomson's rack drawer houses six effects, plus a Voodoo Lab Pedal Power ISO-5 and a Peterson Stomp Classic tuner. His noisemakers include a Maxon OD-820 Overdrive Pro for lead boosts, an Electro-Harmonix Bassballs (used on "Disasterpiece"), an MXR Carbon Copy (used for parts of "Vermillion"), a Death by Audio Fuzz War, and a custom-made octave fuzz created by tech Kevin Allen after Thomson requested the filthiest, gnarliest, most obnoxious-sounding fuzz box possible—because, as the guitarist sees it, "the fuzz better fuck your sound up." The custom fuzz is used for parts of "Duality." Allen uses a Voodoo Lab Ground Control Pro from offstage to activate Thomson's various effect combinations.
Root's drawer of stomps is home to an old Boss NS-2 Noise Suppressor—he says the updated circuitry and lead-free solder in new versions impact his sound too much—an MXR Auto Q wah, Maxon AF-9 envelope filter and PT-9 Pro+ phaser pedals, two MXR Carbon Copy delays, and Electro-Harmonix Holy Grail Nano and Micro POG stomps. A T-Rex FuelTank Classic powers it all. Root's onstage satellite board includes a controller for his Dunlop Cry Baby Rack Module wah, a third MXR Carbon Copy for creating oscillation chaos, a Maxon FV10 Fuzz Elements Void, an MXR GT-OD, and a Dunlop JH1D Jimi Hendrix wah—the latter of which he likes for its traditional, early-Vox-like sound. The wah is connected to a G-Lab True Bypass Wah-Pad, which not only makes the pedal true-bypass but also removes the need to push the rocker pedal toe down to activate the effect.
ZZ Top's Billy Gibbons
Anyone remotely familiar with "the Reverend" Billy Gibbons' ZZ Top catalog won't be too shocked by the dearth of pedals used to conjure his gritty Texas-blues tones on his current touring board. Probably the biggest surprise here is that while he has two sets of pedals (for redundancy in case one rig goes out), the pedals are not exactly the same in both setups—although this is something that tech Elwood Francis attributes to the simple fun of periodically trying out new toys as they are acquired on the road. The two stomp setups, like the rest of Gibbons' rig components, are kept in two offstage racks.
In this setup, Gibbons gets a boost and a little extra dirt from a Rainger FX El Distorto, while an MXR JHM2 Jimi Hendrix 70th Anniversary Tribute Series Octavio provides octave-fuzz tones, an Electro-Harmonix Pitch Fork alters pitch, and an MXR Carbon Copy adds a touch of analog-delay ambience. Tuning is handled by a Peterson Strobe Classic, and various distortion presets in a Marshall JMP-1 rack unit (not pictured) are accessed via a Tech 21 MIDI Mouse.
This pedal drawer is similar to the other in that it also has a Peterson tuner (a StroboStomp 2), a Tech 21 MIDI Mouse, an MXR Carbon Copy, and a Dunlop JHOC1 Jimi Hendrix Octavio (which is purportedly the same circuit as the MXR JHM2), but here further pitch-shifting needs are fulfilled by an MXR Bass Octave Deluxe, and the Octavio runs through a Boss GE-7 graphic-EQ pedal. PG
Learn a few secrets about how the king of Texas boogie-rock combines attitude with soul.
ZZ Top's Billy Gibbons has been cutting records and touring the world for almost 50 years, and as a result his name and massive beard have become almost synonymous with Texas blues-rock guitar. Gibbons has never been a fast player, nor has he relied on blazing technique to connect with the audience, but if you're looking for tips and tricks to take your blues playing to the next level, there's much to learn from the Rev. In the pursuit of scales, arpeggios, and tricky theory, it's all too easy to lose your connection with phrasing, timing, vibrato, and tone. Gibbons has these essential qualities in spades.
From his Texas blues roots to the disco influence of the '80s, Gibbons has explored different sounds over the decades. He even dipped his toes into Cuban waters on his recent solo album, Perfectamundo. For this lesson we'll turn to the absolutely timeless Eliminator. Released in 1983, it has a definite dance edge, thanks to the drums and production, but the riffs are still as blues-rock as they come.
When it comes to getting fat guitar tone, Gibbons goes against conventional wisdom, especially the notion that bigger strings yield bigger tone. His classic recordings feature "Pearly Gates," a 1959 Gibson Les Paul Standard set up with rather low action and super-light strings (he favors a .007 1st string). Although gear contributes significantly to tone, Gibbons proves that it's the hands that ultimately determine your sound.
Let's check out our basic riff first (Ex. 1). We're in the key of B minor and playing little dyads against the root note on the 6th string. After the intro we dial it back to allow room for the soloist with some basic power chord ideas. The interesting part is when we drop down to the E chord and then back up to F#7. These chords aren't found in the key of B natural minor, so while it's easy to play the chords, soloing over them presents more of a problem—more on that in a moment. For now, get the sound of the progression in your ears.
If you want to test your theory knowledge, the "best" scale choice would be dependant on style. If we assume that Bm is the IIm chord in the key of A, then the correct scale is B Dorian (B–C#–D–E–F#–G#–A). If that were the case, then the E chord is diatonic (IV chord of A) and the notes of B Dorian will fit fine—but you'd want to emphasize E's 3 (G#). The F#7 chord isn't found in the key of A, but it's the V chord in the key of B major. The problem? This presents two options: You can either play F# Mixolydian, which sounds a little out there, or F# Phrygian dominant (root–b2–3–4–5–b6–b7 or F#–G–A#–B–C#–D–E), but that won't sound bluesy at all.
So we have a bit of a dilemma. The solution is simple, though. Over F#7, simply play F#7. That might appear silly, but the answer lies right there in the chord. Check it out: F#7 comprises F#, A#, C# and E. The notes F#, C#, and E are all in B Dorian, but it lacks A#. So instead of thinking in terms of scales, simply lean on the F#7 arpeggio because it contains the A#. In fact, I'd suggest focusing on A#, which as the chord's 3 is a defining sound.
Our first solo (Ex. 2) draws on Gibbons' single-note style. In terms of rhythms, he rarely deviates from simple eighth-note ideas laced with occasional triplets. Our first phrase has held bent notes and is typical vocabulary for any blues-rock player. As the solo progresses, we move into the pinched harmonic technique, which is a big part of Gibbons' style. He may not have been the first to do it (many credit that to Roy Buchanan), but he emphasized this technique very early in his career. Interestingly, Gibbons was one of the first guys to tap on record too!
If you're new to the pinch harmonics technique, it's beyond the scope of this column to teach it in depth, but just try digging into the strings to make them squeal. Billy's style here isn't a science, it's just about getting a whistle. It's not about getting the exact harmonic you need—or even a full harmonic (a suggestion of a harmonic is fine). Really, it's all about adding attitude.
To outline the E and F#7 chord, we're sliding down to the root of the E and jumping up to the b7, then playing the 3. I'm not saying that Gibbons is a jazz player who outlines the changes, but even just picking these notes because they're in the chord shape is more than enough to give you what you need.
Our next example draws from Gibbons' love of double-stops. We're starting out with sixths in Bm, sliding down to the b3 and root. It then slips down a half-step and up again. This is really a chromatic approach, but don't think of it as anything theoretical because it's not a substitution—we're just sliding down and up. We then move from sixths to thirds on the 3rd and 2nd strings.
Our final example (Ex. 4) draws on Billy's slide playing. Again, not the most advanced slide playing you're likely to hear, but to the point and bluesy. We start by ringing the 5 and root together before opening up with some simple pentatonic phrasing. Notice how the 9 is an easy note to add to the pentatonic scale, both in terms of shapes and sound.
For the E and F#7 chord, we're just taking the three adjacent strings on the same fret to play a little triad found in the "A" shape. Again, it's not sophisticated, but it does outline the chords tightly, which is better than the more common "play the blues scale and hope for the best" approach.