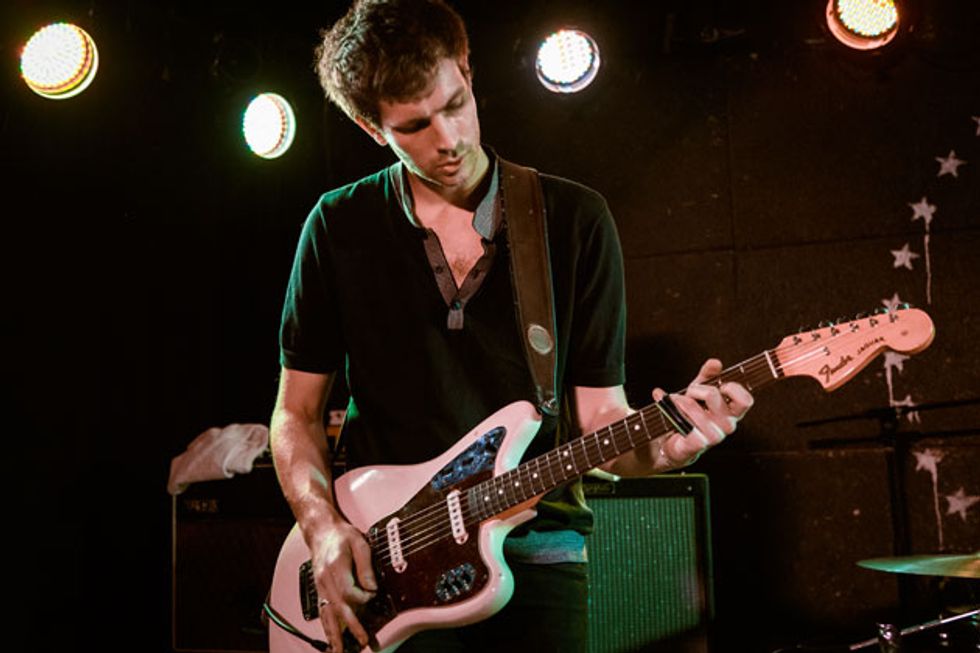 With his trusty main axe, a 1962 Fender Jaguar reissue with Lollar pickups and a M1 Mastery Bridge, Joff Oddie plunges himself into Wolf Alice's high-energy live performances. Photo by Matt Condon
I've read that you started as a fingerstyle guitarist, although in Wolf Alice you play almost exclusively with a pick. How has your fingerstyle experience made its way into Wolf Alice's sound?
When I'm not playing in Wolf Alice, I don't tend to play a lot of electric guitar. I've always played acoustic at home. When you start fingerpicking, it really busts the instrument open and needs no other accompaniment. You get to a point where you are playing bass parts, rhythm parts, and leads all at the same time. In terms of learning about composition and how music is put together, it's a great tool and it's helped me a lot. I'm a self-taught fingerpicker, so I wouldn't know if I use a specific style. It has made it easier to hybrid pick at times, and it's a really useful creative tool to have. It did take me quite a while to get my head around using a pick when I started playing electric, though.
Joff Oddie's Gear

Guitars
1962 Fender Jaguar reissue (with Lollar pickups and M1 Mastery Bridge)
Fender American Standard Stratocaster
Nash 1958 S-style (studio)
Amps
Fender Hot Rod Deluxe III Mint Julep with Celestion G12P-80
Vox AC30C2X
Effects
Gig Rig G2 switching system
Morley Volume Plus
Boss TU-3 Chromatic Tuner
Dunlop Cry Baby Wah Wah
Empress Compressor
Way Huge Red Llama Overdrive
Empress Distortion
Colorsound Fuzz Box
Line 6 DL4
Empress Tremolo2
Empress Phaser
Strymon BigSky Reverberator
Strymon TimeLine Delay
MXR M134 Stereo Chorus
Electro-Harmonix Nano POG
Electro-Harmonix HOG
Strings and Picks
Ernie Ball Beefy Slinky (.011–.054)
Dunlop Nylon Standard 1 mm picks
Ellie Rowsell's Gear

Guitars
Fender Telecaster
T-Style with Bigsby
Fender Mustang
Amp
Vox AC30CC2
Effects
Electro-Harmonix Big Muff
Pro Co RAT
Boss RV-5 Digital Reverb
Line 6 DL4
MXR M134 Stereo Chorus
Fulltone OCD
Strings
Ernie Ball Super Slinky (.009–.042)
To set the record straight, what are the band's influences?
The band really does listen to a pretty broad selection of music. Like I said earlier, I'm a big folk fan. Theo listens to a lot of grime music. [Editor's Note: Grime is a hybrid style derived from UK garage, drums and bass, and dancehall music.] Joel has an encyclopedic knowledge of punk and hardcore, and Ellie listens to pretty much everything.
We all listen to Queens of the Stone Age, the Velvet Underground, Patrick Wolf, the Black Lips, and the Strokes—the kind of stuff that was around when we were growing up, really, as opposed to mainly '90s stuff. On a songwriting level, the way the Velvet Underground married the ideologies of experimental and popular music had a pretty profound effect on me.
What gear did the band use in the studio for My Love Is Cool? Anything unusual?
I don't know if there was anything particularly out of the ordinary used during the sessions. Some of the pedals we used really consistently were the Klon Centaur—which is such a classic now—a Colorsound Fuzz Box, an Empress Compressor, an Empress Tremolo2, and an Empress Phaser. We also pulled out an Electro-Harmonix HOG a bunch of times.
The real gem was this Nash 1958 Strat copy. If it's not my Fender Jaguar you're hearing on the record, then it's probably that Nash. It was one of the best guitars I've ever played and if you see one in a shop, I urge you to have a go! They're really some of the best guitars out there at the moment.
The guitar parts on the album all seem extremely focused on serving the songs, but there are really interesting atmospheric touches—particularly the feedback-with-atonal-bombs intro to "Giant Peach" and the ghostly background swells of "Swallowtail." What are we hearing there?
We're not really the kind of band to just throw guitar solos into songs for the hell of it. I believe good band-focused guitarists do what they have to—complement the song and what the vocalist is doing. There weren't a lot of synths used during the recording, and a lot of the ambient parts were guitars through lots of pedals and amp combinations. We would send different split signals to various amps with designated effects chains going to specific amps to build a sound. Also, we would send a lot of drones through pedal chains to build a bed of sound.
The live and studio versions of "Giant Peach" build up to enormous waves of sound at several points. How did you get those sounds in the studio and how do you recreate them onstage?
There's one main lead guitar track on "Giant Peach" that was a one-taker that runs through the whole song. That part is locked into the bass and drums because we wanted to retain as much "live" value to the track as we could. Under that, however, is a lot of layering of different tones to try and make it sound as fat as possible. I remember we tracked just the output of a distorted reverb in the biggest sounding parts of that song. That added a lot of depth and girth to those passages. As for live, it's just about turning it up and moving around until you figure out the stage. Our soundman always tells me to turn down, but I think secretly he quite likes it.
YouTube It
The five-day Glastonbury Festival in the village of Pilton, Somerset, England, was among Wolf Alice's major 2015 appearances, and their thrill-packed performance of "Giant Peach" on that stage is a scalding demonstration of many of the band's guitar signatures. Ellie Rowsell kicks up the song's stuttering spine of a riff, answered by Joff Oddie's sputtering feedback entrance. At 1:00 Rowsell tosses off a brief melody before the group roars into a cascading wall of sound punctuated by a brief atonal squall from Oddie as the vocal begins. They have precise control of dynamics. After Wolf Alice brings the song to its psychedelic climax, they bust out a new heavy riff for the decrescendo that would sound like classic Black Sabbath if they played it an octave lower.