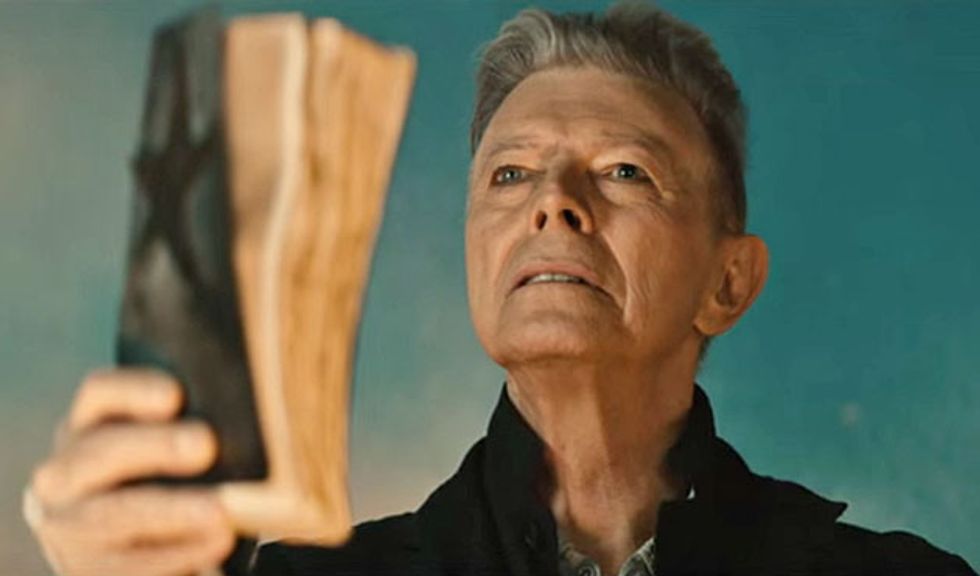 Still of the inimitable David Bowie from the video for "Blackstar."
David Bowie was an artist of unprecedented vision, poise, intelligence, charm, and, most importantly, truly fearless creativity. He reinvented what it meant to be a rock star, redefined himself with each release, and never once grew complacent. Even as he faced the increasing possibility of impending death during 18 months of treatment for cancer he kept secret from all but the closest collaborators, Bowie could not help but continue to exist as a conduit for the creative energies he'd spent his life harnessing and honing in ways that were always unexpected, always ahead of the pack, and typically stunning in their final forms—musical or otherwise.
Since the shocking news of his death at the age of 69 on January 10, 2016, Bowie's swan song—the heartbreaking and musically challenging Blackstar—has been revealed to be far more than just another work of musical genius to add to a nearly infallible canon: It's the man's goodbye letter to all, an artistically wrought final statement that sees a musical titan struggling with his own mortality and the immortality of art, all wrapped-up in a haunting auto-eulogy. Full of thinly shrouded allusions to his own fate, Blackstar also serves as the final cheeky wink and knowing smile of Bowie's illustrious career. As longtime friend and producer Tony Visconti so eloquently put it, Bowie's death "was not different from his life—a work of art."
When this feature first began taking shape weeks before the release of Blackstar, it was undertaken with great excitement over the fact that the semi-reclusive legend had not only decided to release another record, but was also rumored to be doing so in collaboration with some of the most respected names in the avant-garde jazz world, including prolific guitarist Ben Monder, not to mention bassist Tim Lefebvre from Tedeschi Trucks Band, among others. To say the creative ramifications of this pairing were viewed as an exciting prospect is a gross understatement, but the jarring news of Bowie's passing just two days after the album's release—as well as of his private battle that went on for so long behind the scenes—puts the work in a profoundly different light. Yes, Blackstar lives up to and even surpasses musical expectations. But when experienced with the knowledge that it is the final realized vision of a man who was fighting an extended, debilitating health crisis, the jazz-infused, electro-tinged sonic odyssey becomes a work of astonishing depth and openness whose meaning changes with each listen and carries with it a nearly unfathomable weight of finality. No matter your age or condition, the video for "Lazarus" is bound to strike you at least as much with its stark imagery and the gut-wrenching delivery of its grim lyrics as it does with its lovely, dirge-like riff, the hypnotic beauty of its reverberating guitar-and-sax stabs, and its frenetically catchy chorus.
Bowie's swan song has been revealed to be far more than just another work of musical genius to add to a nearly infallible canon.

Bowie and his art have touched innumerable lives, but few more personally than those of the musicians he chose to welcome into his realm for collaboration. Working with Bowie was a transformative experience by most accounts, and those with the talent and good fortune to have forged a creative relationship with the Starman (or Thin White Duke, or whichever persona Bowie had developed into at any given point) all seemed to blossom and grow within his orbit—though never in sacrifice of the personalities and talents that brought them into his periphery in the first place. We gained an audience with Monder and Lefebvre prior to Blackstar's release, and again shortly after Bowie's passing, to discuss the making of the album and the impact of working with one of the most important artists of our time.
Were you at all aware that you might be helping David make his final artistic statement to the world?
Ben Monder: No, I had absolutely no idea. He looked great and was in great spirits. There were certainly some dark overtones to the material, but that's not unusual for him. I would never have read such grave significance into them.
Tim Lefebvre: Not exactly. Who knows if he meant for it to be this way, but it sure looks like he did. It's surreal. When we were doing the record it was surreal, but you go into professional mode and just try to do the best you can. The first time I heard the album, I said to the guys, "This is so much bigger than all of us." Now, with him passing, it's just such a mindfuck. Tony said it was his gift to everyone, and it's very intense now.
How did you come to be involved with Blackstar?
Monder: The first version of the cut "Sue (Or in a Season of Crime)"—which came out a couple of years ago as a bonus track on Nothing Has Changed [Bowie's 2014 3-disc box set]—was put together in collaboration with my friend Maria Schneider, who I've worked with for years. I was talking to her on the phone one day and she goes, "You know, David Bowie is coming over to my apartment," and I was just, like, "What?" She invited me to take part in the session that came from that meeting. We all met and it was one rehearsal and maybe one day in the studio tracking the tune. Eventually Maria took David to hear Donny McCaslin play sax at the 55 Bar in New York City with his band. David apparently found that performance really inspirational and wanted to work with Donny. I think it was originally supposed to be just a few tracks, but it blossomed into a full record. Since I had played in Donny's band for a long time, Donny—luckily for me—called me up to do whatever guitar parts the album needed.
Lefebvre: I had been playing in Donny's band, and beyond that Mark [Guiliana, drums], Jason [Lindner, keys], and I had been playing in a project called Beat Music even before joining Donny's band.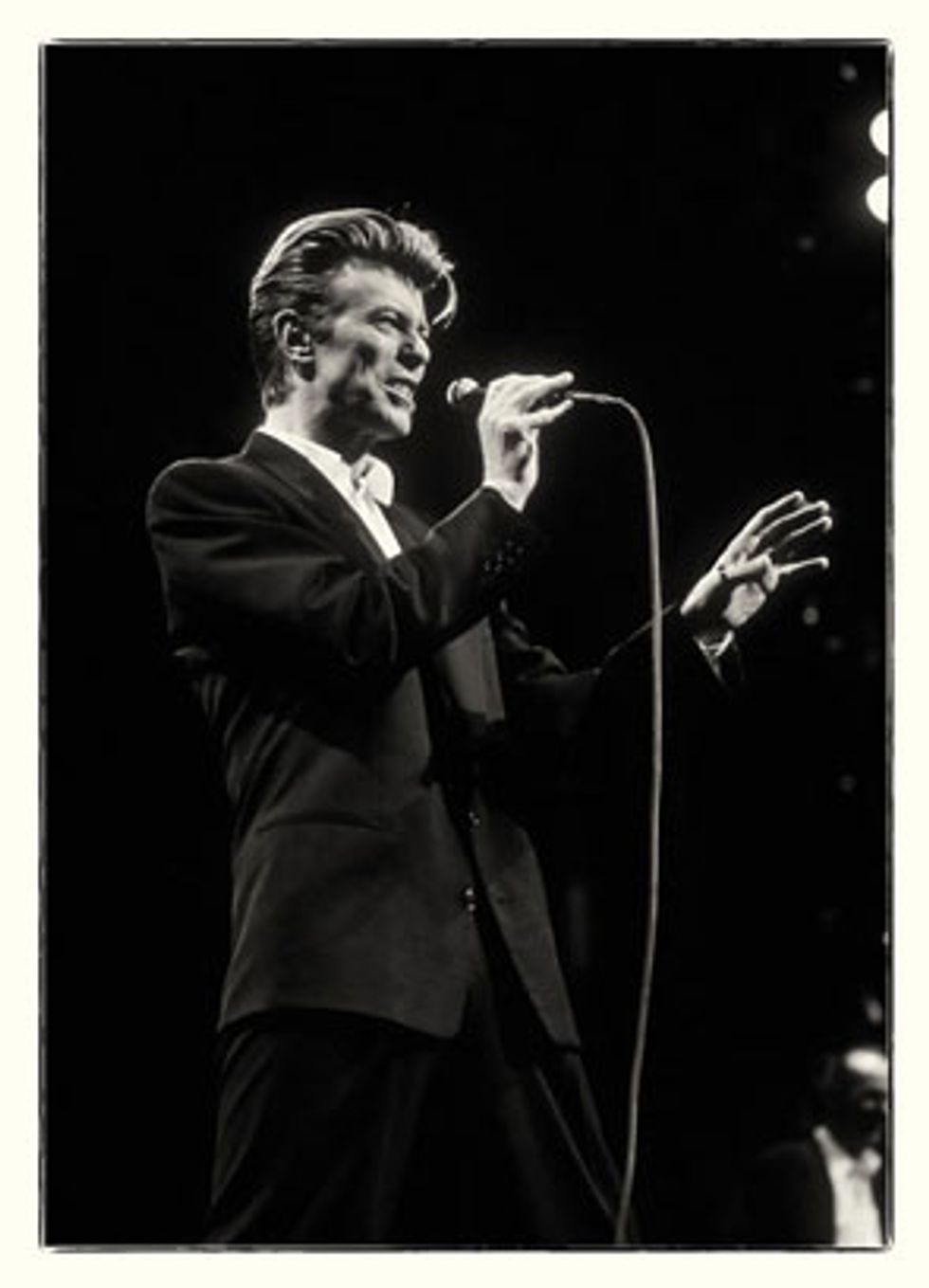 David Bowie onstage in 1990. Photo by Ken Settle
What was it like to be working with such a legend?
Monder: It was amazing. There's the part of you that's totally overwhelmed and can't believe you're working with someone you've been listening to since you were 12 years old, but there's also the side of you that goes into professional mode. I've done hundreds of recordings, and you have to get into the mindset that you're there as a professional and you're going to just do the best you can. So, that's really what took over when I was recording. That said, I also never felt uncomfortable. As far as the work environment goes, Tony [Visconti, producer] and David made it really easy for us. David really made an effort to make us all feel welcome and at ease, and he was extremely open-minded about anything we had to contribute. So the environment was really, really positive. David truly respected what other people have to offer—he wasn't a control freak in the slightest and really wanted to work with his collaborators. And Tony is the same way.
Lefebvre: Mark and I talked about this a bit and it's amazing how open-minded they were as a team. On "Sue (Or in a Season of Crime)," for example, they gave us eight bars to just rage. Mark and I had played a lot of live drum 'n' bass together, and it's shocking and amazing to hear that on a David Bowie record—they allowed us to do what we do on this album! I think the stuff David wrote would've been amazing with any band, but it's unreal to have been involved. Yes, he happened to hire a band that was a unit, but it's not like David simply inserted himself in our world. He demoed these things really well and could have had any studio musicians in the world play these songs. He just happened to want guys with chemistry playing them, so it was very cool.