Best Coast
Bobb Bruno and Bethany Cosentino
Perhaps even more so than his former roommate, Nels Cline, Best Coast's Bobb Bruno has a definite affinity for stompboxes. His board takes advantage of offerings from a slew of boutique outfits—including a couple of custom pedals whose aesthetics are as interesting as their tones—and his taste in pedals has also guided what front woman Bethany Cosentino stomps on.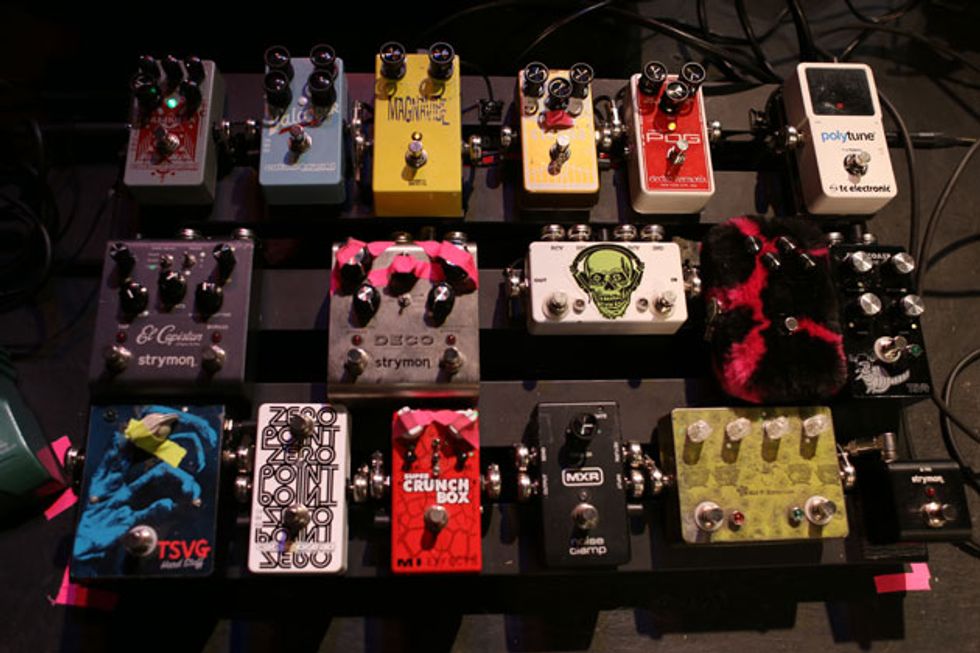 Upon first hitting his board, Bruno's signal goes into a TC Electronic PolyTune, heads to a TSVG Best Coast Signature Fluzzy (based on the old Ibanez Standard Fuzz), then goes to a custom American Loopers switcher (the white pedal with the green skull) that has an Electro-Harmonix Nano POG and a Mr. Black Eterna Gold in loop 1, and a Bigfoot FX Magnavibe and a Catalinbread Valcoder in loop 2. Bruno's "gnarly" Forever Fuzz—the pedal covered in purple-and-black faux fur—was given to him by Nels Cline and features a built-in filter circuit. A Strymon Tap Favorite switch triggers the tape-chorus simulation in Bruno's Strymon Deco, but he also uses the tape-delay simulation for slapback echo, and the tape-saturation section for solos and rhythm sounds. The Mid-Fi Electronics pedal next to the Tap Favorite houses two effects—a Psych Byke fuzz and Fuzz Wall—and the MXR Noise Clamp next door helps keep them manageable. An MI Audio Super Crunch Box, Bruno's main distortion, is used for roughly 75 percent of a given set. The board is rounded out by a Catalinbread Zero Point flanger, a TSVG Hard Stuff, a Strymon El Capistan, a Catalinbread Talisman plate-reverb simulator, and a Line 6 DL4 (not pictured).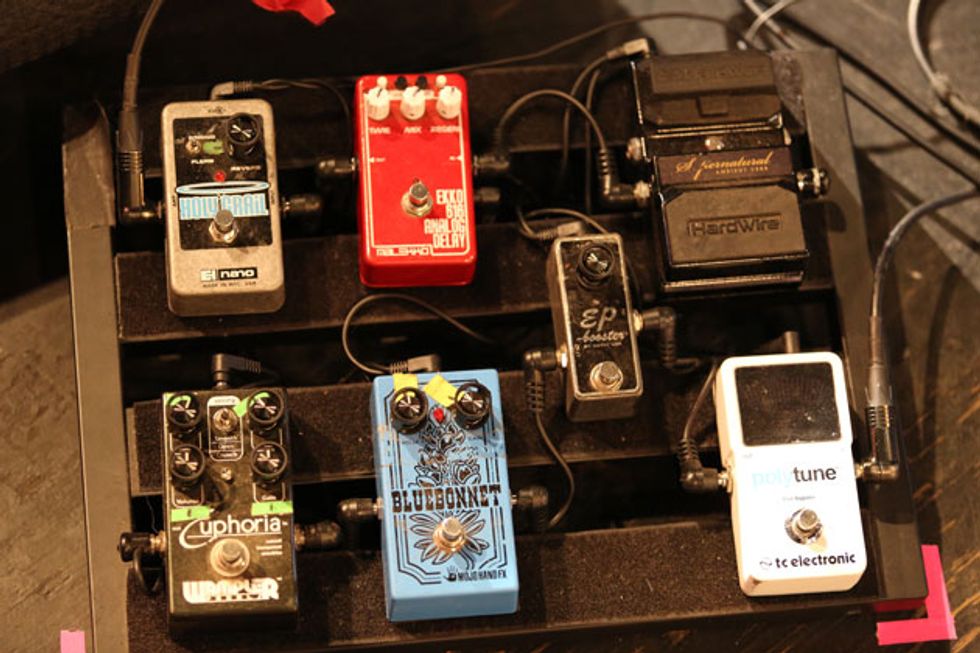 Cosentino's board is outfitted with a TC Electronic PolyTune 2, an Xotic EP Booster—which is on all the time—a Mojo Hand Fx Bluebonnet, a Wampler Euphoria, a HardWire/DigiTech Supernatural, a Malekko Ekko 616, and an Electro-Harmonix Holy Grail Nano that is also on all the time.