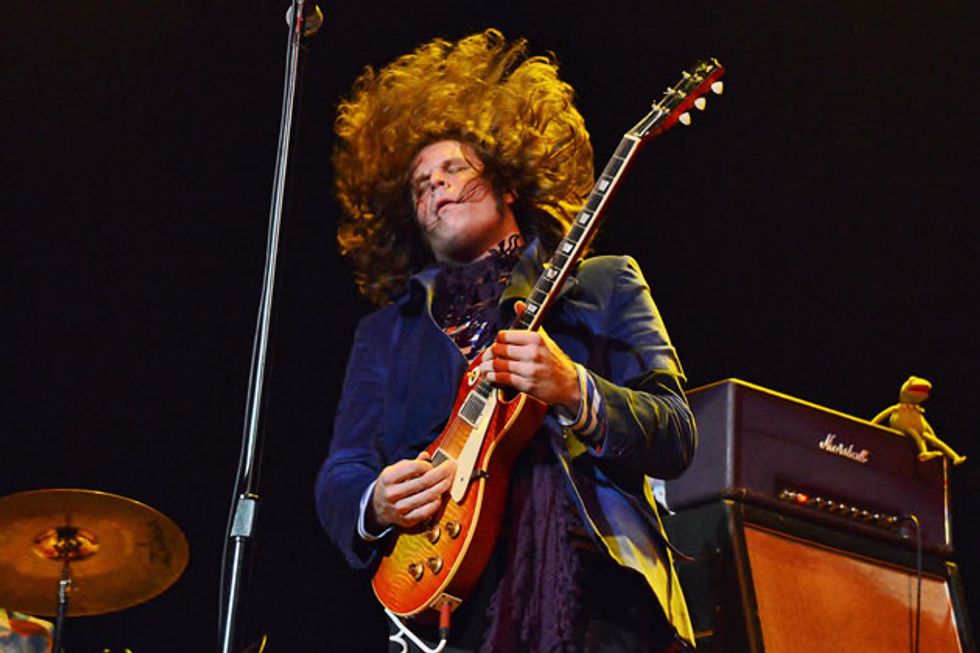 JD Simo's current mainstay live guitar is a 1960 Les Paul sunburst called Candy. For a while Simo was playing a '59 'burst on loan from Joe Bonamassa. Photo by Charles Daughtry
Only a handful of people can say they've hefted and played Duane Allman's '57 Les Paul goldtop, but none of them had thought to track a whole album with it, let alone use the Allman Brothers' famed Big House in Macon, Georgia, as the recording studio. None, that is, until Nashville-based axeslinger JD Simo came along. Let Love Show the Way, his barnstorming power trio's latest slab of electric hard rock, has a great backstory and is a reverent nod to the past, with a tube-warmed glimpse of a freewheeling future. But the incredible live presence of this band is where we'll start.
Sparks, splinters, and copious locks of hair fly around the small basement stage at Bowery Electric, just a few doors down from where bands like Television, Talking Heads, Blondie, and the Ramones once shook the walls at the legendary New York punk mecca (and now sadly defunct) CBGB. Fully cranked through his exquisitely vintage 100-watt Marshall half-stack, 29-year-old JD Simo uncorks a smoldering solo over the hypnotic break of "I'd Rather Die in Vain," the 10-minute epic staple of his band's explosive live set and one of many dizzying highs on the new album. In the space of two minutes, Simo channels everyone from Hendrix to McLaughlin to Peter Green to Derek Trucks, throwing his whole body into the performance and exhorting bassist Elad Shapiro and drummer Adam Abrashoff to join him in the ritual—which they duly oblige.
"It's loud, but I think until you've really had the opportunity to play through an old Marshall stack that's set up right, it's a loud that is very different from what people have become accustomed to."

There's definitely something of a shamanistic vibe in what Simo delivers live, and with his eye-catching Les Paul sunburst in hand, he looks every bit the image of the sky-bound '60s guitar hero. He can make any playing style seem accessible, from fluid bottleneck slide in the vein of his hero Duane Allman to the chicken-picked runs of Tele kings like Johnny Hiland or Danny Gatton. But he's quick to point out that even though the band SIMO bears his name, the mission isn't just about him.
"I accept the leadership role in the group, but that's what it is—a group," he insists. "That's very important to me. It means you've gotta find people you jibe with, but who are also in a situation where they can invest with you. Those two things don't necessarily meet up, but luckily it happened, so we have a very healthy thing going."
If he sounds modest, it's probably because Simo has paid his dues, and he feels blessed to have caught some breaks along the way. A native of Chicago's north side, he got hooked on the blues as a kid, taking up the harmonica after he saw The Blues Brothers movie and then switching to guitar once he started digging into the work of Steve Cropper. As it turned out, the youngster was a prodigy. By the time he was 13 he was jamming on stage with Dick Dale, and throughout his teens, on the festival circuit, he opened for the likes of Santana, Slash, Buddy Guy, and B.B. King.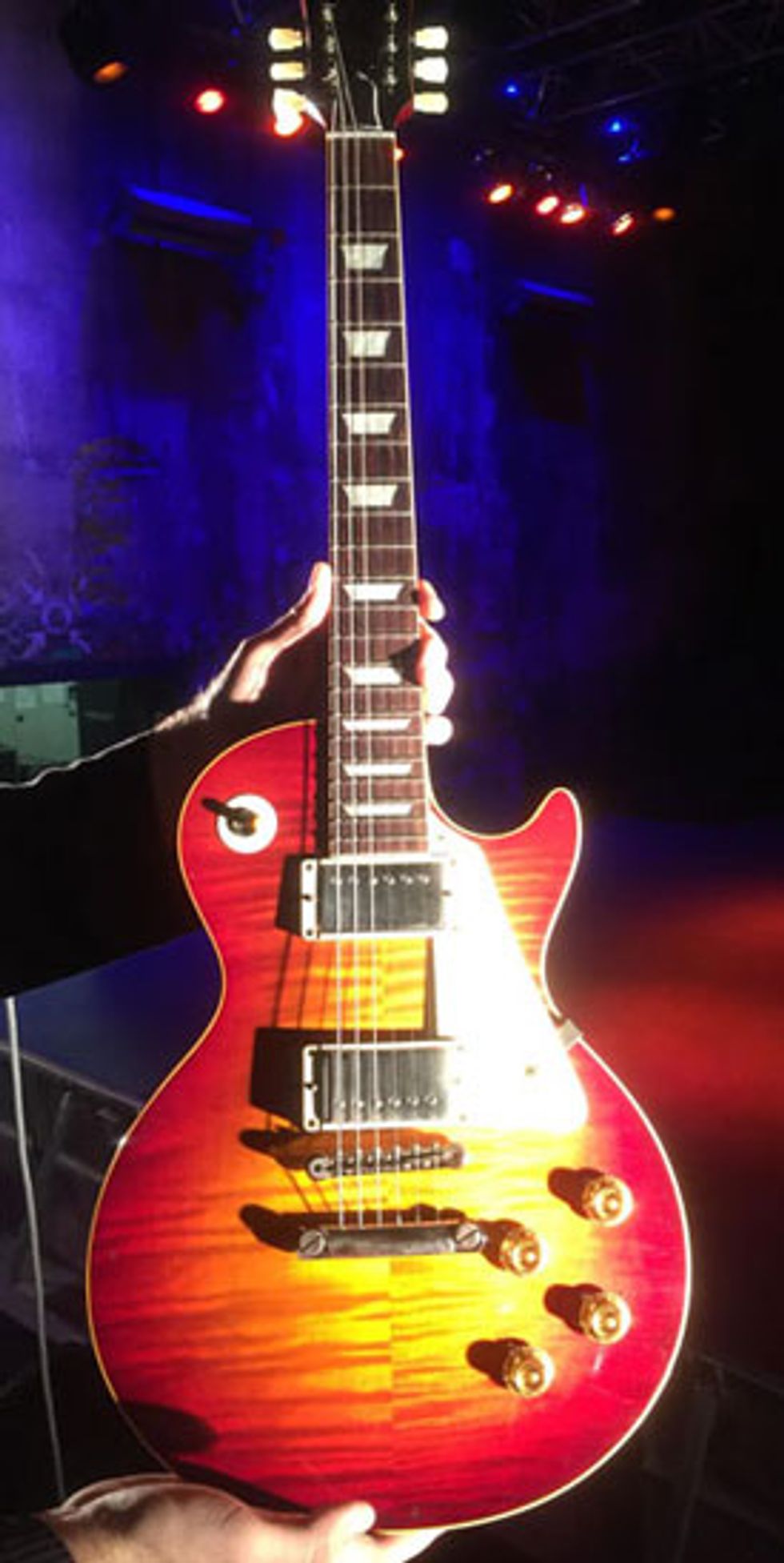 JD's 1960 Les Paul burst that's affectionately named Candy. Photo by Dillon Stewart
After a move to Phoenix, he marked time with his own trio but couldn't break through the insularity of the local blues scene, so in 2006 he chucked it all and headed east to Nashville. "I had no money and nothing going," he says candidly. "And right about the time I was ready to pack it up and leave again—because I was failing, miserably—Don Kelley gave me an opportunity."
A fixture on Nashville's lower Broadway strip since the early '80s, the Don Kelley Band is a proving ground for new talent in a city that's teeming with hot players. Kelley's lead guitarist at the time, Guthrie Trapp, was fixing to strike out on his own, so the search was on for his successor. "The timing was right," Simo says, "but I'd never played that style of music before in my life—you know, Western swing, million-mile-an-hour bluegrass [laughs]. But I had to survive, and Don gave me a chance with a very good paying gig. And from that, I got my foot in the door with producers to start playing on records."
An impromptu but lively jam with Abrashoff and bassist Frank Swart inspired the three to join forces as SIMO in 2010. A well-received debut album followed. The trio barnstormed around the U.S. for several years until Swart bowed out of the grind, but the hiatus was short-lived. In early 2015, Shapiro came onboard, and now a resurgent and fully recalibrated SIMO is locked and loaded.
The band's latest album is a loud, brash, and brave testament to the rewards of blazing your own path—not to mention a hard-chugging, blues-rock freight train of feverish improvisation. Incredibly, Let Love Show the Way started out as a filler session to record some bonus tracks for an existing album SIMO had already delivered to the label. Two days later, they had another album's worth of material that compelled Simo, the producer, to rethink the entire project.
Of course, the environment might have had something to do with it. Not only was Simo playing Duane Allman's original '57 Les Paul goldtop, but the band was tracking at the fabled Allman Brothers retreat in Macon, Georgia, known far and wide as the Big House [see sidebar, "Let It Bleed"]. There's a trenchant, touching, and soulful aura that seeps through the "No Way Out"-like boogie of "Stranger's Blues," the Zep-soaked hard rock of the title track (replete with cavernous wah and slide solos), the pastoral acoustic blues of "Today I Am Here," or the extended freestyle psych riffage of "Ain't Doin' Nothin'." Cut live with very few overdubs, Let Love Show the Way comes across as a throwback to how rock albums in the late '60s and early '70s used to be made.
After a recent hop across the pond to Europe, SIMO is gearing up for a slew of U.S. dates into the spring. Meanwhile, Simo's profile in Nashville is on the rise. He recently did a session with Jack White at his Third Man Studios, and he has a lot more in store for 2016.