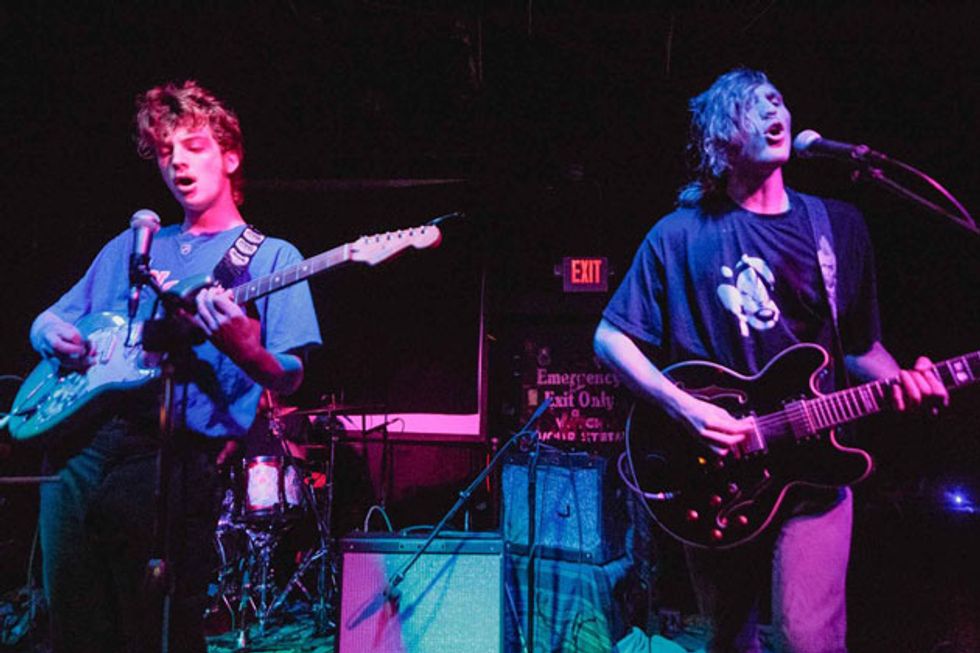 Childhood friends Shane McCord, playing his Fender Stratocaster, and Mikey Powers, strumming an Epiphone Sheraton II, are the frontline and songwriting instigators of Sun Club. Photo by Ryan Farber
Baltimore's music scene has emerged as an incubator for some of the most intriguing art-minded pop and indie-rock artists in recent memory, providing a breeding ground for breakouts like Future Islands, Lower Dens, and Beach House—all of whom have enjoyed an uncanny amount of love from fans and critics. If Sun Club's debut full-length, The Dongo Durango, is any indication of what's to come, the band is poised to be the latest Charm City musical export to hit the big time.
The Dongo Durango—which was recorded in a warehouse in Baltimore's Pigtown section—is a spastic, exasperatingly heartfelt statement that fuses elements of '90s psych-pop, pseudo-African sounds, and unconventionally wielded effects to make a dreamy landscape of disarmingly positive music. Rife with crashing walls of reverb, driven by two drummers, and full of unexpected rhythmic twists and turns, the album is certainly weird enough to hook even the deepest psych fans, but approachable and melodic enough to charm those with less adventurous tastes.
Sun Club is made up of childhood friends, some of who have been making music together since they were middle schoolers. The band made its debut in 2009 at the Sidebar, an all-ages rock club a few blocks from Baltimore's inner harbor. And they recorded a 7-inch single and a 2013 EP, Dad Claps at the Mom Prom, before joining Alabama Shakes and My Morning Jacket on Dave Matthews' ATO Records for The Dongo Durango.
Guitarist/songwriters Mikey Powers and Shane McCord work in tandem to create Sun Club's calling card: walls of guitar that twist and coalesce between monoliths of reverb-drenched chords and twinkling legato lead lines. Premier Guitar spoke with the 6-stringers about the band's writing process, the novelty and creative benefits of cheap gear, and the intuition that results from a working relationship forged in adolescence.
"I think the African influence people hear is really just because we're so percussive and rhythmic—especially having two drummers drive so many of our songs." —Shane McCord
What influenced the songwriting on The Dongo Durango?
Powers: It had more to do with our environment at the time as a band—what we were going through as people and finding sounds that match what we were feeling—rather than a handful of bands we'd been listening to at any given time. We wrote all of the songs on The Dongo Durango over what wound up being a nearly three-year period, so it really is all over the place. The songs are all very different ideas coming from very different places.
McCord: When we're writing music, we never think to go after another artist's sound, but we try to follow the feeling or vibe of guitar parts we come up with. If it happens to feel nostalgic, or it evokes a feeling of some sort, we go toward that. A driving factor in our writing is emulating feelings and ideas—especially youthful, blissful feelings.
Despite the sonic and stylistic variations in the songs, the album sounds very cohesive, so it's surprising it was created over such a long time. Was there a mission statement?
Powers: We decided right before recording it that we wanted to work everything into a more singular idea, so that was definitely a deliberate thing. The guy that produced it, Steve Wright, operated as sort of a conduit for our ideas, rather than really changing things or impacting the creative process too much like other producers. He was really open to our ideas and making sure things came out in the final product the way they happened naturally when we wrote them, but he also helped us make sure they fit together nicely.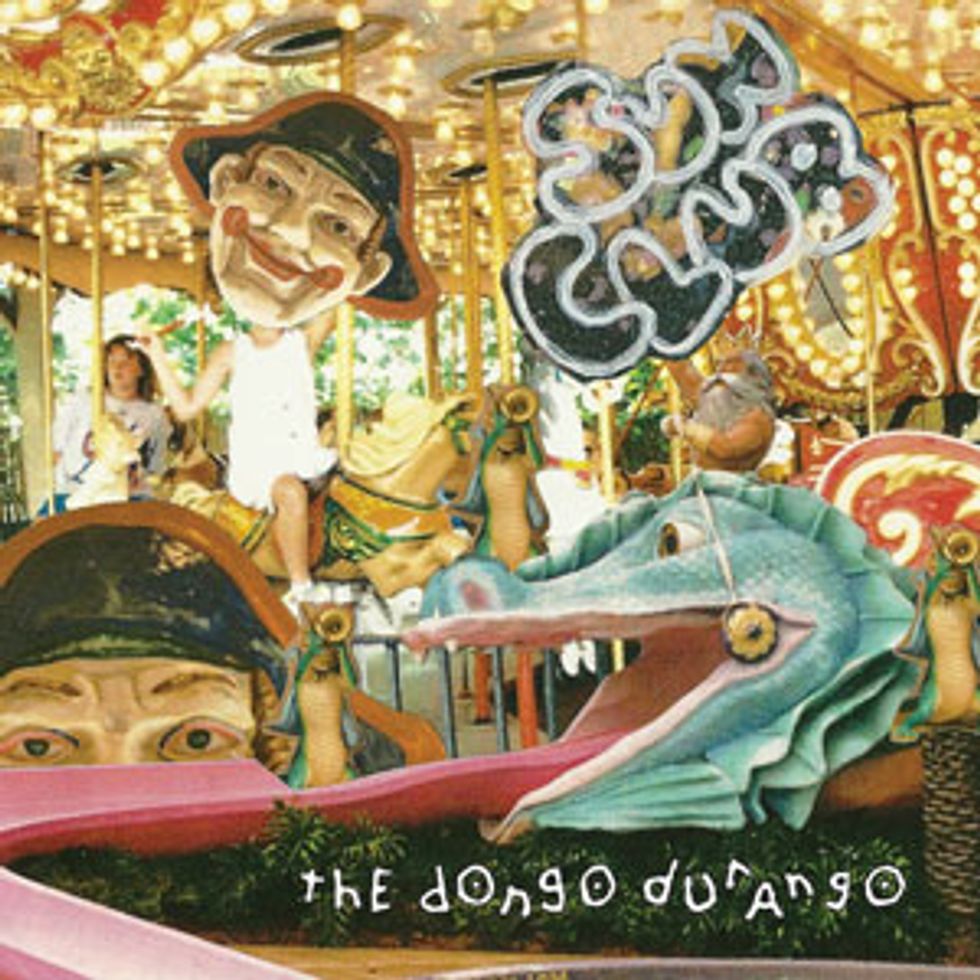 Sun Club's debut album The Dongo Durango, which you can stream here.
The record was tracked in a makeshift warehouse studio. Did you bring in your own recording equipment? I know the band has self-recorded in the past.
Powers: It was mostly Steven's gear, but it was a really makeshift setup that we used and it definitely didn't feel like a proper studio. The album was really tracked as a live band and the setup in the studio was put together to capture that more than anything.
Did you do many overdubs?
Powers: We tracked two weeks of live and then did five separate days for overdubs. Once we tracked the overdubs, we brought the tracks back to the warehouse and pumped them through a big speaker there to make sure they fit well with what we had.
How does the band write songs?
Powers: It's actually very collaborative. Shane or I usually bring a part to the whole band and we'll punch out a structure as a team, and the riffs and licks will often change to better suit what the band is playing—so it really is very interactive.
McCord: Usually it starts with me and Mikey writing guitar parts together. Then we layer the rest of the instruments and end with vocals. Mikey and I have worked together since we were 10, so it's second nature at this point.
Could you explain how a relationship that extends so far back helps with the creative process?
Powers: It's always been that way for us, so it doesn't even faze me anymore. That's the most normal part of being in this band. It's always been the same group of people and we've got a weird intuition because of that.
McCord: We know how to play off one another really well, but our playing styles change every year, so that relationship changes, too. We've transitioned together through all of those styles, though, and we grow together, so we always know how to make it work together. Recently Mikey has been playing more of the beefy chord-based stuff and I've been playing more delayed-out, high-pitched textural stuff. But there are no defined roles.