The P-Funk Guitar Army
We can't say for sure how many guitarists played with Parliament Funkadelic throughout the group's six decades in existence. But we can offer this rundown of the eight main guitar players who paved the way.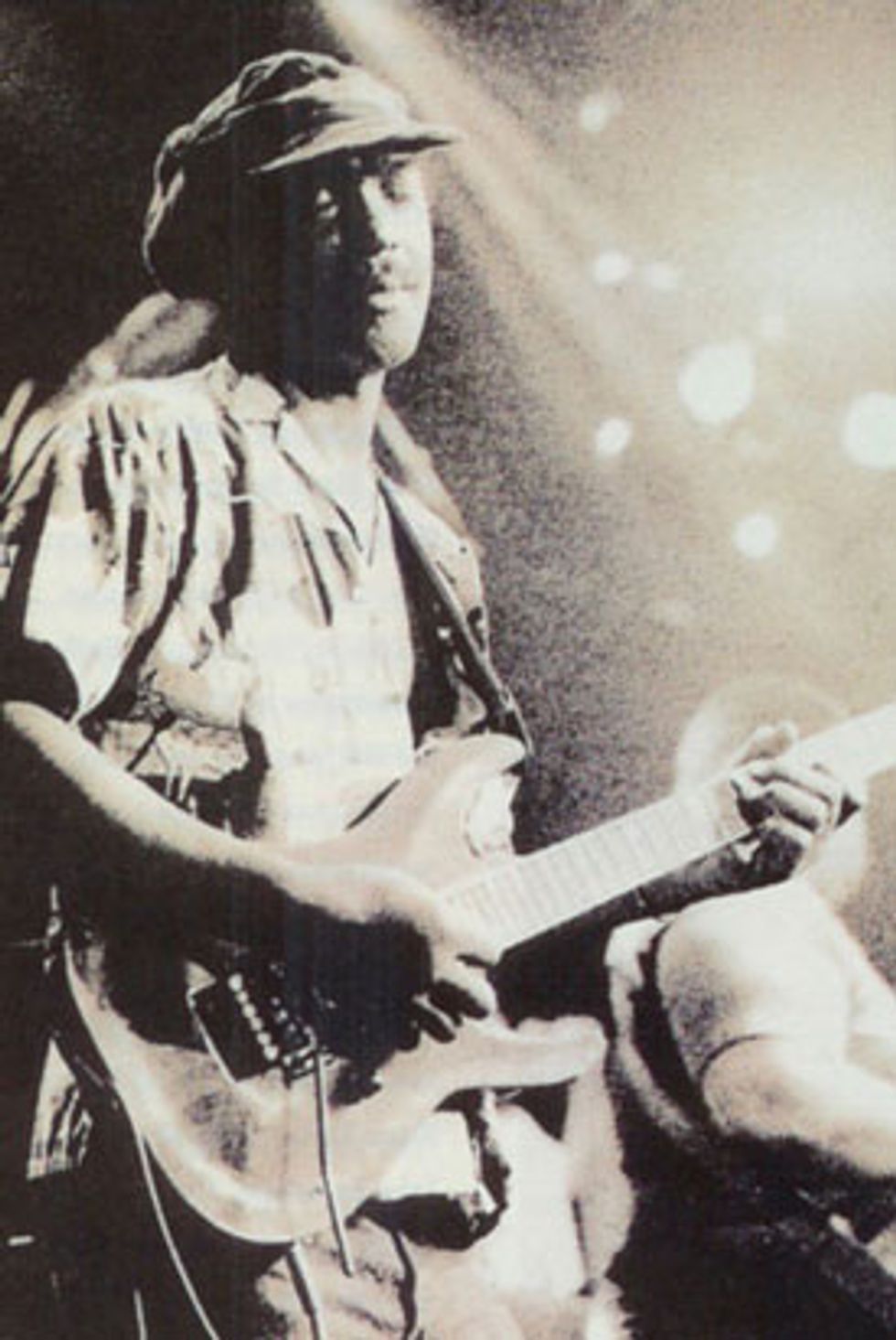 Eddie Hazel
Eddie Hazel was Funkadelic's original lead guitarist. He set the bar high. "Eddie Hazel colored the style of Funkadelic," George Clinton says. "All the stuff leading up to Maggot Brain and afterwards—he set the style. Garry Shider—who was like his little brother—kept the tradition going."

Hazel is lauded for his lead playing, particularly his iconic 10-minute solo on "Maggot Brain." But his rhythm playing was just as important. "He had a way of playing rhythm where he used his fingers as well as the pick," says Blackbyrd McKnight. "I understand that he got that style from his grandmother. His grandmother played guitar and he told me that he got a lot of that stuff from her—playing with the pick and the fingers at the same time with the rhythms. It was similar to how the blues players did back in the day—that's what it sounded like to me.

"When I met him, he was actually a greater guitar player than I knew he was," McKnight continues. "You'd go to a soundcheck, you'd listen to him play or you'd hear him play something on the gig—hard not to be influenced by that."

Hazel appears on Funkadelic's earliest albums. He was in and out of the band throughout the '70s and '80s and died in 1992. See Hazel in action in this early Funkadelic performance.
---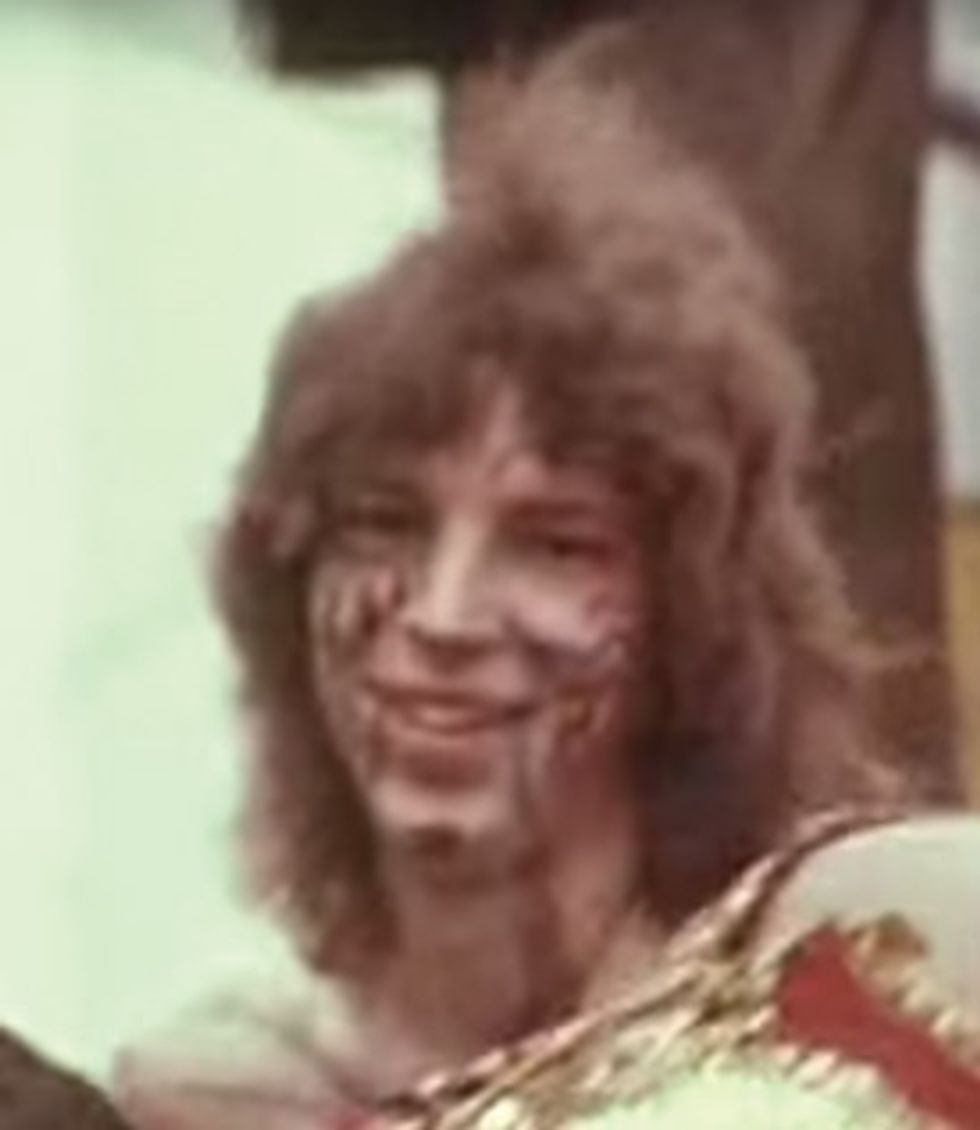 Ron Bykowski
Probably the most mysterious of the P-Funk guitarists is Ron Bykowski. "Ron was the first white guitar player we had," says Clinton. Bykowski appears on
Cosmic Slop
[1973] and
Standing on the Verge of Getting It On
[1974] and is credited as the "polyester soul-powered token white devil" on the latter. "He gave us that Les Paul sound, like the feedback on 'March to the Witches' Castle,'" Clinton continues. "He was the one that made us like a real rock 'n' roll band early in our careers as Funkadelic."
"Ron was the feedback king," Ricky Rouse says. "He knew how to get all the different feedbacks from the way he positioned his body with the amp. He could move his body a certain way and get a different feedback and a different tone."
"I think one of my favorite songs, 'Red Hot Mama,' is actually Ron Bykowski," says McKnight. "Everybody thinks it's Eddie, but it's not. I've heard outtakes with Eddie on it and when the two of them are playing together you can definitely tell who's who."
Bykowski played in a number of Detroit area R&B bands before joining P-Funk, but fell off the map after leaving Funkadelic. "I know his wife didn't want him to be in the group when he first got married," Clinton says. "At that time we were always really out there on drugs [
laughs
] and he was hanging with Eddie, of all people, so, she had a good reason for wanting him back home."
Although live videos of Bykowski are hard to find, there is this.
YouTube search term:
Funkadelic – Cosmic Slop 1973
(Ron, if you're reading, we would love to hear from you.)
---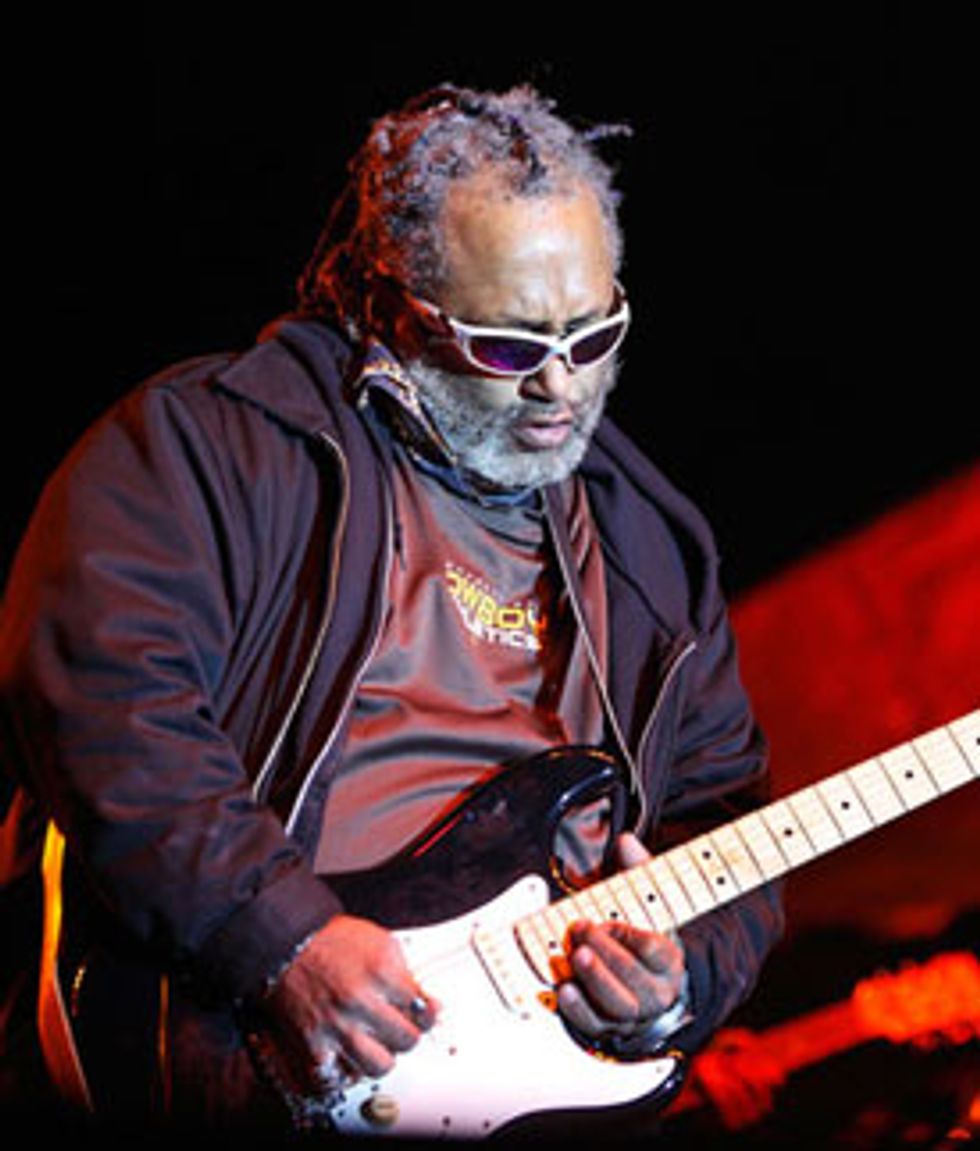 Photo by Ken Settle
Michael Hampton
Michael Hampton was just a teenager when he joined P-Funk, which is how he earned his moniker, Kidd Funkadelic. He landed the gig after impressing the band at an after-party in his hometown of Cleveland, Ohio. "My cousin was playing bass," Hampton says. "I showed him the chords to 'Maggot Brain' and we played it in the living room. The band was around me. I didn't know it was Eddie Hazel and [drummer] Tiki Fulwood—it was the whole band—Garry and Boogie. They were all there and they heard me play." He did his first gig two weeks later. "I did my first show in Landover, Maryland, at this place called the Capital Centre—now it's a mall—but that was the first place that had closed-circuit TV sync. I looked up and I started off the set—it was sold out and I started off the show with 'Maggot Brain'—that was all I used to play."
Hampton developed into an amazing guitarist. "The thing about Michael is that he listens to everything that's going on in a song," McKnight says. "He listens to the chord formulas that are being used, the key in the chord formulas, the scales, the alternative scales you can use. He was that scholastic guy that would throw all of that stuff in there and really make it make sense."
What's on the horizon for Hampton? He's open. "I'll just keep on practicing and wait until the next house party [
laughs
]. Maybe I'll catch somebody's ear out there and something will jump off."
Check out Hampton's incredible solo opening this version of "Red Hot Mama" and note his heavily modded Strat.
---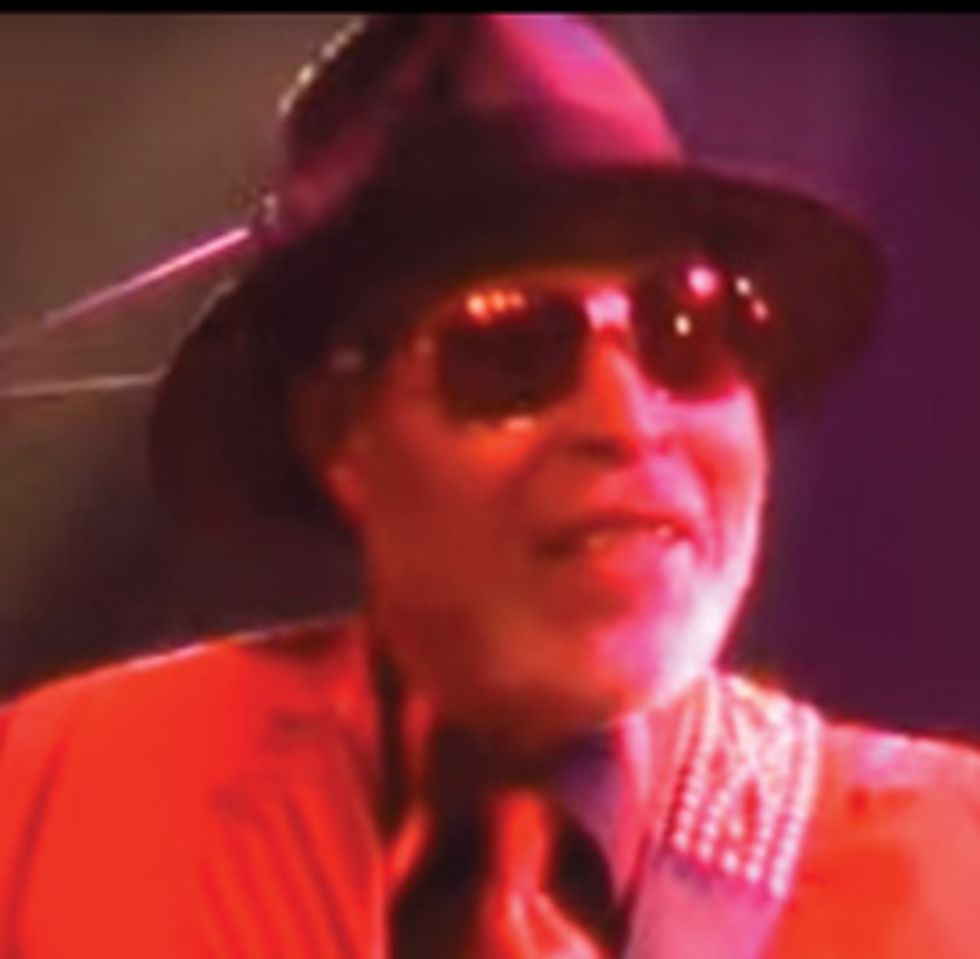 Catfish Collins
Catfish Collins—older brother of Bootsy—was a guitarist with James Brown before joining up with Clinton. In addition to his work with Parliament Funkadelic, he also played on other P-Funk projects like Bootsy's Rubber Band and the Horny Horns.
"If you listen to Bootsy's music, Catfish's guitar tracks are woven together," McKnight says. "It would be two guitars layered over each other and it just meshed. It was like one guitar."

Collins was active until his death from cancer in 2010. Check out his iconic rhythm work on the Parliament mega-hit "Flash Light."
---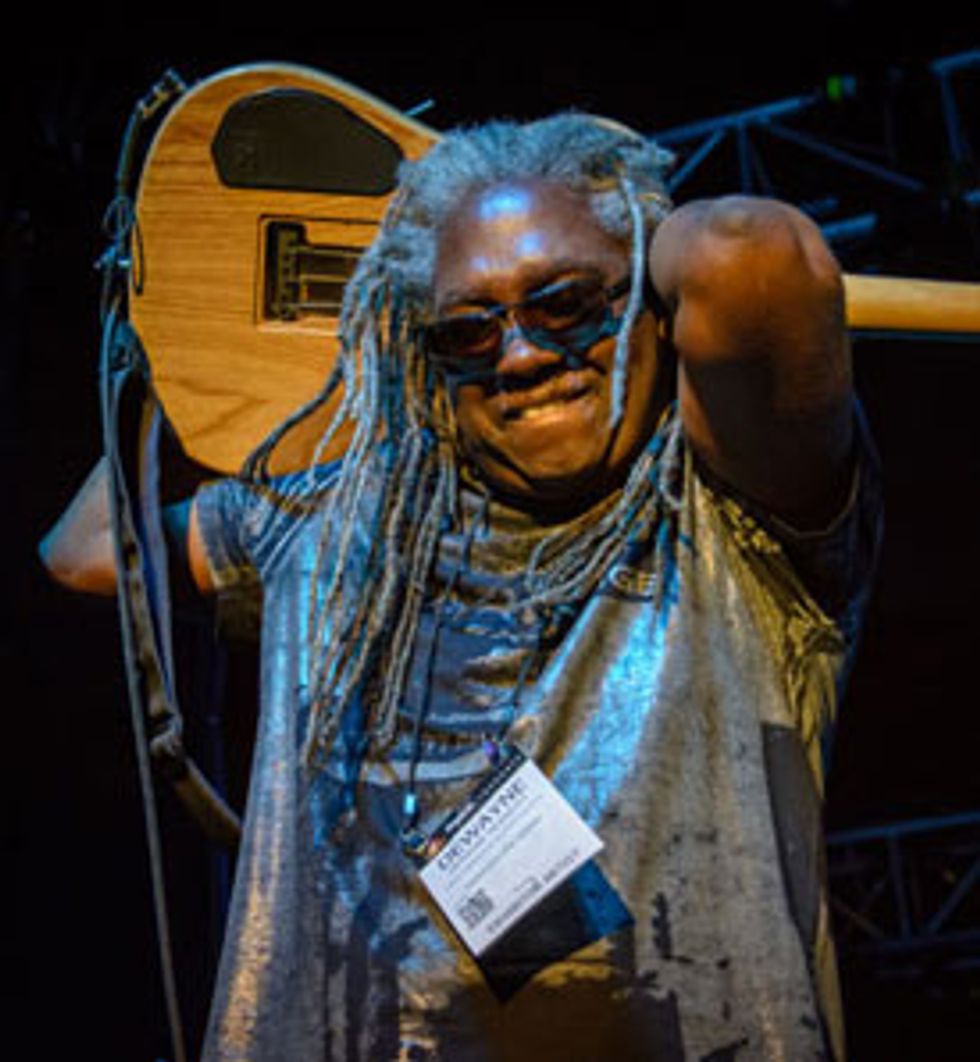 Photo by Alex Matthews
DeWayne "Blackbyrd" McKnight
"Blackbyrd McKnight is one of the greatest guitar players around," Clinton says. Prior to joining P-Funk in 1978, McKnight was in the Headhunters and worked with jazz legend Charles Lloyd. "He was in the band with Dennis Chambers—they were the Brides [of Funkenstein] band—and they were the band that just kicked Bootsy's ass and our ass."
McKnight grew up listening to jazz and bebop lines, which are an integral part of his playing. But Hendrix was also a huge influence. "I was in junior high school when I saw Hendrix the first time." McKnight says. "He opened up for Eric Burdon and the Animals." Seeing Hendrix also influenced his choice of gear. "I used a Vox wah until the Dunlops came out," he says. "I liked the chrome-plated one. Everybody liked the Cry Babys, but I liked the chrome-plated ones. Those were the ones I saw Hendrix use. I never saw Hendrix use a Cry Baby."
McKnight has also worked with artists as disparate as the Red Hot Chili Peppers, Bill Laswell, H.R. of Bad Brains, and Macy Gray.
This video features a young McKnight with the Brides of Funkenstein in 1979. In addition to his incredible rhythm playing, check out his solo feature at 10:54.

---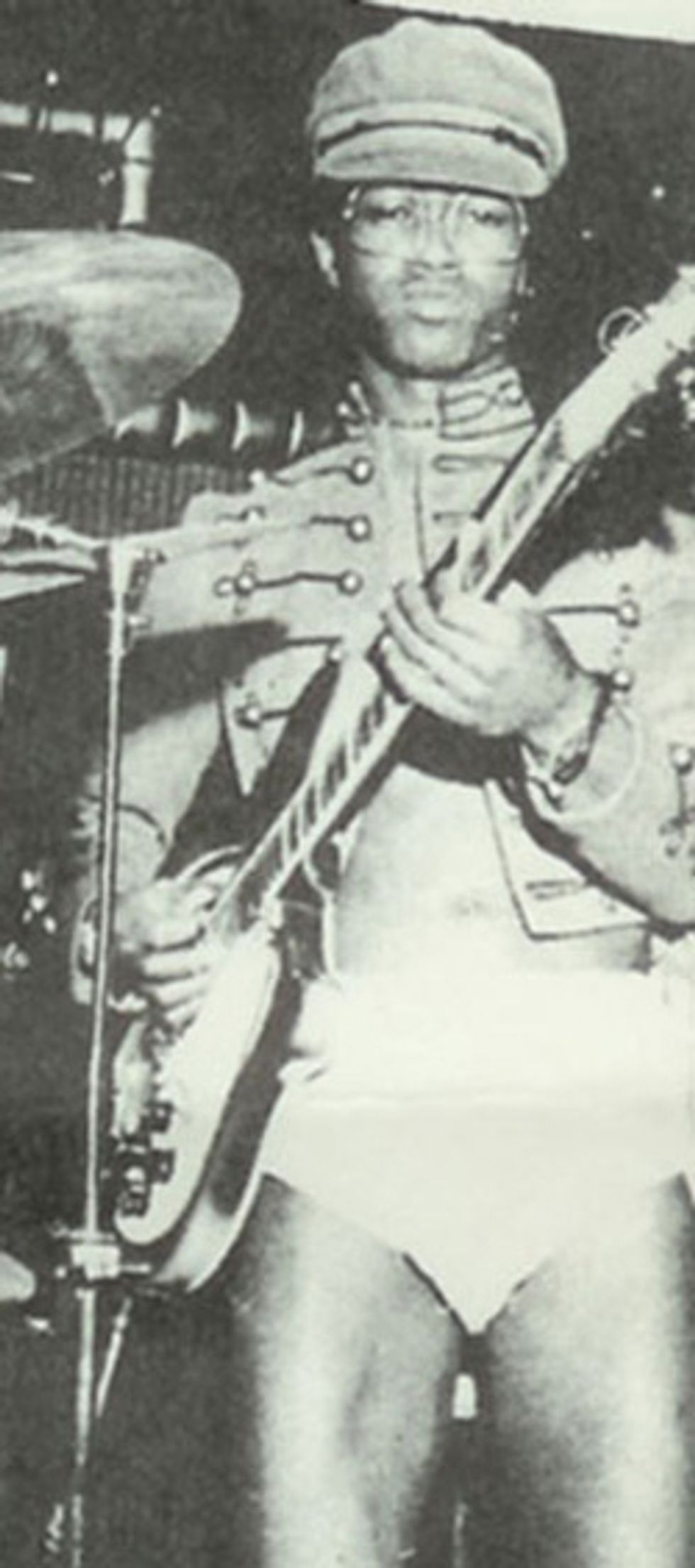 Lucius "Tawl" Ross

Tawl Ross was the rhythm guitarist in the original Funkadelic. "Tawl was a genius of rhythm," Ricky Rouse says. "He had that attitude of Funkadelic—him and Billy ['Bass' Nelson] had that rock 'n' roll attitude. It made it real because it was messing everybody up."
"He was playing the rhythm—the
chunka chunka chunka
," Clinton adds. "He played the strong rhythm on the first Funkadelic albums. He had the rhythm and the psychedelic image down pat. He and myself were the first ones doing punk rock—just prior to Iggy [Pop] and them doing it in Michigan. When we started playing with them, we saw that Iggy was doing the same stuff we were doing. We were wearing the diapers and being real sick on the stage. They called us the bad boys of Ann Arbor."
"Those guys were what they played," McKnight says. "That was them. Their style was what they were. You figured there was an engineer that put an echo—the way that Tawl would play with the echo and play rhythm behind—well that was Tawl. It wasn't the engineer."
Listen to the 1970 track "Fish, Chips, and Sweat."
---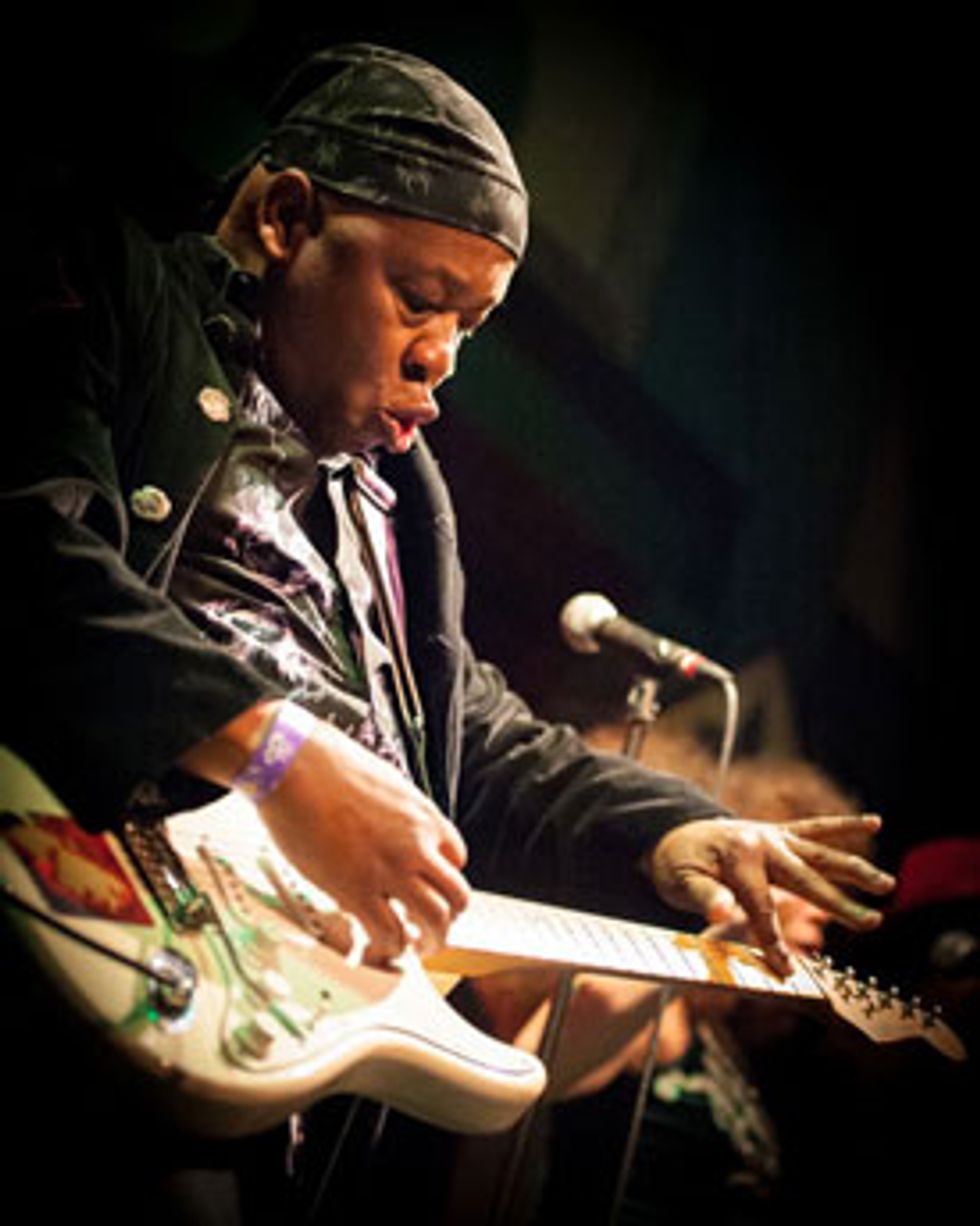 Photo by High ISO Music
Ricky Rouse

"Look at his resume, watch him onstage—the dude is one badass dangerous guitar player," McKnight says. Prior to joining P-Funk, Rouse worked with Stevie Wonder, Bohannon, the Dramatics, and many others. He was in the studio with the Undisputed Truth in 1972, and that's when he first met up with Clinton and company. "Ricky Rouse was around Detroit when we first started but never did get into the group until 2000-and-something," Clinton says. Rouse joined in 2007.
In the early '90s, Rouse hooked up with Dr. Dre. "I did Snoop's first three albums," Rouse says. "I was with Warren G when he had the G-Funk thing, and I played with Tupac because I wrote songs with Pac." His last gig before joining P-Funk was with Chaka Kahn. "It was fun playing the guitar with her because a lot of her stuff was guitar-oriented. Tony Maiden's a great guitar player." But joining P-Funk is a natural homecoming. "I always knew the Funkadelic stuff because they were my favorite band. I never rehearsed the stuff—I learned the stuff right there onstage when I came in the band. I knew the songs and I learned the arrangement right there."
Watch this great clip of Rouse shredding in the studio.
---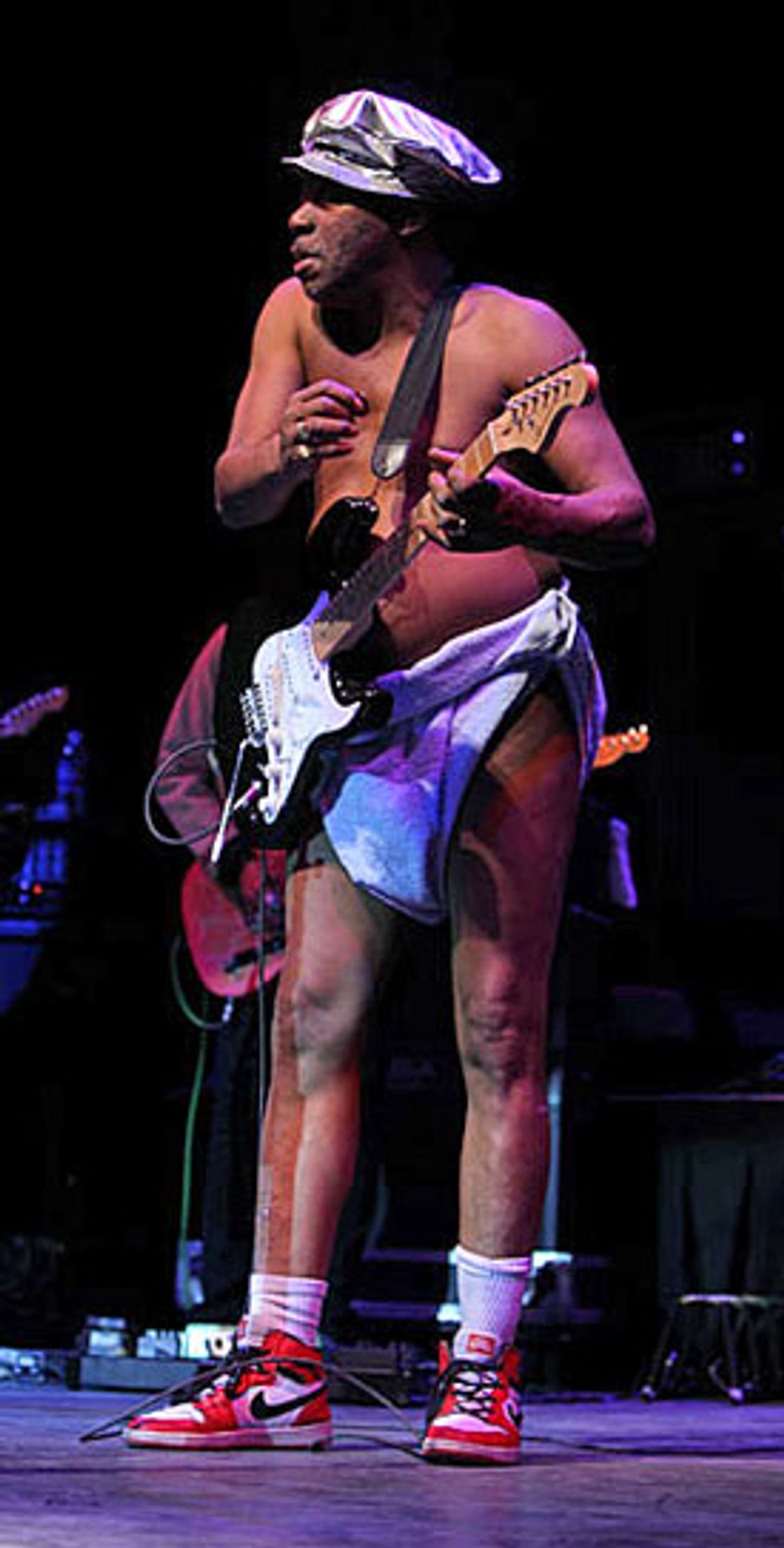 Photo by Tim Bugbee — Tinnitus Photography
Garry Shider
Garry Shider was from Plainfield, New Jersey, and knew Clinton from his days working at a barbershop there. Clinton produced United Soul—Shider's band with Cordell Boogie Mosson—before incorporating them into the greater P-Funk collective.
"Garry wrote a lot of songs with George," Rouse says. "Garry was a real singer and a great guitar player. He and Boogie came up through the gospel thing. He was a great rhythm guitar player and he could play lead as well."
"Garry, Eddie, and Boogie had their own sound," McKnight says. "It was like a Plainfield sound. It is hard to duplicate, but just great to listen to. They all kind of played the same—not the same licks, but the same feel, the same patterns."
"Garry grew up under Eddie," Clinton adds. "He was much slower than Eddie, but he had a lot of Eddie's flavor."
Shider was with the Mothership for decades and died of cancer in 2010. Check out this live version of "Cosmic Slop." Hampton's scorcher is first—played on his Alembic—followed by a very tasteful Shider.