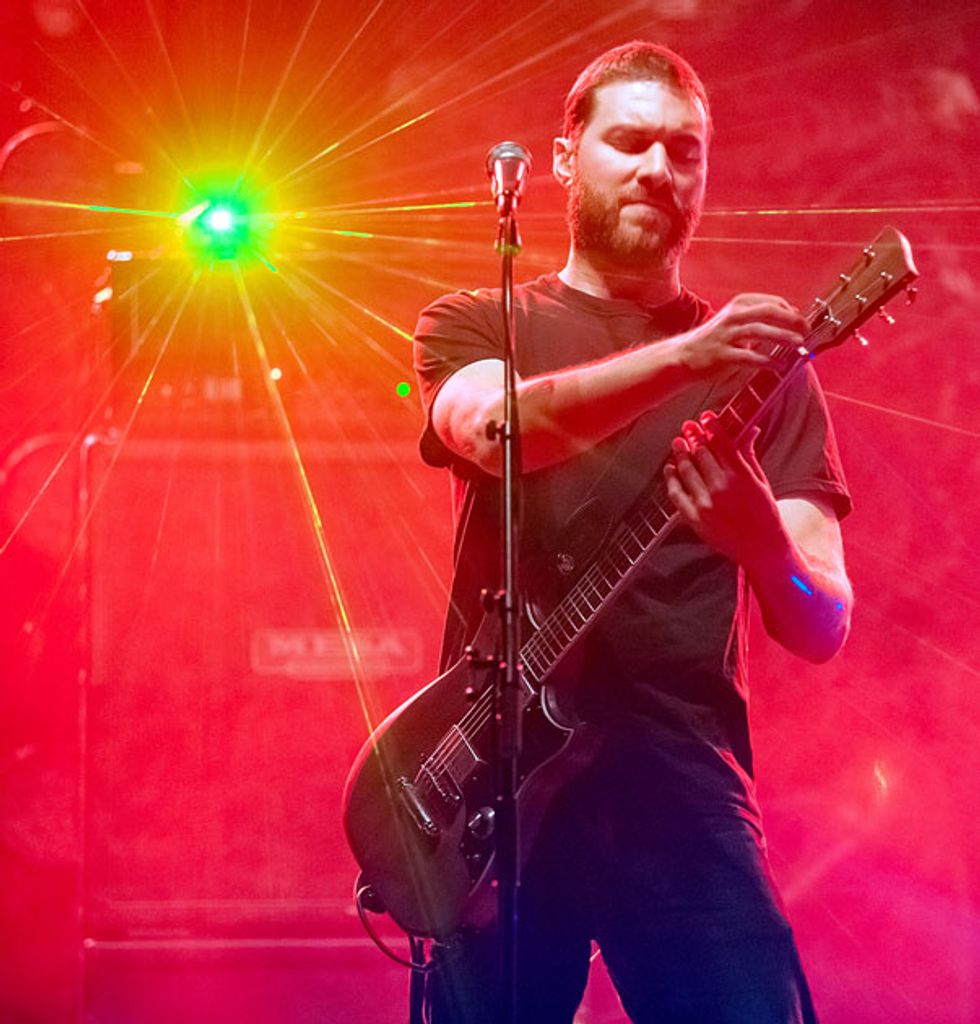 Dave Timnick rips a note behind the nut on his Dunable Yarnhawk during Intronaut's opening set for progressive juggernauts Animals As Leaders and Swedish metallers Meshuggah in 2013 at the Wiltern Theater in Los Angeles.
Photo by Lindsey Best
Intronaut's guitarists—dual fire-breathers Dave Timnick and Sacha Dunable—want you to know that "technical" is not a musical genre.
"No one gets into music because it's technical or because they want to be technical," says Timnick, singer and 6-stringer for the innovative metal band. "People get into music because of an emotional response and release. It's funny when people think we're big technical nerds that count out every note of every bar of our music."
And while they're clearing the air on labels the band isn't thrilled to have thrown at them, let's touch on "progressive."
"I think our definition of 'progressive' has always been different than most people's," says Dunable. "We consider anything with an innovative spirit behind it to be progressive. It has very little to do with what shape or sound a song takes and everything to do with translating the insane noises in your head into music. Just like our favorite records growing up, it's supposed to be challenging, but still get stuck in your head."
Vague adjectives aside, Intronaut further progressed—err, evolved—while creating their fifth long player, The Direction of Last Things. They tracked the album as a live band—aside from vocals and overdubs—in less than four days. They hired metal mastermind Devin Townsend (who's produced Lamb of God, August Burns Red, and Gwar—along with his own albums) to mix it. And it was their first album using Dunable's own hand-built guitars through Mesa/Boogie Royal Atlantic heads. The result is the band's tightest, biggest-sounding recording.
"If you can't live-track the core of your album in under a week's time, you're probably not ready to track"—Dave Timnick
Musical departures and new flavors on their latest include "The Unlikely Event of a Water Landing," a melody driven and collage-like track that recalls Alice in Chains' Dirt—especially in its solo section. There's also Timnick's fretboard tapping and Dunable's rhythm-building-block use of a looper that propels the opening and closing of "Digital Gerrymandering," and, in general, there's widespread use of cleanly sung vocals.
When bands speak of evolution, it often frightens fans. But rest easy, Intronaut's genome of brutal, sprawling riffs thunders through "The Pleasant Surprise," and their diabolically complicated jazz-fused jams send up a flare in "City Hymnal," while "Sul Ponticello" explodes with dizzying time signatures and polyrhythms—all baring the still-beating heart of the aesthetic Intronaut established with their first gigs in 2004. Rest assured that Dave and Sacha—as well as bassist Joe Lester and drummer Danny Walker—still have plenty to scream and roar about on The Direction of Last Things.
"At this point our influences have been mashed up in a blender for so long that I couldn't even really tell you what they are anymore," says Dunable. "All of that is just part of our DNA, and Intronaut has become its own living, breathing organism that music flows out of naturally."
We caught up with Intronaut's Dunable and Timnick before they embarked on a headlining spring tour. They chatted about swapping their amps and guitars for new rigs, the magic Townsend added to their mixes, and why they live-tracked The Direction of Last Things. Dunable also gave Premier Guitar the lowdown on his instrument and pickup company, Dunable Guitars, and his practical building philosophy. (See sidebar.)
You've always displayed technical prowess, incorporated mid-song tempo shifts, and utilized odd-time signatures, but on The Direction of Last Things, you really honed in your songwriting. Was this a conscious goal?
Sacha Dunable: Yeah, it is the natural evolution of being in a band like Intronaut. We started shifting toward more structured songs on [2010's] Valley of Smoke. Who knows why, but if I had to guess it's probably the influence from '70s prog rock bands like Yes and Pink Floyd seeping into the band's subconscious. Both bands had these really big, winding songs that, on first listen, sound kind of daunting. A prime example is Yes' "Close to the Edge." That song is, like, 20 minutes long, but it really is a song with three separate sections. We're never going to be a verse-chorus-verse band, but we like to create moments and then build off them. This time, our moments were a bit more realized and had finality.
Dave Timnick: We wanted to have each song based on a clear musical idea, so there's less randomness in each song, giving this album a cohesion that maybe was missing on previous recordings. Everything we've ever written has been because it's collectively what we wanted to hear. That's probably been detrimental to our success, but the more chances we take based on our own preferences or ideas, the more confidence we gain in our artistic and musical exploration.

Why did you opt for extensive rehearsals and gigging before entering the studio to live-track most of the new album?
Dunable: We did it the old way—rehearse a bit, start with drums, and work on each instrument a few weeks in the studio—because we didn't know any better. For the most part, especially in metal or hard rock, you make an album in sections or by instrument. We had a light bulb moment when we did [2014's] Live with Intronaut album, backing Ben Sharp.

Timnick: A lot of rock or metal bands will piece parts together and figure out how to play the whole song as a unit before touring. We've always learned the material in-and-out before entering the studio. This time we went the extra mile and decided to record live because we've always felt a disconnect from our albums and live sound. The natural step was to record the album as a whole band—plus it saved a bunch of time and money, and we were able to hire a producer like Devin Townsend.
Check out Intronaut's upcoming 2016 spring tour dates here.