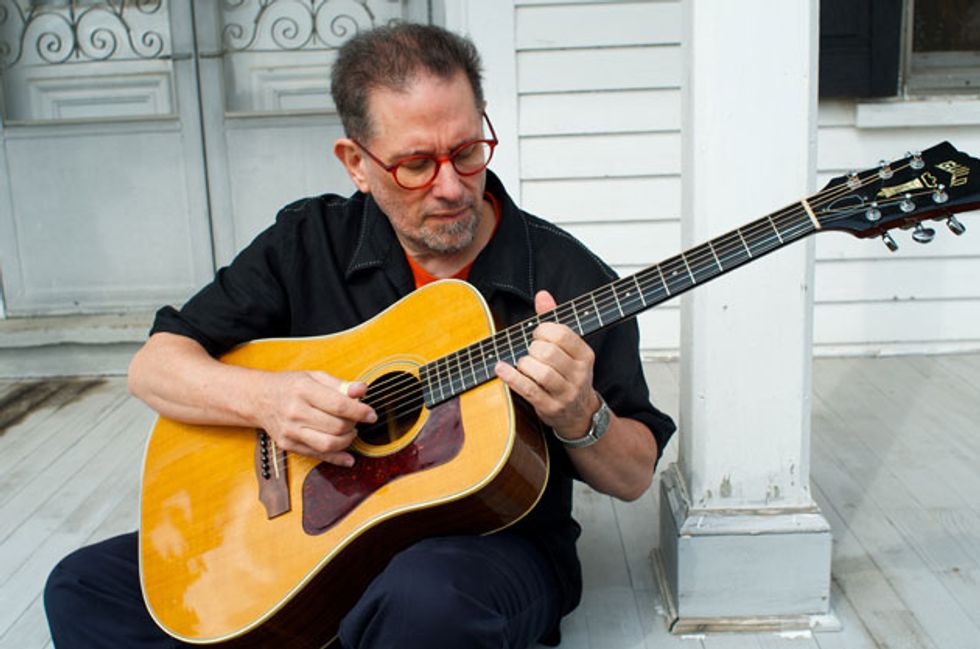 To create his sixth solo album, Glenn Jones used a homemade banjo and his Guild DV72, often employing his own tunings and partial capos. Here he's shown playing a Guild D50.Photo by Jesse Sheppard
Insatiable curiosity has always been Glenn Jones' strong suit, which goes a long way toward explaining how he manages to squeeze such vivid imagery and emotion out of a steel-string acoustic guitar. Whether he's channeling ecstatic visions of his youth—dappled with hazy vestiges of Jimi Hendrix, Captain Beefheart, Harry Partch, Tim Buckley, and Can—or paying direct tribute to his friend and mentor, John Fahey, Jones can make a guitar sing with an almost otherworldly expressiveness that only comes from years of practice, dedication, and experimentation.
It all started in northern New Jersey back in late 1967, when a teenage Jones ponied up his hard-earned cash to buy Hendrix's Axis: Bold As Love, which had been written up rather uncannily by the local record store as "a guided tour of Hieronymus Bosch," no less. Jones had to have it, and soon he had to have his first guitar—a Harmony acoustic his dad gave him. He began teaching himself the songbooks of Dylan, the Doors, Cream, and anything else he could get his hands on.
By the time he discovered the American Primitive fingerpicked style of Fahey, whose exotic tunings and buzzing drones conjured the bluesy indigos of Charley Patton, Skip James, and Mississippi John Hurt, Jones was hooked. "It was like the first time I heard [Captain Beefheart's] Trout Mask Replica," he recalls today. "I didn't understand that record at all. I had to play it over and over again in the headphones just to figure out what was happening. Fahey's music was like that, but not with the complexity of Beefheart's arrangements. It was how he expressed something that felt so beautiful and profound, as one person playing one instrument, with no lyrics. He could tell stories with that instrument.
Standard tuning is almost like starting with a white canvas—you can do anything and go anywhere. But with open tunings, it's like
starting with color.
"Of course, the problem with John is that he's so powerful, and such a big influence, that having absorbed all that, it's even harder to escape," Jones reveals. "It wasn't until I was in my 30s or so that I finally began to feel like I was writing pieces that were more mine than his. I could point to them and say, 'I've never heard John do anything quite like this. This is just me.' And that became more pronounced as time went on."
Fleeting is Jones' sixth solo album, and perhaps his most intimate and soulful. Technically, it's a clinic in deft picking, the use of partial capos, and alternate tunings—some of them invented for specific songs, perhaps never to be used again. Conceptually, it proceeds from themes that Jones explored on 2013's My Garden State, which he tracked while looking after his dying mother in his New Jersey hometown. Fleeting is dedicated to her, but the mood isn't elegiac—it's often celebratory, at times even sunny, but with moments of whimsy, melancholy, quiet reflection, jarring dissonance, and even intrusions of nature. Last spring, Jones joined producer Laura Baird at a cottage next to Rancocas Creek in Mount Holly, New Jersey, to track seven of the album's 10 songs on his Guild DV72. On the other three, he plays a handmade 5-string banjo. You can actually hear birds singing in the background on the hypnotic "In Durance Vile," and again toward the end of the haunting, Gypsy-ish blues "Gone Before." [See sidebar, "Capturing the Perfect Take."]
"It's kind of a liability that the older you get, the more past you have behind you," Jones says with just a hint of wry humor. "I tend to think about that a lot, and that's where the album title comes from.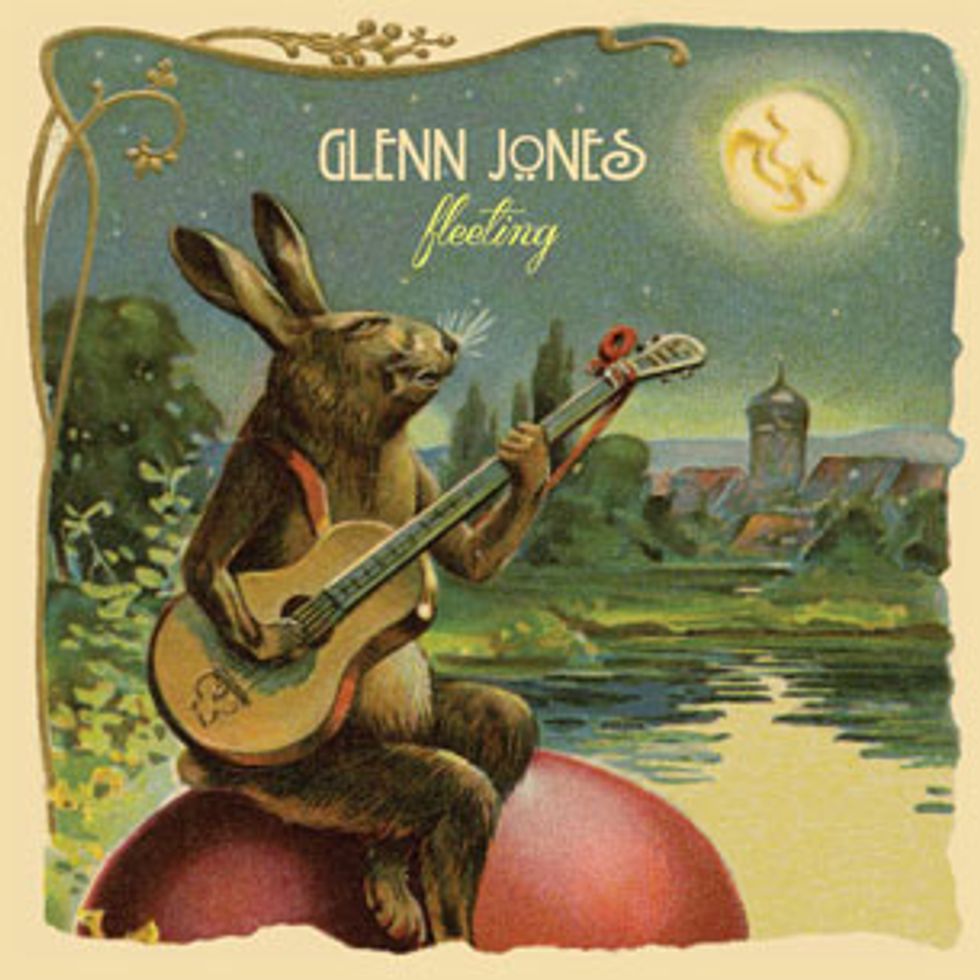 The cover of Jones' sixth solo album reflects both its American Primitive roots and the influence of the studio's woodland charm.
It has to do with the fact that the past behind us gets bigger and more stretched out, so that things in life seem fleeting—including our own lives."
It's been a richly packed journey for Jones so far. As a founding member of the avant-rock band Cul de Sac, he played throughout the '90s on some of the same stages as the Pixies, Morphine, and other iconoclasts from Boston's vibrant music scene. Cul de Sac also released a string of well-received albums. One of these was 1997's The Epiphany of Glenn Jones—a gut-wrenching but ultimately rewarding collaboration with John Fahey (who also dreamed up the album's title). A few years later, Cul de Sac hunkered down with Damo Suzuki, fabled frontman of the '70s German krautrock outfit Can, for a no-holds-barred tour that yielded the brilliant live collection Abhayamudra in 2004.
Since then, Jones has jammed, performed, toured, and recorded with everyone from Yo La Tengo to a series of fellow guitarists that includes Peter Walker, Michael Chapman, and the late Jack Rose. He's also made a name for himself as an archivist and producer, having helmed several posthumous releases of Robbie Basho's music, as well as the acclaimed five-CD box-set of John Fahey's earliest recordings, Your Past Comes Back to Haunt You: The Fonotone Years 1958–1965, for the Dust-to-Digital label.
Even with six solo albums under his belt, Jones is still striving to get better. "I can hear a lot of changes between my first solo record and this one," he says. "I tend to cringe when I listen to my older stuff, but I think everybody does that, you know? Keith Richards says he can't stand to listen to old Rolling Stones records, and those are pretty good records! But I can hear improvements I've made. My time is better, my playing is a little more relaxed, and I can hear myself doing things with my fingers that are maybe cleaner and better articulated. But I also feel like I'm going beyond the technique to get to something more personal."
Jones still lives in Cambridge, Massachusetts, where he spoke to Premier Guitar by phone from his home.